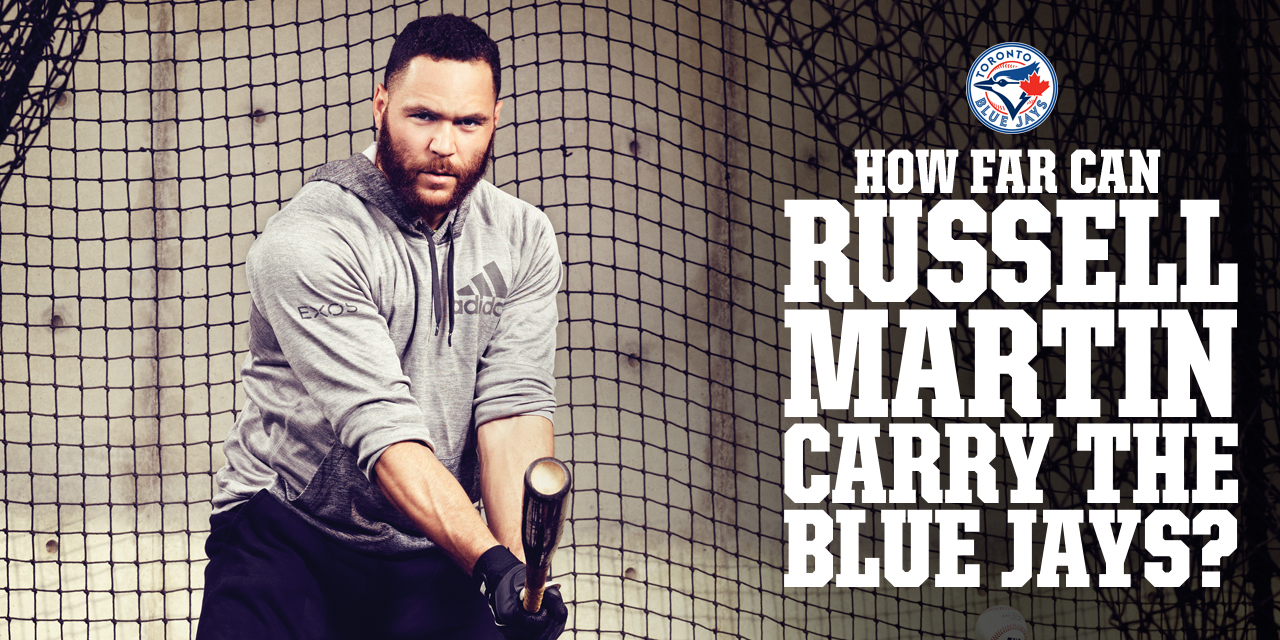 To October, hopes Alex Anthopoulos, which is why the $82-million catcher was Toronto's top priority this off-season.​
By Stephen Brunt in Montreal
Photography by Cody Pickens
---
Watch 'Russell Martin: World Citizen' Sunday May 24th at 9 p.m. ET on Sportsnet East, Ontario, West and Pacific
---
On summer mornings, he would wake before dawn, dress early, quietly, pick up his horn and leave while his son was still asleep. They'd been up late watching games, watching the highlights. When he got back from work a couple of hours later, they would head to the park together.
His son had started walking when he was just nine months old, a big baby body somehow supported by chubby bow legs. By the time the kid was two, he was swinging a bat. He skipped right past T-ball. That was for little kids. When he was seven, his dad asked a group of 12-year-olds if his son could play. They were skeptical, but finally agreed to let him pitch an inning. He struck out the three batters he faced.
Those were idyllic years, father and son biking all over the city, stopping at every diamond, every backstop on their route, throwing, catching, hitting, pretending it was the bottom of the ninth with two out at the Big O and up to the boy to win the game. "You get to the Westmount School and there's a backstop there. 'C'mon Russ. Three innings here.' Then we'd ride over to another park and I'd make him throw 23 pitches—'You have to get three guys out, no runs.' Then we'd go somewhere else and do batting practice. I'd find ways to bust his butt but make him happy."
Sometimes there were other kids around, and sometimes it was just the two of them playing one of the games the father had invented. Murder She Wrote—like Pepper, but tougher. The kid standing between two posts of a chain-link fence, wearing his glove; the father hitting line drives and groundballs from in close, trying to get them by him. Or Noseball, a crazy variation on catch. Two balls at once. Aim for the other guy's nose. Keep it going. Speed up. Stop thinking, make it automatic, like a catcher throwing out a runner at second base. The boy was clearly on his way to becoming a special athlete, and his dad was there for him—coach and mentor and pal and occasionally, when required, drill sergeant. Sometimes, when the boy said he'd had enough, that he wanted to go home, his father would tell him that there was another kid somewhere out there who wanted it more than he did, who wasn't going to quit, who would get there first. By the end, his son would be crying and begging to stay out on the field. "You could see how he shaped my mind," the son remembers. "I played my heart out the rest of the day. There was no way somebody was going to be working harder than me."
But come morning, rush hour beckoned, and so the father, Russell Martin Sr., walked through the streets of NDG in Montreal to the Snowden Metro station. There was a system to it. Tucked away near the appointed place where no one but those who knew could find it was a small piece of cardboard from a cigarette pack. That's where you booked your two-hour shift. There was a second spot, with a second card, just in case the first one got lost, just in case some smart guy tried to plead ignorance and cut in. Martin Sr. played tenor. Loved Ben Webster, loved John Coltrane too, though their sounds couldn't be more different. His horn had gone dull, the lacquer worn off, which is the way most musicians liked it because they thought it warmed up the sound. He played whatever the people wanted, and was paid whatever they threw in his case.
The best day ever: Oct. 30, 1995. The second Quebec referendum. He managed to grab two prime shifts and played "O Canada" over and over again to an audience that must have been voting "non." Made six hundred bucks. Usually, the take was way less than that, though somehow it was always enough."When I look back at it, it's easier for me to talk about it now," he says. "It's like a stigma. 'You're playing in the Metro, man?' It's OK. I know why I'm playing in the Metro. And I didn't feel like explaining it to anyone."
He was smart with money, and material stuff never mattered much to him in any case. "We rolled quarters and dimes and lived on big pots of chili. Awesome chili," his son, Russell Martin Jr., remembers. "Bangin' chili. The first day it's good. The second day it's even better. The third day is probably when it's at its best—it's been sitting for a while and the flavour has really sunk in. But day four, day five—I've had chili with potatoes, chili with pasta, chili with rice. Can we move on to the chowder or the stew?"
"There were a few days it got kind of skinny," his father says. "There were a few days when it was kind of hard to hold things together. But it wasn't like we were poor."
Then, when fall came, it was time for school. Russell Martin Jr. boarded a plane to meet his mother, Suzanne Jeanson, in Paris, to trade his joual for proper French, to skateboard at La Défense and visit the beach in Monte Carlo.
That tattoo on his chest? The one that reads "World Citizen"? It's more than just a decoration.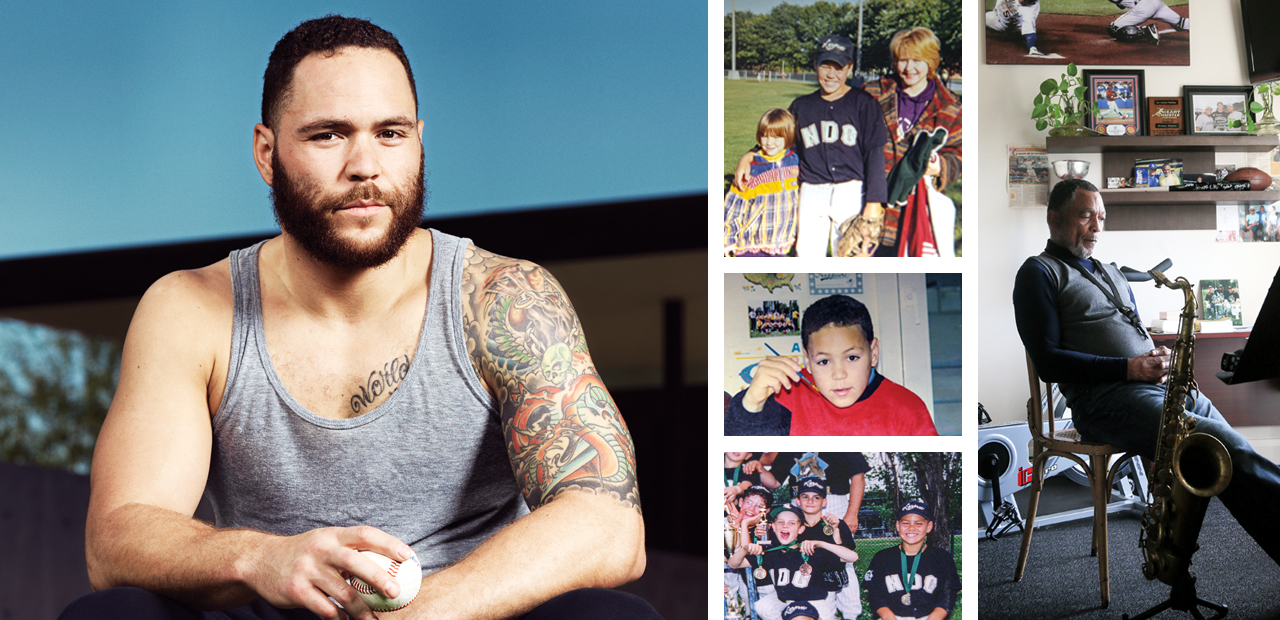 In a private conversation just a few days after the Toronto Blue Jays' ultimately disappointing 2014 season ended, their general manager Alex Anthopoulos was asked what his No. 1 goal was for that winter. "Signing Russell Martin," he said, which wasn't among the long list of answers his lunch companion might have predicted.
The Jays had obvious roster needs, which would become even clearer following a housecleaning that had the feel of addition by subtraction. Since the tumultuous winter of 2012–13, which brought the earth-shaking trade with the Miami Marlins and the move to acquire Cy Young winner R.A. Dickey, all of that talent and all of that money spent hadn't produced a playoff appearance. Disappointing performances were part of it, and of course the usual bit of bad luck, but the Jays' hierarchy had also decided that something was awry with the club's culture. Looking at the exits of useful players like Adam Lind, Casey Janssen and the enigma that is Colby Rasmus, it was reasonable to assume that someone in a position of power considered them part of the problem.
But what about a second baseman? What about a new closer? What about a left-fielder to replace Melky Cabrera, headed for free agency and, in the end, headed out of town? What about some insurance for the starting rotation in case some of those exciting young arms don't pan out in the short term or get hurt? What about the fact that you already have a catcher, Dioner Navarro, coming off a pretty decent season?
Martin is a game changer, Anthopoulos explained. His pitch-framing skills and command behind the plate would instantly make the staff better. Baserunners would think twice before testing his arm. He could also be a very good offensive player. But the value equation was more than that. Martin had played for winning teams in Los Angeles, New York and Pittsburgh. He knew what it was to be in the post-season. He would be a presence. Walking into a fragmented clubhouse, Martin could be part of the glue that held it together. The fact that he was Canadian, that he spoke French, that he would help build the Blue Jays brand nationally—all of that was a bonus.
They would have to compete for his services, to outbid some heavy hitters including the Dodgers and Cubs, two teams with very deep pockets. But it would be worth it, Anthopoulos said.
In a year that would go a long way to determining whether he and manager John Gibbons had a future in Toronto, there was room for only one big-money play, and no room at all for mulligans. At five years and $82 million, they would quite literally be banking on this guy.
Russell Martin's parents first connected by telephone, when they were both living in Montreal. One of Suzanne Jeanson's friends told her there was a guy she just had to meet. She was a singer and an actress. He was an interesting character. Handsome. Charismatic. Played the saxophone. He sang to her over the phone. "This Little Heart of Mine."
"I figured, OK, let's have coffee," she remembers. "He was very smooth."
He remembers things a little differently, which, you realize soon enough, is a bit of a pattern.
"I came over [to a friend's house]. Suzanne was there. We started singing. "Down by the Riverside" or something like that. We got along really well… for a while. Women have an expectation, and I never fit that expectation."
They were only together for about three years. Meeting them now, it's not hard to imagine the striking, attractive pair they were—him tall and athletic, her petite and beautiful. And in those days, as a mixed-race couple, unusual. Him African-Canadian, her Franco-Manitoban. "I don't think I really noticed it," she says. "I think I'm colour-blind, actually. It hardly ever occurred to me except once in Toronto, where Russell was born. That was my first awakening. It was kind of harsh. I was nine months pregnant and I was huge. I came out of this restaurant and a car came driving by, and this man screamed. It was because we were together and I was in that state. I got very upset about that. It was the first time and the only time that I experienced anything like that."
Martin Sr. and Jeanson were living in Scarborough, Ont., where she was working for the French-language side of CBC when Russell Nathan Coltrane Jeanson-Martin was born. Hyphenated—that's why, for a time, the back of Martin's Dodgers uniform read "J. Martin."
And Coltrane? Had to be his father's idea, right?
"I wanted his name to be Russell," he says. "If I got that, I wasn't in the position to get anything else. She was the one who put [Coltrane] in there."
"It wasn't me," Jeanson says. "It was him, definitely. His dad gave him all his names. But I do love Coltrane."
So….
They moved to her hometown, Winnipeg, when Martin was still a baby. Suzanne resumed her successful career in French theatre, radio and television there, while Martin Sr. concentrated on his saxophone. He had come to music in his early 30s after living several other lives—serving in the Navy, working at Expo 67, renovating houses. He practised for hours on end and tried to learn to read music. He took the odd conventional gig, but playing in bands just wasn't an easy fit for him. "I don't have to be who I don't want to be," he says.
Jeanson and Martin Sr. split soon afterwards, when Martin was two. Both eventually moved back east, where she took a government job. She met a man, married and had a daughter, then moved to Paris when her son was nine. Martin Sr. continued his music studies and found his niche playing in the Metro. And their son began to divide his year between them, and between continents. "Russell had to adapt," Jeanson says. "It was difficult for him. He had some challenging experiences. The first day of school—I don't know how it happened—someone pushed him and he broke his front tooth right in half. We had to rush to the dentist. After that, he became a little tougher."
"The school [in Paris] was much harder," Martin remembers. "They used proper French over there. The whole system and the teachers are strict. I remember getting hit on the head with a school book because I wasn't paying attention in class. Making friends was tough. And obviously sports have been a huge part of my life. Soccer is the main sport over there. I love soccer, but not having baseball and not having hockey was kind of torture for me. But I adjusted and made friends and got through the school year."
He also adjusted, quite happily, to the local diet. Jeanson had a friend who owned a restaurant. "She used to ask Russell, 'Would you like some whipped cream on this?' That's when it started. He just ate and ate and ate."
"I was 12 or 15 pounds heavier just from all the croissants," Martin says, laughing. "My dad wasn't very happy. He was pissed at my mom."
"When he came through the airport, he looked like the Michelin tire man," his father says of their reunions after Martin moved to France. "It was heartbreaking, really. It was heartbreaking, and I didn't say anything. I got him on the ball field and he wasn't moving like he could. I'm pushy and I'm demanding. I don't know how I didn't react to that. I just held my breath day after day. And after a while, at the end of the season, it looked like he was getting in shape. And then he was gone again."
At the end of Grade 6, Martin's split life ended. He enrolled at Édouard Montpetit, a CEGEP with a special emphasis on sports. By then, his mother had moved from Paris to Chelsea, Que. But because the school was in Montreal, he would be settling in with his father—and his father's lifestyle—full-time. "It was a natural decision," Jeanson says. "I told Russell that when he was 12 he could choose who he would live with. If his dad was able to take him in, he could go. He knew that meant baseball year-round, so he really wanted to live with his dad. And I told his father that if he could accept total responsibility—and the word was total responsibility—[Martin] could go live with him."
She helped pay some of the bills and took care of Martin's tuition. But otherwise, it was father and son living on whatever folks decided to toss into Martin Sr.'s saxophone case. "He had been with his father every summer, so he knew what he was getting into," Jeanson says. "It was hard. I'm not going to say it was easy letting him go to live with his dad. I cried a lot—in the bathroom, because I'm a bathroom crier. Nobody saw me. Russell just accepted it. He wanted to be a professional baseball player. That was one of the sacrifices. He was away from his mother and his sister. But he was with his dad and his dad's family, who are wonderful people. I was worried, but I also had a lot of faith in him, in his strength to go through it. I trusted his father to do his best. I didn't always agree with what was going on. I always butted my nose in and tried to make things better and steer both of them in the right direction. But the most important thing out of all of that was that his dad, myself, Russell's stepfather, his extended family, all worked as a team for Russell's benefit."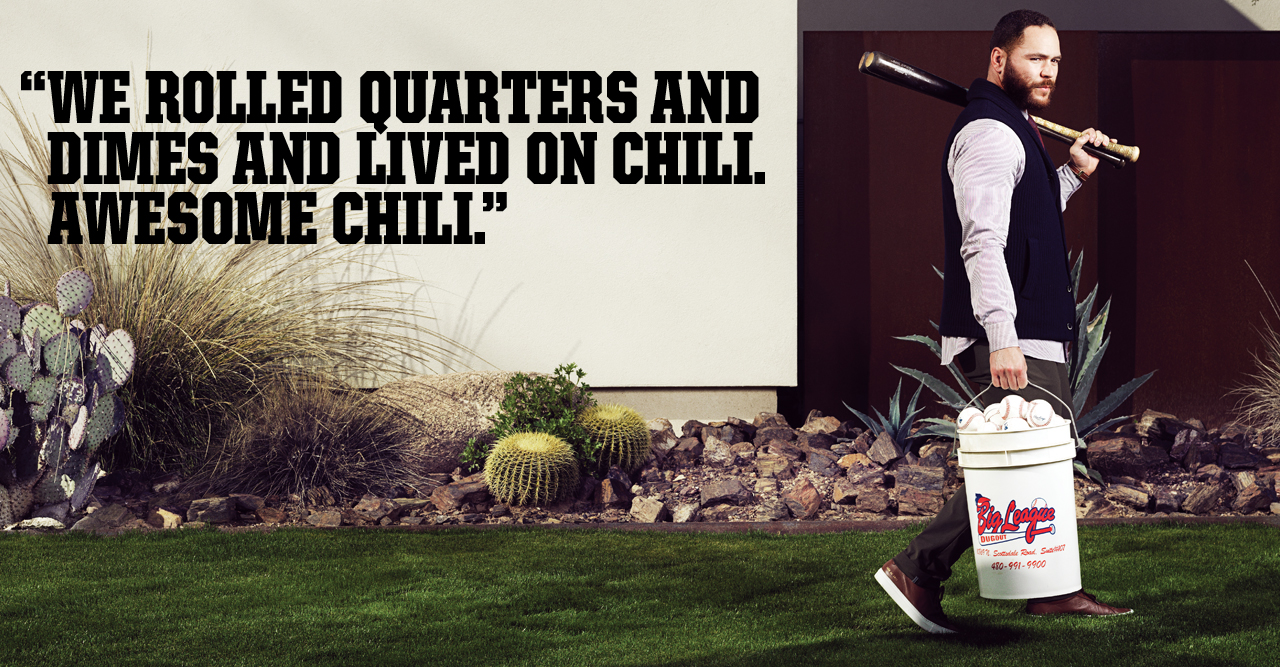 Russell Martin père's home, a condo in Old Montreal near the river, has the feel of happy chaos. There's a lot of stuff lying around, there are many sticky notes applied to various surfaces, there is a tenor saxophone in the corner with music on a stand, ever ready. Martin Sr. bounces around from topic to topic, smiling, laughing, animated. "He is a jazz musician, so he has that type of mind," Martin says. "He even speaks in jazz. The way he writes—no space between his words. You have to see a subtext to understand it."
Martin Sr.'s people came from Atlantic Canada, moved first into downtown Montreal and then to the south shore. He was gifted athletically, and when he was a kid, he told people who didn't know better that he was the son of Jackie Robinson, who had been a star with the Montreal Royals before moving on to the Brooklyn Dodgers. He tried out for a CFL team before settling into music, in his own way, full-time. When his son showed early athletic promise, training him became his other vocation. By the time Martin began living with him all year long, they shared a single goal: to turn him into a professional ballplayer. "It sort of rejuvenated my life because it allowed me to see him growing," Martin Sr. says. "I could see it in him. If he had wanted to be a doctor, I would have had to get two or three jobs to pay for his education. This way I was able to do it by myself."
(That said, Russell Martin Jr. is not all baseball. "He loves to decorate," his mother says. "He knows exactly how to put furniture in a room. He loves art. He loves paintings. He is very fussy. He takes his time until he finds exactly what he thinks goes into that space. He loves music. He loves karaoke. He loves to sing. He loves the drums—he's quite good on the drums. He plays a bit of guitar. And he loves his mom's lullabies. He still does.")
When Martin had clearly progressed beyond what his father could teach him, Martin Sr. was happy to turn the reins over to other coaches. Martin pitched, played shortstop, jumped through the ranks locally and provincially, and eventually made it all the way to the national junior team. In June 2000, he was drafted in the 35th round by his hometown heroes, the Montreal Expos. He had a decision to make: sign or move on to college ball. "I was disappointed that I got taken that late in the draft," he says. "I knew I was more of a 'draft and follow,' and that if I did sign, it was going to be for pennies. My mom said, 'It's not worth it. The smart play is for you to go to school and get an education.'" With dreams of playing in the Big O still dancing in his head, he reluctantly turned the Expos down.
Just before the 2000 World Junior AAA Championships in Edmonton, two of Martin's teammates were recruited by Chipola College, a junior college near Tallahassee, Fla., but he didn't immediately get a scholarship offer. "My dad phoned the recruiter and told him, 'If you want those two guys, you'll need my son.'" After Martin hit .400 in the tournament for Canada, there was no longer any need for a sales pitch.
Initially, it wasn't an easy transition. The baseball and academic regimen at Chipola, and life away from home, proved to be a challenge. Martin was just 17—CEGEP in Quebec ends a year earlier than high school does in the United States—and he struggled to keep up with his peers. "For a while, it didn't look like he was going to be able to get the job done," Martin Sr. says. "He sort of had to find himself."
"You lose a game, you're running," Martin remembers. "You make an error, you're running. There was a lot of pressure. It kind of shaped how I go about my business now. I've never gone through anything as hard as it was there. It was a grind, mentally."
That first year at Chipola, he encountered a player who would serve as a bit of a role model—an intense, driven Dominican outfielder a couple of years older who hit tape-measure home runs and then moved over to the mound, where his fastball topped 95 mph: Jose Bautista. "I played a year with him and saw the work ethic behind him and saw how passionate he was about the game. I learned a lot from him."
Martin was disappointed not to be drafted at the end of his freshman year in 2001. Then, in 2002, the Los Angeles Dodgers selected him in the 17th round. Another decision loomed. He had graduated on the dean's list and had a scholarship offer waiting for him at North Carolina State—and the opportunity to go back into the draft once more. Again, his mom had the answer. "One of my deep values in life is education," Jeanson says. "I think education is important for everyone. Whether you're going to play golf or pick up garbage, it's very important to be educated. When the Dodgers drafted him, I remember the scout calling me. I said, 'I don't know. Let's think about it for a while.' I wanted him to go to university. Maybe after university you can play baseball. I thought about it and thought about it. Finally, it dawned on me. This is a great opportunity. If he wanted to go to school after, he can do it. But this was his time. And after that—he had wings."
And the rest… well that's the familiar part of the story. Martin had done a bit of catching at Chipola. In his second season of pro ball, the Dodgers converted him to the position full-time, and almost immediately he thrived. In his rookie year in the big leagues, 2006, he took over from the injured Dioner Navarro as the starter in Los Angeles and never surrendered the position. On to New York and Pittsburgh. Three all-star-game appearances. Seven trips to the playoffs in nine major-league seasons. Free agency in the fall of 2014. The push from the Blue Jays, which surprised and excited him, given that he was one of those rare Expos diehards who will actually admit that they kind of like the Jays. Martin was sitting at home watching a Habs game with his girlfriend and one of his buddies when his agent called with the news. "He said, 'Toronto is in for five years and this is what they are willing to give you.' I said, 'Don't deal anymore—let's do this thing.' We cracked open a bottle of wine and celebrated. It was a special moment."
Both Martin and his parents are thrilled that he'll be playing closer to home. They will both be at the Rogers Centre for the home opener. And expect his dad to make a special return appearance later in the season.
In September 2006, Martin's rookie year, the Dodgers invited Martin Sr. to play "The Star-Spangled Banner" before one of their home games. The usual 55,000 fans packed the park in Chavez Ravine, a big house even for a guy used to facing the rush-hour throngs. "I think I was more nervous at that moment seeing him play in front of a crowd than I was in my first big-league game—and I was really nervous in my first game," Martin says. "During the anthem, I was thinking, 'Man, I hope he doesn't mess up. I hope there's no mic failure.'"
"That was unbelievable," Martin Sr. says. "I had been off of my horn for awhile and I was trying to rehab [my embouchure]. Then I got offered the opportunity. I got a date in September, I started getting ready. I practised and worked hard at it. It's not a hard song, but still you've got to go out there and nail it."
"He nailed it," Martin says. "I remember just seeing him calm and composed and doing it like he'd been doing it his whole life."
"I wasn't having any trouble until I realized I was in the high register and I couldn't go any further," Martin Sr. says. "But I got there."
"Afterwards," Martin says, "guys were coming up to me and congratulating me for my dad. At that moment, watching him just kill it, I kind of shared the pride that he feels for me."
There is a plan afoot for Martin Sr. to play "O Canada" at the Rogers Centre this season. He has already begun practising.