TORONTO – We're past the point of polite pats on the back for a job well done the past two springs from Major League Baseball to Montreal, and this is more than simply leverage to bear on the continuing uncertainty facing the Rays in Tampa Bay.
There's a change in tone from commissioner Rob Manfred that's significant, passive praise replaced by something that sounds like a road map back to the big leagues.
You really want a team, Montreal? Get some legit plans in place for a new stadium, make the package so appealing that other owners can't say no, and wait for the time to be right.
"I'd love to see another team in Canada," Manfred said during an interview with Sportsnet on Monday.
That statement is his strongest yet on the subject since taking over from Bud Selig in January, and while nothing is imminent, if the new commissioner would "love" to see something happen, there can be no better encouragement.
Manfred isn't requesting some "if you build it, they will come," leap of faith a la Field of Dreams, but rather seems to be asking those with a stake to put together something concrete that the other owners can realistically consider.
---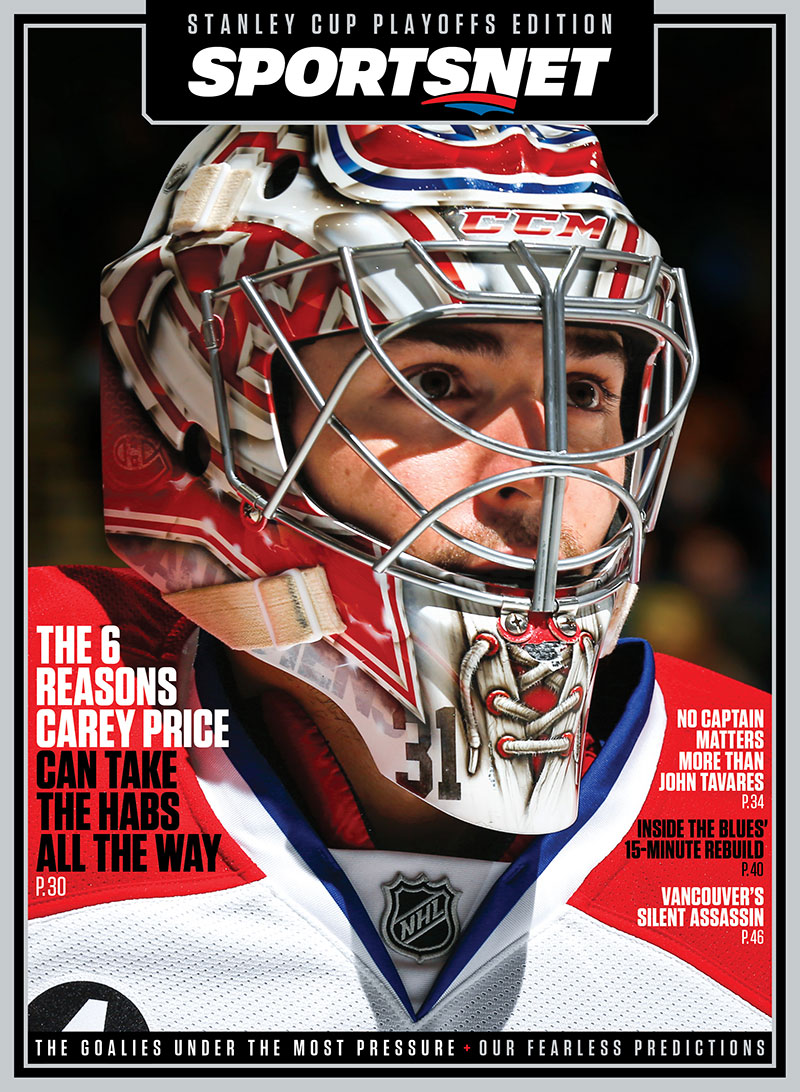 Sportsnet Magazine Stanley Cup Playoffs Edition: The six reasons why Carey Price can take the Montreal Canadiens all the way. Download it right now on your iOS or Android device, free to Sportsnet ONE subscribers.
---
Feasibility studies, such as the one conducted two years ago for the Montreal Baseball Project and the Board of Trade of Metropolitan Montreal, are great, but commitments with real money behind them are what move people to act.
Then there's also the matter of finding a team.
Relocation is an issue at the whim of current owners, and while the Rays continue to squabble with the St. Petersburg City Council over the right to explore possible stadium sites in neighbouring Pinellas and Hillsborough counties, that process has yet to reach its endgame.
Expansion, the other route to a team for Montreal, is on baseball's "backburner," but when asked how it can move forward, Manfred replied, "some of our expansion has been driven by ownership issues, others have been driven by the fact that you get to the point that you have a market that is so appealing, you feel you need to be there."
"That was the original feeling with respect to Florida, that we needed to be in that market," he continued. "So it just depends, it's the moment in history."
Montreal must shift from intriguing to compelling to find its moment in history.
The exhibition series staged by the Toronto Blue Jays at Olympic Stadium the past two years – 96,545 fans showed up for a two-game series against the Cincinnati Reds this year, 96,350 attended last year's pair against the New York Mets – certainly helped advance that potential.
But the real heavy lifting – a realistic business plan, a stadium site, financing, solid commitments from ticket buyers and sponsors – needs to be in place to capitalize on the commissioner's support.
"When you talk about internationalizing the game, I think it's important not only to do what I think of as the visits – you go to Australia and you play two games, we're not going to have a team in Australia," he said. "The other part of international activity is sustained international activity and to me the two most realistic targets are another team in Canada, and a team in Mexico, just because of geography and the nature of our schedule."
Though he didn't mention Montreal specifically, that's the only other Canadian city on Major League Baseball's radar.
When asked about Vancouver, Manfred replied: "Since I've been commissioner, I have not had any dialogue with Vancouver, but it's a great city. I don't see why it couldn't be a candidate. But I think Montreal is a little further down the road."
There's no debate about that, and the commissioner appears to be pointing the way down it.