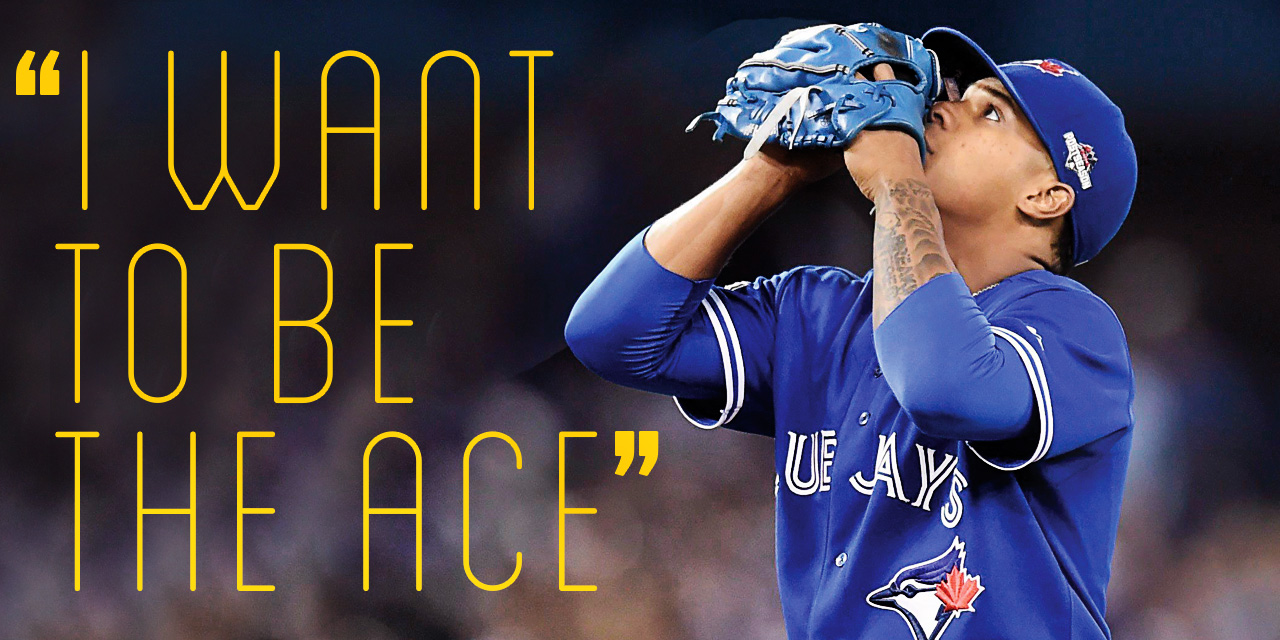 With David Price in Boston, Blue Jays starter Marcus Stroman is hard at work in his quest to fill his mentor's shoes
By Arden Zwelling in Durham, N.C.
ong streaks of dark blue clouds stretch across the sky on another crisp evening in Durham, N.C., for Marcus Stroman. He wears plain white shoes, black shorts and a white T-shirt with a Catapult bib stretched over his torso, measuring every iota of his movement and exertion as he grunts and pants his way through a track workout. Curious dinnertime joggers crane their necks as they stride by, watching the five-foot-eight-if-that starting pitcher drag weighted sleds up and down the dull red surface, while some Future track reverberates out of a wireless speaker nearby. Stroman's been here before—dozens and dozens of times throughout a long, frustrating 2015. This is where he rehabbed the torn ACL in his left knee last summer; where he re-strengthened and rebuilt the muscles around that knee which would help support it on the mound last fall. This is where he worked harder than he ever thought he could; where a lot of painful hours were spent. Now, it's where he pushes forward into whatever the future holds.
His trainers, Nikki Huffman and Jason Shutt, both doctors of physical therapy working at Duke University, look on as Stroman works, while one of his best friends, Blue Jays right-hander Aaron Sanchez, pounds a bottle of water nearby. Sanchez flew out to Durham to join Stroman just after American Thanksgiving and spent the next six weeks toiling through two-a-day workouts with his young teammate (Monday through Friday, with a recovery session on Saturday and a deserved day off on Sunday), aiming to improve his fitness and conditioning for 2016. Last season, Sanchez missed six weeks with a strained latissimus dorsi muscle and sought rehab advice from the same doctors who were working with Stroman at the time. He liked what they had to say and figured if Stroman could return from a torn ACL in less than six months, that Duke team must be doing something right. So now Sanchez takes his turns pulling the sleds and completes his own specialized sessions with Huffman and Shutt, carefully designed to improve his overall conditioning and strengthen the muscles in his core and back that robbed him of nearly two months last season.
But this is first and foremost a Marcus Stroman workout, which is distinctly unlike any of the other workouts that hundreds of major-league ballplayers are going through right now. Case in point: Before Sanchez attacks his last set of squat pulls, Stroman lifts all the weight off the yellow sled and sits down on it facing Sanchez with his legs tucked up to his chest. "Gains! Gains!" Stroman shouts, as Sanchez pulls the sled and all 178 pounds of the Blue Jays starter towards him. "C'mon, dawg! Two hundred innings! Gains!" Sanchez eventually tires, and doubles over gasp-laughing, extending flat on his back, vapor trails of breath shooting up into the night as he catches his wind. "So, that wasn't in the program," Shutt says, mock serious, as Stroman pops off the sled and starts making puking motions towards his exhausted best friend. Nope—not much Marcus Stroman does is in the program.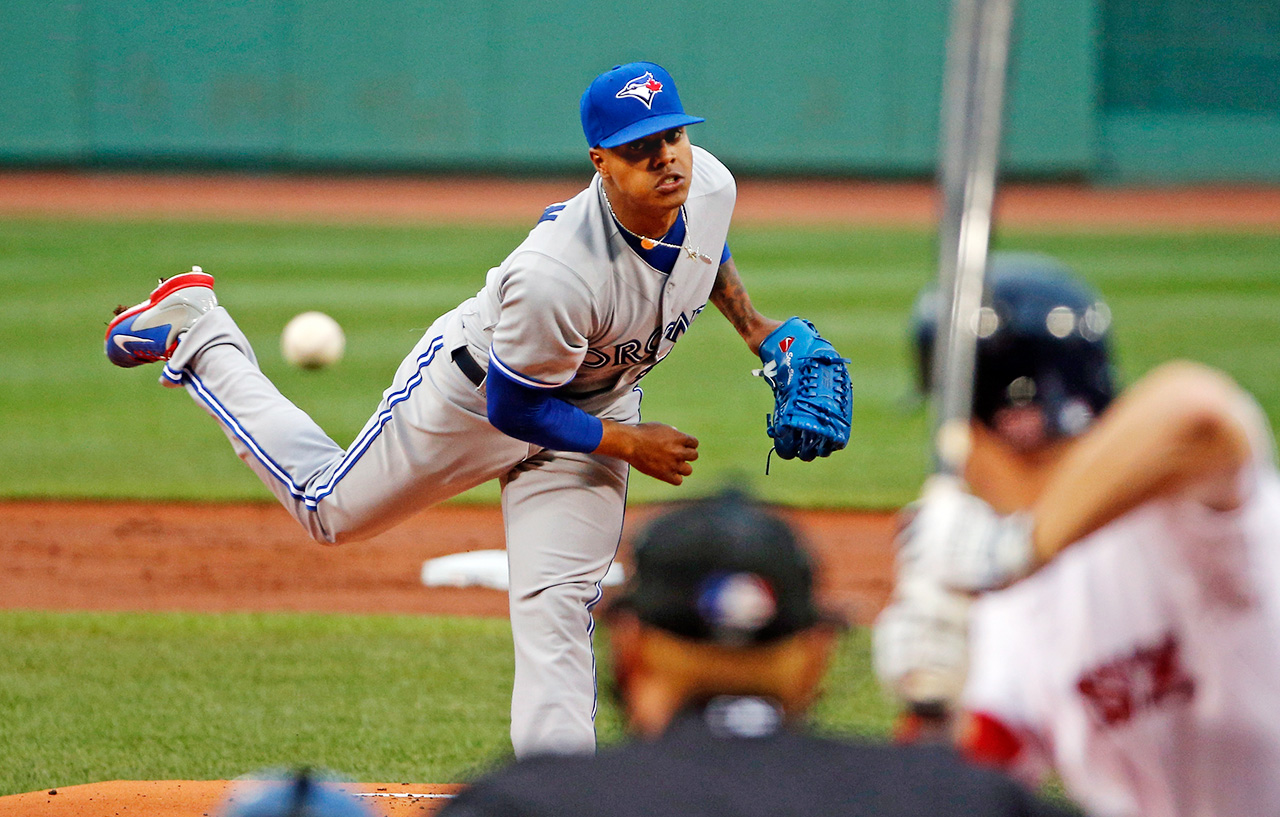 So, what was your favourite Marcus Stroman moment in 2015? Was it his first strikeout of the season—getting Chase Headley to look at a fastball with so much late life it made Russell Martin's glove recoil—in New York City, where he was scheduled to start opening day five months prior before blowing out his knee?
Or was it the seven-inning shutout he threw against the Yankees at Rogers Centre in the thick of the playoff race, a night he retired the first eight batters he saw and completely neutralized a veteran New York lineup with confidence and poise that belied his 24 years?
Was it his regular season finale in Baltimore, when he struck out eight Orioles and left after eight innings with just a single run to his name, in the game that would clinch the Blue Jays' first AL East title in more than two decades?
Or was it game five of the ALDS, a Braveheart battle scene of a ballgame that will be remembered for many, many things, but maybe not for Stroman's six-inning start that featured 10 swinging strikes, none better than the two he used in the top of the fifth (he got Shin-Soo Choo to chase a two-seamer that nearly dropped the left-handed hitter to his knees, then got Prince Fielder to swing over a fading changeup, which sent Stroman high-stepping off the mound) to earn the biggest strikeouts of his life and keep the Blue Jays in a game they would eventually win with unforgettable dramatics? Of course, you can be forgiven for not remembering that one. "Honestly, I forgot I pitched that game," Stroman says. "When Bautista hit that homer, I had no idea I'd pitched—I thought I was in the dugout the entire time. After it all went down I was sitting there and I was like, 'Oh yeah, I threw like six innings earlier today.'"
Maybe the more likely case is that you don't have a singular favourite moment from Stroman's improbable comeback at all—that those individual moments just faded into the three months from August through October when the Blue Jays were this extraordinary, world-destroying thing. Maybe that was really just one big 90-day moment in time. That fifth game of the ALDS, with its controversies and its profound emotion and its inconceivable plot twists ranging from deflating to embarrassing to triumphant, was like a drug. That's what that entire two-week postseason run was—a disorienting trip that raced Canada's collective heart rate and blood pressure, administering a fresh dose with every offensive outburst and late-game comeback.
It was absolutely overwhelming, and it somewhat overshadowed the fact that the written-off Stroman, said to be done for the year, not only pitched down the stretch less than six months after ACL surgery, but started massive, crucial games. In any other season, that would have been the story. That return, and the hope it brought with it—the promise of a young, homegrown starting pitcher who can overcome all manner of obstacles and pitch like he's Mad Max ransacking the Citadel—would have been the only thing anyone cared to remember. It would have been promise in the wake of another lost campaign. But in this particular season, which captivated the city and the country unlike any has before, Stroman's astonishing comeback was just a small scene in a corner of the painting. It was just a part of it. And Stroman wouldn't have it any other way.
"It's like that shirt, that Toronto vs. Everybody one. We were such a unit. And we loved it—we absolutely loved it," Stroman says. "No one cared about the individual. We all just cared about getting that win. When Bautista hit that homer, I felt like I hit that homer. I think we all felt like that. That was a collective moment of Canada hitting that homer. We all loved it. That camaraderie our team had, I think that goes a lot further than people realize. You see a ton of teams with all this talent, but they never go anywhere. And I think that was the difference last year—that was why we took that leap. It was because of the friendship and the family-like atmosphere that we all had together on and off the field. To have that camaraderie that we had together is special. And people don't get to see that."
Another thing people didn't get to see was the work Stroman had to put in just to make the seven starts he did at the end of the season. In between outings he was still grinding through rehab sessions for his knee, trying to build strength in his quadriceps, which had atrophied when he couldn't walk after surgery, to give him the stamina he needed to pitch deep into games. On start days he would go through three separate stretching routines throughout the afternoon, interspersed with time spent in a Jacuzzi and vigorous massaging and foam rolling of his knee to minimize scar tissue. "People thought when I came back that I was automatically healthy. I wasn't healthy," Stroman says. "I wasn't pitching at 100 percent; my knee was not 100 percent. I'm not gonna throw a percentage out there, but in between starts I was still rehabbing it. What I had to do for games, just to get my knee ready, people will never understand."
Now, his attention shifts to 2016. This offseason has been ripe with tumult and dissatisfaction for Blue Jays fans, a harsh comedown from that three-month trip. They first suffered the loss of Alex Anthopoulos, the Canadian GM who was just short of deified for finally perfecting the orchestra that returned the team to the postseason only to walk away right after the crescendo. Fans were then forced to stomach the sights and sounds of David Price, perhaps the most integral part of that post–trade deadline run in both spirit and performance, pulling on a Red Sox cap and saying he'd been saving his playoff wins for Fenway. Stroman's not immune to that disappointment, and he's not naive to the fact that fans are upset. He sees it all. He knows Price left a hole at the top of the Blue Jays rotation and that many are counting on him to fill it. It's maybe the one redeemable aspect of Price's departure for him. Now he gets to do what he's always wanted. Now Marcus Stroman gets to prove he can lead the staff. "I want to be the guy that the team counts on every single time I go out there to get a win. I want to be a guy to throw 200-plus innings. I want to be the ace," Stroman says. "I want to be the ace of the staff for many, many years. I want to be the best in the game. That's why I work like I do. And I'll continue to do so until I am."
And yet, who's to say he can? The most innings he's ever thrown are the 165.2 he spun between Buffalo and Toronto in 2014, and that only included 20 major-league starts. And in the 16 months between the end of that season and the beginning of 2016 spring training, Stroman will have made just nine starts and logged 54 innings, and that's including his two minor-league rehab outings. He's already at a physical disadvantage as a shorter pitcher (he's one of just five pitchers under five-foot-nine to start a game in the majors over the last three decades) and is still less than a year removed from his knee surgery. Frankly, the safe bet is against Stroman, considering not only that what he's trying to do hasn't been done before, but that the achievement is very, very hard on its own for tall, non-surgically-repaired athletes (just 28 pitchers threw more than 200 major-league innings last year). Stroman doesn't have an empirical response for any of these concerns. He sees the logic in it; he admits it's not realistic to expect a guy to return from ACL surgery in five months and compete at the highest level; he knows why in some corners the belief will never be there that he can actually do all he sets out to. He's fine with you saying all that, because what Stroman's doing right now in Durham is working on the response. The response is the goal. In his mind, that proof is coming at the end of 2016, and then further proof in 2017 and 2018 and for years after that. He sees it when he closes his eyes. All he can tell you for now: Just watch me.
"I know what I'm capable of," Stroman says. "A lot of people are doubting that he can be the guy to go out there and throw 200-plus innings, being five-eight and coming off knee surgery and all that. That's in the back of my mind the entire process. And I'm so thankful for those reporters and those doubters and those people who fuel the fire. Without those individuals I don't think I would have my work ethic or be as motivated as I am to prove them wrong. I wouldn't want to have it any other way. I'm five-foot-eight, and I'm a starting pitcher, and I plan to throw 200-plus innings. I feel like I'm capable of anything."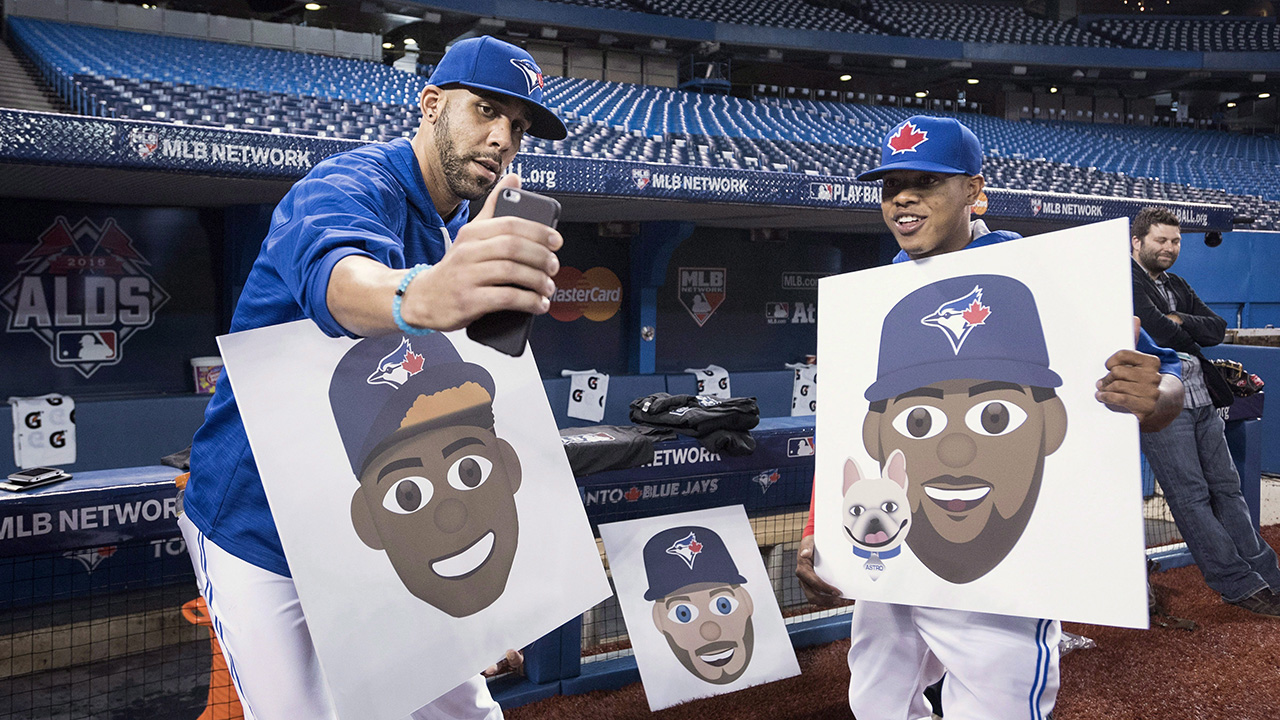 When Stroman rewarded himself for graduating from Duke this summer with a brand new Audi RS7 in nardo grey with red diamond-stitching interior—"It's one of 50," he'll tell you repeatedly—he cleaned out his old car and threw much of the debris away, save for one crucial item. It's a blue-and-white accessible parking permit, and it still hangs from his mirror to this day, although it's long expired and Stroman no longer parks in the spaces it gave him the right to. Last summer, when he was driving to and from his daily rehab sessions, it came in handy, as Stroman was limping around for the first couple months he was in Durham, barely able to climb the stairs on the first day of consultations with his doctors. He figures it got him this far. "It's good luck," Stroman says. "Why get rid of it now?"
As much as many things have changed for Stroman, many have stayed the same. New car; same parking pass. New goals; same trainers. New condo; same friends. All these years after he pitched for Duke on Friday nights—after a season spent playing second base and closing games, mind you—he's still in Durham, still eating at the same sushi place where he dined before every start, still walking past the same buildings where he studied this summer while completing his sociology degree, still going to the same strip mall grocer that carries the particular variety of granola he craves. The protective and territorial—perhaps a little paranoid—Stroman doesn't want the name of the store or the granola made public ("You'll get all these other major-leaguers coming in here, just watch," he says) but that doesn't stop him from posing for pictures with a pair of employees working the register, who tell him they can't wait to see him pitch a full season next year. "The return was legendary," Stroman tells them, aping the tweet he sent days after he tore his ACL. "But 2016's going to be even better."
It's always on his mind: the 200-inning season he wants to pitch, yet another middle finger extended to those who say he can't do it. It was on his mind when he was at his sister's wedding in New York this November; on his mind in Vegas, where he went for a weekend with a number of Blue Jays, including Josh Donaldson and Troy Tulowitzki, to watch Conor McGregor knock out Jose Aldo at UFC 194; on his mind when he was on Sunset Boulevard with Sanchez and other friends, posing by a white Lamborghini while filming a cameo in his close friend Mike Stud's latest music video; on his mind when he was messaging with Arizona Cardinals free safety Tyrann Mathieu, the similarly undersized athlete out of LSU who tore his ACL in December and quickly reached out to Stroman for advice. It's been a busy offseason, to be sure, but any conversation with Stroman inevitably turns to baseball. While he's enjoying the spoils of his ever-growing fame, which brings with it a cavalcade of opportunities to essentially do really cool stuff, he hasn't lost focus on his desire to have his on-field life take off as well.
"I just try to stick to the people I've been around and who have put me in the best position to succeed," Stroman says. "The team that I had this past summer at Duke was unbelievable, and going forward they'll have the majority input on everything that has to do with my performance athletically and everything that has to do with my body. I trust them with everything.
"We're motivated. I've got my brother Sanchey with me here training. It's something we've been focusing on. Even throughout the whole end of last season, we were like, 'Hey, we're going to ride this out this year, and then whatever we can do this offseason to better ourselves, we're going to do it.' We've been dedicated. We're doing everything in our power to go out there and dominate, and help the Blue Jays win games and bring the city a championship. That's the goal."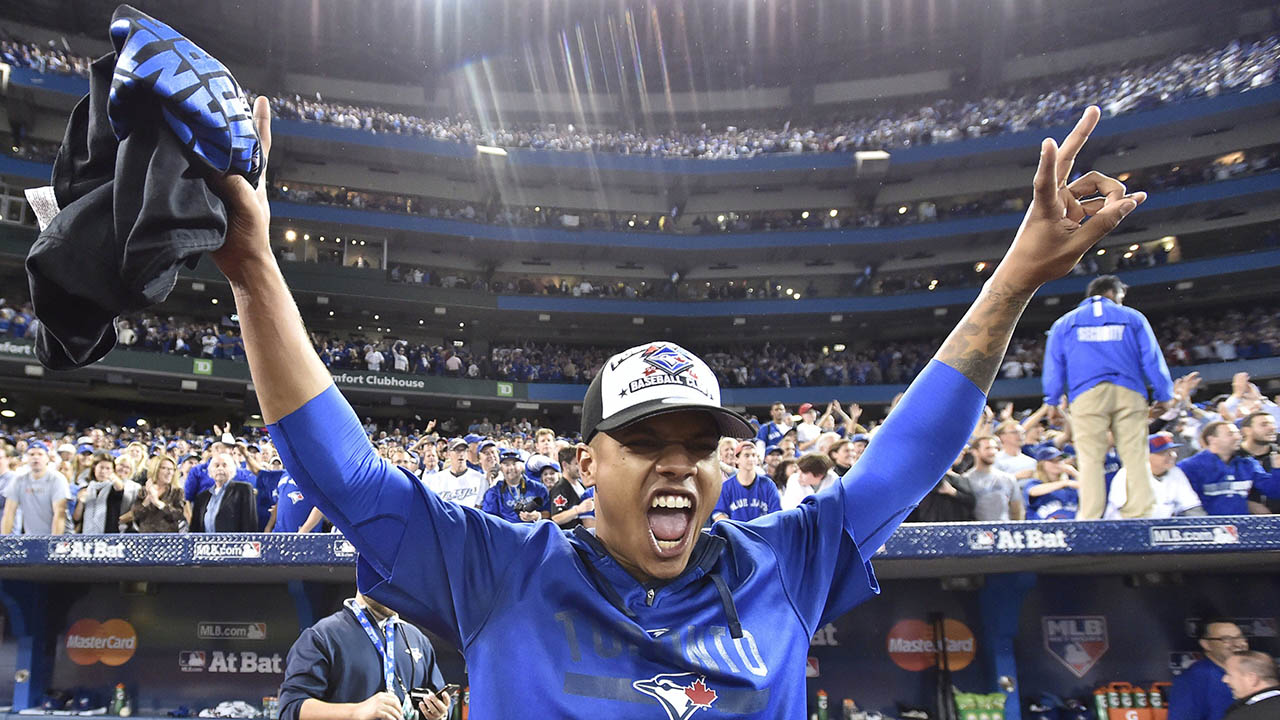 It's 9:00 a.m. in the Michael W. Krzyzewski Human Performance Lab (or the K Lab, as everyone calls it) and Stroman is arriving for one of his final workouts before going home for the holidays. Bright yellow tufts of hair poke out from under the hood of a heavy, camouflage Canada Goose jacket, as Stroman plops down on a trainer's table in the massive, white-walled training facility to discover a Starbucks coffee and cookie awaiting him, provided by Sanchez, who arrived to begin training 30 minutes earlier. "Thanks, mang!" Stroman shouts out at the Blue Jays reliever, who's engrossed in a series of core-stabilizing work using TRX ropes that extend from a wall. "You know I gotta get right with my cookie."
Sanchez is a mellower dude, the West Coast chill to Stroman's East Coast hyperactivity, so the musical accompaniment to the morning's workout has been subdued and relaxed thus far. Of course, with Stroman that simply won't do. After disappearing briefly into a dark, quiet room to have the readiness levels of his central nervous system read using an Omegawave device, Stroman comes back into the main area and heads immediately for a wireless speaker near some kettlebells along one side of the room, cranking the volume a few dozen decibels and choosing a more energetic, aggressive score as he begins his warm-up, wrapping long latex resistance bands around his hips, legs and feet. Stroman's workouts might as well be held at frat parties or barbershops, as he fills his time in between repetitions with a steady diet of dancing, texting, selfieing, adjusting his headband, taking the piss out of anyone and anything within a 10-metre radius, boasting about just how well he's working out, and obsessively changing the music, never letting a single song last longer than a couple minutes before moving on to something else. It's at least a little bit funny that Stroman approaches his workouts this way in a facility named after an NCAA basketball coach renowned for his insane focus and I-will-stare-a-goddamn-hole-through-your-heart-if-you-don't-take-this-screen-drill-seriously intensity. And it's not lost on Stroman—who plays one of North America's crustiest, fun-suppressing, reticent-to-change sports—that it's a bit outside the box.
"Yeah, people always give me crap for that," Stroman says, grinning. "But I like that atmosphere. I like having people there with me who are going to laugh and have a good time. I'm not one to go in there with no music and just go through a silent workout. That's not me. I'm gonna bop around, I'm gonna play tunes I like, I'm gonna have people around me I like, I'm gonna have everyone laughing, and we're going to work out. We're putting in unbelievable work—while laughing and having a good time. That's just my nature. That's just how I am. I don't see myself changing anytime soon."
And he shouldn't. Marcus Stroman should never change, because what makes the 24-year-old so compelling is just how different he is. Every time he bounces off the mound, screaming, nodding his head, pounding his glove, painting yet another GIF-able moment; every time he's leaping out of his seat in the dugout, top-stepping it to slap palms and flex muscles with whoever just hit a home run or pitched their way out of a jam; every Snapchat story told from behind the wheel of his car and shared publicly with his fans; every workout/party; every eccentric fashion choice; every bold prediction; every time he does something they say he can't—it all just proves you really can do things your way. You really can write your own story. Nothing Marcus Stroman does is in the form baseball wants. Nothing is in the program.
"Go chase your dreams. Go get it. Don't let anyone tell you anything different," Stroman says. "That's something that I truly believe in. When people doubt you, use it as fire. Don't let it push you in the wrong way. Don't let it take away from you working harder. Don't let it discourage you. Just use it. Let it build in the back of your head and deep in your chest, and when you get out there to perform, just let it consume you and let it eat you up. And that's when you let it all come out."
Photo credits: Fred Thornhill/CP; Darren Calabrese/CP; Nathan Denette/CP