BALTIMORE – Record or not, what Kendrys Morales did over the past week is incredibly special.
A streak of seven straight games with a home run, the longest such stretch in Toronto Blue Jays history, one short of the big-league mark of eight shared by Ken Griffey Jr., Don Mattingly and Dale Long, is an insanely difficult feat.
The remarkable run ended in Monday night's 7-0 loss to the Baltimore Orioles – Morales struck out in the first, grounded out in the fourth, walked in the sixth and went down swinging in the eighth – but in a season largely bereft of awe, this was some magic.
"It had to finish one day or another, we couldn't think I was going to hit 10 or 15 more," Morales said through interpreter Josue Peley. "But it's something incredible, something I'm really proud of, something I'm really happy about. I never thought I was going to do something like that in my life, so I'm really happy I did."
In the grander scheme of things, as impressive as the streak was, what's truly impressive is the manner in which Morales has managed to rescue a season that started so poorly, a release seemed like a reasonable consideration.
Through May 17, the 35-year-old was batting .146/.239/.260 with three homers and 12 walks versus 25 strikeouts in 109 plate appearances, often looking like he had no chance at the plate.
At one point, he suffered through an 0-for-29 stretch.
Then he dumped his glasses, made a mechanical adjustment at the plate that kept him from lunging at pitches and beating balls into the ground, and flipped a miserable start on its ear.
From May 18 through Sunday's action, he batted .308/.382/.569 with 18 homers and 31 walks versus 53 strikeouts in 288 plate appearances.
The turnaround offers a prime example of why you don't rush to judge slumping players and bail on them too quickly.
"Normally you look at who the guy is, if he's been around and if they've been productive," manager John Gibbons said of how to decide which players get rope. "I know people were starting to question his age and things like that, but generally the guys who have always done it, if they have a real tough start they may not reach their norm but they usually bounce back somewhat. He's been so good the past few months, it's almost forgotten. I didn't see it coming like this, because he scuffled at the beginning. But he works at it."
Unseen is Morales's work ethic, one that often makes him the first player at the park and among the last to leave. He's usually the first player in the dugout before each game, too, walking up from the clubhouse about 30 minutes before first pitch, leg protector strapped on, surveying the scene, readying for action.
Most pivotal, perhaps, is how the Cuban is also relatively immune to the emotional toll a baseball season can take on a player, serving as a good teammate not matter what kind of day he's had.
"He keeps a great mental outlook. He doesn't ride that mental roller coaster," said Gibbons. "He feels it, like everybody does, but he stays pretty steady and that's helped him. A guy who hasn't been around as long or had as much success, you probably worry about those guys a little more. Everybody goes through it but they may figure here's my shot and they start pressing."
Morales isn't the only Blue Jays player to turn around his 2018 in a big way. Randal Grichuk and Devon Travis have both rebounded from dismal starts to have productive years.
Still, neither of them has enjoyed the kind of stretch Morales had the past week. He hit eight homers over the seven games, all from the left side of the plate, making the most of the cookies thrown to him.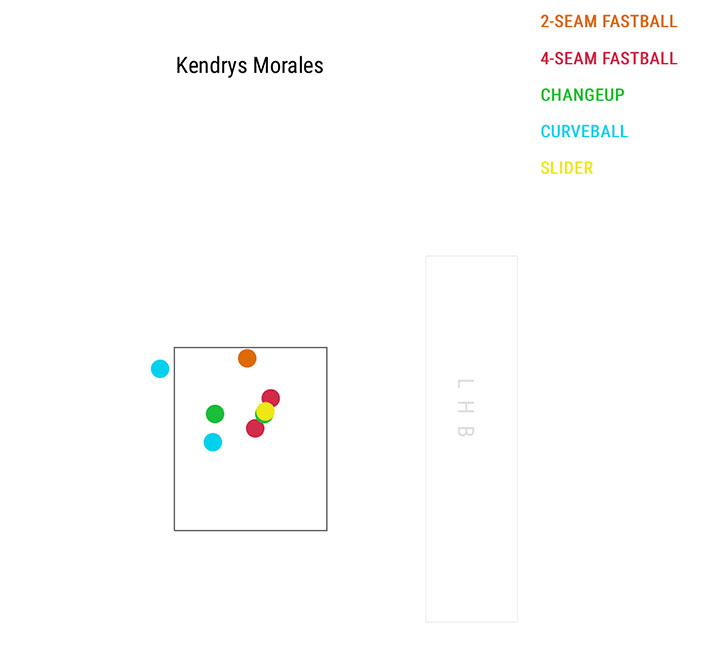 ---
Starter David Hess and the rest of the Orioles were much more careful with Morales on Monday, throwing him one happy-zone curveball in the first that was fouled off, and little else in a prime hitting zone.
A pair of borderline calls by home plate umpire Marty Foster also changed a pair of at-bats – an outer edge fastball that made the count 1-1 in the first and confused Morales's sense of the zone, and a low fastball that evened the count 2-2 in the eighth instead of setting up a 3-1 count (see pitches circled below).
They were the only two strikes he didn't swing at.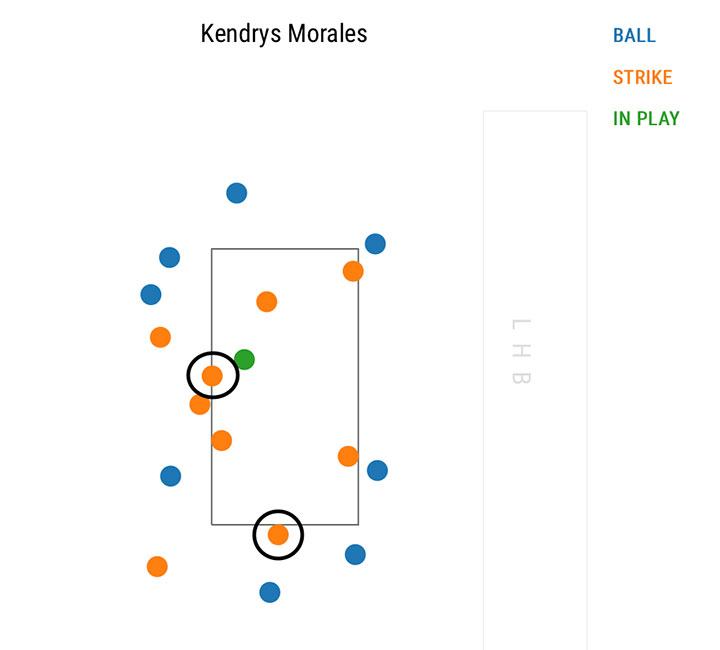 "Everything that was called today was a bit off the zone so I think I could have had a better shot but the circumstances were that I didn't get a good count to hit the ball," said Morales.
"I think (the Orioles) were trying to be careful with me, but I'm trying to fight against nine players on the other team and if they get help from somebody else, and if I don't get the help from somebody else, mostly the guy behind the plate, then I can't do anything about it."
Regardless, Morales kept getting opportunities and eventually made the most of them, rewarding the Blue Jays for showing him patience.
"It depends on the team's circumstances. If you're right in the thick of it, you've got to play your top guys, the guys that are hot and everybody understands that. When you're not, you've got to look at some of the future, too," said Gibbons. "That's a tough balancing act, but if you really believe in somebody, you've got to give them a chance because everyone goes through their ups and downs – it's just too difficult to play this game. If everybody jumps ship on everybody when things went bad quick, hell, you wouldn't have enough guys for a team."