The last time Chris Sale faced the Blue Jays, he was scuffling. Well, let's rephrase that. He was scuffling to the extent that Chris Sale ever scuffles, which is to say he was looking to rebound from an uncharacteristically awful start—a three-inning, seven-run outing against Cleveland.
If Sale had looked at the Rogers Centre scoreboard before facing the Blue Jays on August 29, he would have seen some impressive numbers, a 2.88 ERA and 253 strikeouts among them. Recent struggles or not, he was the favourite to win the American League Cy Young.
Still, that Cleveland start was tough to ignore. For the second time in a month, a potential playoff adversary had scored seven times against Sale. That'd lead to some unease in any big-league city, perhaps even more so in Boston. In next few hours, Sale would have the chance to inflame those doubts or eliminate them.
Pre-game, 5:25 pm
It was probably inevitable that Red Sox manager John Farrell would field questions about Sale's rough starts. Predictably, he downplays their significance. Aside from a few pitches left up in the zone, Farrell likes what he saw from the left-hander.
"Knowing Chris as we do, he's never satisfied," Farrell says. "The two starts against Cleveland are not something he's accepting."
As Farrell addresses the media, Sale's de facto personal catcher prepares to face the Blue Jays. Sandy Leon knows first-hand how tough it is to face Sale, having struck out twice in three career at bats against him.
"He's nasty," Leon says. Catching him isn't as nerve-wracking, though. "No," Leon says, "because I know what's coming." In fact Leon knows what's coming even before Sale does, because Sale never shakes off his catcher, preferring to leave the preparation to Leon.
"His catcher puts in the time," says Brian Bannister, a former big-league pitcher who's now Boston's vice president of pitching development and assistant pitching coach. "He goes out and focuses on execution."
Pre-game, 6:39 pm
Sale walks toward the right field bullpen having had four days to mull over his ugly start in Cleveland. The Red Sox have won just once since then, though they still have a 3.5-game lead over the New York Yankees in the American League East.
The Red Sox believe, quite understandably, that Sale can pitch effectively against any lineup when he executes his pitches. Cleveland, Toronto, New York or anyone else. They prefer not to overburden Sale with information about hitter tendencies between starts. Even so, "he's really into analytics," according to Bannister. "Trying to play a better poker hand as often as possible. You're trying to maximize your probabilities."
In preparation for this outing against the Blue Jays, Sale threw on the side a bit more than usual, eager for the chance to redeem himself. "You want to get right back out there," he says.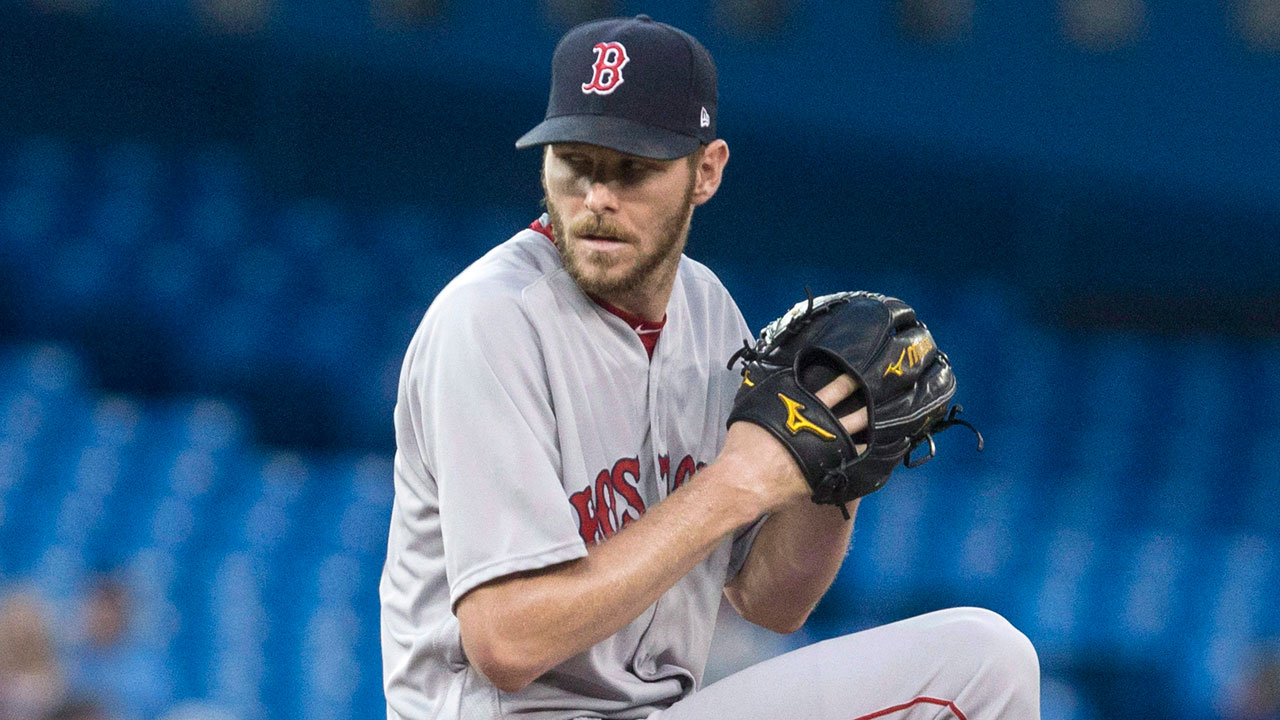 Bottom of the first inning, 7:17 p.m.
From the beginning, it's clear that Sale's on. Steve Pearce strikes out swinging on Sale's fourth pitch of the game, setting up an easy one-two-three inning. Jose Bautista opens the second inning by striking out on a pitch that bounces before it reaches Leon.
Soon afterwards, Sale makes history. When Kevin Pillar takes a called third strike, Sale reaches 1,500 career strikeouts in fewer innings than anyone in MLB history, passing Kerry Wood.
"This game's been around a long time," Sale says later. "To do that, it's cool."
In the third inning Sale strikes out the side, contrasting a fastball that reaches 97 m.p.h. with a breaking ball that's about 20 m.p.h. slower. When hitters see the ball leave Sale's hand, they can't be sure how it's going to behave, because both the fastball and the breaking ball look similar until it's too late.
"They both break in opposite directions," Bannister says. "You don't have time to make up your mind."
"It's very hard to handle 97 in one part of the zone and 77 breaking hard in the opposite part of the zone."
Adds Farrell, "You marvel at his overall stuff."
"Swings" on Chris Sale's Slider (all from Last Night). pic.twitter.com/X87w3eKZjp

— Rob Friedman (@PitchingNinja) August 30, 2017
Case in point: the Blue Jays hitters who swing and miss on 20 of Sale's 107 pitches. These days, that's the norm for Sale in contrast to 2016, when he decided to pitch to contact, stay in games and save his bullpen. In a way it worked, as Sale pitched a career-high 226.2 innings with the White Sox. Perhaps in spite of himself, he still struck out 233 hitters. But this year Sale's attacking more, conserving less.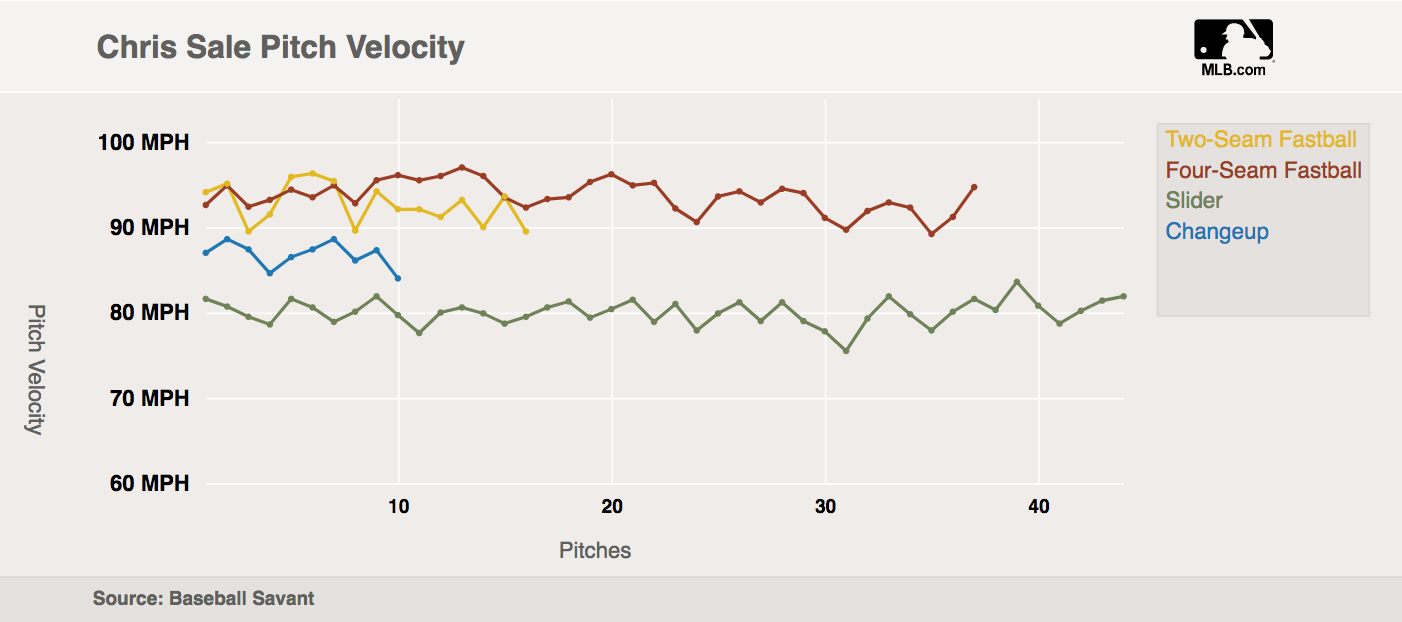 "He's going for more swing and miss," Bannister says. "Not being content with letting a batter put a bat on the ball. I think those strikeout numbers speak for themselves."
Those numbers are pretty ridiculous. He's striking out 36 per cent of the hitters he faces, more than any starting pitcher in baseball. Once he starts rolling through the Blue Jays' lineup, he doesn't stop.
"He got into a great rhythm, a great groove," Farrell says later.
In the third, fourth, fifth, sixth and seventh innings, the Blue Jays go down in order.
Bottom of the eighth inning, 9:18 p.m.
Finally, the Blue Jays get to Sale. Kendrys Morales and Kevin Pillar chase him from the game with back-to-back singles, and Farrell calls on Addison Reed, a strike-throwing reliever acquired mid-season by Dave Dombrowski, the Red Sox president of baseball operations, who also traded for Sale. Reed enters with two on and nobody out.
As Sale puts it, "I left him in a freaking dumpster fire."
Reed does his job, allowing a single but no runs to preserve Boston's 3-0 lead. One inning later, Craig Kimbrel completes the shutout and Sale has earned his 15th win of the season.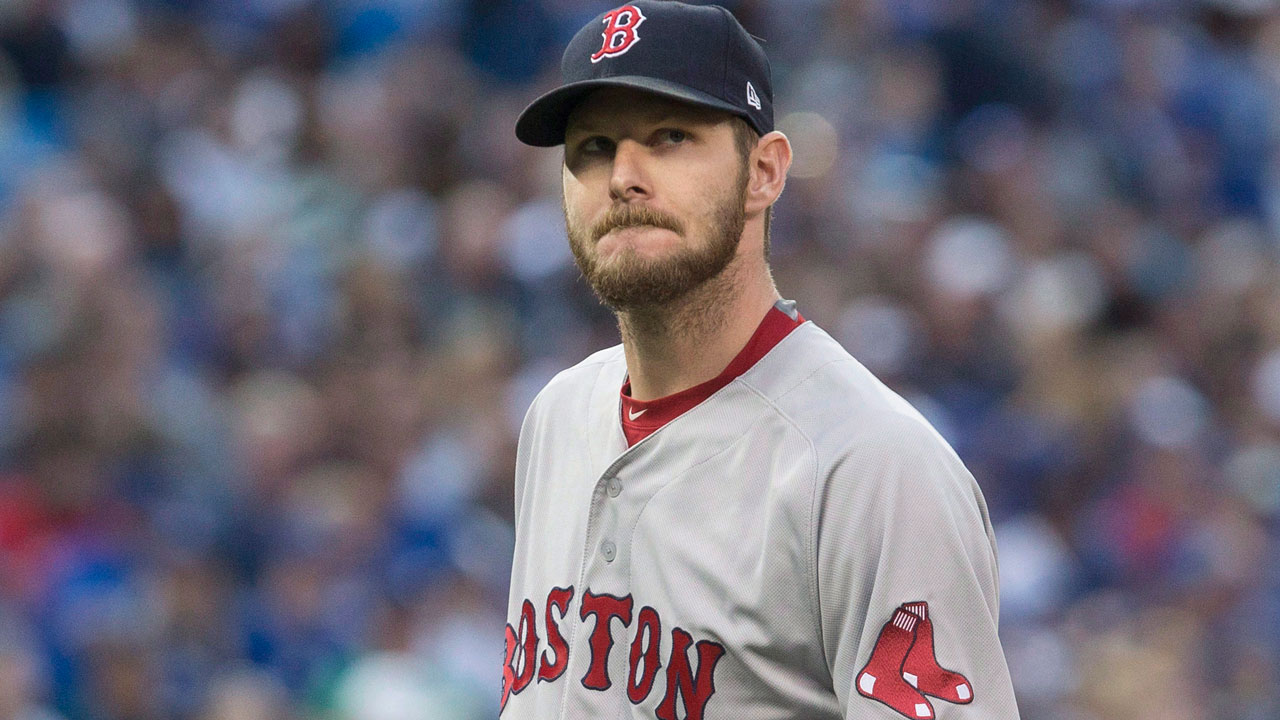 Post-game, 10:10 p.m.
As Sale prepares to field questions from the media in the visiting clubhouse, Farrell sings his praises in the visiting manager's office.
"Vintage Chris Sale," he says. Moments later, Dombrowski walks past and shakes his ace's hand, congratulations for a job well done.
In the weeks to come, the Red Sox will be counting on Sale for more starts like this. Even after gaining a half game in the standings on the idle Yankees, the Red Sox are still uncomfortably close to their longtime rival.
Big picture, Sale's having an incredible season regardless of what happens on any one night. The numbers reflect that reality, and yet it's never just about the numbers. Recovering from that ugly Cleveland start was important to the Red Sox. Even for Sale it's a relief that his wait for redemption is over.
"Time doesn't move any slower or faster for anyone, so basically just wearing it until you get back out there again," he says.
"It seemed like a month."
[relatedlinks]