TORONTO — While baseball is rich with statistics that allow us to analyze and deconstruct the game in various ways, it feels like one area has been under serviced: an ugliness metric. How can we quantify which games are more difficult to watch than others?
Is there not a way to combine runs against, errors committed, outs made on the base paths, pace of play, and quality of plate appearances into a measure of ugliness? Call it wTF: the weighted Turd Factor. Or wTF+, which adjusts for ballpark and league. Someone get Bill James on this.
We could use it to answer the important questions. Was last weekend's 15-1 drubbing at the hands of the Boston Red Sox the ugliest game the Toronto Blue Jays have played to this point? How about the one on the first of June when Marco Estrada got rocked and the New York Yankees teed off for 12? What about two nights later when Jason Grilli gave up four home runs in a single inning?
We ask because Friday brought a new entry into the debate, as the Houston Astros looked like the best team in baseball and the Blue Jays looked like one of the worst. Toronto combusted, fell behind by a touchdown early, and burned steadily from there as they lost demoralizingly, 12-2.
It was pretty dispiriting. You had Aaron Sanchez taking the mound for his first big-league start in nearly two months, stumbling slightly as he gave up back-to-back broken bat singles to the first two hitters he faced, and then falling completely off a cliff from there.
After a double-play got him within an out of escaping the first, Sanchez threw a belt-high fastball to Carlos Correa, which the Astros shortstop bounced off the facing of the first deck seats in right-centre field.
Similar story in the second, as Sanchez walked the no.'s 7 and 9 hitters before leaving a fastball all over the plate to George Springer, who drove it 396-feet beyond the right field wall.
Sanchez made it halfway to his 90-pitch limit with only one out in the second inning and didn't get much further. After Evan Gattis — who walked to lead off the inning — hammered an elevated fastball to the wall in left, Sanchez was lifted at 55 pitches, having recorded just five outs while allowing eight runs (five earned) on seven hits and four walks.
"Not enough strikes. But in saying that, I thought he was close a lot of the time," said Blue Jays manager John Gibbons. "But the issues were with balls and strikes, and getting his breaking ball going. If he could've thrown that curveball over a little bit more I think that would've helped him. But that'll come.
"He looks strong. And they swing it. If you make a mistake, they're hitting it. But I don't think it was as bad as the line looked. I thought he was close."
For Sanchez, it was a nightmare return from the disabled list, where he has resided since late May thanks to blister issues on the middle finger of his right hand. Home plate umpire Dana DeMuth certainly didn't do him any favours, calling several borderline pitches in favour of the Astros rather than Sanchez.
But the Blue Jays starter also left a few pitches on the plate, including a couple that ended up middle-middle. Houston's hitters certainly didn't miss them, which is why the Astros out total did not match their runs total until the end of the third inning.
Still, Sanchez was encouraged by how he felt on the mound, saying he didn't think about his finger once and that his mechanics felt strong. Those are heartening things for Sanchez to carry forward into his next start after the all-star break, one he envisions going much differently in terms of results.
"Felt like my stuff was coming out of my hand very easy. I had that sink that I had before the issue. And I think even better," Sanchez said. "Tonight was just all over the place in terms of what happened after I let go of the pitch and those are things I can't control."
Sanchez did endure some awfully poor batted ball luck, like those two sawed-off singles or the ball Carlos Beltran drove directly down into home plate during the second inning, bouncing it so high that the not-exactly-fleet-of-foot DH was able to reach first about a half-second before it came back down.
"You can't let that be an excuse. My game is to attack. When you throw a hard sinker like that — it's been like that my whole career, I've given up hits like that time and time again," Sanchez said. "It's nothing new. You've got to find a way to get out of that. It was just one of those nights where things weren't going my way."
Toronto Blue Jays on Sportsnet NOW
Want to stream every Blue Jays games this season? Sportsnet NOW has you covered. Catch every Blue Jays game, marquee MLB matchups, the 2017 Home Run Derby and All-Star Game, the playoffs and entire World Series.
The Blue Jays defence also did its part to make Friday's affair particularly unpleasant. You had Troy Tulowitzki and Ryan Goins botching a double play attempt, as Tulowitzki flipped the ball to an unmanned second base while Goins backed away. You had Kevin Pillar bobbling a ball in the outfield, and Tulowitzki doing spins on a blooper just beyond shortstop, letting the ball bounce in front of him, carom over his head, and then bounce behind him.
And how about some bad baserunning while we're at it, like Steve Pearce trying to turn a bloop single just beyond the infield dirt into a double with his team down eight, running directly into one of the easier outs the Astros will record this season.
"They shouldn't happen, but they happen sometimes," Gibbon said of the Blue Jays many miscues. "But they all realize it."
Credit to Mike Bolsinger, who came on in relief of Sanchez in the second inning and essentially pitched a starter's outing, mopping things up over 5.1 innings. He struck out seven, keeping Houston off balance with a barrage of breaking balls, until he ran out of gas in his final frame and gave up a pair of very loud home runs to Gattis and Springer, each of them flying more than 410-feet at over 105-mph.
Offence? The Blue Jays certainly didn't bring much of it, finding themselves stymied by Astros starter Charlie Morton, who carried a 4.06 ERA into the night. Morton was on the plate plenty and didn't feature overwhelming stuff, but the Blue Jays were unable to do anything with it.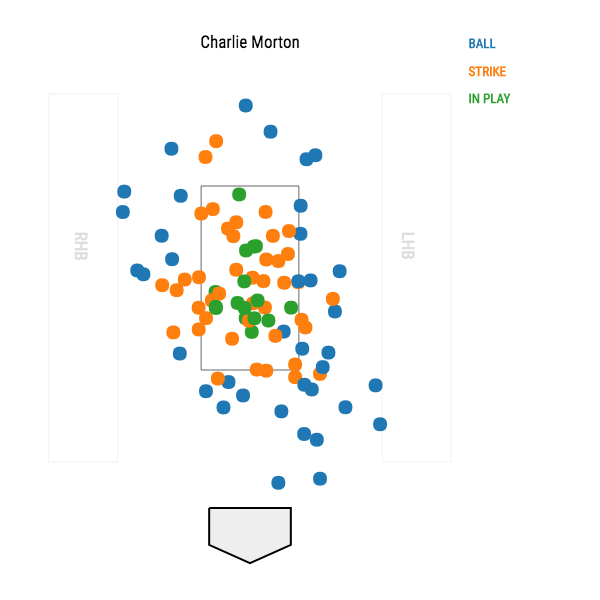 Toronto mustered only six hits and two runs throughout the entire evening, as Tulowitzki and Ezequiel Carrera both hit solo home runs. They were the only Blue Jays to touch second base.
It was at least a briskly played game, reaching its merciful conclusion in exactly three hours. Come to think of it, that probably lowers its wTF+. Who knows — we're still workshopping it.