NEW YORK – Paying attention to matters beyond the ugliest inning of the season for the Toronto Blue Jays, a seven-run sixth by the New York Yankees that turned a close game into a laugher Saturday, isn't easy.
Because that was, like, bad. Really, really bad. Consider that through their first 19 games, the Blue Jays hadn't allowed more than six runs in an entire game. They gave up more than that in a single inning, paving the way to a 9-1 loss on a pleasant and sunny day in the Bronx.
So the inclination for the hot-take set is to skewer Marcus Stroman and say the struggling right-hander is still mired deep in his season-opening funk.
The truth is he made some progress, perhaps significantly so, in an outing that ended with a car-wrapped-around-a-tree pitching line. Through five innings, Stroman was back, getting nine groundball outs and four strikeouts with only two runs against on an Aaron Judge rocket.
Livestream the Toronto Blue Jays on the most popular devices. Plus, get over 150 marquee MLB matchups, the Home Run Derby, All-Star Game and Postseason.
As manager John Gibbons put it, "early on that was as good as I've ever seen him. … I thought he's going to go at least seven, eight innings there, maybe nine. He was on that kind of roll."
Then, as it so often has through his first four outings of the year, the command of his critical two-seamer disappeared and he couldn't get it back.
"It's frustrating," said Stroman, "but I'm going to do everything in my power, I'll kill myself [working], before I continue to go out there like this. I know that with my work ethic I'm going to get back to where I need to be, hopefully soon."
Stroman has already done plenty of tinkering, and Saturday he regained the rhythm in his delivery he'd been seeking so desperately that last week in Cleveland he experimented with the arm-pump trigger mechanism he abandoned midway through the 2016 season.
That didn't really work – "He was a little late at times with his release and his timing wasn't quite right," pitching coach Pete Walker said before the game – and Stroman bailed on the pump versus the Yankees, going back to starting his delivery with his hands at the belt.
"My delivery is good, that resolved itself," he said.
The key is in getting back to the same slot that worked for him in 2017 – "When his break was better and his release point was better," said Walker – as this year he's down a touch.
Even a slight drop can impact the action on his pitches and his command.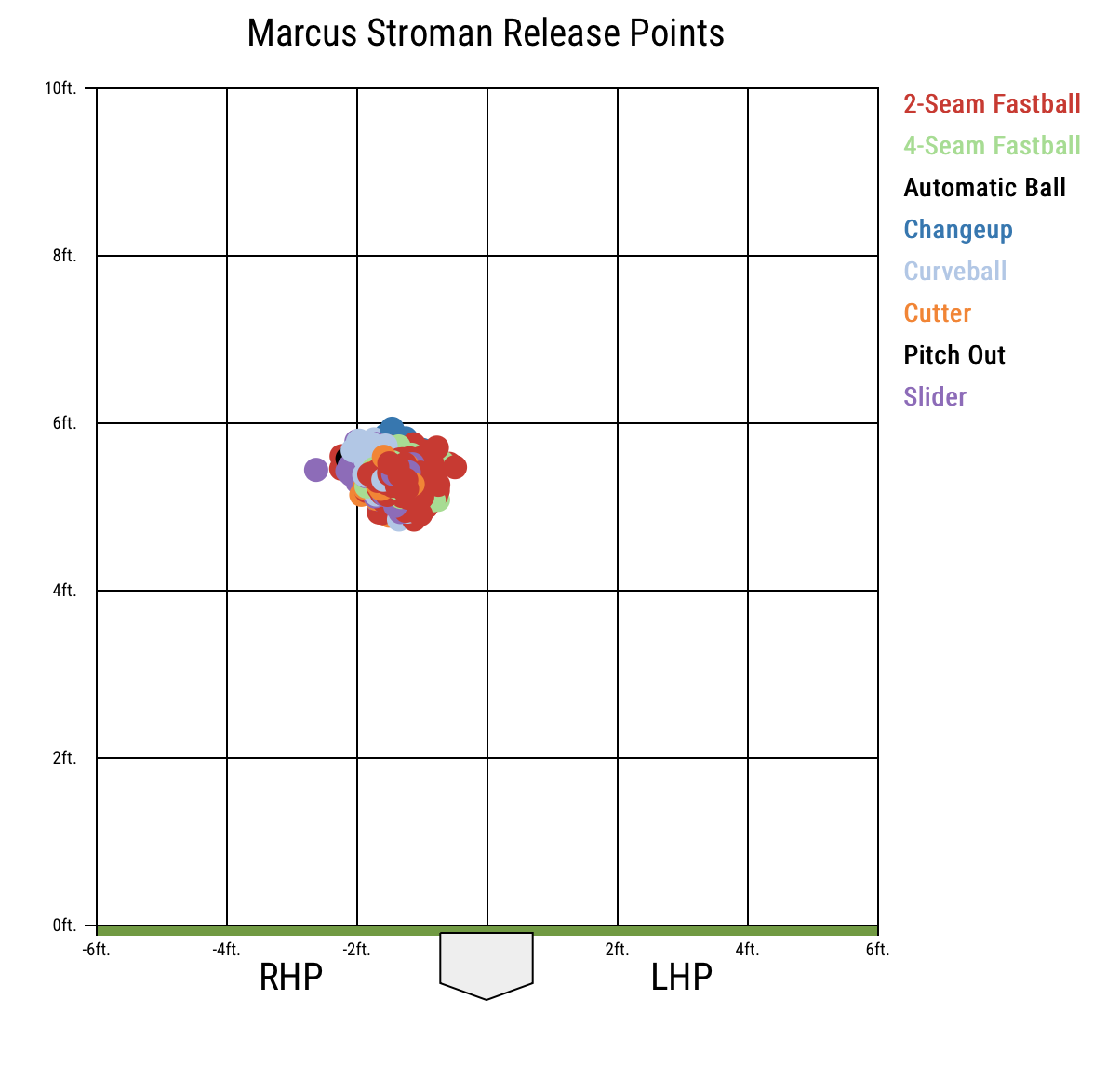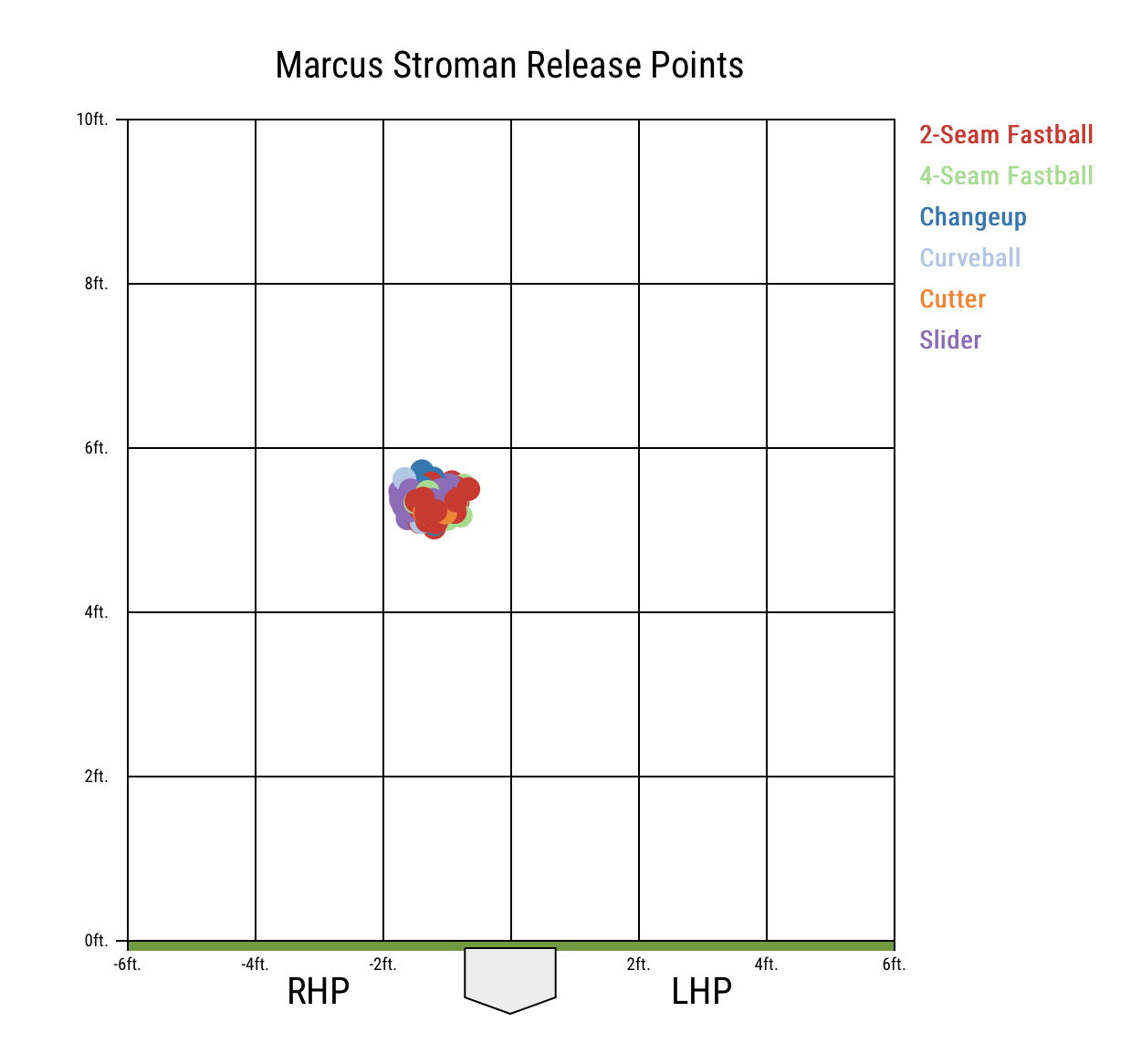 "That could be why, because when I'm missing I'm down right now – it's almost like my sinker has too much action," said Stroman. "First two innings, it was perfect. And then certain innings, I can't get it to where I need it to get to and I'm not trying to leave it up, so it becomes a pitch that I spike, spike, spike. Then when I get it back in the count, I try to throw one that's up more – I just can't find a feel for it. But it's there, that's why it's frustrating. I had it. I've just got to figure out why I'm losing it at some points in the game."
Another issue at work may be a slight drop in his velocity.
Still, against the Yankees, Stroman's first six outs all came on groundballs, he generated nine whiffs and finished with five strikeouts. Save for Judge's drive into the second deck that opened the scoring in the third inning, a two-run shot on a 3-0 two-seamer that leaked back over the heart of the plate, Stroman was in control until the sixth.
"I was making good pitches in the first five, besides the one to Judge," he said. "Had great action, got groundball outs. That's when I'm going good. I've just got to figure out why I'm not carrying that over into the next inning sometimes."
Walks remain a problem as Stroman uncharacteristically issued four more, pushing his season total to 14 in 20 innings of work. A walk to Brett Gardner after being up in the count set up the Judge homer. Two more walks in the decisive sixth gave oxygen to the Yankees rally, although so too did a bases-loaded squib by Aaron Hicks that Stroman pounced on and shoveled home, only to see the ball dropped as Judge slid into Luke Maile's left ankle.
The error from the catcher pushed the Yankees' lead to 4-1 and after a Neil Walker strikeout, Miguel Andujar caught a hanging slider and drove it to the gap in left-centre to clear the bases. That was all for Stroman, things further unraveled for John Axford, and it was go for the series split on Sunday time.
"Definitely some things to take from [the outing], it's just a matter of finding out why I'm losing it inning to inning, why I don't have my command there in certain parts. I know this is obviously a down-point for me but with my work ethic, I know times like this won't last," said Stroman.
"I'm going to figure this out soon and get back to being dominant and going deep in games."
In this MLB and Toronto Blue Jays podcast, Dan Shulman takes a look at the human side of baseball. Because everyone in the game has a story.
Not helping matters is that the Blue Jays went 1-for-7 with runners in scoring position, coming up empty with the bases loaded and one out in the third, and cashing in only one run on a Steve Pearce RBI single in the fifth after putting men on second and third with none out.
They let Jordan Montgomery off the hook the two opportunities they had to get him.
"We had some guys on base, we just couldn't cash in at all," said Gibbons. "We've been getting guys on base really this whole series.
Stroman wasn't as fortunate, as an ERA now at an unsightly 8.55 shows, as he continues to try to make up for a lost spring in the regular season.
"He's playing catch up, trying to get back to his 2017 form and in a short amount of time," said Walker. "He's an amazing kid with tremendous work ethic, desire and passion, but just didn't have enough time to get where he wants to be. Now he's still trying to get there and I think over the next starts you'll see a more consistent Marcus Stroman."
For five innings Saturday you could see that guy, although it might be difficult to recognize with the ugliness of the sixth obscuring the view.