BALTIMORE – Through seven dominant innings, a place in Toronto Blue Jays lore alongside Dave Stieb was within reach for Aaron Sanchez. The 25-year-old right-hander was nasty, and the Baltimore Orioles were lost, flailing away meekly at his newly vicious change-up, which he threw an astonishing 42 times in 98 pitches, rarely making solid contact. They'd managed five walks and a hit-by-pitch, but had only pushed him three batters over the minimum.
April 10, 2018 appeared destined to join Sept. 2, 1990 as the only days in club history in which the pitcher threw a no-hitter. But it was not to be, and after Tim Beckham ended the bid with a dubiously scored double that ripped through Josh Donaldson's legs, Sanchez suddenly found himself trying to prevent a late loss rather than chasing history.
The way he contained the damage in an eighth inning on the precipice was nearly as impressive as the way he prevented damage earlier on, and Curtis Granderson ensured the performance didn't go to waste with a solo shot in the ninth that secured a 2-1 victory Tuesday at a bone-chillingly cold Camden Yards.
Roberto Osuna, hardcore in short sleeves on the mound, closed things out in the ninth for his 100th career save, the youngest pitcher in big-league history to reach the plateau, as the Blue Jays improved to 8-4 to start the new season highlighted by Sanchez's ongoing progression.
"I'm not necessarily a thrower anymore, I'm more of a pitcher. I'll take it," said Sanchez. "From here my game is only going to get better. I think tonight was just a little preview of what I can be."
Sanchez primarily rode his two-seamer to the American League's ERA title in 2016 and has been searching for a reliable secondary option throughout his career. In previous years, the curveball was his trusty No. 2, but during the spring at the urging of manager John Gibbons, he found some consistency with the change.
Though the velocity differential from his fastball is less than typical of the pitch, the change-up comes out from virtually the same spot, as the chart below shows, a key reason it plays so well.
"Today (the change-up) was the best I've ever seen it," said catcher Russell Martin. "Even just warming up in the bullpen, he has feel for it now, like he's doing what he wants with it. What's nice is that he sells it like it's a heater. There's no difference. You can't tell the difference between the change-up and the fastball and that's what's tough as a hitter. Marco (Estrada), probably, is the best at it, but Sanchie, he's got 96 and you're trying to get the head out, and you've got a good change-up that has some sink to it – it's tough."
The Orioles found that out firsthand Tuesday.
Up until the eighth, Trey Mancini was the only hitter really on Sanchez, ripping a four-seamer at 106.5 mph toward the gap in right-centre that Steve Pearce chased down in the first; a two-seamer at 103.4 mph to right-centre that a leaping Kevin Pillar tracked down in the fourth; and another two-seamer to centre at 107.2 mph that Pillar corralled in the sixth.
Otherwise hard contact off him was few and far between.
"It was probably one of the most effortless outings I've ever seen him have," said manager John Gibbons. "It looked like it was nice and easy. He didn't reach back for anything extra, which is going to be important."
Orioles starter Andrew Cashner was nearly as ruthless, holding the Blue Jays down on four hits and three walks. But they broke through in the eighth against former teammate Miguel Castro, as Justin Smoak worked a one-out walk, took second on a wild pitch, advanced to third on a Yangervis Solarte single and scored when Anthony Santander's throw home from right field squirted through catcher Chance Sisco and Castro into the Blue Jays dugout.
Staked to a 1-0 lead, Beckham ripped Sanchez's first pitch of the eighth, a change-up, through Donaldson. While the hot shot at 90.6 mph could have easily been scored an error, Santander erased any debate about the no-no with a single to right.
"Honestly, I didn't try to pay too much attention to it. I had walked guys and I was kind of more upset about that than anything," Sanchez said of the no-hit bid. "I knew what was at stake. I was just trying to go out there and execute pitches. I was still pitching in a 0-0 game. It was more about outlasting their starter, trying to make pitches."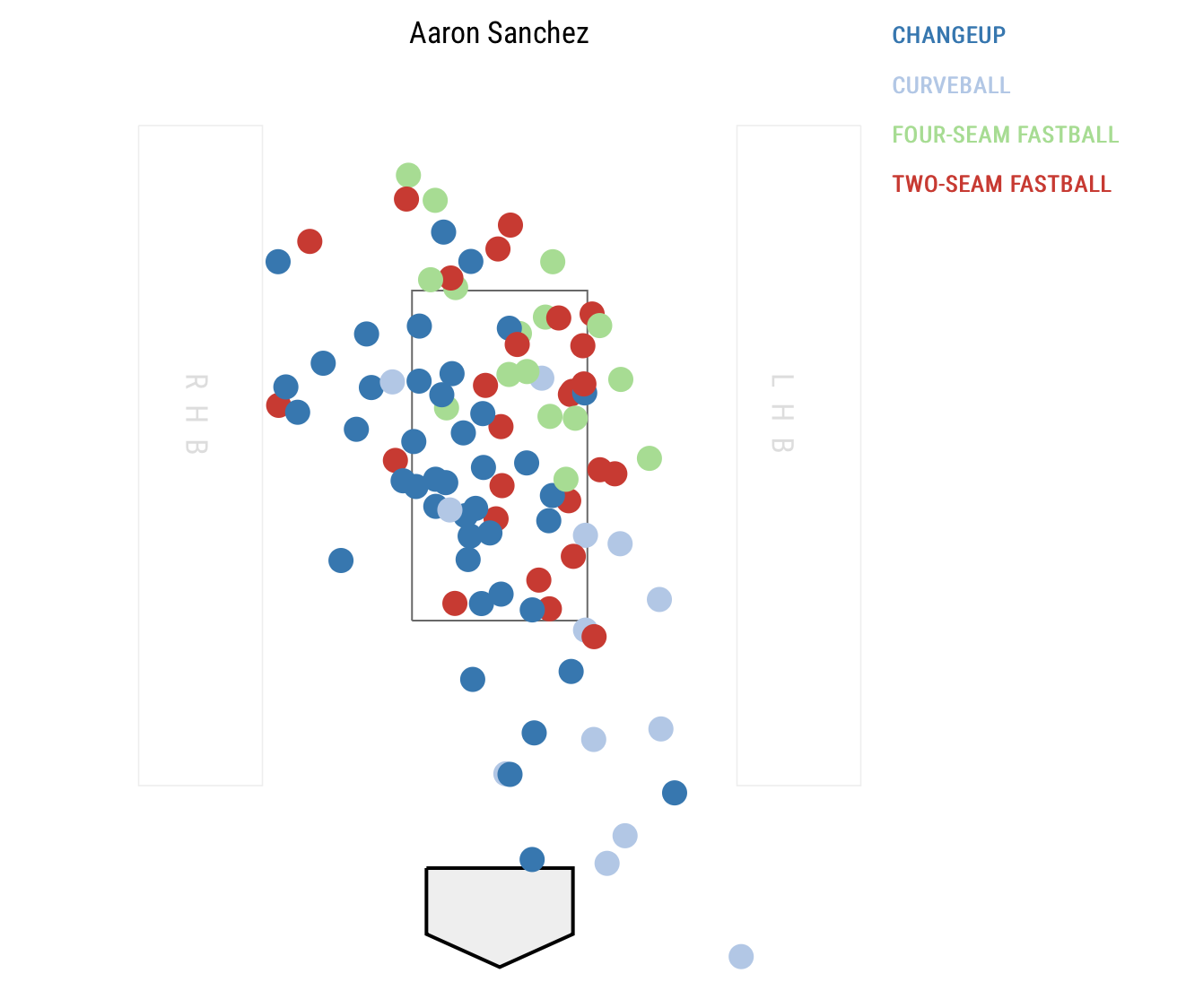 Sisco followed by lining a double just over a leaping Smoak's head at first to tie the game but Sanchez buckled down from there. Mancini popped out softly to centre for the first out. After Manny Machado was walked intentionally to load the bases, Jonathan Schoop rolled over a two-seamer for an inning-ending double play.
"I hadn't faced him much, before I got him out on some curveballs," Sanchez said of his approach to Mancini. "He's got a short, compact swing so those balls he got to, I felt like they were good pitches for me. He's obviously a talented hitter. That last one he didn't get his arms extended. The last three hits he got his arm extended and he almost hit three home runs. I was just trying to make sure in a situation like that I was trying to get him to hit it on the ground. I got him to fly out on a curveball, which was huge for me in that situation."
Said Gibbons: "That's what the real good ones do, they find a way to get out of that and keep it tied."
The payoff came in the ninth, when Granderson got a four-seamer down 1-2 from old Blue Jays nemesis Darren O'Day and lofted it over the wall in right field for his first homer.
"Anything to help us get a W, especially after the performance that Sanchez had," said Granderson. "He did everything he could to give us an opportunity to win."
That Sanchez did, and while he didn't end up with the second no-hitter in franchise history, he ended up showing how he's going to take his next steps as a starter, which in the long run is something that will be far more valuable for the Blue Jays.