TORONTO – Back in spring training, the Toronto Blue Jays had a tough decision to make on Aaron Sanchez: keep him in the bullpen, where he'd established himself as an impact arm, or give him another shot in the rotation, where he'd offer a mix of promise and uncertainty.
Two months into the season, it's clear the Blue Jays made the right call. Sanchez has thrived in the rotation, posting a 2.99 ERA in 11 starts. He's generating ground balls and strikeouts while cutting back on walks — the ideal combination for a starter. With 1.7 wins above replacement and 72.1 innings pitched, he's already provided more value by early June than he would have in an entire season of relief work.
Yet Sanchez's success raises another series of questions for the Blue Jays, who said in spring training that he would transition to the bullpen later in the year. How can they balance the team's short- and long-term needs? What's best for Sanchez? Who replaces him? When?
Surely it will be tough to convince a 23-year-old in the midst of a breakout season that he should change roles. It's not his call, but Sanchez wants to stay in the rotation all year.
"That's my goal. That's what I've worked to do," Sanchez said at Fenway Park over the weekend. "But at the end of the day it's not my decision. I can only control what I can control. Hopefully they make the decision that benefits not only them but myself too and my career."
That's the hope for the Blue Jays, who are still expected to transition Sanchez to the bullpen at some point. While it's not clear when that change might occur, it doesn't appear to be happening any time soon. Pitching coach Pete Walker's current plans extend to early July with Sanchez featured prominently.
"Right now he's in that rotation," Walker said. "We plan out a month in advance as far as I'm concerned as far as who's pitching where. We'll take it month by month."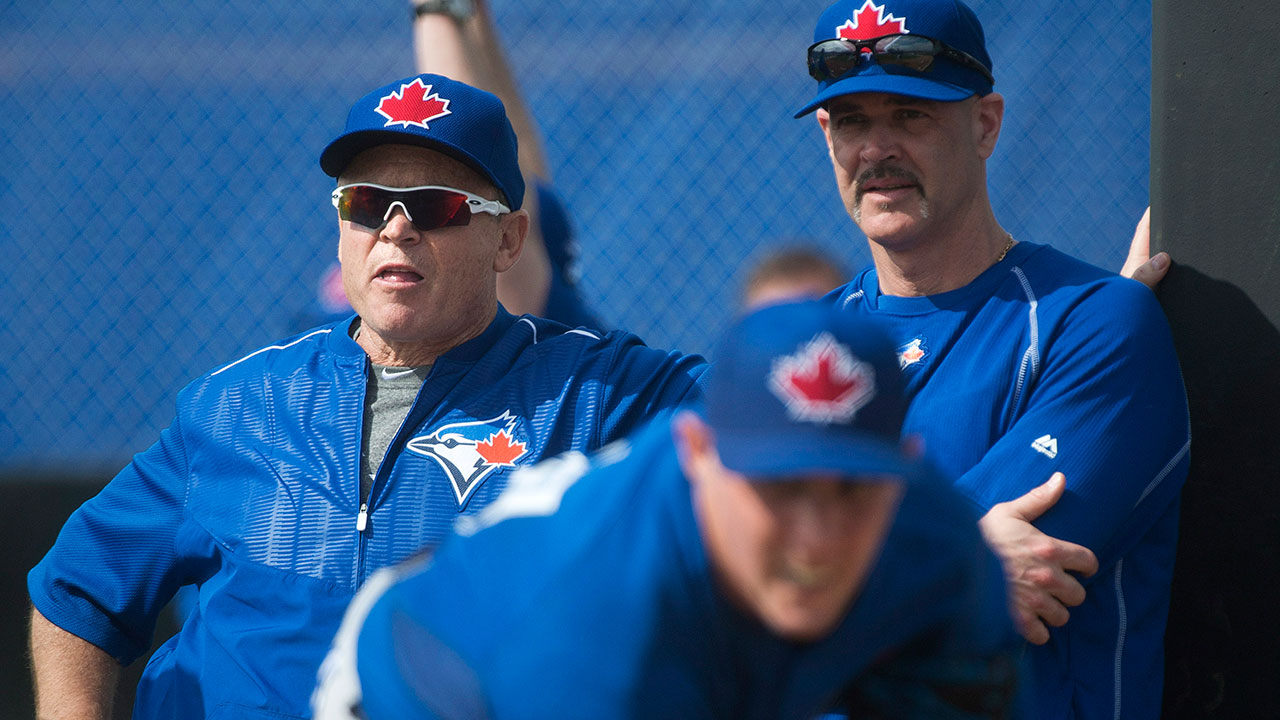 If Sanchez were a 33-year-old on the brink of free agency, there wouldn't be a discussion. He'd start. But at 23, he's just beginning his big league career. The Blue Jays control his rights through 2020, meaning he's one of their most important long-term pieces. The 2016 Blue Jays aren't the only consideration here.
"It'll depend on how he's feeling," Walker said. "We'll communicate with him and the training staff daily and whatever's best for him — the team's very important, don't get me wrong — but certainly you want to look out for Aaron."
The Blue Jays probably wouldn't have this dilemma if Sanchez hadn't worked during the off-season to add muscle mass in preparation for a long season. A lat injury sidelined him this time last year, when he was pitching at 192-195 pounds, so he set out to build as much strength as possible,
After adding 25 pounds during the off-season, he arrived at spring training feeling stronger. He beat out Gavin Floyd and Jesse Chavez for a rotation spot. Then the fun part began: pitching and working out at the same time.
"You have to go even harder, especially for me with my body type," Sanchez said. "It's been so hard for me to gain weight even since I can remember. I'm actually trying to eat double what I did this off-season just because you're traveling, you're burning so much, you're outside, it's hot."
In the off-season he'd go to the weight room a couple times a day, napping in between workouts. The demands of the season mean he's on the go far more, yet he says he now feels as strong as he did when he left spring training, partly because he's eating so much.
On a typical day Sanchez might wake up and eat, have a snack before heading to the field, eat at the field, stretch, work out, eat again, drink a shake and eat after the game.
"I'm constantly putting fuel in my body to maintain what I've done," he said.
Even so, he's lost four or five pounds on a couple of occasions this year before building back to the 213-216 pound range — a considerable difference compared to last year. Those gains appear to have translated into more consistent results.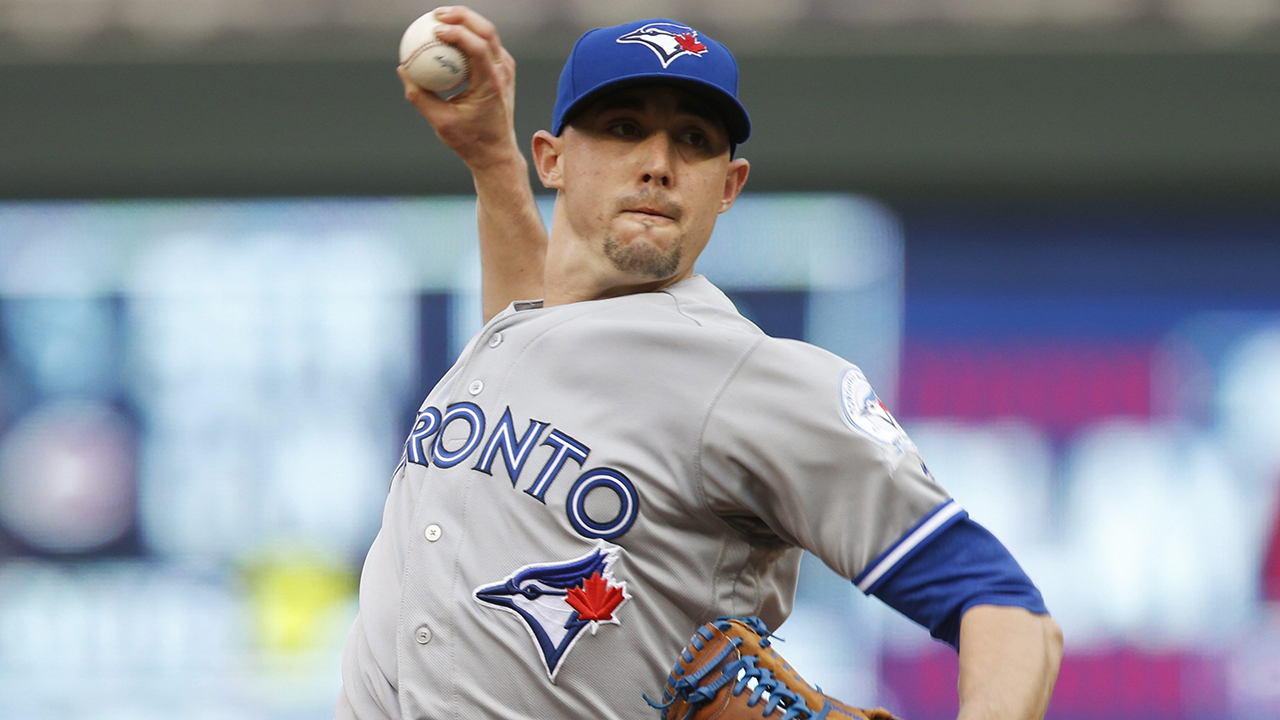 "Being able to throw my heater for strikes," Sanchez said. "Being able to throw my off-speed for strikes, too — earning the respect that I can throw any pitch at any time and not just sit on a heater for me is what I've noticed."
Sanchez has improved the feel for his changeup this year, but his curve might actually be his most improved offering.
"It's just a better overall pitch," Sanchez said. "It's just consistent break. I feel like I can throw it on any count. With my changeup, I still feel like that's a plus pitch, too … Often it depends on the game and what I'm seeing. I'm big on the situation will tell you what to do next."
A good problem to have for any 23-year-old starter.
"He's still developing at this level, so when you're looking at secondary pitches and you're actually developing them at the major leagues, you never know what to expect," Walker said. "Obviously our hopes were that he'd do this well. I certainly didn't think it was impossible."
Not impossible, but not necessarily likely. This time last year Sanchez had 42 strikeouts and 37 walks. Now? He might lose the zone for a batter, but not for an entire game. He has 64 strikeouts, just 25 walks.
Meanwhile, the Blue Jays have a dilemma. They've found ways to ease Sanchez's workload by mixing in extra days off on occasion. In theory the added rest could allow Sanchez to stay in the rotation a little longer than initially planned.
Success has complicated matters, since Sanchez keeps pitching deep into games. As manager John Gibbons notes, he's averaging almost seven innings per start. One time to provide Sanchez with some rest would be around the all-star break, when teams get to reset their rotations strategically.
"We could," Gibbons said. "At the all-star break you could really do anything you want."
"Definitely," Walker added. "Any time you have a break like that you can re-shuffle the deck so to speak and make sure you have things lined up properly. It's a good time to do that."
In the meantime, the status quo has Sanchez in the rotation facing an uncertain future.
"I feel great," Sanchez said. "I'm just going to continue with what I've been doing."
The Blue Jays would sign up for that. As Walker says, "he's certainly worked his way into being a front-end starter."
Better than the Blue Jays could have hoped for a couple months ago. And as a result, more tough decisions await.