TORONTO — With one swing of the bat Tuesday, Justin Smoak made a little bit of history for himself, and a really big bit of history for his team. And he was by far the least likely Toronto Blue Jay to do it.
Let's explain. It was the ninth inning and the Blue Jays were trailing the Boston Red Sox by one. Boston's closer, Craig Kimbrel, had his first out of the frame when Smoak stepped to the plate and took three straight breaking balls outside the zone, working a 3-0 count.
Coming in, Smoak had never homered on a 3-0 pitch over his nine years in the majors. In fact, he'd barely swung the bat at all. He'd seen 269 pitches with a 3-0 count and offered at only 16 of them. Nearly 95 per cent of the time, he'd left his bat on his shoulder.
But when Kimbrel threw him the 270th 3-0 pitch of his career, Smoak figured he'd try something different. And here's how it went:
"Yeah, I don't normally do that," Smoak says at his locker a couple days later, wrapping blue tape around his wrists shortly before a game. "But that situation right there — ninth inning, down by a run, facing the best guy in the game — I was like, 'Let's take a chance right here and see what happens.'"
What happened wasn't just a first for Smoak — it was a first for baseball. That was Toronto's seventh home run this year in a 3-0 count, the most any team has hit in a single MLB season.
Since 1908 — which is as far back as Baseball Reference's Play Index will take you — five teams had hit six home runs in 3-0 counts. Three more had hit five. No team had ever hit seven.
And that Smoak of all people was the one to give Toronto the record is a fun turn of fate. The Blue Jays as a team are a swing-happy bunch in 3-0 counts. Coming into Thursday night's play, Toronto was leading baseball with 41 swings in 3-0 situations. Only two other teams were over 30. Nearly half the league — 13 teams — was at 15 or fewer. But Smoak is one of the least likely Blue Jays to do it. He learned early in his career that it doesn't typically go well for him.
"For me, when I get to a 3-0 count, I try to do too much," he says. "I end up rolling over or getting too big and flying out."
Smoak has seen 28 pitches in 3-0 counts this season, the most of any Blue Jay. But Tuesday's home run was only the third time he's swung. Compare that to Russell Martin, who's seen the next most 3-0 pitches — 25 — and swung at 11 of them. Or Yangervis Solarte, who's gone after half of the 24 pitches he's seen in 3-0 counts.
| Player | 3-0 Counts | Swings (%) | Hits & Sac Flies | Outs | Foul Balls | Swinging Strikes |
| --- | --- | --- | --- | --- | --- | --- |
| Justin Smoak | 28 | 3 (10.7%) | 1 | 0 | 2 | 0 |
| Russell Martin | 25 | 11 (44%) | 2 | 2 | 6 | 1 |
| Yangervis Solarte | 24 | 12 (50%) | 3 | 1 | 7 | 1 |
| Curtis Granderson | 19 | 3 (15.7%) | 1 | 0 | 1 | 1 |
| Kendrys Morales | 18 | 2 (11.1%) | 0 | 0 | 2 | 0 |
| Teoscar Hernandez | 16 | 4 (25%) | 0 | 2 | 1 | 1 |
| Randal Grichuk | 10 | 2 (20%) | 1 | 0 | 0 | 1 |
| Josh Donaldson | 10 | 2 (20%) | 0 | 2 | 0 | 0 |
| Luke Maile | 10 | 1 (10%) | 0 | 0 | 1 | 0 |
"Honestly, that's just Gibby trusting guys and giving them the green light," Smoak says. "In this league, it's tough. I can't tell you how many times I've seen 3-1 change-ups or 3-1 curveballs. But, 3-0, that might be the one pitch where you have a chance to do something. So, why not take a chance when you get those opportunities?"
Of course, Smoak's getting his barrel on anything he swings at lately, as he carries a 13-game hit streak into Friday night. He's batting .382 (21-for-55) over the course of the streak with a 1.006 OPS. And, remarkably, he appears to be heating up. Over three games against the Red Sox this week he went eight-for-12.
"I feel like for the last few months now, I've been on time, ready to hit," he says. "And I feel like when you're in that mindset, it allows you to lay off the tougher pitches, and it allows you to not foul off so many balls."
Now boasting a 133 wRC+ over his first 106 games, Smoak is on track to post a similarly productive season to his breakout 2017 campaign, when he finished with a 132 wRC+. The only knock against him is that his home runs and isolated power are down from last year as he's seen fewer good pitches to hit. But his walk rate has increased and he's now getting on-base at the highest clip — a .366 OBP — of his career.
That's a good sign. As pitchers have begun to be more careful with Smoak, he's refused to chase and get himself out. He's swinging at fewer pitches outside the zone this year than last, with a 21.6 per cent chase rate that stands as the lowest of his career. If he keeps that up, pitchers will eventually have to come in to him. And that's when he can tap into his power.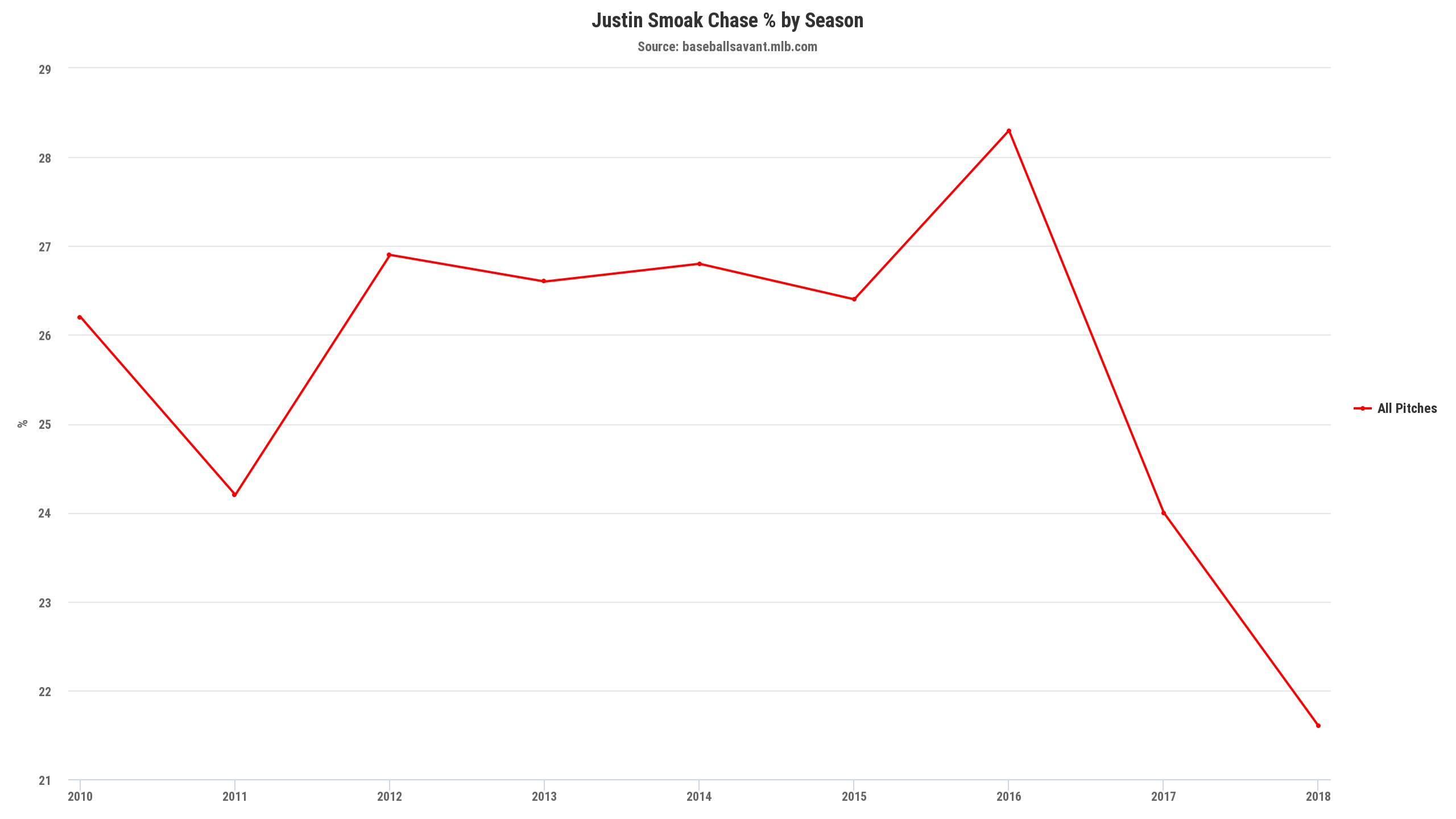 "I feel like if I put a good swing on a pitch and I barrel it, it's going to have a good chance to go," Smoak says. "It's about looking for something I can drive. Because what's the point of me going up there and trying to create that? That's what I did the first five, six years of my career and it didn't work out too well. Yeah, I hit some homers. I ran into a few. But it wasn't consistent enough. So, now I'm just trying to be a lot more consistent."
Smoak's production is particularly impressive considering he's one of baseball's most shifted hitters and doesn't possess the type of speed that will allow him to beat out soft-contact singles. When he hits the ball, he needs to hit it hard and hit it far. For many hitters, that leads to plenty of swing-and-miss. But not Smoak, who's whiffing far less over the last two seasons than he was in the three that preceded them.
"One of the biggest things that changed for me is just having an approach," Smoak says. "Depending on the situation, just having an idea of what to sit on and what not to sit on. Just trusting that. And, if you're sitting on pitches, not missing them."
Smoak's task now is to finish this season better than his last, when he hit .183/.315/.323 over his final month. Part of the reason for those struggles was a series of lower-half injuries — including a pair of bothersome contusions and knee tendinitis — that hampered him at the plate. Smoak's battled a left-hamstring issue intermittently this season, but it hasn't stopped him from playing in 105 of his team's 114 games to this point, including 98 at first base.
Plus, Smoak feels that an overzealous pursuit of his first 40-homer season — he ultimately finished with 38 — hurt him more than anything towards the end of last year.
"I was trying to get to 40," he says. "I was trying to create that. And I just got out of whack a little bit. So, now it's just about not trying to do too much and being ready to hit."
Tough to argue against the results of late. Smoak's now only one off tying the career-high 14-game hit streak he set in his rookie season. Just don't expect to see him try to extend it in a 3-0 count.
"Hey, now that I hit the homer," he says, "maybe I need to be doing it a bit more."
[relatedlinks]