The Houston Astros have been baseball's worst team in back-to-back-to-back years. They have lost at least 106 games in each of those seasons. Now 5-8, they may be headed for another long year.
Third baseman Matt Dominguez is among the many players who are genuinely hopeful about where the Astros are headed. But there are still limits to the optimism for a team coming off a 111-loss year.
"We're going to go through our ups and downs, but if we can keep those losing streaks to one, two or three games and not carry on to six and seven in a row I think would be a big help," says Dominguez.
It definitely would be a big help, even if that's not a goal you'll hear Derek Jeter or Buster Posey echo soon. Still, the Astros ended the 2013 season with 15 consecutive losses. Stopping the bleeding is a legitimate goal.
"It makes for a long year when you're losing it seems like every game," Dominguez adds. "We've had stints last year where we'd win four or five in a row then lose 10 in a row. Win one, lose six in a row."
Believe it or not, the Astros were considerably worse off a few seasons ago. Back then they were bad without much chance of getting better. Today they may be headed for another losing season, but success is finally within Houston's grasp.
Players such as Dominguez, catcher Jason Castro and second baseman Jose Altuve offer talent at the MLB level. Houston also has the best minor league system in baseball. Shortstop Carlos Correa, outfielder George Springer and right-hander Mark Appel are among the elite prospects who will help the Astros improve in the next few years.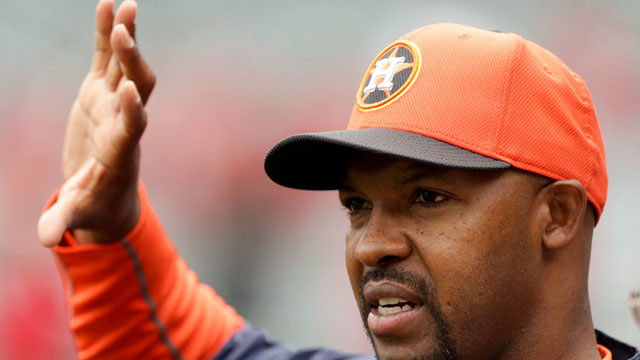 While there's now legitimate reason for optimism in Houston, it wasn't long ago that they decided to create a little positivity of their own.
In 2012 after consecutive 100-loss seasons, they hired manager Bo Porter, who decided it was time for some encouragement. To help facilitate a culture change, the former big league outfielder commissioned two orange, blue and white-coloured pinwheels, one that stands six-feet tall at the Astros' spring training complex in Kissimmee, Fla., and another about one third as large that travels with the team on the road. Even the portable version is big enough that it has to be moved aside before clubhouse card games begin.
Each wheel has 26 panels, 24 of which contain inspirational words and phrases such as 'Trust,' 'I'm All In' and 'Have Fun'. Finally, located at opposite ends of the wheel, the only two white panels remind the Astros of what they're working toward: the World Series trophy.
The Astros aren't going to add to their team trophy case this year, but it's an important season nonetheless. They are looking to see production from newcomers such as Dexter Fowler and Scott Feldman plus the continued development of their deep prospect corps.
"I think the way we're going to look back on this season is really evaluating whether or not we took a step forward in turning some of our young talent into wins at the MLB level," says general manager Jeff Luhnow. "I do think we're going to see that."
The year is doubly important, since the Astros will select first overall for the third consecutive time. Scouting director Mike Elias has been watching prospects for months in hopes of finding another elite talent. Actually, a few elite talents. Houston has three of the top 42 picks in the draft, and can spend $7.9 million without incurring penalties – more than any MLB team. Whether they end up with NC State lefty Carlos Rodon, Vanderbilt righty Tyler Beede or someone else entirely, the Astros view the draft as a big opportunity even as their day to day focus remains in Houston.
"I love the draft," says Luhnow, who selected much of the Cardinals' NL Championship core when he worked for St. Louis. "It's a great time of year for any organization, especially when you have a couple extra picks."
While adding impact amateur talent is a must for the Astros – or really for any team – they also need their big leaguers to develop. It starts on the mound. The Astros allowed more runs than any MLB team last year, which prompted Luhnow to sign Scott Feldman for three years and $30 million. The veteran right-hander will eat innings, offering 'something we were missing last year' in the GM's view. Three starts in Feldman has a 0.44 ERA. He has been 'outstanding,' to borrow Castro's word. Having Feldman around could even help young pitchers such as 26-year-old Dallas Keuchel and 24-year-old Jarred Cosart.
"They seem more confident when they're throwing out there," says Castro. "It makes my job a lot easier and when guys are confident out there, able to dictate at-bats and get ahead of hitters."
Newcomers such as Fowler and Alex Presley give the Astros more speed, and holdovers such as Dominguez and Chris Carter provide power. Still, any contender must get on base at a much better clip than .299, which is what the Astros posted last year when they ranked last in the AL.
It can be discouraging to play for a team in transition, which is why Castro says playing 'with that high intensity' will allow more Astros hitters to reach base. The rest comes down to talent – and patience.
"Correa's going to be a really good player. Springer's going to be really good," says Dominguez. "There's a lot of good coming in the future for Houston."
For now, the Astros are intent on not rushing players, which makes sense for a number of reasons. It's easier to develop talent in the minors, where the focus is grooming for the future. And there's no point in burning years of service time unnecessarily. Still, it won't be a surprise if Springer and Appel debut this year.
"We're going to continue to add promising young players and hopefully give them enough time in the minor leagues that when they get here they're not necessarily developing here, they're contributing here right away," Luhnow says.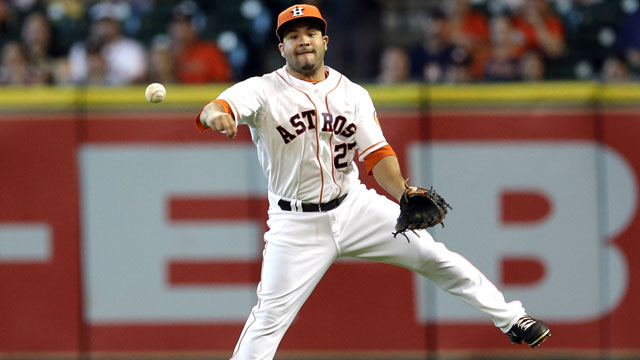 Once players start contributing, the Astros aren't shy about trying to sign them long-term. They locked up Altuve last year to an extremely team-friendly four-year, $12.5 million deal. They have discussed potential deals with other young players, according to sources, and they reportedly offered Springer a seven-year contract before he played his first big league game.
Dominguez believes in what the Astros are doing and would like to stay. "If I could sign a long-term contract in the big leagues and play every day it doesn't get much better than that," he says. Luhnow cautions that teams must choose carefully to avoid blocking talent, but says the Astros will 'certainly be involved' in the extension market for young players, just as other MLB clubs are.
"We're no exception," Luhnow said. "We have a lot of young players, so we have to be selective about who we choose to offer that opportunity to. And then they've got to want it. If that combination exists, I'm sure we'll make more deals."
Anyone who signs with the Astros in the next couple of years will be counting on the team's future, not its present. But it's not hard to see why Luhnow, Dominguez and Castro believe many of the players currently in the Astros' system will make them winners. With young talent in place and plenty more on the way, those World Series trophies on the Astros' wheel of fortune won't seem so out of place within a few years.