TORONTO — Ryan Tepera has pitched more innings than all but a handful of relievers this year, and he hasn't allowed a run in more than a month. For the Toronto Blue Jays, it's been an ideal combination.
At 19 innings and counting, Tepera now has the longest active scoreless streak of any American League pitcher. Impressive results for anyone, and especially for someone considered dispensable enough to send down to triple-A seven times in 2016. One year later, Tepera has a 2.76 ERA, more than one strikeout per inning pitched and increasingly important innings in Toronto's bullpen.
Asked why he has been so hard to hit of late, Tepera points to the same difference often cited by his manager.
"It's confidence," he said. "That's the biggest key in this game. It's mental. We're all 90 per cent skilled and the rest of it is mentality. That's what's helped me."
Sounds reasonable enough, but what does that mean once the game begins? Bullpen coach Dane Johnson says Tepera's confidence has manifested itself in more first-pitch strikes.
"He's got strike one zoned in," Johnson said. "If you go and look back, he didn't work ahead as much as he is now."
Okay, let's go back and look. Last year, Tepera's first pitch was a strike 44.7 per cent of the time, while his first pitch was a ball 55.3 per cent of the time.
Ryan Tepera first pitch results, 2016 (source: Baseball Savant)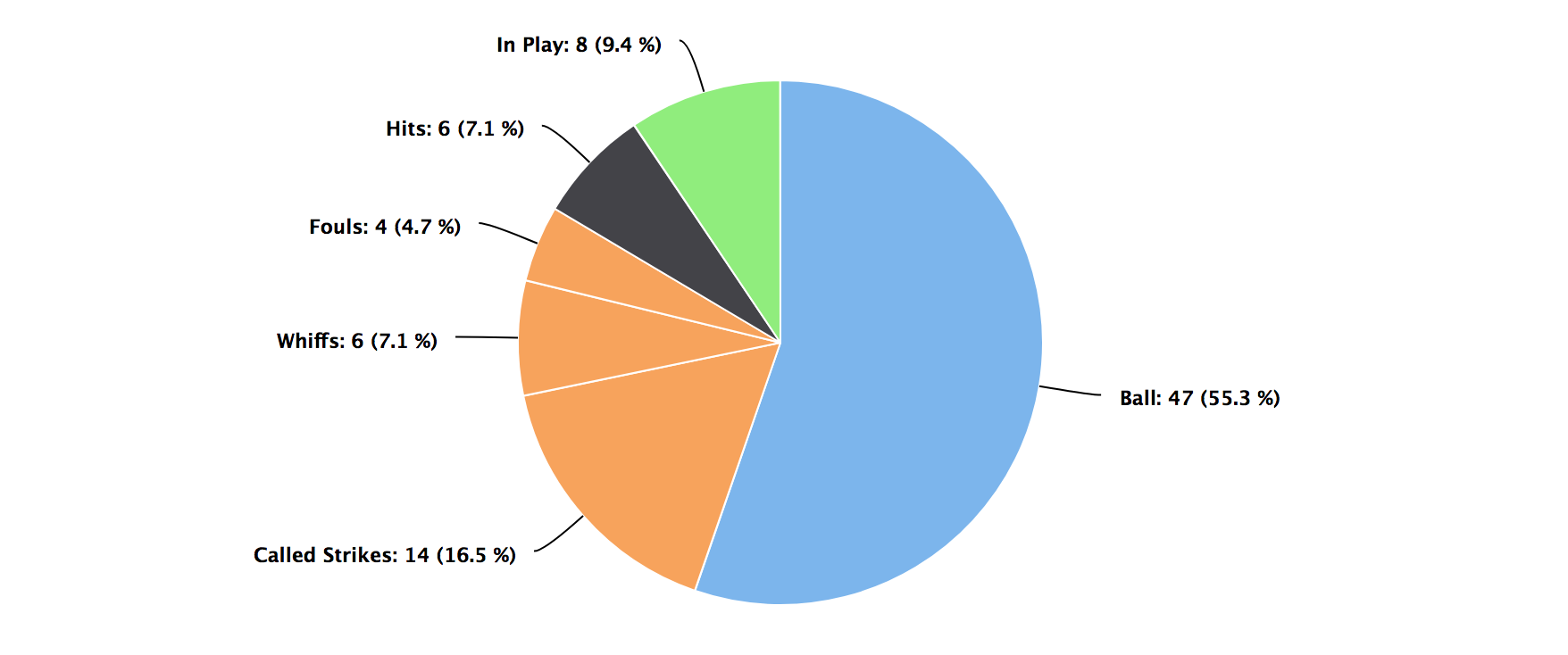 By way of comparison, he's attacking hitters far more aggressively this year, with first-pitch strikes to 57.1 per cent of the batters he faces.
"He's grabbing quality strikes early in counts," Johnson said. "Put the pressure on the hitter, where last year he'd fall behind and then you have to come in to them. Instead of letting the hitter dictate to him, he's now dictating to the hitter."
Ryan Tepera first pitch results, 2017 (source: Baseball Savant)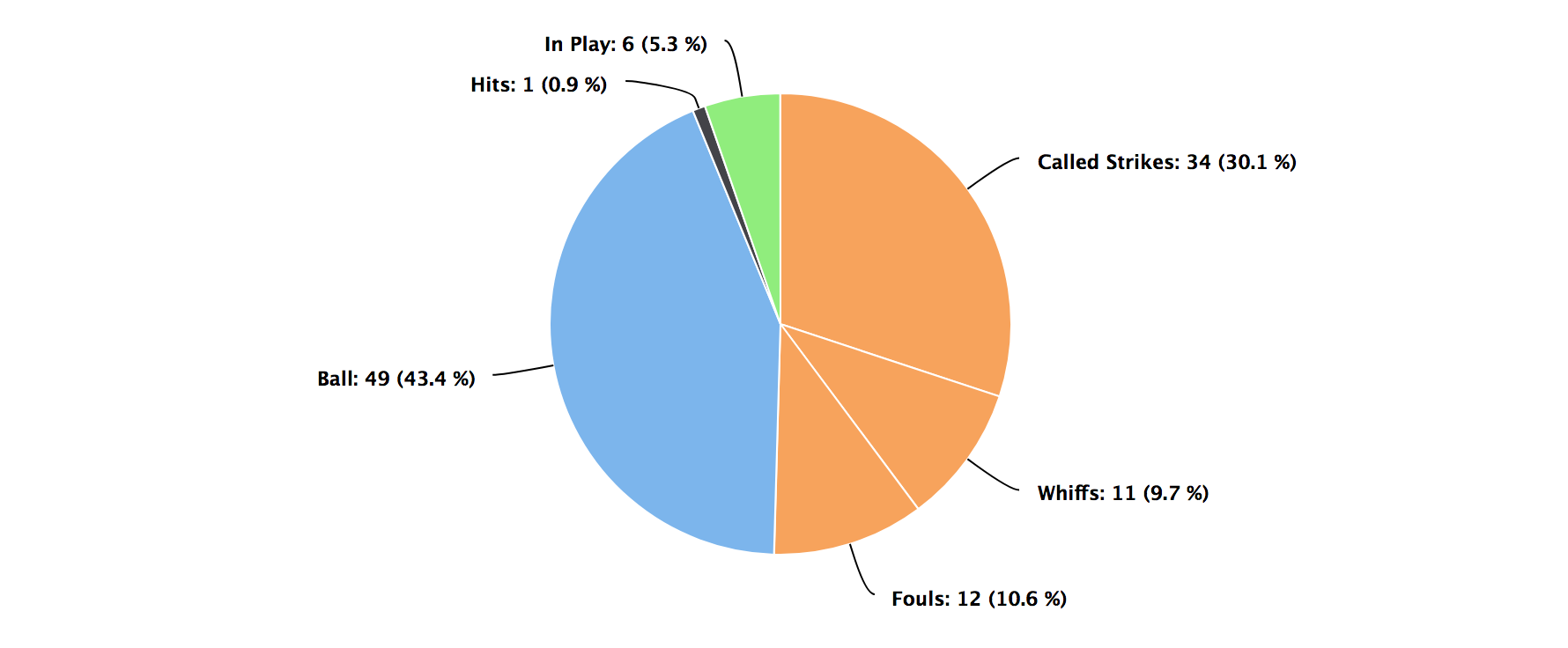 By this time last year, Tepera had already been optioned to triple-A Buffalo three times. He still has options, but at this point he's one of the Blue Jays' most effective middle relievers, so sending him down would be counter-productive. Now that Joe Biagini's in Toronto's starting rotation, Tepera and Danny Barnes are emerging as trusted arms capable of preserving leads and minimizing deficits for Joe Smith and Roberto Osuna.
"Ryan Tepera and Danny Barnes have been incredible for us," GM Ross Atkins said recently. "We've certainly needed it."
Middle relievers rarely enjoy all that much job security, but compared to the ups and downs of 2016, Tepera's finally earned a little stability.
"It's just a different mindset," Tepera said. "It was a roller coaster ride last year of not knowing where I was going to be. This year, being a little more established of late, getting a little more of a role has definitely helped. It's a comfort level."
[relatedlinks]
Along with his 95 mph fastball, Tepera throws a power slider—think Chris Archer's slider, only closer to 88 mph. Out of his hand, Tepera's hard slider looks like a fastball, but it breaks down and away from right-handed hitters. He has worked to create more sink on the slider to miss barrels. Lately that work has been paying off.
"It's outstanding," Johnson said. "He's got more depth on it now, he's been able to get swings and misses, groundballs with it, command both sides of the plate."
Mike Montgomery, Yusmeiro Petit and Wade LeBlanc are the only relievers who have thrown more innings than Tepera, whose 29.1 put him on a pace for 94.1 on the year. As Tepera points out, though, that pace could be a little misleading considering he had to pitch 3.1 innings in relief of Aaron Sanchez on April 30.
"I feel good," Tepera said. "Physically I feel great, so I'll just keep going."
Since that extended relief outing, the league has been unable to handle Tepera. In those 19 scoreless innings, he has allowed just six hits and five walks while striking out 22. Along the way, he has solidified his case as a potential bullpen fixture for the Blue Jays.
"He's on a hell of a streak right now," Johnson said. "He's really locked in."