"35,000 for that final game, and I remember looking around and thinking 'Where were all of you when we needed you?'"
"When it came to that last year, it was painful."
"It's sad any time a franchise moves, because you're saying that you failed."
"For years the writing had been on the wall. The final games of the 2002 and 2003 season had a 'Is this going to be the last Expos game ever?' feel to them. Even then, there was a sliver of hope."
"You knew how much that game meant to those people. It was a hard day for everybody."
"It was a funeral."
_____________________
On September 29, 2004, after 36 years and nearly 3,000 games of Major League Baseball in Montreal, the Expos played their last game at home. A season-best 31,395 fans showed up at Olympic Stadium to send off their team after only barely more than three thousand showed up the previous night. The final game had been a long time coming, the culmination of more than a decade of uncertainty as to whether or not baseball and the Expos would survive in Montreal that escalated as the '04 season plodded along. The game itself, as you'll learn, was largely forgettable- a 9-1 drubbing at the hands of the Florida Marlins. But for the fans, players, and coaches, it was more than a game.
With Major League Baseball returning to Montreal this weekend, it's time to look back at the story of the Expos' Last Stand, as told by those who were there:
Manny Acta, Expos third Base Coach: I had been in the minor leagues for 17 years, with the Houston Astros organization. Before the 2002 season I had the opportunity to join the Expos through [hitting coach] Tom McCraw, [manager] Frank Robinson, and then ultimately [GM] Omar Minaya. They were looking for an infield instructor who was also bilingual, because at the time the core of the club was Spanish speaking players- Orlando Cabrera, Jose Vidro, Fernando Tatis, and Vlady Guerrero, to name a few. I was going to be a liaison of sorts between them and Frank.
Maicer Izturis, Expos infielder: That was my first year in the majors, 2004. I'll always remember it. I was pretty nervous, but my first at-bat in Montreal I got a base hit to centre. After that it was just baseball again. And I'll never forget my first home run. I hit it in that stadium. It was against Mark Prior.
Dave Kaufman, Special Events Coordinator for Expos Nation, Montreal talk radio host: I was a season ticket holder. I had full season tickets for the 2003 and 2004 season. Two rows above the Expos dugout. Cost me $32 a ticket. I'm a lifelong Montrealer, but was at UWO in 2001-02. I left Western after my third year to be a Visiting Student at Concordia just so I could get to those April and September Expos games.
Gary Majewski, Expos relief pitcher: I got traded over to Montreal from the White Sox along with Jon Rauch in the middle of the season. It was quite a bit different atmosphere than normal. The team had played some 'home' games in San Juan that season and I got called up from Edmonton right after the last run of Puerto Rico games.
Acta: The decision to play games in Puerto Rico were based not only on poor attendance, but also the fact that guys like Vidro and Javier Vazquez were big-time heroes over there. But looking back it was a sign of things to come that baseball would be leaving Montreal.
Majewski: It had been a really tough season, and from talking to the guys you got the sense that a lot of that was because of the travel.
Acta: The last season wasn't fun. Vlady was gone. Cabrera was gone. We were starting to rebuild all over again. It was a trying year.
Kaufman:  If that last game was a funeral, then the entire 2004 season was one prolonged funeral. They started the season on the road, then played a stretch in San Juan, and by the time they returned to Montreal for Opening Day they were out of it. I kid you not. The team was terrible. By contrast, though, that 2003 team was so much fun to watch.
Acta: In '03 we were leading the Wild Card until the last game of the season. We had an unbelievable series at home against the Phillies, and it showed a guy like me the love that Montreal fans had for that team. We swept them and had over between 25-30,000 every game and I swear I have never been in a louder place for a baseball game before or since.
Kaufman: Everything from that 2003 season was almost enough to rest on how terrible and depressing that last season was. It was depressing to drag your ass to that stadium everyday. But you know what? I miss it.
***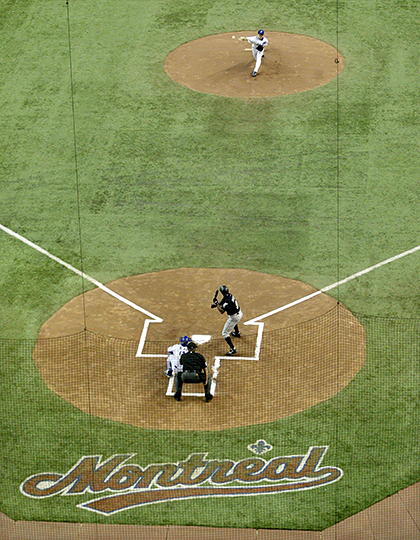 For countless reasons, the Expos had long been a dysfunctional franchise. By their final season they were owned and operated by Major League Baseball and speculation of their exodus from Montreal followed them like a dark cloud.
Pierre Arsenault, Expos bullpen coach (to the New York Times): It's like you have a family member that's really sick, and you anticipate the death.
Acta: Still, our thought in the clubhouse was 'Hey, it's not going to happen.' We loved it over there, but the reality was things were changing. Not having an owner had a big impact on the team. MLB treated us well, but you felt like you were the forgotten son in a way.
Majewski: If you're in an organization- doesn't matter if it's A-ball or the big leagues- you're constantly following what's happening all the time. Always reading, always tuned into Sportscenter. So everybody knew what was going on and was watching to see what would happen to baseball in Montreal.
Kaufman: If you kick your dog enough times, eventually it will stop coming back to you. For twenty-plus years, we were the dogs. Expos fans had been dicked around with the notion that the team was going to be leaving for so long that it almost felt like The Boy Who Cried Wolf.
Acta: The last day…for three years we were all holding hope that the day would never come. 'Somebody will step up,' we thought. So that day was simply unfathomable. Until it came.
***
Kaufman: By the time you walked into the stadium that day, it had been officially announced that the team was moving to Washington. That was an emotional walk, this sudden flood of emotions.
Acta: Within the team we knew it would be the last game earlier than that.
Kaufman: It was the last game of a nine game home stand. All through that stretch, it seemed everywhere I looked were faces I knew, and they were all in mourning. And then suddenly for that final game there were 35,000 and I remember just thinking 'Where were all of you when we needed you?'
Frank Robinson, Expos Manager (to the Montreal Gazette): When I went out on the field at the end I happened to look up and I said to myself, 'Hey there's fans in the upper deck!' It was unbelievable.
Kaufman: This team meant so much to us, that last game was like a funeral. One of the guys who I sat next to almost every game wore a black suit. Seriously. They let the fans onto the field before the game to mill around, play catch. I didn't want to go out there. Honestly, I was in tears the entire time. I remember sitting in my seat, drinking a beer, and sobbing. And looking around thinking 'Oh, so I'm not the only one.' There was like an army of grown men just crying like babies. I was worried that I'd open up the Gazette the next morning and there'd be a big picture of me crying on the front page. There wasn't- it was some other guy crying. They certainly had no shortage of options that day.
Acta: I've never seen so many grown ups crying! Season ticket holders, front office people…It was hard to watch, everybody just crying their hearts out. I had heard my first national anthem in the big leagues in Montreal, and I cried for that, too because it had been the realization that I achieved my dreams. And then to hear that last anthem- everything was just so uncertain. Is this my last year in the bigs? Are they going to bring us with them to D.C.? It was really hard. Especially leaving that town behind. For the young guys, though, it wasn't the same; they didn't have the same connection to the city. But I could really feel it from guys like Vidro, Tony Armas Jr., Brad Wilkerson. The young kids were just happy to be in the big leagues in September, just getting ready to move on.
Majewski: I wouldn't say guys were so much disappointed as finally relieved knowing what was going to happen. It was more relaxed. There had been speculation all year- 'What's going on? Is this it?' Now we knew. Still, you knew how much this game meant. As soon as you get called up to a team, you start talking to guys, figure out what their situation is. It was clear how attached these guys were to the city. So even us young guys, we knew.
Acta: I don't recall much regarding the players; as coaches you tend to stick with your group. But Brad loved it and was loved there. He was coming into his own as a player and took it hard.
Brad Wilkerson, Expos outfielder (to the National Post): It was both special and sad at the same time.
Arsenault: It's sad. It really feels like it might be the last time we ever set foot in Olympic Stadium to play a major league ballgame. My son is five years old. This is all about kids in the province that love baseball who won't have idols to come and watch. It's deeper than having a team leaving.
***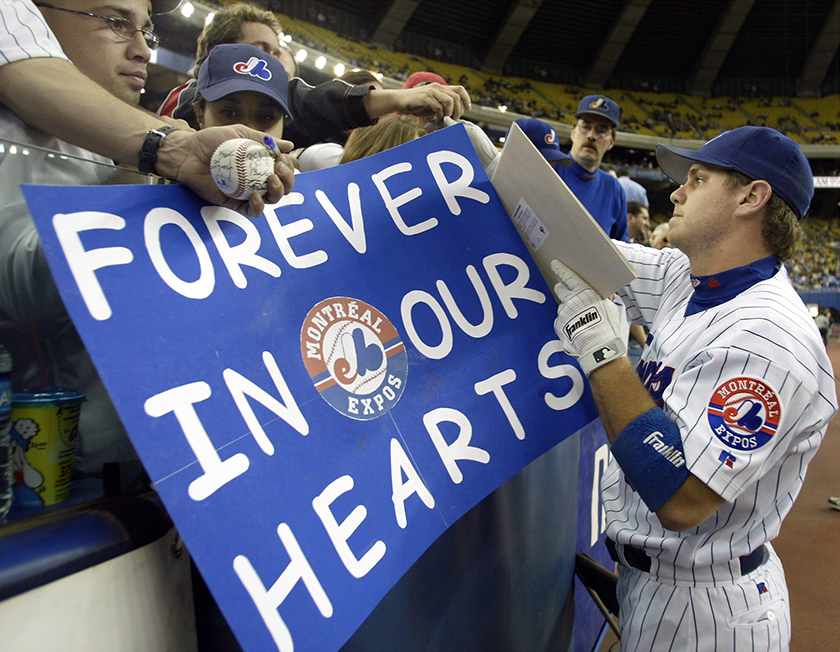 The game was out of hand pretty quick, with starter Sun-Woo Kim giving up four runs through 2 1/3 innings, with no answer from the Expos bats save for a Juan Rivera RBI in the fourth. Throughout the night the Big O's sound system blasted songs like 'Suspicious Minds,' 'Losing You' and 'We Won't Get Fooled Again.' During the bottom of the ninth they played 'My Way.' In retrospect, the game itself was little more than an afterthought.
Acta: To tell you the truth, I'm completely blank about the actual game itself. Seeing the people and all the emotions running through that stadium, and our minds erased everything else. I hate to say this, but I think most of the guys were just going through the motions, ready to get it over with in a lot of ways.
Kaufman: The game was just a thing that was happening on the field that allowed us to tick off boxes for 27 outs, knowing that each one was closer to us never seeing another game in Montreal again.
Termel Sledge, (to the New York Times): The fans were still behind us. I was in awe at the noise. Usually, I can block the crowd out, but not this time.
Majewski: I was brought in in the second inning but the biggest thing I remember has to do with golf balls, have you heard about that?
Kaufman: At one point the umpires had stopped the game because some fans had thrown golf balls onto the field.
Majewski: I remember Jeff Conine was at the plate. I had my pitch, I came set, and suddenly the ump called time out and I honestly didn't know what was going on. Turns out there were golf balls being thrown on the field. I looked up at the video replay and one had fallen about ten-fifteen feet behind me.
Kaufman: The umps had to pull both teams in from the dugout threatened to forfeit. It was tense, like 'Oh my god we're not even going to get a last game!' If it ended like that there absolutely would've been a riot. Wouldn't have been the first.
Majewski: After that a bunch of other stuff was thrown on the field and so Frank (Robinson) called everybody off until things settled down. Then we got back at it.
In the sixth, Robinson pulled most of his starters, giving the chance for a host of rookies to take the diamond, allowing them to be a part of history.
Izturis: You know, I think I was the last out in Montreal. I think I hit into it, I'm not sure, but I remember it was a fly ball to right field.
Kaufman: That was the first out of the inning. The last out came from a Termel Sledge pop-up to third base. Mike Mordecai, who had played for the Expos, caught the final out in foul territory. I can still picture it.
Sledge: I didn't want to pop out. But if I would have got on, I wouldn't be in the history books.
Once that ball fell into Mordecai's glove, it was over. The fans gave a huge ovation as local hero Claude Raymond took to the field to thank the fans, alone at first and soon surrounded by the team. For what seemed like forever, nobody left.
Kaufman: It was like we were willing them to stay through cheering.
Robinson (to the Gazette post-game): It was kind of overwhelming, really. The reception makes it tougher to move on. It's like you want to stand still right now and savour the moment, because you know when you walk out of this ballpark tonight, it'll be for the last time. A lot of the players are in no rush to leave.
Acta: I think the one who took it the hardest was Claude Raymond. He's a guy from that town, a legend in Montreal, and I think he knew his chances at the major league level was going to be tough. I think he stayed for a year or so with the Nationals. But how often do you get to coach at the big-league level with your hometown team where you're adored?
Kaufman: After the game the players were all on the field and Raymond, in uniform, was out there on the mic. He thanked the crowd through his tears.
Brian Schneider, Expos catcher (to the Gazette): I wanted to give (Raymond) a big hug. I know how much this team means to him.
Majewski: There was this realization among us that for the fans, this was it. They'd had a lot of good players and teams come through, but now they may never have that again. So we made a point of hanging around after the game, signing whatever needed to be signed for the fans, take pictures, mingle. Just be there for them. That was important.
Kaufman: Before the game they had unveiled a banner: 1994 The Best Team in Baseball. There had never been anything to acknowledge that team, so it was kind of a final act. Pretty much within minutes of the game ending, while the players were still lingering and saying goodbye, workers started tearing down all of the retired numbers and banners. They were just lying on the ground. Fitting.
Izturis: The fans were good. There weren't too many of them, but the small amount of fans that were regularly at the stadium were very supportive. And I really liked Montreal. A lot of French.
Omar Minaya, Expos GM (to the New York Times): Montreal welcomed minorities in baseball. That's why I love the franchise and the city. It bothers me when people say this is a hockey town only. It was such a good baseball town. You kind of ask yourself: 'What happened? What went wrong?'
Acta: It was a unique situation: you're not only playing in Canada, but playing for this French-Canadian crowd that loved their culture and their team. We were different and I really embraced that. A lot of us did.
Epilogue
Kaufman: The heart and soul of the Expos in 2004 was dealt in late August of that year, and that was Orlando Cabrera, who was dealt to the Red Sox. Between him and Pedro [Martinez], it gave us Expos fans something to distract us and cheer for during the '04 playoffs. Cheering the Sox to win with our boys on the team. It was like a coping mechanism. Cabrera and Pedro representing our team. There's a famous video of Pedro in the clubhouse after winning the World Series: He's being sprayed with champagne and says, 'I'd like to share this with the people of Montreal. Even if they don't have a team anymore, my heart and ring is with them.'
Acta: After the team moved, I took a job with the New York Mets. Ironically, my first opportunity as a manager came with the Washington Nationals. In 2006 when I took that job, there were still signs of the Expos there. There were so many guys still left with the team, 19 of them if I remember correctly. The young guys who appeared in that last game were still there.
Kaufman: That last game feels like yesterday. You can't imagine the emotions I'm going through getting ready to watch the Blue Jays sit in the Expos dugout. It feels so weird. Ultimately, it's like any loss, right? It never goes away. Some people use the analogy of an end to a relationship. Others liken it to a death. I felt like we had lost a part of my city's identity. There was always a sense of pride that we were a Major League city.