DUNEDIN, Fla. — By the time Tyler Clippard arrived with the Houston Astros last August, he'd been on quite a ride. He'd been traded twice in less than 30 days. He'd had some great moments on the mound and some disastrous ones, too. He'd been living out of hotel rooms for months. He was completing a year in which he'd finish with an ERA two full points higher than the 2.77 he'd put up over the eight seasons prior.
There was a lot going on. But Clippard's arrival with the Astros may have been one of the best things that could've happened to him. The World Series ring he'll soon receive will be nice, no doubt about that. But more importantly, the Astros showed him some adjustments he thinks can revitalize his career.
Houston is renowned for its robust analytics department. Once the Astros got their hands on Clippard and began digging into his past, they came up with some ideas of how the veteran right hander could get over his recent struggles and return to being the shutdown, late-inning reliever he once was.
The Astros brought Clippard information about his pitch usage, primarily, and also some mechanical tendencies he'd developed that may have been tipping his pitches. It had to do with his hands, and Clippard isn't going to be expanding any further on it than that.
But he's aware of the issue. And he believes he knows how to correct it.
"I was very reluctant for so many years to change anything," the new Blue Jays reliever says. "We talked about some stuff, worked on some things. I made some of those mechanical adjustments and got back to some stuff I was doing when I was pitching my best. And it just opened up my entire arsenal. I felt like a completely different guy on the mound."
[snippet id=3305549]
The adjustments were a struggle at first, but really took hold in mid-September when Clippard was helping the Astros clinch first place in the AL West. In his final five innings of the year, he allowed only a lone base runner on a walk. He struck out seven. He threw 69 per cent of his pitches for strikes, with 19 per cent of them swinging.
It's a super small sample, one that came mostly in low-leverage situations — and Clippard will be the first to tell you that. But he noticed things during that stretch. Hitters didn't look as comfortable. They weren't reacting to his stuff as early as they once had. He didn't see right-handed hitters taking his change-up the opposite way, something that really shouldn't happen. Clippard figures that if he didn't run out of season, he could've kept building on the success he was having.
It's part of the reason why he went to the MLBPA free-agent camp in Bradenton to pitch this spring. He wanted to keep working on those adjustments. He wanted to keep honing his fastball command. He wanted to keep having that good feeling he was having earlier in his career.
"I picked up right where I left off — and I'm very encouraged," he says. "It was definitely a learning process last year. I didn't have the success that I traditionally had throughout my career. And now I understand why. But it's up to me to go out there and continue to make those adjustments."
Pitch usage will be a big part of it. Clippard got away from his fastball in a big way last season, continuing a troubling trend that began in 2014. It was one of the first things the Astros showed him.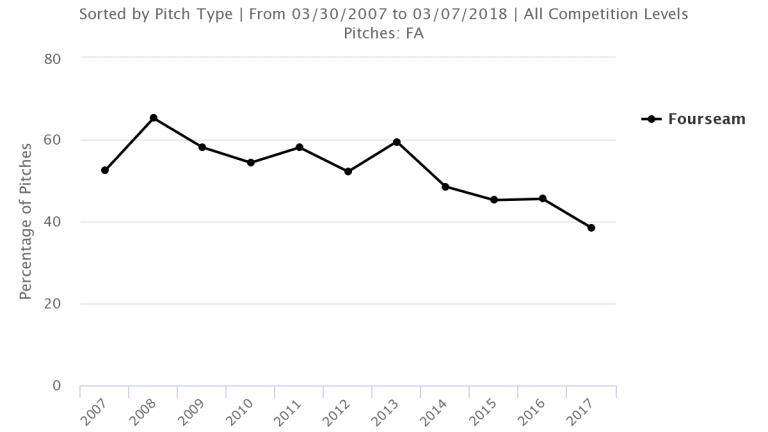 When Clippard was at his best — like the stretch from 2009-14 when he pitched to a 2.64 ERA over 453.2 innings, making two all-star teams — he was throwing his fastball over 50 per cent of the time. Even in 2015 and 2016, when Clippard put up a 3.22 ERA over 134 innings, he was still using it for 45 per cent of his pitches
But in 2017, he'd moved away from it even more. He hit a nadir in August, when he used it only 30 per cent of the time over 12 appearances.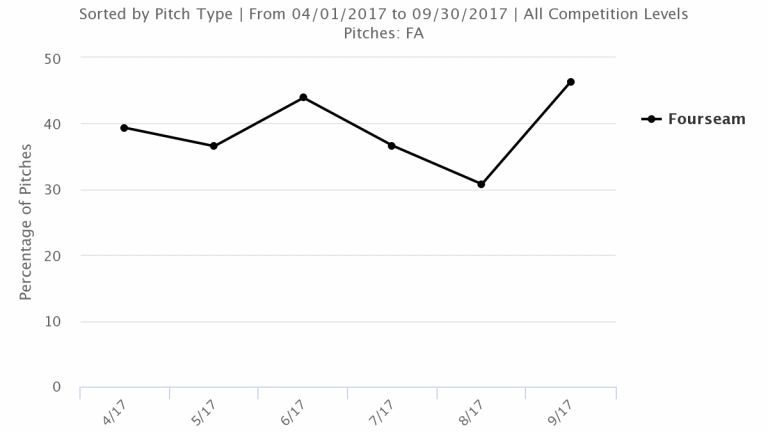 But do you see that uptick in September? That was purposeful on Clippard's part.
"My days where I pitched my best, I was utilizing the fastball more than 55 per cent of the time. And last year I really dipped," he says. "There's a lot of factors involved in why that happened. Now, it's about me getting back to some of those things I did earlier in my career. There's reasons for those numbers — and I'm aware of them."
One of the reasons is likely velocity. Clippard's fastball averaged around 93 mph during his best years, but has declined steadily since, and averaged 91.3 mph in 2017. That's not what you want.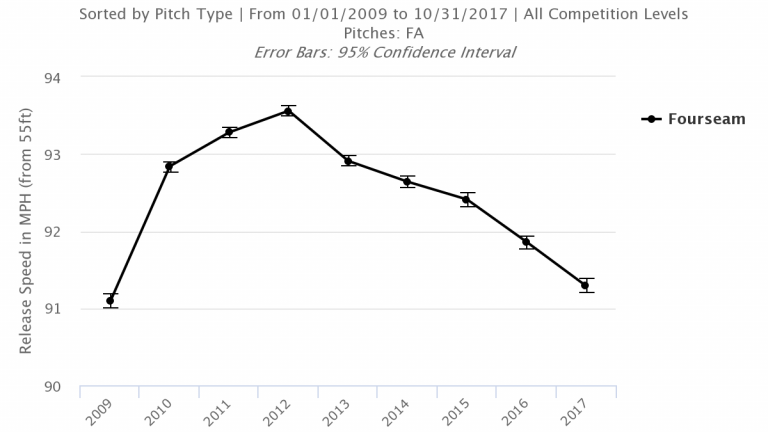 But it doesn't mean he needs to back away from the pitch as dramatically as he has. Clippard features a pair of similar yet different off-speed weapons — a 79 mph straight change-up and an 82 mph splitter (Clippard calls it his forkball) that generates a knuckling action with depth as it nears the plate. He's been able to get a good amount of swing-and-miss by using both pitches down in the zone over his career.
But he needs to establish his fastball, particularly up in the zone, for them to be most effective.
"It's not necessarily about going out there and saying, 'Hey, I have to throw more fastballs,'" Clippard says. "Game situations will dictate some of that stuff. But, ultimately, does it mean that I need to throw fastballs to certain hitters? Or in certain situations? That's up to me to figure out."
Clippard getting hurt repeatedly with his fastball likely hasn't helped, either. The 33 year old is an extreme fly-ball pitcher, one who holds the third-highest fly-ball rate (53.6 per cent) of all qualified MLB relievers since 2013. It worked fine for him up until 2016, when his luck took a drastic turn. Clippard's HR/FB rates nearly doubled after 2015, which, naturally, sent his HR/9 soaring, as well.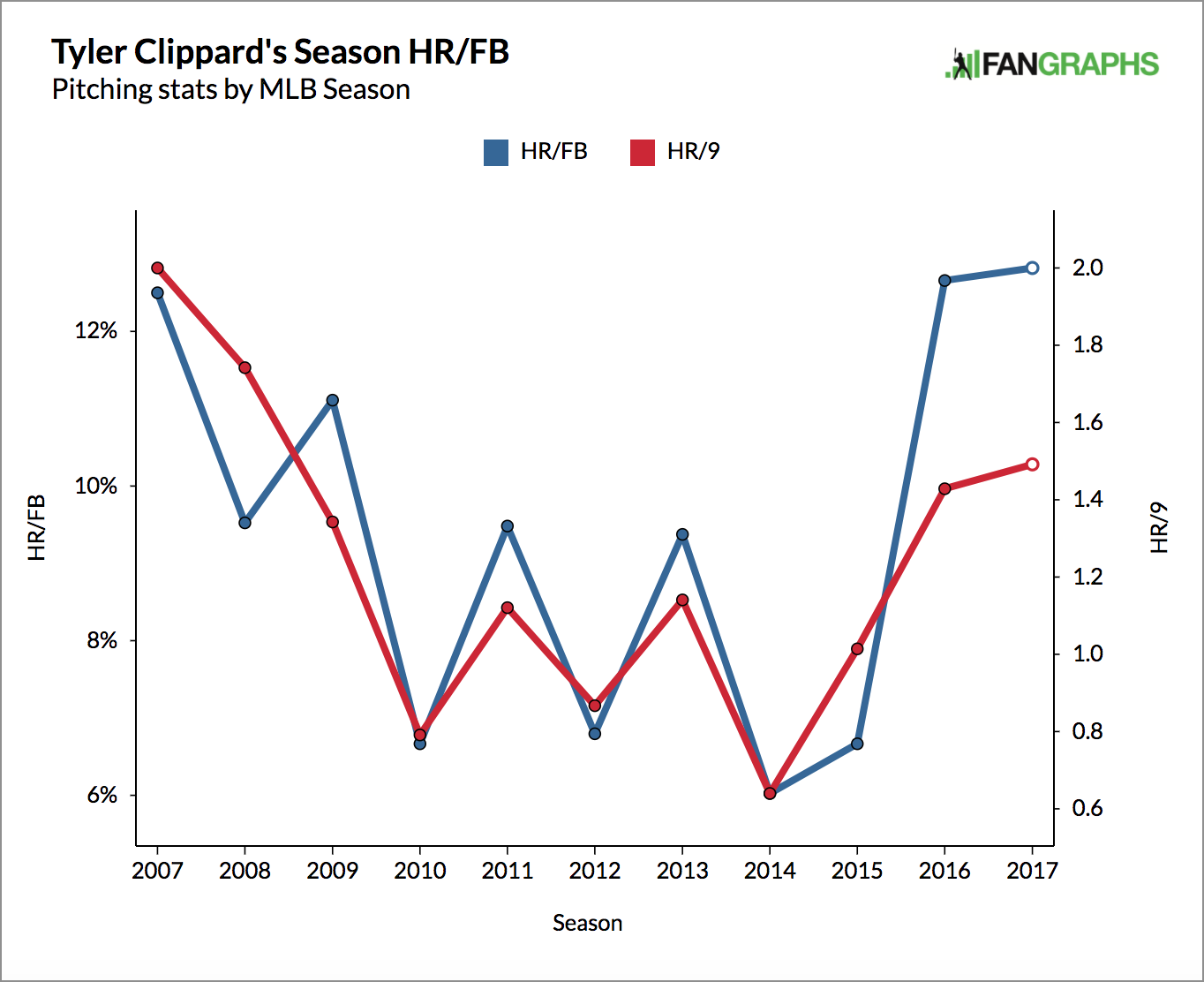 What's interesting is that despite all the home runs, Clippard wasn't giving up more hard contact than he had earlier in his career. He was actually giving up less — and well below the MLB average. There's a case to be made that Clippard was always walking a tight rope with home runs, and was merely pushed off that rope by some bad batted ball luck, particularly in 2017.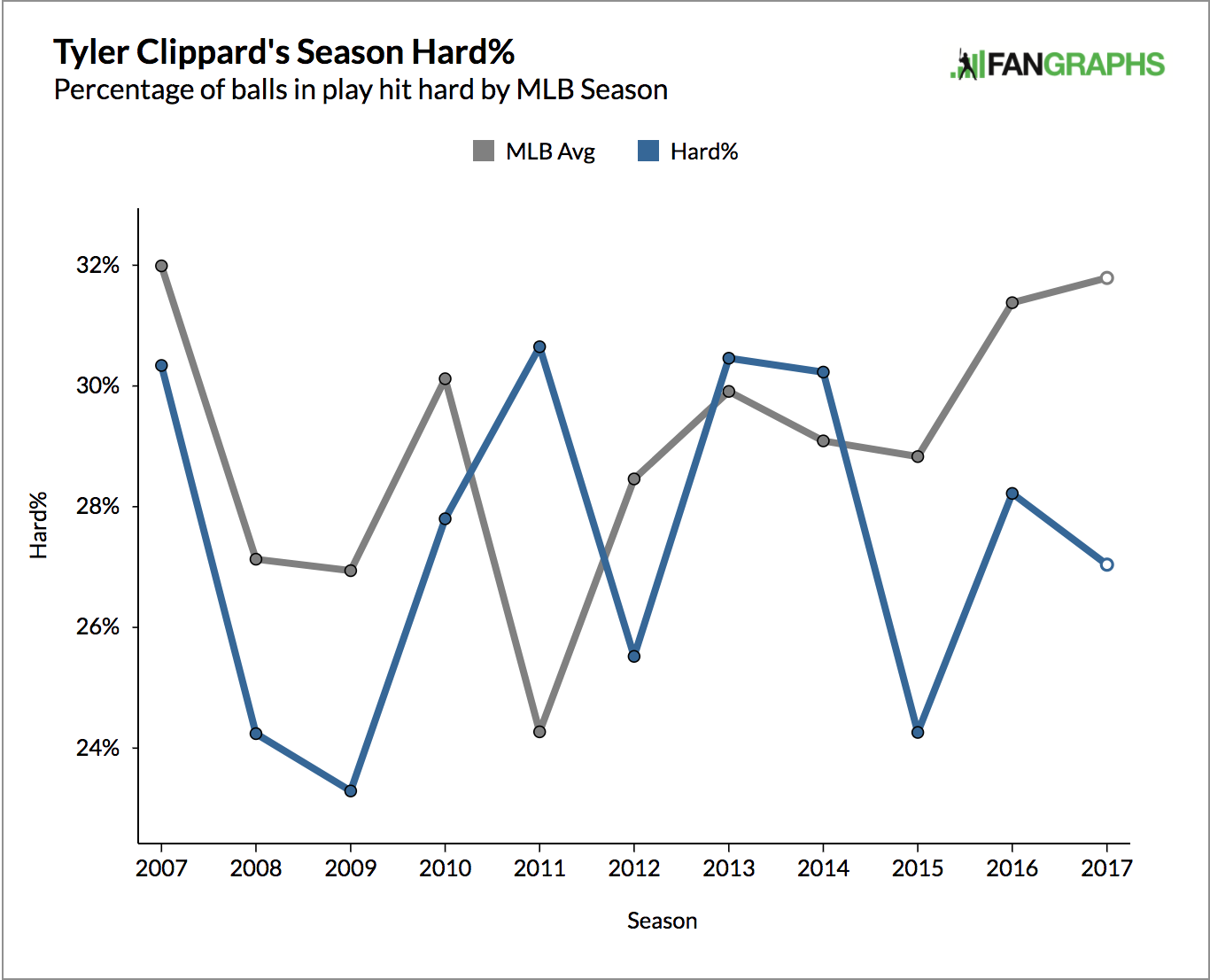 Look, the 10 home runs Clippard gave up last year aren't coming back. They were hit over the wall, and Clippard's job is to not allow that to happen. But it's worth noting that of the 10, eight travelled distances below 390 feet. And six had exit velocities below 100 mph.
They weren't all no-doubters. They're still hard fly balls, but if they were hit to a different part of the ballpark, or on a cool night when the wind was blowing in, the result could have been much different. Like the one Cameron Maybin hit that just barely cleared the wall. Or the one off the bat of Seth Smith that travelled only 348 feet.
Those are the kind of swings that can cause extremely high variance in the statistics of a pitcher who throws only 60 or 70 innings a season. And, make no mistake, that's life for every reliever. That's the game of baseball. Stuff happens. But for eight consecutive seasons, Clippard found ways to be successful as a fly-ball pitcher without allowing too many home runs. And he believes he can find those ways again.
"It's about changing timing, getting soft contact," Clippard says. "If you're not squaring the ball up, it doesn't matter if it's on the ground or in the air. It doesn't matter what ballpark you're in. I've pitched in plenty of small ballparks throughout my career and I've done just fine. That's never been a thing I've worried about."
So, we'll see. No one's guaranteeing it will all work out. There's just reason to believe it can. Reason to believe that with a bit better luck, and some important adjustments, Clippard can return to the guy he once was.
The Blue Jays have been carrying on dialogue with Clippard's representation all winter, and had a pair of scouts in attendance at the MLBPA camp last week when Clippard pitched against a Japanese industrial league team. They've seen those adjustments first hand. They signed Clippard. Surely, they're as confident he can figure it out as he is. Now, he gets to go out and show everyone whether or not he can.
"Last season was a roller coaster. I had a lot of good moments, a lot of bad moments. I was bouncing around," Clippard says. "It was crazy. But I learned a lot. I learned a lot about myself. And I learned a lot about the mental side of this game.
"That's the beauty of baseball. As long as I've been in the game, you can always move the needle forward. You can always learn. I think I did a lot of that last year. And I think that's going to help me this year."
[relatedlinks]