Never mind the New York Yankees and Boston Red Sox. The winds of change need to hit gale force soon for the Toronto Blue Jays just to keep pace with the Tampa Bay Rays.
Since May 18, the Rays have been either tied for third with the Blue Jays or ahead of them for all but two days. They've held down third alone since June 22 despite a roster turnover that has seem them change 65.4 per cent of last year's season-ending 40-man roster, use 20 rookies — a club record — and Friday night's roster included 11 players who weren't active the last time the teams played: June 14, when the Rays capped off a three-game sweep at Tropicana Field with a 1-0 win.
The Rays went into Friday's game with the same 115-game record as last season (58-57). That was good enough to be 7.5 games back of first place and one game back of the wild-card in 2017; this season, it's worth a 22.5–game deficit to the first-place Red Sox and a 10-game gap with the Oakland A's, who hold down the second wild-card. Some crazy stuff, man.
Rays manager Kevin Cash just shrugged when asked how his team has done it. Look at the names that have gone since the winter: Evan Longoria, Chris Archer, Steven Souza Jr., Jake Odorizzi, Wilson Ramos, Corey Dickerson, Nathan Eovaldi…
"The youth and enthusiasm of being in the big leagues takes care of most of it," said Cash. "Our staff does a really good job of staying positive and our young players have given us reasons to stay positive. You see some transition with young players; there's a lot of head-scratching and frustration. But (the Rays kids) have not done that. They've caught the ball very well. Had their ups and downs at the plate … but that's to be expected.
"On the pitching side, it's the same thing. Some really good outings and some where inconsistencies show up. But they continue to come to the ballpark and give you the work you want to see."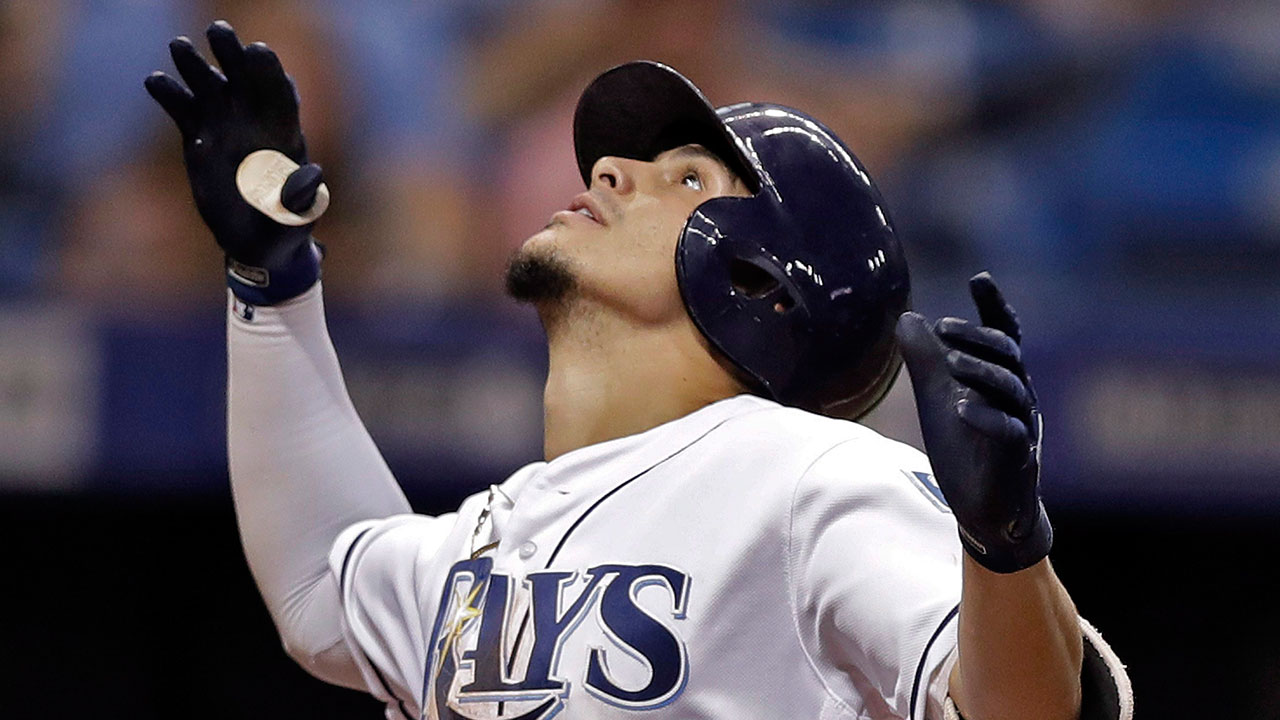 The Jays often look like a team that isn't good enough. But seeing them against the Rays makes them look even stodgier — and they'll see the go-go Rays a ton, with 11 of their remaining 47 regular-season games against Tampa. You want a true measure of the 2018 Blue Jays, here it is, folks.
And don't go 'Yeah, but,' about the minor-league systems, either, because the Rays are quite capable of playing that game.
Friday's Rays roster included some gilt-edged prospects: shortstop Willy Adames was the sixth-ranked prospect in the game in MLB Pipeline's pre-season rankings, first baseman Jake Bauers the 64th. Infielder Brandon Lowe, who made his Major League debut on Sunday, was the Rays ninth-ranked prospect mid-season; left-hander Jalen Beeks their 14th.
And don't look now, but despite all that and the presence of Sunday's starter Tyler Glasnow — who was the Pittsburgh Pirates' top-ranked prospect for the previous two seasons and was acquired along with Austin Meadows in the Chris Archer trade — the Rays still have 28 of their top 30 in the minors, including four of the top 40 overall with room for Meadows, the 20th-ranked prospect in the game at the start of the season.
Those who dig prospect porn celebrated loudly when the Blue Jays were moved into the fifth spot in organizational minor-league rankings after the trade deadline should note the team above the Jays in fourth. Yep, it's the Rays. No Vladdy Jr., no Bo, but, as much as these subjective ratings matter, judged to be deeper.
[sidebar]
Kids. You want kids, we got 'em everywhere. If you are a Blue Jays fan, the storylines that will keep you satiated in these final seven weeks of the regular season are going to be about the kid pitchers: Ryan Borucki, newly-promoted Thomas Pannone and as soon as Monday, possibly even Sean Reid-Foley, a holdover from the Alex Anthopoulos administration who has had to do some serious impression-making on a whole new set of eyes.
The rest of the season will be about getting Aaron Sanchez to finish with a smile on his face, most likely with catcher Danny Jansen as a battery-mate.
There will be no Vladdy or Bo; but maybe Cavan Biggio, Anthony Alford and Billy McKinney.
And it will be about manager John Gibbons.
As I wrote on Monday, if the "chatter" I was hearing was true, this homestand, which wraps up Sunday, could be Gibbons' last, which could make the next road trip his last. Or maybe not. See what I did? But seriously, industry chatter about Gibbons' status has been constant for some time now — including (and this shouldn't come as a news flash) from people who want his job.
"How come you didn't ask me if I wanted to stay before writing that," Gibbons chided me around the batting cage on Tuesday. We laughed. But Gibbons is dumb as a fox: Friday, during an appearance on MLB Network Radio, he answered a question about his future by saying he wouldn't much want to be around for a "total rebuild," a phrase that is off-limits in the Blue Jays executive suite.
Oof.
[relatedlinks]
So here we are. The creativity shown by the Red Sox and Yankees in their managerial hirings has resonated throughout the game. The Jays aren't just interested in somebody with Cleveland Indians ties to general manager Ross Atkins and president and chief executive officer Mark Shapiro — who have, by the way, just one year and two years left on their contracts, which is another story for another day (thank God). And why the hell wouldn't they hire someone who could speak Spanish? Hell, I would.
It's hoped they find somebody a little bit like Cash, whose post-playing days road — Blue Jays advance scout; Indians bullpen coach under Terry Francona — honed the natural curiosity and attentiveness so often associated with catchers who find themselves on the fringe of the game.
In the meantime, while the storms roiled the Blue Jays waters, the Rays cancelled batting practice. Ah, but no day off. Instead, the teams infielders worked out in the heat with Cash himself hitting grounder after grounder. Imagine that: no BP with which to get your jollies, just boring, old, graft. The pitchers ran and stretched. Work was performed in a scene Blue Jays fans can only hope becomes commonplace in 2019.
"You just have to be true to yourself," Cash said when asked about finding a balance between patience and prodding. "We ask our staff to be true to themselves about the players and be honest. Every guy … you try to connect with them and motivate them a little differently. But this group? They do a very good job of motivating themselves and holding themselves accountable — holding themselves to a high standard knowing they have to be constantly trending in the right direction."
And if that isn't music for some sore ears, I don't know what is.