Much of the focus around how the Toronto Raptors have reached the NBA Finals goes back to the fateful moves of last summer.
And although trading for Kawhi Leonard certainly raised the Raptors' ceiling, the foundation of a championship contender had already been set before he arrived.
Many of Masai Ujiri's signature Raptors transactions were not easy decisions and were in fact, not immediately popular, with the fanbase, including the Leonard deal, which now seems like a no-brainer in hindsight.
Since May 2013, when he signed a five-year, $15 million deal with the Raptors to become their new general manager, Ujiri has orchestrated a series of small moves designed to chip away at re-making his roster and the team's culture. Getting tough, and at times unfavourable, decisions constantly right is what has taken a team that was out of the playoffs and in many ways a league laughing stock and turned them in to the winningest team in the Eastern Conference during his time in Toronto.
Ujiri is now a front-runner to win NBA executive of the year, but you can't attribute the team's 2019 success to just what's occurred during the past year.
Here is a chronological look at the six most defining moves of the Masai Ujiri Era in Toronto, made in concert with with Bobby Webster, Dan Tolzman, Teresa Resch and Keith Boyarsky.
1. June 2013: The Andrea Bargnani trade
One trade that wasn't controversial at all was Ujiri's first big swing, the Andrea Bargnani deal. Somehow, he got the New York Knicks to trade Marcus Camby, Steve Novak, their 2016 first-round pick, and two future second-round picks for the man Chuck Swirsky called "El Mago."
Bargnani was the No. 1 pick of the 2006 draft, and rightly or wrongly was the face of heightened expectations yet subpar performances that hung over the franchise during his time with the team. Moving off of Bargnani's remaining $23 million on his contract didn't hurt either. What made the trade so unlikely is that Ujiri had previously fleeced Knicks owner James Dolan. In his first deal as GM of the Denver Nuggets in 2011, Ujiri sent Carmelo Anthony to the Knicks. In the "sometimes the best moves are the ones you don't make," category Ujiri's swindling of the Knicks is also why Dolan later backed out of a deal that would have sent Kyle Lowry to New York.
Greivis Vasquez was a fan favourite and a personal favourite of Ujiri's. His history with him went all the way back to Basketball Without Borders. Vasquez's positive personality had lifted the Raptors locker room after he, Patrick Patterson and Chuck Hayes were acquired from the Sacramento Kings in exchange for Rudy Gay in 2014. But Vasquez was a limited perimeter defender, the biggest weakness on the Raptors.
Ujiri knew the team needed to get younger and more athletic on the perimeter as the league was more and more becoming about pace and space. So in June of 2015 Ujiri made a deal with the Bucks, sending Vasquez to Milwaukee in exchange for Norman Powell and a draft pick that would became OG Anunoby.
"Playoff Powell" has come back to haunt the Bucks in the post-season, putting up averages of 12.3 points and 3.5 rebounds while shooting 45.6 per cent during their recent six-game series, while effectively guarding Khris Middleton. Vasquez, on the other hand, never had another meaningful NBA moment – playing only 23 games in his lone season in Milwaukee before quickly fading out of the league after playing three games with the Brooklyn Nets in the 2016-2017 season.
3. June 2016: NBA Draft
Ujiri's roots are as a scout, and historically the draft has been his best mechanism for roster improvement. In the summer of 2016 he added to his impressive draft resume, selecting Jakob Poeltl ninth and Pascal Siakam 27th. Adding to that haul, the Raptors then signed Fred VanVleet to a multi-year deal after he went undrafted.
None were household names or excited the fanbase at the time, but Poeltl's stabilizing presence as a member of the "Bench Mob" helped facilitate the Kawhi Leonard deal while Siakam is now a contender for the league's most improved player award. The bet the Raptors made on VanVleet has also paid off as he shot a ridiculous 14-17 (82.4 per cent) from three-point range in Games 4-6 of the Eastern Conference Final, the highest percentage over a three-game span in NBA post-season history by a player with at least 15 attempts.
[snippet id=3360195]
4. July 2017: Re-signing Serge Ibaka and Kyle Lowry
In February 2017 the Raptors traded Terrence Ross and a draft pick to the Magic for Serge Ibaka. Ross had tantalizing potential, which he showed during a 50-point game in Toronto, but was at a positional surplus. An interior presence such as Ibaka could provide, was the greater organizational need.
That was followed up in July of 2017 when Ujiri signed Lowry to a three-year, $100 million extension. Remember, it wasn't a guarantee Lowry would be back. Lowry mentioned he was interested in the San Antonio Spurs and Jimmy Butler talked about recruiting him to the Minnesota Timberwolves. I even made the argument why Ujiri shouldn't bring him back. An equally astute re-signing was bringing back Ibaka for three years and $65 million, as opposed to over-paying to re-sign Patrick Patterson, who went to Oklahoma City on a three-year, $16.4 million deal.
After falling once again to the Cavaliers in 2018, some felt the front office should have blown the team up and others felt they should have kept the core together in search of continuity. Ujiri didn't over react in either direction, a decision that in hindsight, looks like the right one. By staying in the course but continuing to evaluate and tweak the roster the upward trajectory of the franchise remained.
[snippet id=4267701]
5. Summer 2018: Culture reset with Nick Nurse and Kawhi Leonard
In July and June 2018 respectively, Ujiri traded four time all-star DeMar DeRozan and fired the winningest coach in franchise history in Dwane Casey. In light of the awkward franchise exits of Damon Stoudamire, Marcus Camby, Tracy McGrady, Vince Carter and Chris Bosh, it was counterintuitive to trade the one home-grown American star who professed loyalty to the Raptors, especially for an injured player in Kawhi Leonard, who reportedly wanted to play in California.
It also seemed antithetical to fire the coach of the year after he leading the franchise to an all-time record in wins. Needless to say, both moves elicited criticism from fans and media. After an exhaustive search that started with Mike Budenholzer, Ujiri's hand-chosen, internal replacement was Nick Nurse.
Nurse went 58-24 in his first season running the bench while juggling 20 different starting lineups. He is now just the eighth head coach since the ABA merger to go to the NBA Finals in his first year. But the real choice that can't be criticized is the acquisition of Leonard.
"There is no player in the NBA I'd rather have then Kawhi Leonard. He's a drama free superstar," is how Charles Barkley described Leonard after Game 6 of the Eastern Conference Final.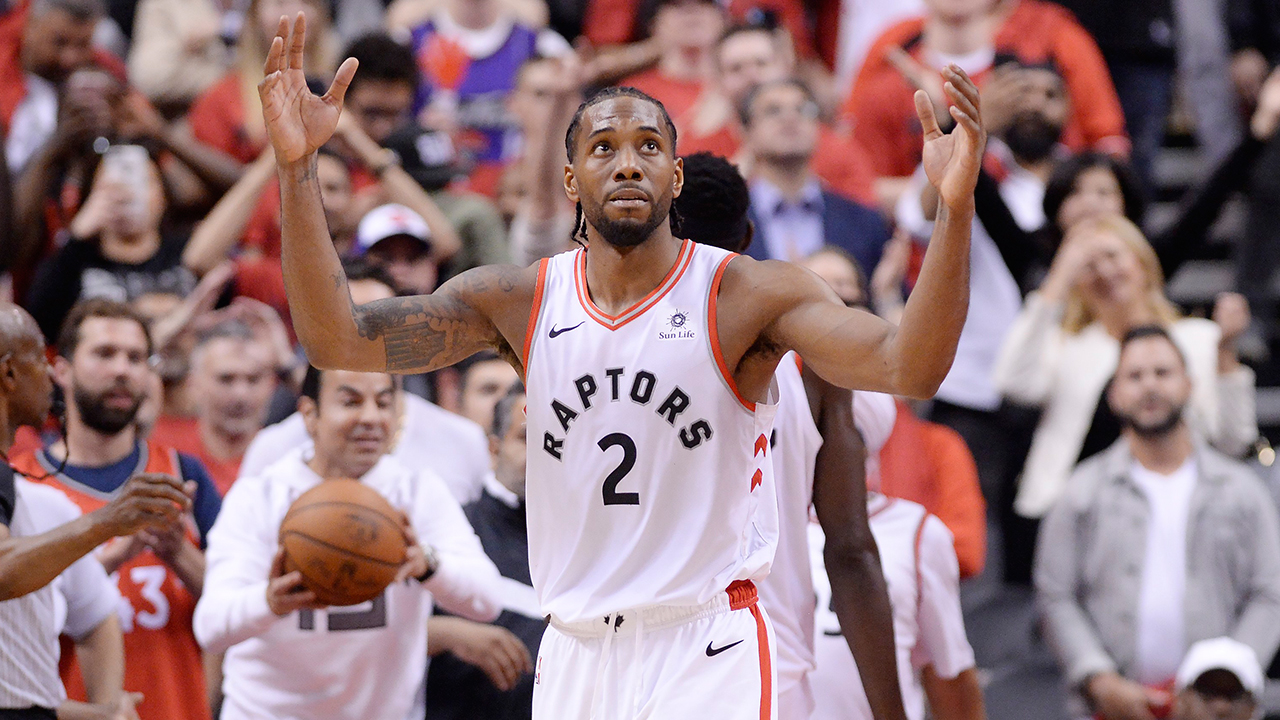 The irony is, a bunch of teams could have had him after he was limited to just nine games last season due to injury. The Philadelphia 76ers, Los Angeles Lakers, Los Angeles Clippers and even Washington Wizards were all rumoured to be in the Leonard sweepstakes last summer, but Ujiri is the one who got the deal done.
And as Barkley recalls, in concert with the firing of Dwane Casey, it was not originally well-received. "For this man here, who got crucified for trading his most popular, best player and people forget he fired the coach of the year and everybody says you can't do that and he said, 'We're not good enough.' This is his redemption. Shout out To Masai Ujiri."
I'm not sure if it's redemption or justification, but it was the culmination of many moves, both big and small, that have Toronto still playing basketball in June.
As for Leonard, his load was managed well enough throughout the regular season that it's allowed him to play 100 more minutes this post-season than Curry and 66 more minutes than the leading Warriors player, Klay Thompson. Leonard has 11, 30-point games this postseason. The only player with more entering an NBA Finals was Hakeem Olajuwon, 12 30-point games in 1990. Leonard has seven games with 35-plus points, and is the playoff points leader by over 100 points. His 561 points in the 2019 playoffs trails only LeBron James (2018), Hakeem Olajuwon (1995), Michael Jordan (1989 and 1990) and Kevin Durant (2014) for most in a single posts-eason prior to the Finals.
But Leonard's most impressive post-season stat is his career record of 352-115, the best winning percentage in NBA history. He's proven that, when healthy, he is the best player in the sport. The trade capital and public relations hit it took to get him now looks like a minuscule price given the on-court return on investment.
6. February 2019: Adding Marc Gasol at the deadline
At this year's trade deadline, Ujiri acquired three time all-star Marc Gasol for one of Ujiri's personal favourites, Jonas Valanciunas, plus Delon Wright and CJ Miles. Gasol was the last piece of the puzzle, adding some additional playoff experience and secondary offensive playmaking. Moreso, it was signal to the league, the team and to Leonard, that Ujiri was all-in on 2019.
The Raptors current starting unit played just 161 minutes together during the regular season, but has already played 314 minutes together in the playoffs. The 2019 Raptors are the first team in NBA history to make a Finals without a lottery pick on their roster.
Ujiri didn't blow it up. He didn't tank and he didn't sit pat. He did it his way, valuing risk, internal development and brutally honest self-assessment.
It was at times a painful process, but the results speak for themselves: the Raptors are in the NBA Finals and their long-term future is all the better for it.