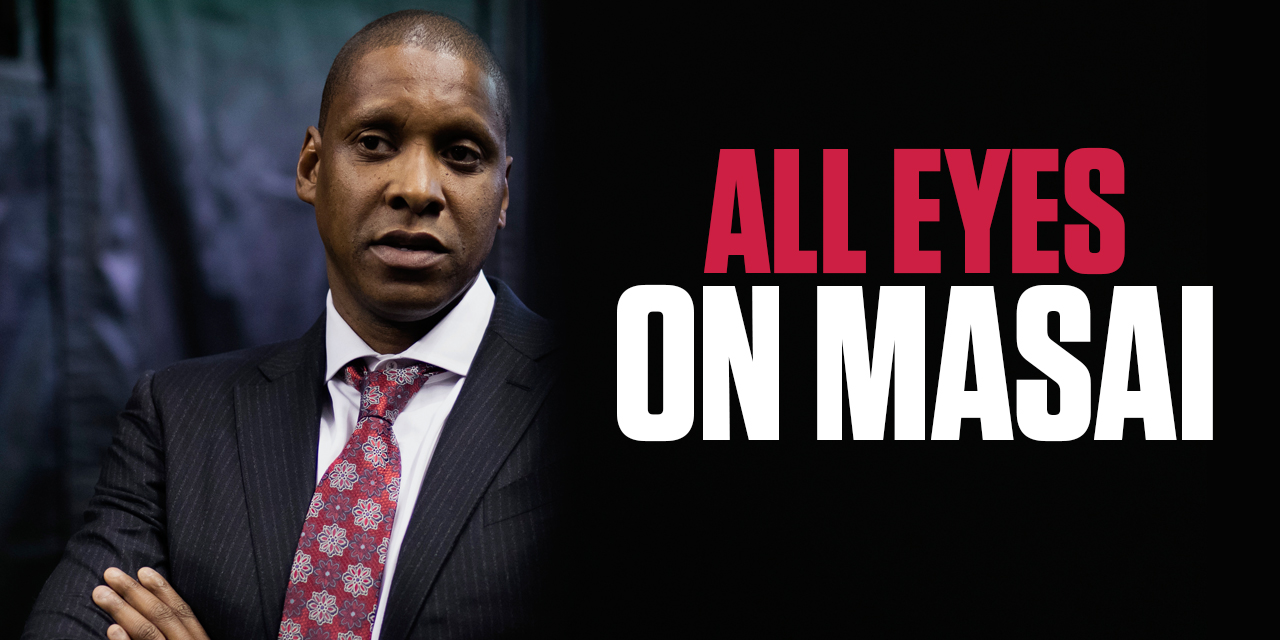 A gameday in the life of Toronto Raptors President & General Manager Masai Ujiri.
Words by Donnovan Bennett, photos by Philip Cheung
The twists and turns of a day in the GM chair. As Masai Ujiri embarks on trying to build the Toronto Raptors franchise into an elite NBA program the building blocks are slowly put in place every night at the ACC. As I followed the game day experience a President and GM goes through it was apparent that Ujiri leans on his one pillar of strength as he tries to build a powerhouse: Family.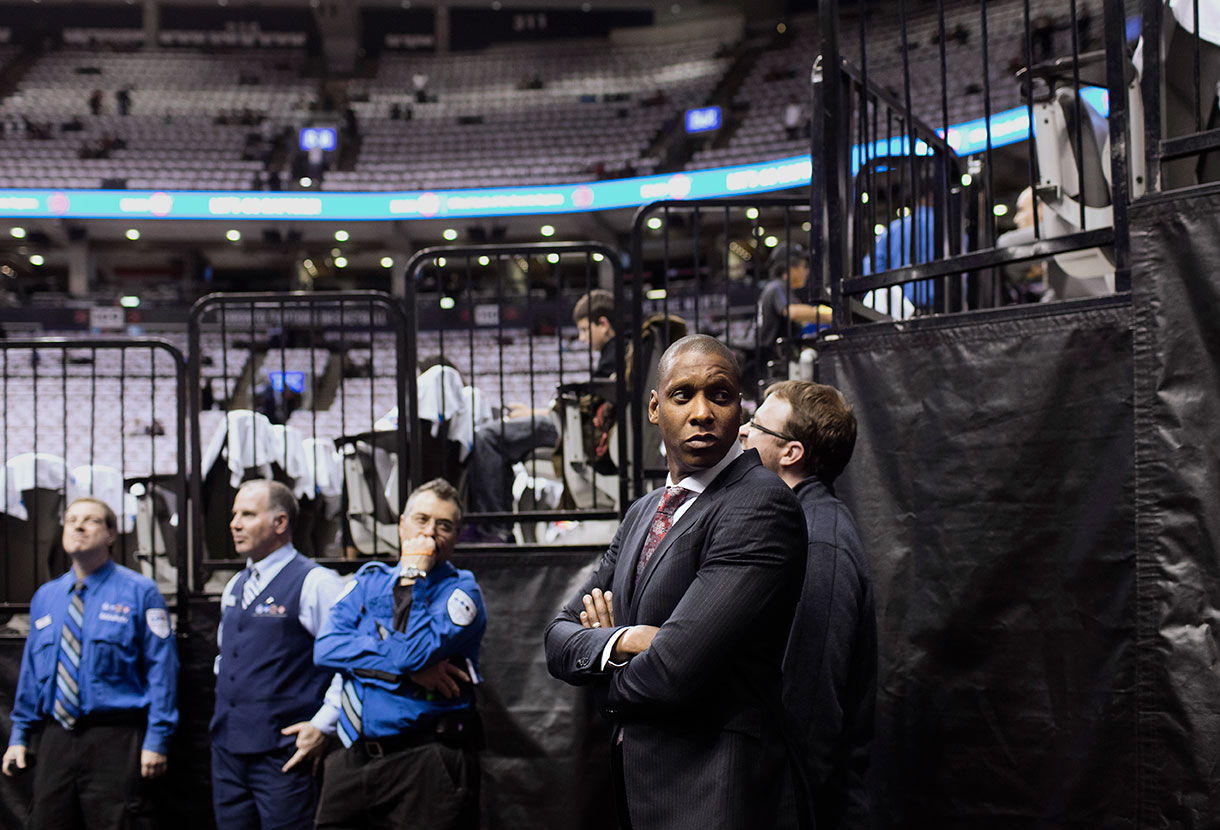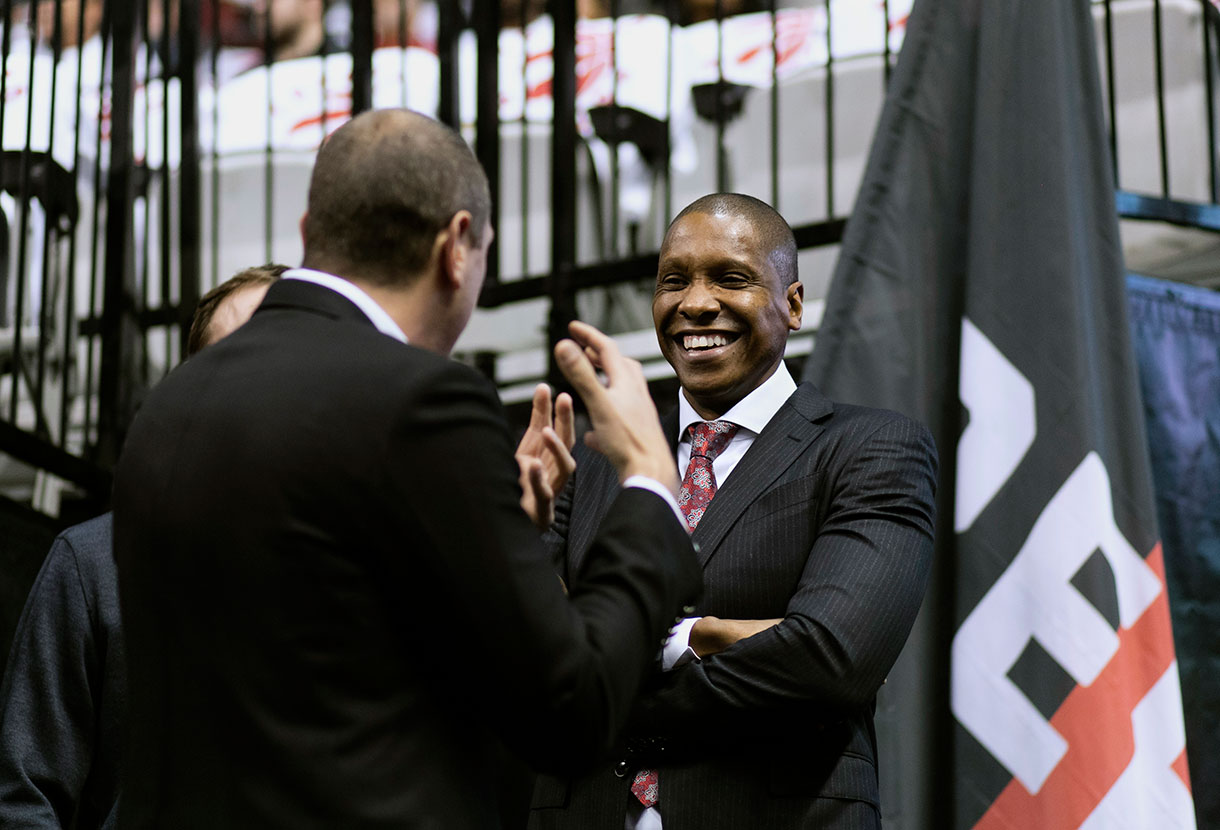 Strength in Numbers
"In order to win you need to have the best people and the best resources. I feel we have both so there is no excuse for us."
The builder of the franchise is constantly looking to build consensus. Whether it is a statistical query, an observation from another game, an opinion on the rotation, or an inquiry on the marketing popularity of his star players, Ujiri is constantly peppering his staff with questions. Continually seeking opinions from everyone from executive vice president Jeff Weltman to director of player personnel Dan Tolzman, to video director Jon Goodwillie. The video room where he congregates during games is not just a mini Best Buy full of plasma screens with multiple NBA games. This master-control space becomes his jury room on all things basketball, and those who enter better be prepared to voice an opinion.
Trusted Confidant
"I want to go to war with people I trust. Who have my back. He's humble and honest, which is what I try to be, so we work together well."
Weltman is a constant presence at Ujiri's side. He was an assistant GM in Denver from 2003 to 2006, when Ujiri was just a scout with the Nuggets. Ujiri's return to Toronto to head the front office saw him hire his former higher-up, who he relies on to tell him the hard truths. Their dialogues are candid and constant throughout the night.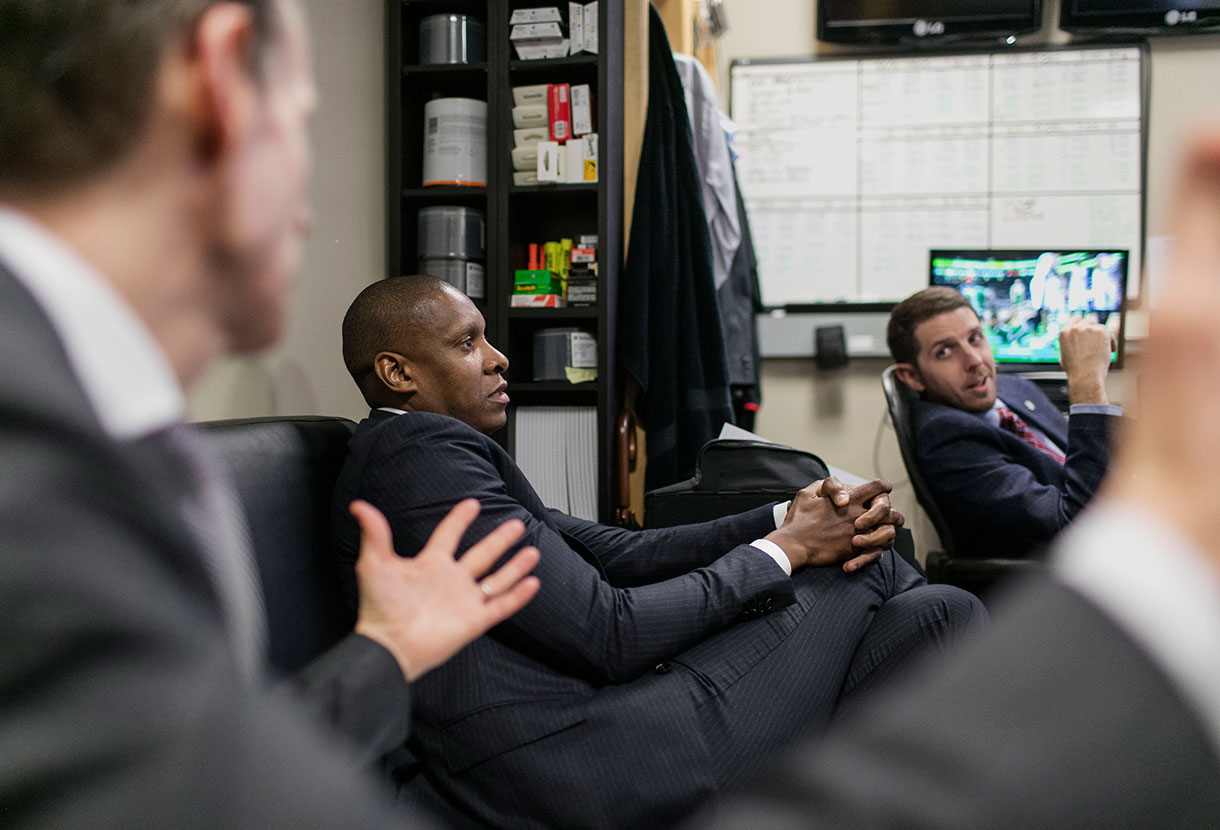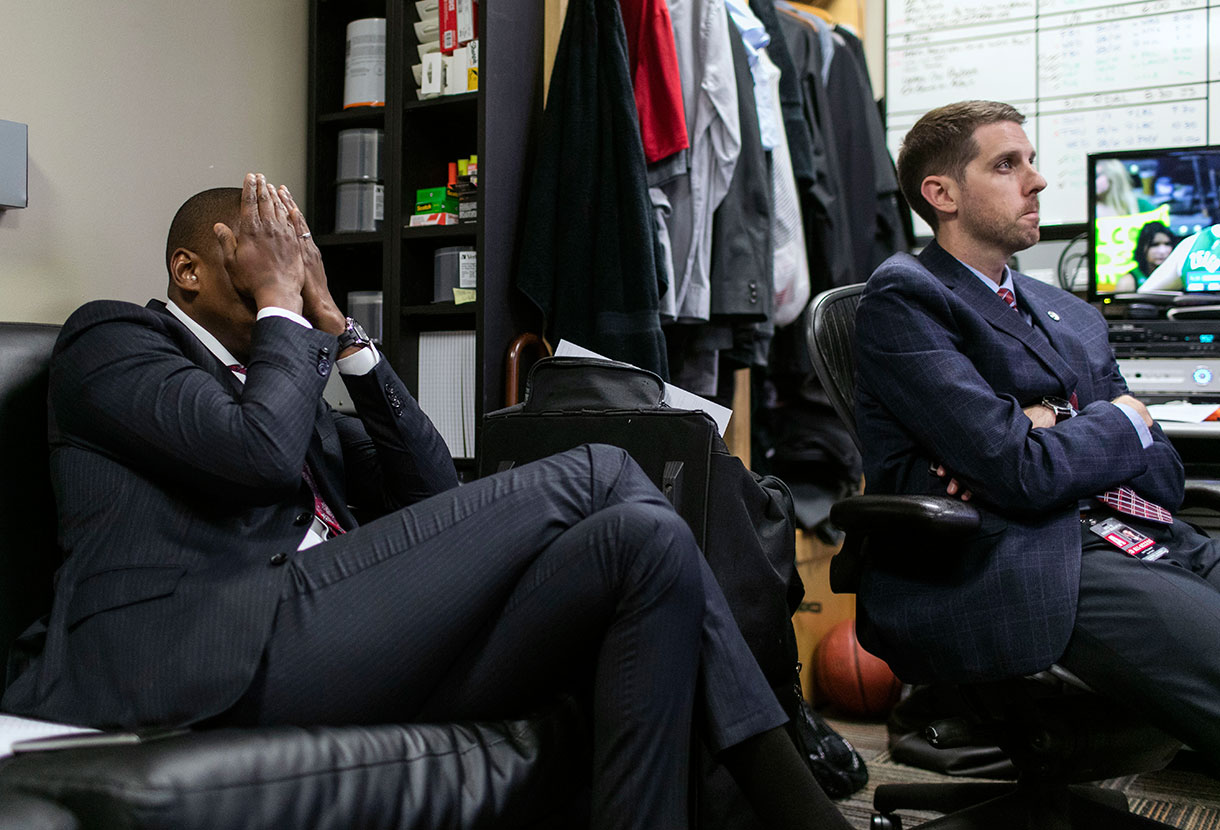 Roller-coaster Raptors
"So much is going on in my crazy mind. You say crazy things. But it all comes down to you want to win."
Being incredibly blessed and stressed are not mutually exclusive conditions. Though the GM is usually jovial in the public eye, the million-watt smile can turn to gritted teeth and a grinding jaw behind closed doors. Oftentimes while watching the action, Ujiri's breathing slows and he turns his eyes upward in a search for answers, clasping his hands and murmuring to himself—or a higher power. The (mostly) inner dialogue that every possession prompts is a reflection of the difficult balance in being the man with the power to put the roster together and becoming powerless as soon as the ball is tipped. Positive plays are greeted with a slight nod of approval if they're given any reaction at all. Poor plays evoke a sigh or sucking of the teeth. The BlackBerry becomes a welcome distraction when he can't bear to watch. His breathing becomes elaborate as if the normally laid-back Ujiri is trying to will himself to stay calm.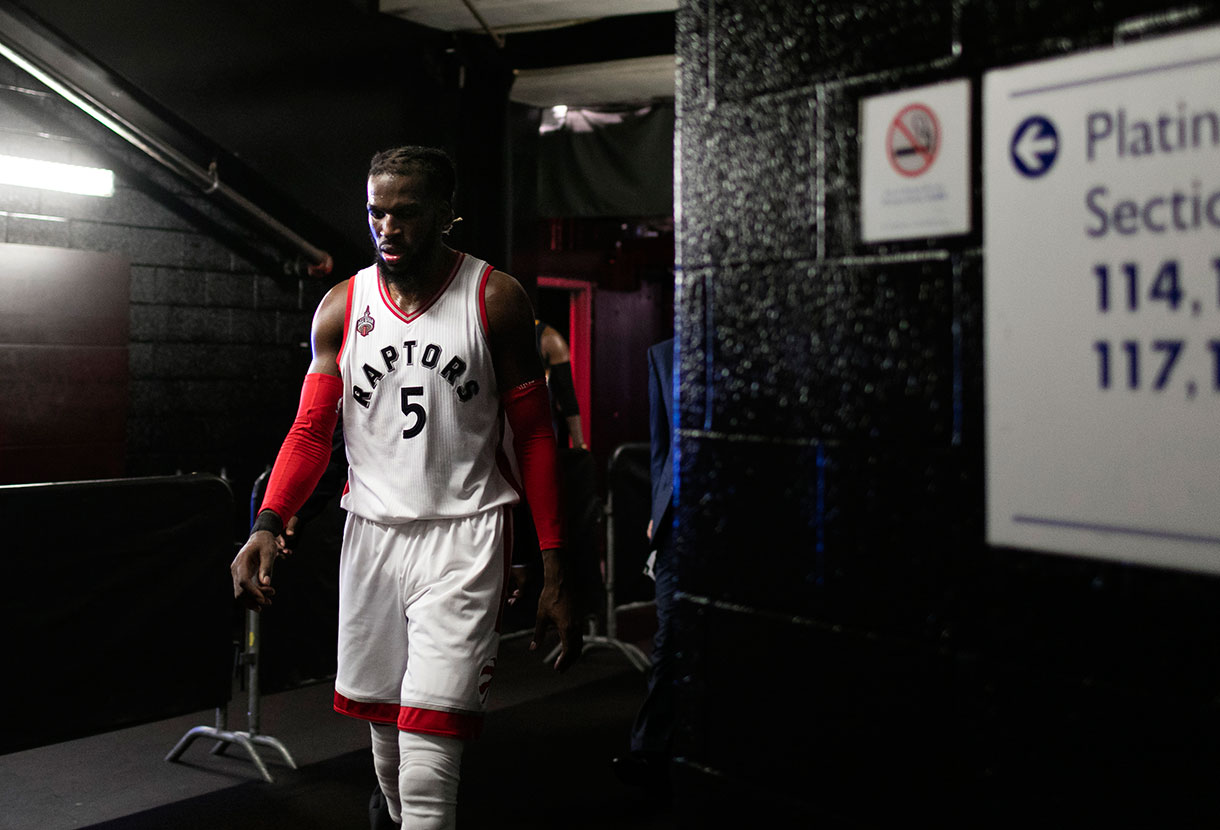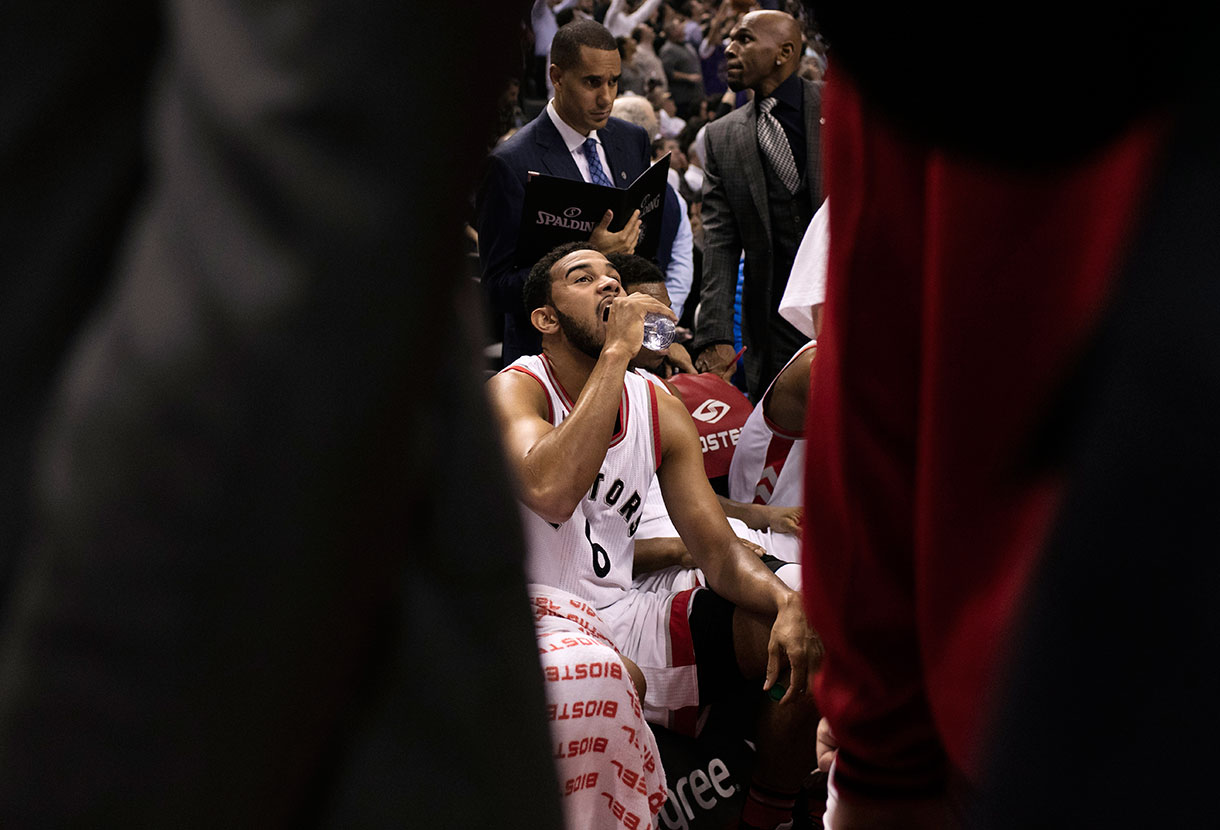 On in the Off-season
"These guys want to be great, they really do. I believe that with my heart or else they wouldn't be here. So you want to fight for them."
Ujiri initially inherited a team that had not been to the post-season since 2008. The Raptors have won the division in both of his years in charge. Yet last year's first-round playoff sweep halted the team's meteoric rise and left the team being referred to in terms of mediocrity. In the off-season Ujiri pressed control-alt-delete on the team's core and jump-started it with an infusion of toughness with player acquisitions like DeMarre Carroll, Cory Joseph and Luis Scola. He rolled the dice on the upside of Canadian Anthony Bennett, and draft picks Delon Wright and Norman Powell. When he speaks about them it's in glowing terms; the moves were made as much with his head as his heart.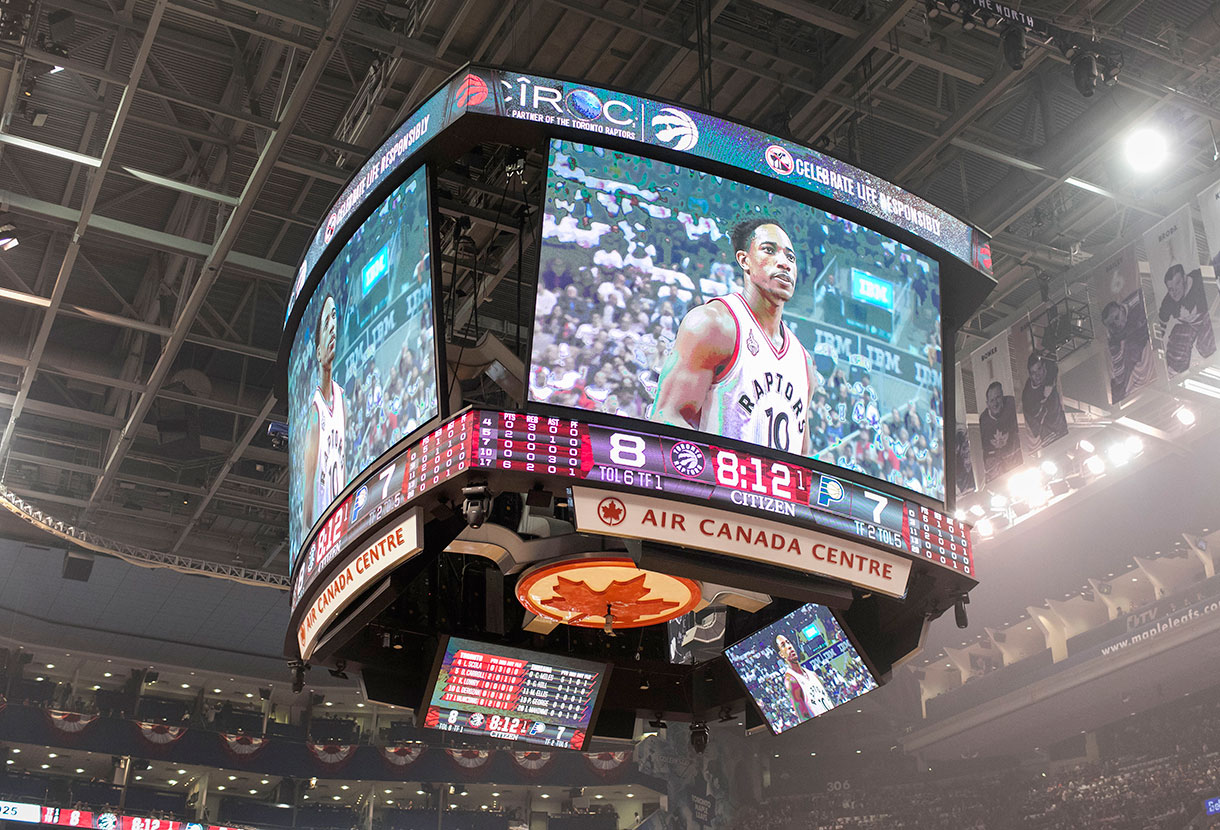 Presidential Power
"We want to create a winner in Toronto. Every thing should be first class. The fans deserve that."
His business card doesn't just say "general manager"—it also includes the titles "president" and "alternate NBA governor." Ujiri has his hands in much more than the on-court product. Literally the biggest off-season change is the $10-million, 23-foot-tall aluminum scoreboard that hangs from the ACC ceiling, and performing the cost-benefit analysis on such a purchase is just one of the procedural matters on Ujiri's plate. As all-star weekend heads to Toronto, the team's brand-new D-League outfit begins its inaugural season and a new practice facility continues to be built, getting a handle on the business aspect of the club is paramount before he meets the board in a few days. As he tries to grow the fanbase in Canada, appeasing those stakeholders who buy tickets and replica jerseys is a consideration that runs parallel to finding the right players to fill out the authentic jerseys.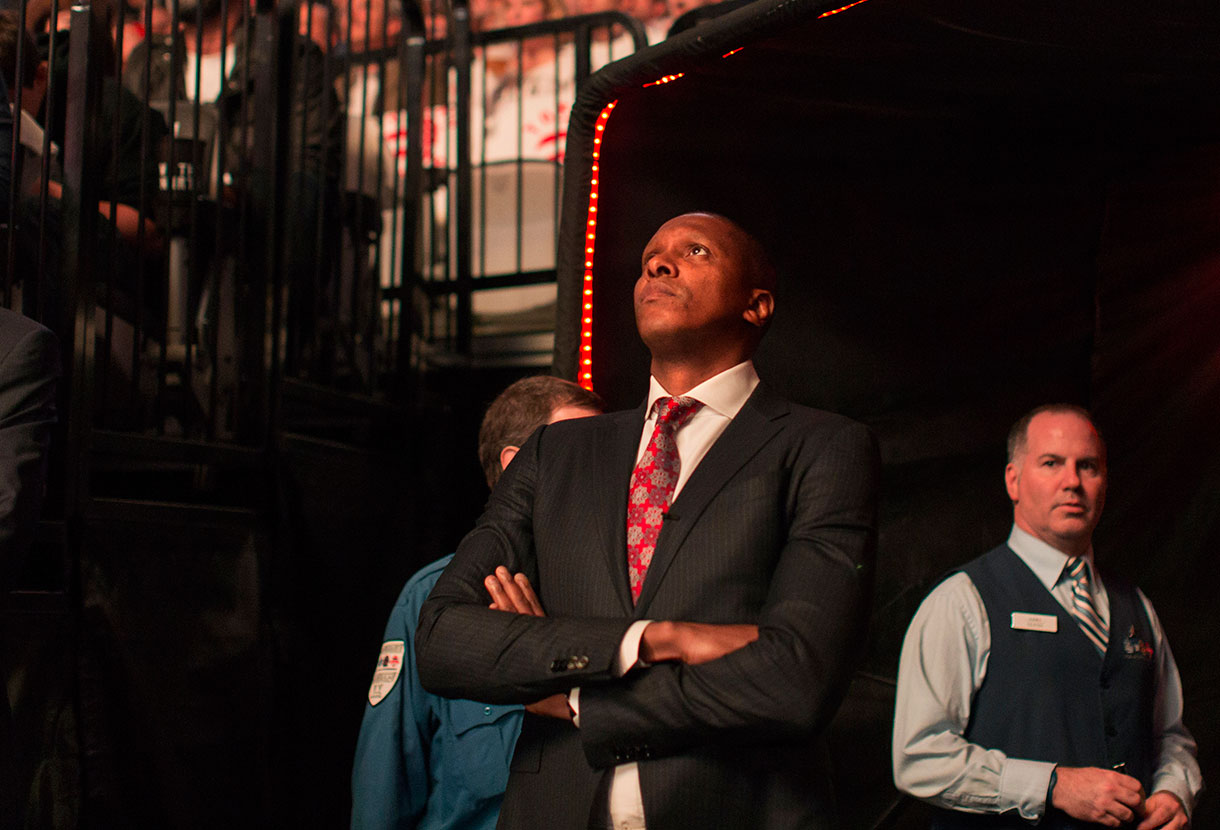 Chief of Staff
"During a season you are going to have tough times. Those people in the arena are important because they are there every day no matter what. I want to create a cool place to work."
The attention to detail is not just in player acquisition but employee affirmation. Part of being the face of the basketball franchise is everyone in the arena knows your face. Conversations with sponsors, event staff, trainers, security guards and sales reps all follow a similar formula. Handshakes morph into hugs. "How are you?" transitions to "How can I help you?" First names are used, eye contact is made. The first step to building a winner is building relationships.
Zahara Zone
"I want her to be a winner. I have a chance to show her with how I do my job that you can come from nothing and be something."
As Ujiri leads a franchise, the light of his life leads him around the Air Canada Centre. His daughter, Zahara, is handed off to him by his wife, Ramatu, to spend some time with him while he watches the game. Zahara's presence grounds him and prompts a transformation from a man anxious about pick-and-rolls to one animated about peek-a-boo—he keeps one eye on her and the other on the on-court proceedings at all times.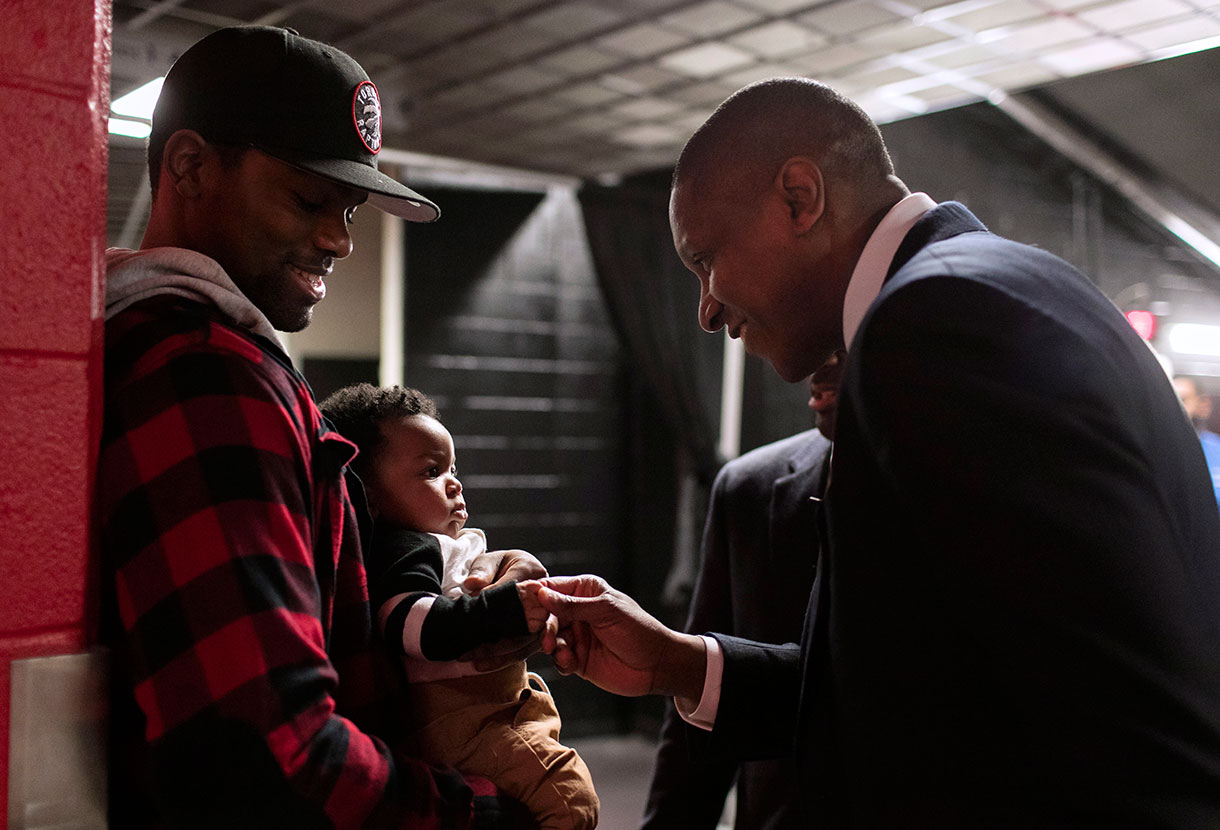 Family Business
"I grew up around family. I want my players to feel comfortable. Kids especially have a way of bringing out the best in you."
Ujiri keeps the team's nuclear families and basketball families intertwined. In between big-picture conversations with his staff Ujiri brings himself down to size to make small talk with Weltman's twin girls, JJ and Lucy, and tickle Kyle Lowry's infant son, Kameron.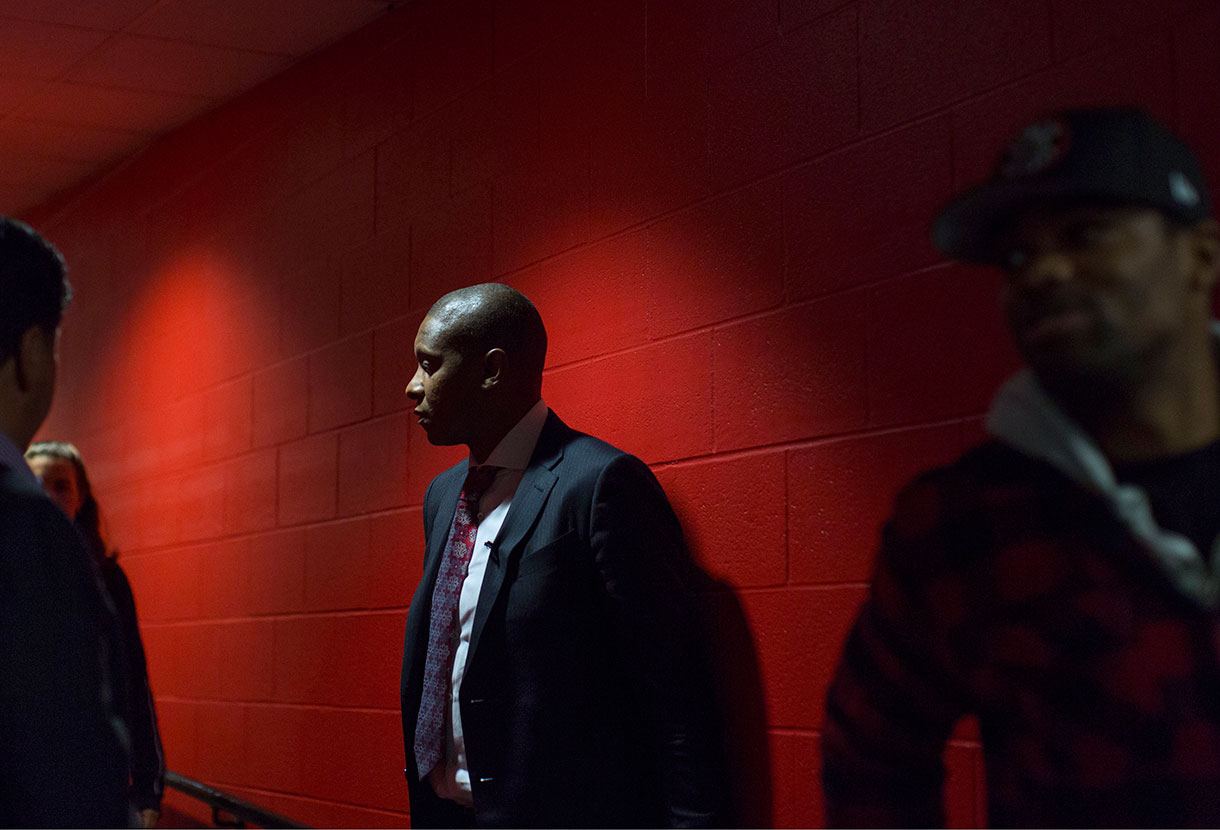 Waiting to Exhale
"It's a crazy time for me. You have so much built-up tension and it just releases from you."
As soon as the game is over the physical nervous energy leaves his body. His feet stop tapping. He stops fiddling with his wedding ring. Yet, look at his face and you can see his work is not yet done. Often taking time away from the crowded corridor in between the locker room and the court, he darts into a dark corner to collect his thoughts. The final buzzer has sounded but his brain is working overtime. Or getting a head start on tomorrow's work, where the marathon of emotions will start again.