Canada Basketball's senior men's team has announced the 12-player roster that will compete in the FIBA AmeriCup 2017 in Bahía Blanca, Argentina between Aug. 25 and Sept. 3.
The team features a pair of NBA pros in Joel Anthony and Andrew Nicholson, along with Raptors 905 guard Brady Heslip and recent New York Knicks signee Xavier Rathan-Mayes.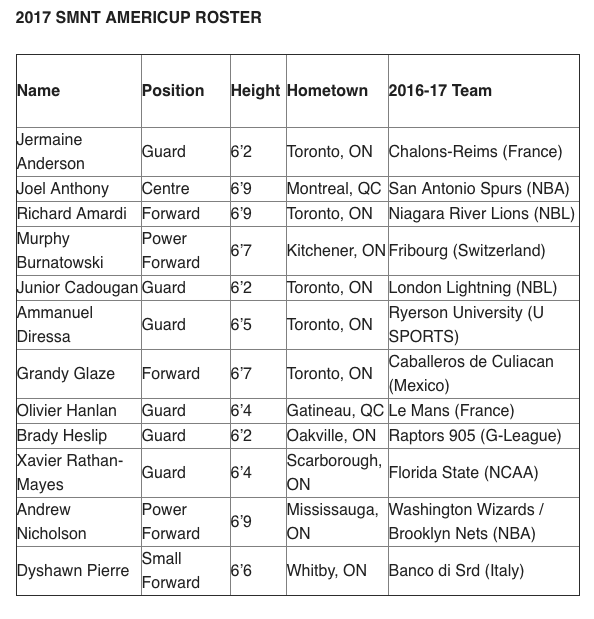 "Following a successful selection camp, we're pleased to announce the players that will represent Canada at the upcoming FIBA AmeriCup 2017 as we begin our journey towards a berth in the FIBA Basketball World Cup 2019," said head coach Roy Rana in a press release.
"This tournament is an opportunity for our players to earn some important international experience as we compete for an Americas Championship and beyond."
Canada will play its first game Sunday against the United States Virgin Islands at 6:30 p.m. ET. As part of Group B, they're also scheduled to play the home country in Argentina, then Venezuela.
Entering the AmeriCup, Canada is ranked 8th in the Americas and 24th globally.
Earlier in August, Rana was appointed to be the head coach of Canada's senior men's team for the AmeriCup, and two qualifier windows for the FIBA World Cup 2019 in November and February. Before being selected, Rana guided Canada's U19 team to a title at the World Cup, the country's first gold in any basketball event.
Also the coach of the Ryerson University Rams, Rana will be joined by a a member of his own roster in Ammanuel Diressa for the AmeriCup.