Basketball's legendary bad-ass went missing in Africa and was declared dead. He couldn't have gone out quietly.
By G.B. Joyce
This is the fourth instalment of a weekly series. Click here for chapters one through four. And click here for chapters five and six, and here for chapters seven and eight.
John Brisker didn't take shit from anyone.
Those who got in his way realized that they were a lot better off walking than trying to stand their ground. Brisker came out of the Detroit projects and lived by no one's rules. He was kicked off the University of Toledo varsity hoops team for insubordination, but stuck around to play tuba in the band. He tore up the American Basketball Association with the Pittsburgh Condors in the early '70s, inciting street fights with the league's toughest and taking a gun courtside in his gym bag. By the mid-'70s he was languishing at the end of the Seattle Supersonics' bench, content to collect a paycheck and absorb the wrath of coach Bill Russell. Then, after securing a buyout from the Sonics, John Brisker left his wife and family at home and went to Africa, supposedly to pursue business interests. He was never seen again.
For years rumors made the rounds. Brisker was on the run from the Feds. Brisker was on the run from the mob. Brisker went to work as a soldier of fortune, a mercenary. Brisker fell in with some shady Liberian grifters. Brisker fell in with Idi Amin, boxing with the bloodthirsty tyrant and coaching his Ugandan national basketball team. Brisker got on the wrong side of Amin and wound up on a pile of a thousand corpses. Brisker lived under an assumed identity in Africa. Brisker made it back to the States. Brisker's dead, long gone. Brisker's alive, still.
Detroit Mercy is a work of fiction. In weekly installments posted on Sportsnet.ca, Gare Joyce is writing a speculative history of the real-life figure who wrote his own improbable narrative but disappeared without tying up the story. "Where are they now?" and "What ever happened to?" are boilerplate fixtures in sports media. Using research that includes declassified CIA documents secured through a Freedom of Information Act request and interviews with those who knew Brisker, Detroit Mercy imagines how it finally went down for John Brisker.
This is the fourth instalment of a weekly series. Click here for chapters one through four, here for chapters five and six, and here for chapters seven and eight.
9
Hines saw it in her mother's eyes on a day when they rode a bus on Twelfth Street. She was a grade school. Grade One, Grade Two, she couldn't be certain.
Neither could she be sure why they took that bus, but her best guess was that her mother was going to work and had to take her on a day when her grandparents couldn't look after her or were too sick. Hines did remember her mother parking her in a quiet place in the basement of a hotel or government building with a book while she would go off with a broom or a mop or vacuum. "Making the hotel look pretty," she said. Or: "Making this office fit to sit in." Work as a chambermaid. Work as a cleaner. On those few times when Hines got a look at her mother's life, her mother made sure that it was a bare glimpse. She'd sit her daughter in a room with nothing more than a book to amuse her but as a girl or as an adult Hines had needed nothing more than that. Even at age six, seven or eight, she could spend whole hours that way, leafing through a book that her mother had picked up for a quarter at a church sale. Hines was always reading ahead of her level and even words she couldn't make out, she'd just skip ahead to the next one. Her mother would come back to check on her, to see if she had to go to the bathroom. When she did have to go, her mother would take her to the workers' washroom, just one, no men's and ladies', and would tell her daughter that this was a grown-up place and she was grown up before her time. Maybe she took her daughter every half hour, maybe every hour. Hines didn't really remember. She wished she did. "You treasure what you lost," her grandmother had told her. "And time is a treasure."
What Hines did remember was that she did all that she could to make it seem that she didn't need even that much attention. Her mother would shake her head in wonder at the fact that she could lose herself in a book that long. Hines would read it once and then start over again with whatever time there was. She locked her body into a position, like she was using physical force to keep her eyes on the page.
Hines didn't read on the bus when she rode with her mother to her job. She tried once but it made her dizzy and sick. So she looked out the window. She knew there were going to be long hours when there was going to be nothing much to look at all: bare walls with peeling paint, a bulletin board with names and assignments for jobs and her mother's handwritten sign advertising for RIDE WANTED.
She couldn't remember if her mother was working in a hotel or an office that day. She did remember that it was summer and it was hot and they had to stand a long time waiting for the bus to come. That and the fact they were sticking to the seats because there was no air-conditioning on the buses, just another trial to test the riders. She did remember that they had to go early because her mother knew that the bus wasn't reliable and she worried that it might not come at all. That would have been the end of a job her mother needed only as much as oxygen and water.
And the bus passed a theatre, what was left of it, in the middle of a city block, what was left of it, with a few men stand around, what was left of them.
"I went to see the Dramatics there," her mother said.
"What's that?" Hines thought it might be a movie.
"They were a group. Boys. They could really sing. They weren't really Motown, but they were good. They were just boys, just kids like we were, in high school, teenagers. And they'd be on WJLB like all the stars. Such nice voices. Not all high. Maybe kind of rough. They'd make it pretty big someday. That was before they made it much outside of the city. Back then I knew someone who knew some of them. They were supposed to play that night and we went."
And then she did something that Hines didn't remember her ever doing before or after. Her mother sang. Not loud. Under her breath. Nothing that would get attention from the couple of other people on the bus. Nothing that might get her thrown off the busy as being crazy when she had a job to go to. Just loud enough for her daughter to hear.
"'Look in my eyes and don't you see woman, it's all for you.'"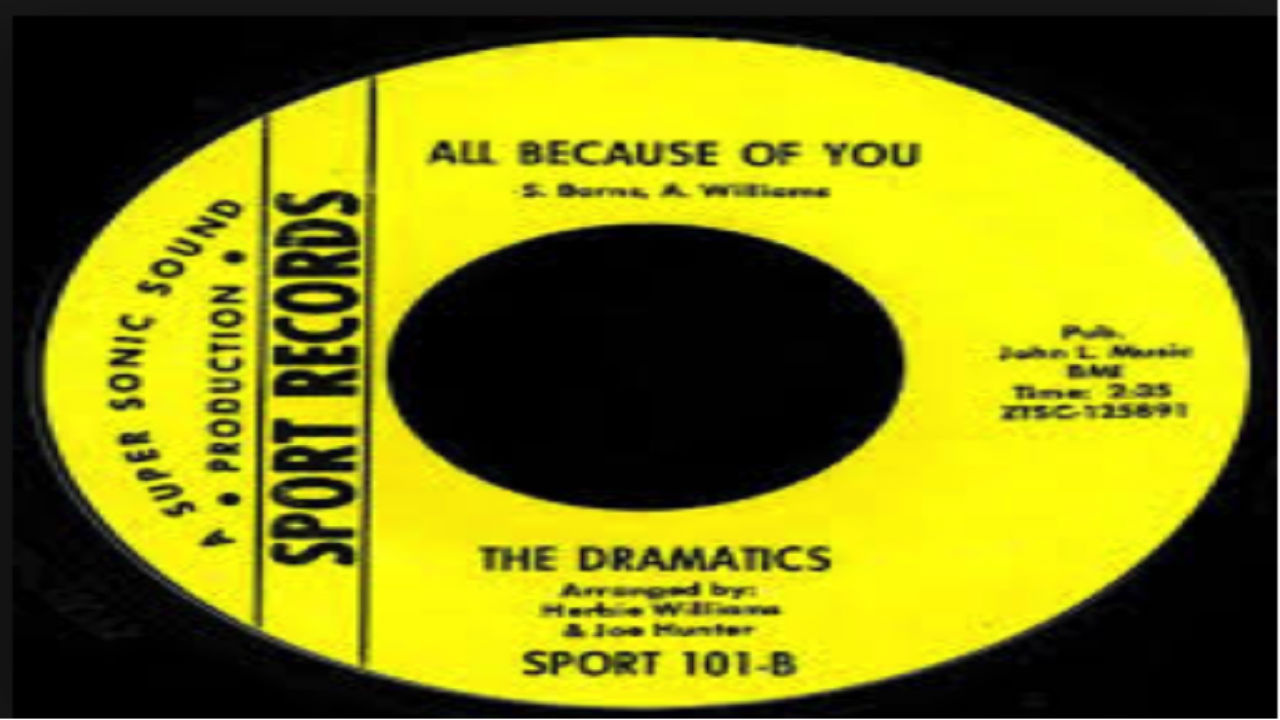 At first Hines thought that her mother was calling her "woman." But then she realized, not really that disappointed.
Hines had trouble imagining anything ever playing that theatre and her mother going there. The bus picked up speed and rolled right by a guy standing at the next stop. Within a minute Hines couldn't see the theatre down the straight but seemingly endless street.
"It was just another time," her mother said. "There was lots going on around here. I don't say it was all good. There was a lot going on, let's just say. The Dramatics played and we went and really I never went back and I don't believe that place ever did much after that. Doesn't seem so long ago. How many years? How old are you, sweetie? It had to be '67. Not even ten years back. I was a night."
That theatre and the Dramatics never came up when the mother and daughter talked, not even when they would ride by on the bus. The daughter looked for the theatre and it took a prominent place in her imagination. That was her haunted house, just like every kid had one. And hers was a good one, with chains on the door, glass kicked out, no lights on where there'd been people laughing and lining up for popcorn years before. For so much joy there, the Dramatics and others, and then nothingness, yeah, this was a better haunted house than all the others.
After the last trip she took along Twelfth Street with her mother to a job, she never went back there. She made a point of that. Her mother had gone past it twice every day she went to work. Thinking about the night of the Dramatics each time.
10
Sitting across from Donnelly, Hines realized: Next week was another anniversary of her mother's death.
"It was an awful thing that night," her grandmother told her years after the funeral. "We were worried sick about her. She was going out that night with her boyfriend. Who we didn't much like. We didn't see much love or kindness in his heart. But she loved him and she asked him for tickets to some sort of show. I don't remember. It was her birthday. No, the day before her birthday. Seventeen. And we told her, no foolishness. Back at eleven o'clock. And she said she'd be home 'cause her boyfriend had to borrow some friend's car just to take her."
"That boy would have stole the car," Hines's grandfather said.
"He would not have done that or she would never have wanted to go," her grandmother said. "Don't listen to him. Anyway, that night terrible things happened in the streets. The worst night. Fact is, it lasted three or four days and nights. Dozens of people shot and killed. The police beat and arrested hundreds of others …"
"Thousands," her grandfather said.
"It would be thousands," her grandmother said. "And I believe that some of them were up to no good. The city burned. People would break into stores and just take what they wanted and then burn the building down."
"Those things happened in those days," her grandfather said.
Hines' grandmother let her husband know that she didn't need or want his help telling the story of that night.
"Not all the time. Back when we were kids once, long time ago. Other small things over the years, but it was really bad, never worse than that night and there was our daughter out in the middle of it. With that boy. I thought he could keep her safe. God knows no one wanted to push their luck with him. And she'd never let him get caught up in such a fool thing like stealing when it was her birthday. Whatever he was he wasn't that."
Hines' grandfather had always thought his wife's greatest weakest was her ability to see good in people that wasn't there.
"And when she didn't come home at eleven sharp I was worried. More worried by the minute. I knew that it was not something bad but something awful. Night, the next day and another night. Worried sick. Nothing in the world worse than losing a child, I hope you never have to find that out."
Her grandmother said said that but Hines didn't think of it until much later, the idea that the night she talked about prepared her for awful things that came later.
"How she got back I don't know. Not that the police would have brought her back. Buses weren't running and she had no money for a taxi. Angels should have carried her home. She was arrested and taken off. To a prison. A prison. Because that night they had arrested so many that they couldn't throw them in the jail places that they'd use other times. We're talking about thousands of our children. Seemed like it touched everybody we knew. A child, a relative, a neighbor …"
"All the men I worked beside," her grandfather said. "They all had somebody that was caught up in it."
"What happened to your mother, she would never say but I heard it about daughters and women who were there. These white police pointed guns at them and made them take off their clothes and did terrible things to them. They would call them tramps and all kinds of indecent things. What no one should have to endure. That went on those days. You'd hear someone would get picked up and hauled away and terrible things went on. But this was thousands and the city was burning down and the army came in. It was a war in our city, never mind Vietnam. My one friend from the church, her son had been in Vietnam and he ended up getting beaten up like a common criminal because he was just in the wrong place at the wrong time. Down on Twelfth Avenue."
"Twelfth, Eleventh, Tenth, it didn't matter," her grandfather said. "The wrong place was Detroit and anytime was the wrong time with our complexion. Just that that was the worst night."
"The thing was, when you're mother was just a child we thought that things could be so good. Cars were rolling out of the city. They were hiring men like your father …"
Even as a child Hines would have known that her grandmother meant black men.
"… to work on the production line. People's lives were getting better. And then something like this …"
Her voice tailed off.
"What happened to your mother that night, she never talked about except to say that it was awful. And after hearing from other people, mothers of children, what happened to girls like your mother, I don't know that I could bear to hear it happening to my own flesh and blood. She was different after that night. A little bit of her never came home. The only time I ever remember her mentioning it was a little while after that when I said something—something not nice—about that boyfriend of hers being so mean and she said, 'You don't know how bad it was for him that night.'"
Even when she was hearing the story for the first time, Hines had a sense that story was far from complete. Not even half. Her mother might have not have been able to tell her parents all the awful things about that night. If she did, it might have been that they couldn't bear to talk about it, no more than she could bear to look at the theatre when the bus drove by. If her grandmother had known all the details, she would have thought that retelling the story in full would shame the memory of the child she had to bury. That it would hurt a child, Hines, who had already to watch her mother wither and die. Or just that it might have simply been that it was too painful for the grandparents to talk about.
Not long after first hearing about the riots, Hines wondered: What happened to my father that night? It might have been wound up in what he ended up becoming. That night made him the guy with the sombrero and the gun. That night made him the toughest badass in a league full of them. That night set him on the run and made his whole life one awful riot, the streets on fire, the cities he left behind in ruins, the law chasing him. More than he ever knew, probably. She thought, you never know how you become who you are because you're just too busy becoming. That keeps psychologists in business. That gives preachers something to talk about on Sunday when the plate is passed. You'd need hours and days to think about it and see the patterns taking shape over years of a life. From what she knew and what she guessed, her father wouldn't have spent one minute thinking about the hows and the whys. Those things are too big. How and why the riot happened that night was years in the making. It was the sum of a hundred thousand awful moments in the lives of people like her mother and father, a million or more, stuff that happened everyday, stuff that they accepted. And it was the same with the how and why her father became who he was. The night of the riot made him and he and others like him made the riot.
Hines presumed her mother and father were too different. Or at least it was a presumption with her father. Her mother Hines knew. She was the one who riding the bus down Twelfth Street couldn't turn her head because she was so pained by a memory. John Brisker, though, he would have driven down Twelfth Street. He would have smiled or he would have gritted his teeth. His pulse would go up, maybe excitement or maybe anger. He would have slowed down or even stopped and got out. He probably wouldn't even know why, just because no one who thinks about what he or she becomes will end up becoming someone like him.
Everything about her father was left to her imagination and so it had to be richer than everything about her mother whose history was just dire, grueling fact. Not even all the facts, just the facts that her grandmother thought Hines could handle and her grandmother could handle telling her.
All Hines had was unlimited imagination and those thin slices of fact and legend. Made her want to color inside the lines and get a richer picture. Set her about reading years later, reading the Free Press and the News from 1967 like she had just pulled them off the newsstand. She wouldn't read today's paper, but to find out about that night, she turned page by page.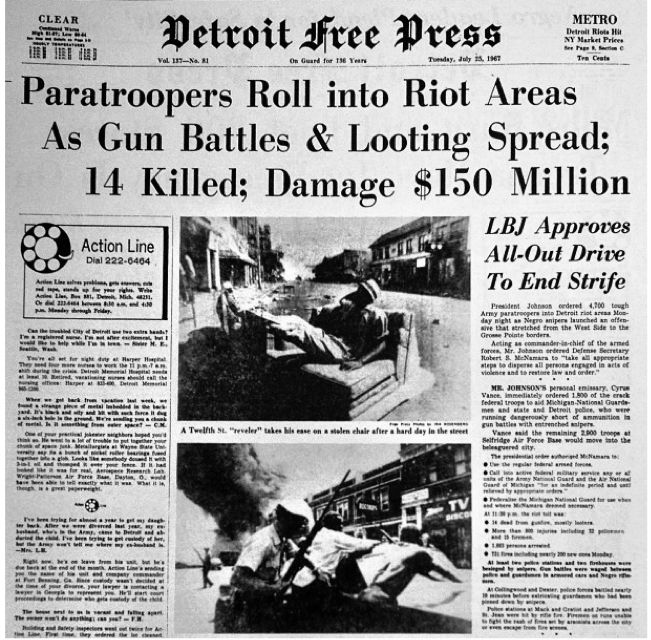 And she imagined people who would read have been reading it all those years back. White people in the suburbs picking up the paper that landed on their doorstep those mornings read about a part of Detroit that their parents had abandoned and that they didn't know at all. Friends and neighbors of her grandparents and her mother looking and hoping not to find a name they knew among the dead. When Hines read about the riots in the '67, which was the year of the rioting that started down on Twelfth Street, after a show that the Dramatics played.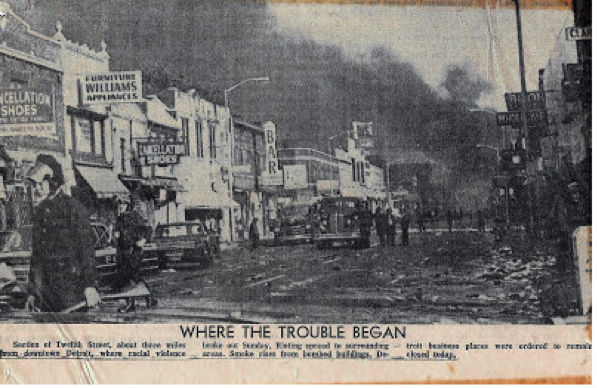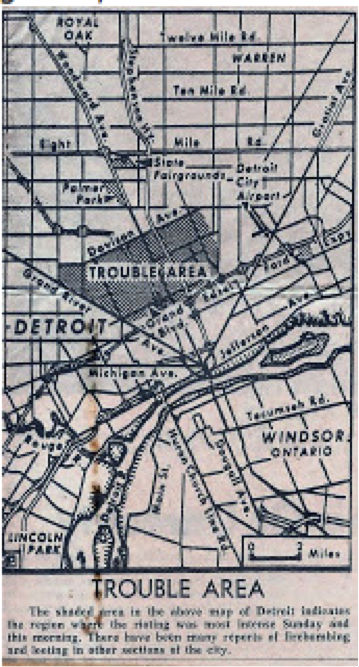 __________________________________________________________________________________________________________________
Check back Wednesdays on Sportsnet.ca/NBA for the next instalment of Detroit Mercy.