Coach Ro Russell sat in his Crestwood Preparatory College office captivated by what he believed to be a real possibility. Dad, Rohan, didn't want his son to be a crash test dummy. Mom, Thelia, was just happy her son might be able to stay home.
For years, Russell has been building towards this type of prospect, this type of talent combined with work ethic and passion for the game of basketball that can turn heads in gyms from Peterborough to Maryland. He's coached the likes of Cory Joseph, Tristan Thompson and Andrew Wiggins, and those are the shoulders upon which he now hopes Elijah Fisher can stand and make history.
"If you're gonna embark on this journey to be the best Canadian high school kid ever, you've got to do some groundbreaking stuff… Sure, kids have been All-American [after going to the U.S.] — I've had seven of them — but what about McDonald's All-American from Canada?"
According to the current rules and regulations, the McDonald's All-American Game — the showcase game of the 24 best high school prospects — stipulates that students must play their senior year in the United States to be considered eligible to play. So, year after year, Canadian parents whose kids aspire to play in the game send them across the border to chase their dream.
The 2018 game featured current Duke star and Mississauga, Ont., native R.J. Barrett, who went to Montverde Academy, as well as Simi Shittu from Burlington, Ont., who attended Vermont Academy before joining Vanderbilt. Both were five-star recruits, so did they really need to go to the States to prove their worth?
"If you're number one in your senior year then I would think that the committee would change their mind and change the rule, because, how can you have the number one kid in the class not play in the game? There'll be an outcry for him [Fisher] to be in the game.
If he's going to all the camps in North America and playing against the best players head-to-head and he's playing FIBA ball against USA, then all the scouts and coaches can see he's clearly the best player."
The second of five children, Elijah was born 14 years ago and that's about as far back as his love for basketball goes. His father was playing in both a Markham and Thornhill basketball league at the time and would often take his son in a stroller to be around the gym. Elijah's eyes would always seem to be glued to the court.
"When he began to walk, I remember sometimes having to carry Elijah off the court saying, 'Elijah, you can't be on the court right now!'"
Rohan describes Elijah as "very raw" when he first started playing basketball, but never doubted his potential. His size helped early, too, consistently standing head and shoulders above those in his age bracket. When Elijah was seven, Nathan Ferguson from the Scarborough Blues came to watch Elijah for the first time but became more curious about his younger brother, Isaiah, mainly because he looked more like he fit in with the age group he was looking to coach.
"I told him [Ferguson] my younger son Isaiah is five, there's no way he can play on an eight-year-old team," Rohan recalls. "I said Elijah is seven and he was blown away because he thought he was an eighth-grader."
These are the benefits of good genes. Rohan is six-foot-four while Thelia is six-foot-one, and dad is quick to point out that there are plenty of other trees on mom's side of the family. Elijah quickly started dominating his age group while spending his spare time watching some of the game's former greats. His siblings love video games, but Elijah devotes all his time towards getting better. Rohan introduced him to Michael Jordan, Larry Bird, Magic Johnson and Scottie Pippen highlights, and he's been hooked ever since.
"I showed him a lot of vintage clips so that he could incorporate some of the things that Michael was doing with his game," Rohan said. "If you ask Elijah who he thinks is the best player, where a lot of the younger guys would say LeBron James because of the era they grew up in, Elijah would 100 per cent say Michael Jordan."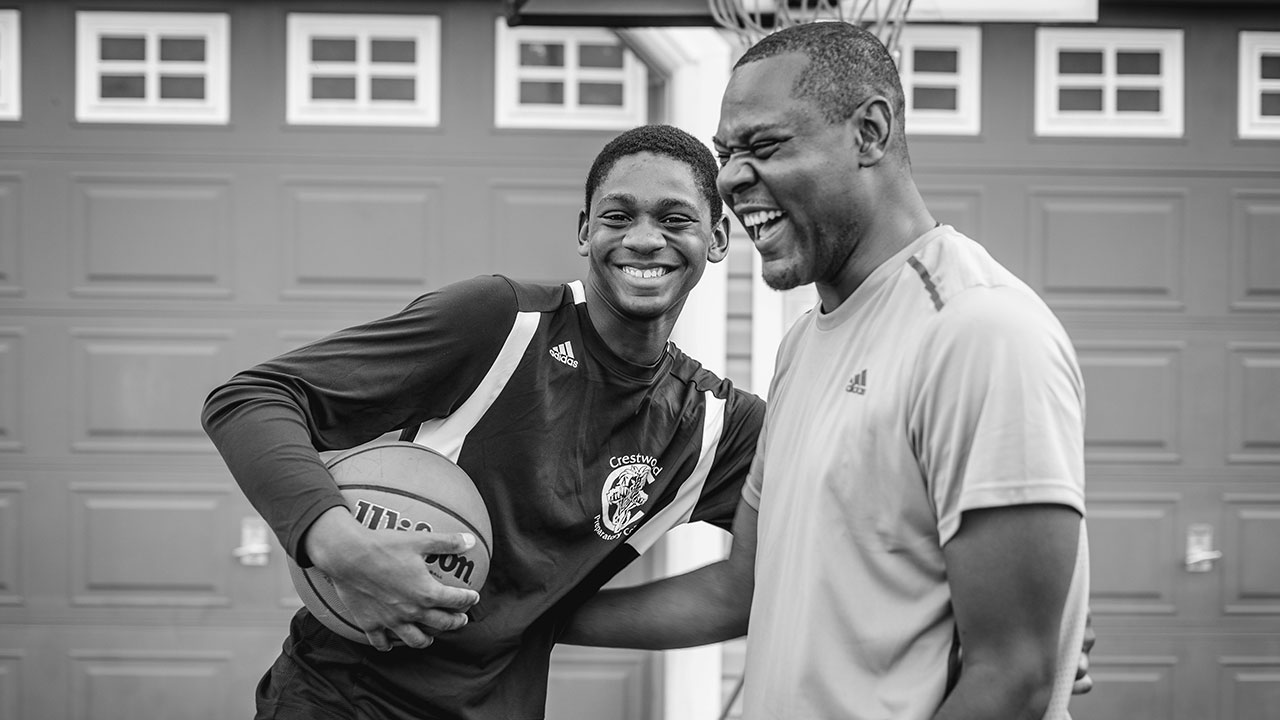 As Elijah continued to accelerate his progress, it was easy to see that his time learning with the Blues was coming to an end. At the age of 10, he needed to find someone who could take him to the next level, someone who could provide him with the opportunity to go up against older, better players consistently and constantly push him to his limits.
The entire process of finding elite basketball competition was foreign to Rohan and Thelia, but as fate would have it, Elijah and his team were invited to play in Coach Ro's Top Gun tournament. With Russell's eyes zeroed in on all the young talent on display, Akil Augustine — who has long been embedded with Canadian basketball at the grassroots level and currently works as a host for NBA TV Canada — introduced the family to Elijah's future coach.
"When I first got involved, he was a centre," Russell recalled. "I said immediately, 'We don't know if he's going to be seven-foot-two or six-foot-eight, so he might not be a centre. Even if he was, nowadays in the NBA, they're not called centres. The all-stars are guards are forwards. You need to be super skilled, you need to do everything. Before we see height, we need skills."
And so, to work on Elijah's skills they went. Practices before school began, Saturday mornings, Sunday mornings, evenings, didn't matter. Form shooting and ball handling drills — whether with two balls or focusing on his weaker left hand — became so routine Elijah would come into the gym and get started without instruction if he was there without his coach.
"Great thing about Elijah is his parents are old school," the hard-nosed Russell says. "They tell me, we give you permission to do what you've got to do to get my son to understand what he needs to do. I can be old school with Elijah, I can be stern with him, I can get at him and give him burpees and push-ups and suicides and all those things if he's not doing what he's supposed to. The type of parents they've been has helped the process a lot."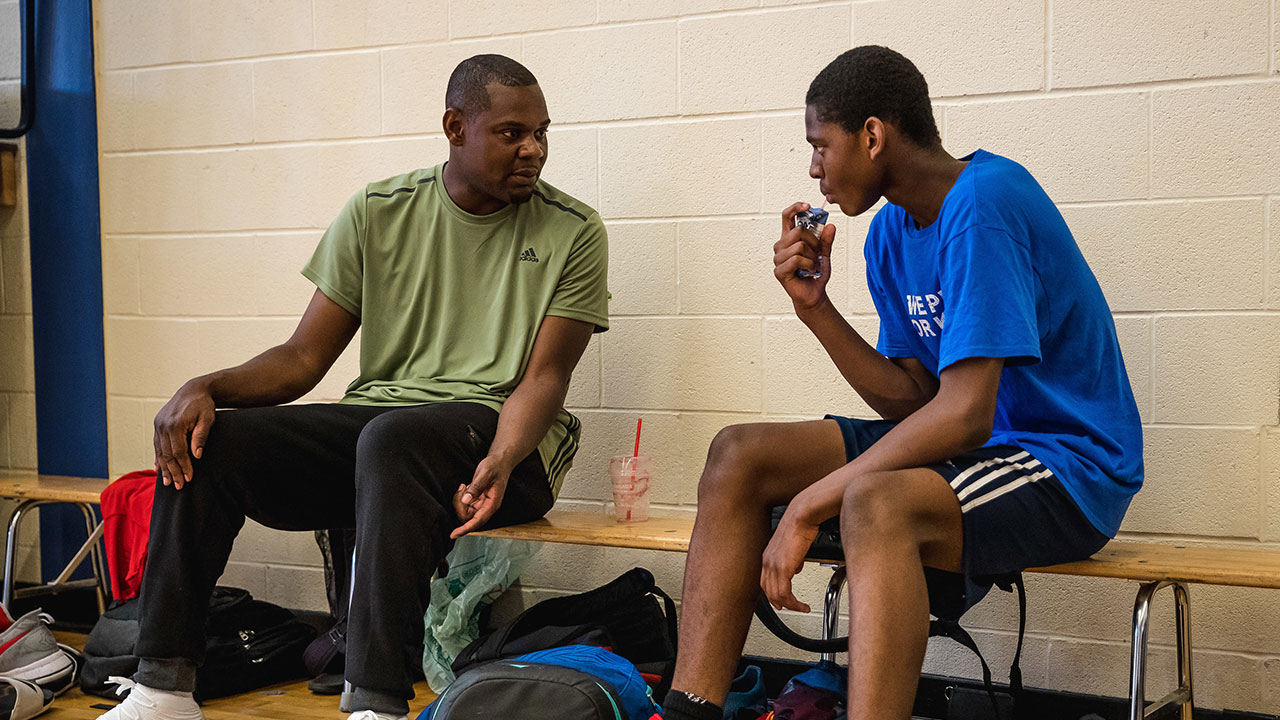 Still, Russell felt there was more Elijah could give mentally. As he continued to learn from his new coach and grow, Russell felt there was a need to have someone Elijah could perhaps identify with a bit more and understand why all this work was being put in. He invited his now 29-year-old daughter, Lee Anna Osei, who herself had been coaching since the age of 14 to join the training sessions. She had already played Division 1 and OFSAA and has since grown to become the head coach of the St. Francis Xavier University women's basketball team in Nova Scotia. Elijah felt more comfortable confiding in Osei and when he'd struggle to "push through walls," she'd share about her struggles and the challenges she faced to find the next level.
"Lee Ann is phenomenal," Thelia said. "She brings a young perspective, she stepped into a world — coaching boys basketball — that's hard, especially for females, and to have the respect of your players, she gets them focused."
As the intensity and fame grew outside the house, Elijah's parents have made it a point to treat him just like they would treat any of their other four children. He has chores and gets grounded when he's in the wrong and they know that, away from the court, he's got a goofy, silly side to him. While dad may catch a movie or watch a TV show with him, mom bonds with her son over shoes. When Elijah asks his mom if she wants to hang out, she knows there's a new basketball shoe or running shoe that's out.
Another important aspect of maintaining his youth has been managing his social media. Elijah has an Instagram account that's approaching 38,000 followers, and there are haters aplenty and grown women sneaking in direct messages. They have access to all of it and Coach Ro takes the lead in checking anything Elijah posts, educating him about how it can yield positive results in terms of building his brand, but also prove destructive if used inappropriately.
"Ms. Wilson, Ms. Spalding, those are your girlfriends," Rohan can remember telling Elijah. "We don't tell him, 'Oh, you can't talk to any girls' because, obviously, that's crazy. You're gonna have friends that you're going to talk to.
"Elijah knows that he's got to be selfish about him. Everything else can come after… Once you've established yourself, everything else can fall into line."
Just as he thought he was finding that next level, though, Elijah received what could have been a huge blow. As a 12-year-old, he failed to make it through tryouts for Canada's Junior Academy Program, the entry point into Canada Basketball's High Performance Development Pathway for those in Grade 7 and 8. Elijah was shattered because he had gone up against some of the other kids who had made it and believed in his heart of hearts that he was better than them.
Coach Ro's response was simple: take things up another notch. More time against players older and stronger than him, more opponents who would push him to the edge and reveal whether he would sink or swim. The kid responded just as Russell thought he might, with a massive chip on his shoulder. He went to work on a Kevin Durant series to learn his moves and especially those pull-up threes the Golden State Warrior seems to hit at will, and by that summer was invited to the middle school version of the McDonald's All-American Game in Maryland. Elijah won MVP of the game and had scouts raving over his potential to be the top prospect come 2023.
When Rowan Barrett and his family threw an afterparty for son R.J. in celebration of his decision to sign with Duke, the new GM of Canadian men's basketball said the torch was now being passed on to Elijah. That's when it was time to dream big, to put the ultimate plan in place. How did Coach Ro convince parents who were skeptical about an uncharted path, though?
Russell made a blueprint of everything that needs to happen going forward:
Go to every All-American camp whether it be on the east or west coast, leave no margin for error or seed of doubt that Elijah didn't go up against someone and prove his worth just because he didn't happen to be at that one tournament. Even locally, play as the starting wing for Crestwood's varsity team full of players from Grade 11 and 12 even though he was just in Grade 7.
Experience being the worst player just because you're so young and learn to revel in and overcome that struggle. A James Harden and Kyrie Irving pro series have been added to the list of pro series to work on along with Vertimax physical training. No stone left unturned, no player he can't emulate.
"He's not shying away from it and saying, 'Oh, I'm number one so I'll just protect it and not play against these guys just in case,'" Russell said. "He'll put it out there and go against everybody."
As a kid out of Canada in the McDonald's All-American Game, that's the plan.
[relatedlinks]