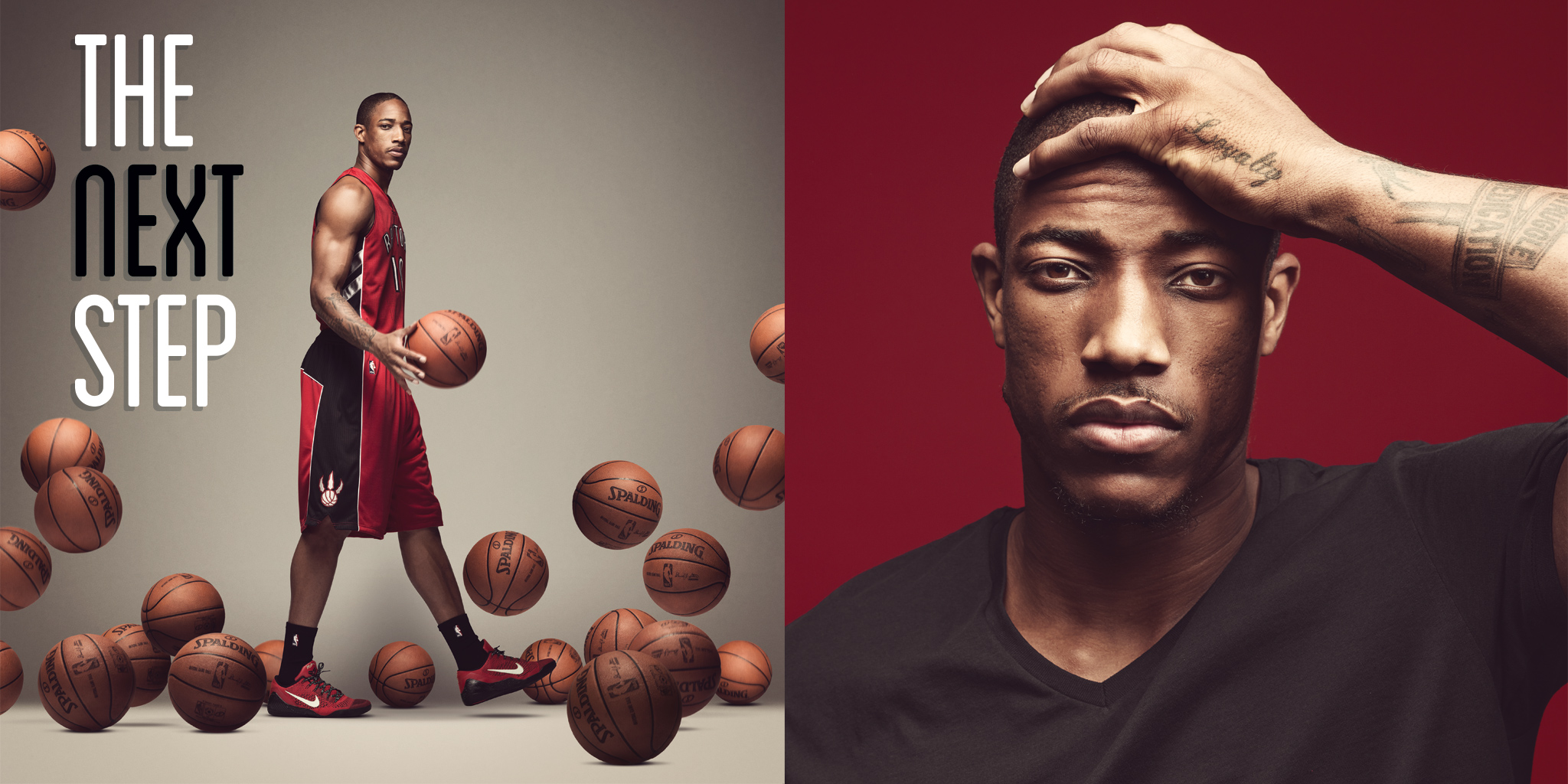 Forget LeBron. Forget Kobe. Raptors star DeMar DeRozan just might be the hardest-working man in the NBA.
By Dave Zarum

The sounds of basketball echo through the cavernous gym at Merritt College in Oakland Hills, Calif., accompanied by guttural grunts and audible gasps for air. They're coming from DeMar DeRozan, just a few short months removed from his lone college season.
DeRozan slams the ball off the ground just past half-court, crosses over an imaginary defender and sprints to the basket, straining against the rope tied firmly around his waist.
"Get strong!" A deep voice repeats the phrase, stern but encouraging. It belongs to Chris Farr, the man on the other end of the rope. This is Farr's city, his show, his workout. He's been tasked with raising DeRozan's game in preparation for the 2009 NBA Draft; with opening DeRozan's eyes to what it takes to reach the next level.
"Hard work," Farr demands. DeRozan obliges, sprinting the length of the court in mock transition again and again. On the wing, Farr crashes against him like a lineman in the trenches—no pads in sight. DeRozan absorbs the blows before breaking to the hoop. He collects his dribble and rises for a jump shot, touching down and immediately moving to a new spot on the floor. Farr chucks a new ball into his hands before the last one has even reached the rim. It goes on like this, a series of non-stop drills that ends with more wind sprints, dribble moves and, when the tank seems completely empty, at least a half-dozen acrobatic dunks to cap it all off.
After a few sessions with Farr, DeRozan learned he needed to clear his schedule for at least half a day afterwards. When the workouts were over, he'd sit, stunned. He couldn't do anything; couldn't think, eat, talk, drive. Nothing. It was, he says now, a kind of tired he'd never felt before. More than an hour after the workouts ended, DeRozan would still be sitting in a plastic folding chair on the sidelines, regrouping—trying to figure out what the hell had just happened.
"C'mon, let's go," Farr urged DeRozan at the end of one early session, "I want to show you something." They walked to a nearby spot on campus, high on a hill streaked by the summer sunlight shining through the surrounding oak trees and overlooking San Francisco Bay. In the valley below were Oakland flatlands. The Golden Gate Bridge was in full view, and across the water light bounced off the opulent skyscrapers downtown. The two stood in silence, soaking it in. "Oakland is a lot like Compton," Farr says today, referring to the Los Angeles neighbourhood where DeRozan was born and raised. "From up [on that hill] you could feel the crime, you could feel the tension. But on the hill it was calm."
Farr broke the silence. "This is where your life changes," he told DeRozan. "You see that?" he said, pointing down to the valley. "That's where we come from, DeMar, and you can never forget that valley." He turned to the contrasting skyline past the water. "That is where basketball can take you. The game is what will make it all possible, but it's hard work that will get you there."
It's a message that has stayed with DeRozan to this day. "That really put everything in perspective for me," he says, sprawled comfortably across the curvy suede couch in the Raptors players lounge. "I realized then that I can never have an excuse for anything. If you work for it, you'll deserve what comes. Hard work. That's been my approach ever since."
That is the attitude DeRozan is building his reputation on. It's allowed him to raise his game every season, bringing the franchise that took a chance on him along for the journey. Around his team, the 25-year-old is known as the guy who comes back to the arena a third time after two-a-days. His coaches talk about having to lock him out of the gym at night—and they're only half-joking. It's that work ethic that helped him defy expectations, reaching all-star status last season and earning himself a spot on Team USA this summer. And to this point, it's gone relatively unnoticed.
So much is made of LeBron James when he adds a new facet to his game each summer, and the stories of Kobe Bryant putting up 1,000 shots at 3 a.m. after a loss are passed along like basketball mythology. But DeRozan just might be the hardest-working man in the NBA. And this season, the Raptors are banking on that effort to help take them further than ever before.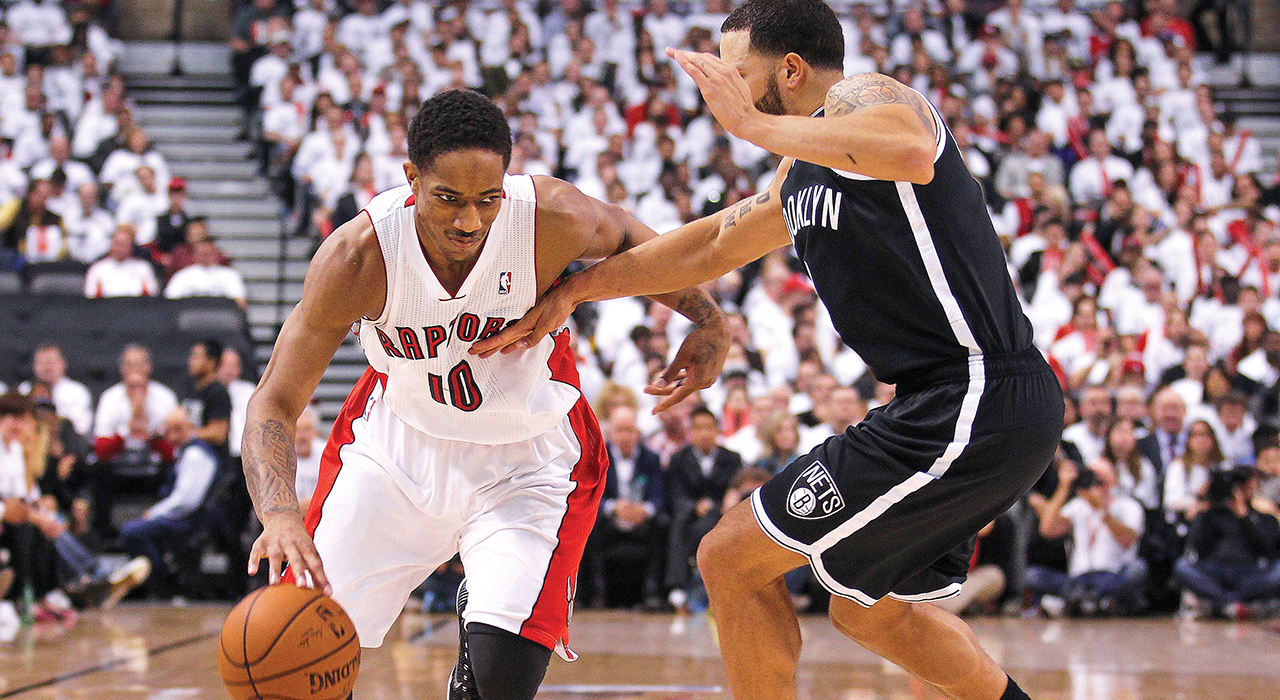 ike his game, DeRozan's work ethic has evolved over the years, but it was those early days in Oakland that first allowed him to realize his true potential.
DeRozan and Farr, who still work together each summer and are closer today than ever, were originally paired by DeRozan's agent. DeRozan was already famous in the California hoops scene. He'd been a McDonald's All-American and graduated high school as the third-ranked player in the country before playing one season at USC. He had always been known for his athleticism, a gift that made it seem like the game came easily to him and caused Farr to notice him long before the two were introduced.
For his part, Farr had developed a name for himself after years spent on Hall of Fame coach Jerry Tarkanian's staff at Fresno State in the late '90s. Farr was born in Oakland and is passionate about the city's signature approach to the game, one personified by local stars Gary Payton and Jason Kidd. "I told him early on that he's on my turf," he says of DeRozan, "and where I'm from, we come to lock people up."
In those first days with Farr, DeRozan was joined by San Antonio Spurs guard Patty Mills, then a projected second-rounder out of Saint Mary's. Mills's presence would ultimately have a bigger impact on DeRozan's development than either he or Farr could have anticipated and today they liken those early workouts to a greyhound race.
Mills was the rabbit. The two started their days with a run on the beach before heading over to the Merritt gym, where Mills's seemingly unlimited stamina and relentless approach set the tone. "You'd have thought Patty was a cross-country runner," DeRozan says. "He pushed me to another level. Chasing the rabbit, that's what it was." After putting the two through the usual paces, Farr would have DeRozan guard the speedier Mills during marathon sessions of full-court one-on-one—a tiring notion, even on paper. DeRozan wasn't only learning how to become a better basketball player, but also what it would take to be a pro. After four or five workouts he was keeping pace with Mills—and then some.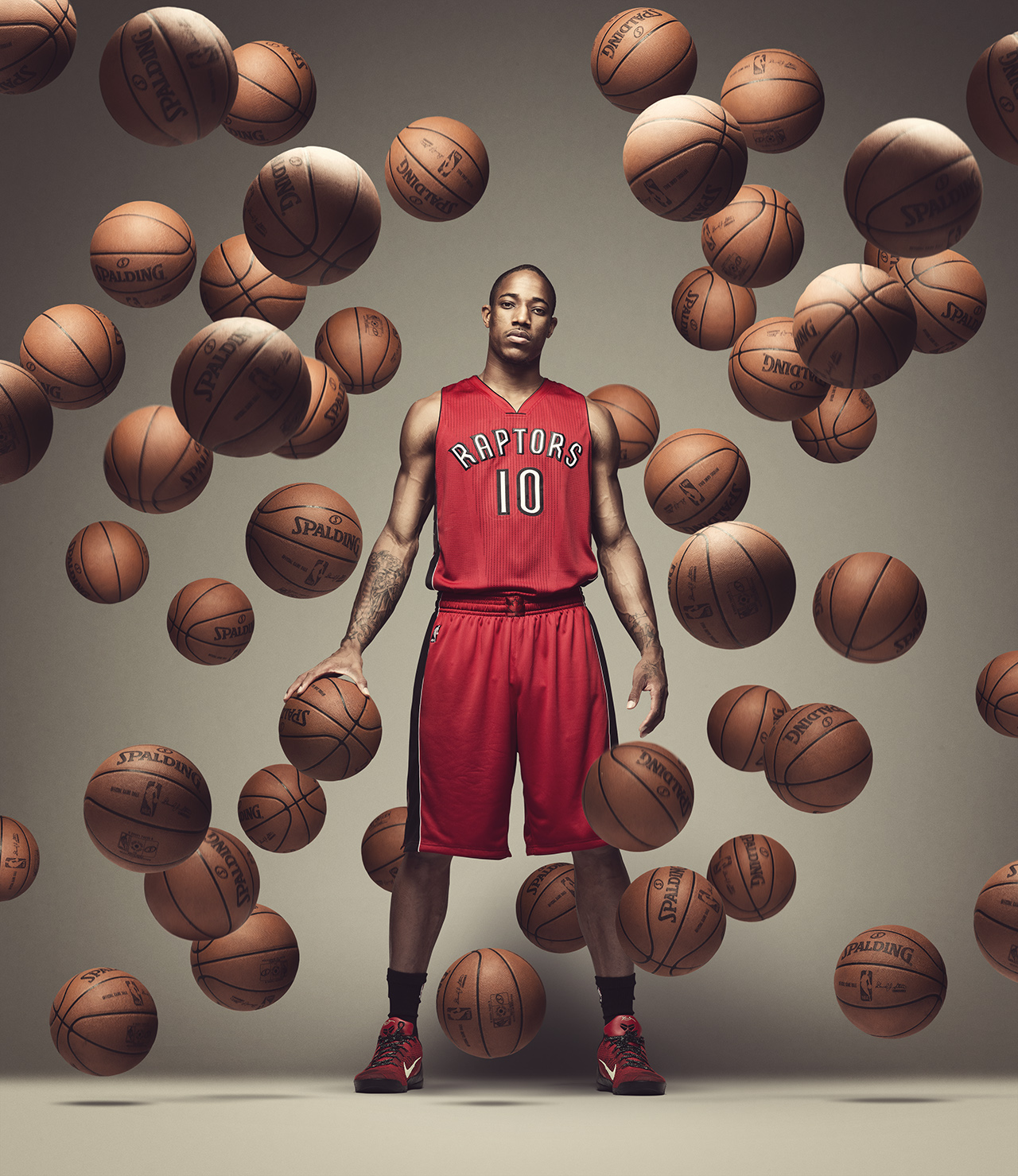 They say that it's only when the greyhound reaches the rabbit that he realizes it isn't real. In DeRozan's case, the rabbit was real, it just wasn't Patty Mills.
"All his life, he had been chasing something that he didn't know existed," Farr explains. "But that feeling he got when those workouts were over was as real as it gets. Once he found that out, he pushed himself to another level and found out he could do it all by himself."
As DeRozan puts it, that drive was something he'd always had in him, cultivated since his childhood. He just needed help unleashing it. "Growing up," he says, "I didn't have a lot, and always wanted things. But I was too prideful to ask for anything; I always worked for it. Looking back, I think I just had a natural hunger and I just needed something to help me realize how to fully access it, to understand what you want and what it takes to get it."
Farr began focusing more and more of his summers exclusively on DeRozan.
Each year they looked to hone another element of DeRozan's game, identifying areas of weakness and ways to make him a more effective player, and each year he came into training camp better than the season before. The people who matter most have taken notice: "Every year," says Toronto head coach Dwane Casey, "he has made himself closer and closer to a complete player."
Knowing his athleticism would allow him to get to the rim like few others, after his rookie season DeRozan and Farr focused on his free-throw shooting. As a sophomore, DeRozan not only doubled his free-throw attempts, he took much better advantage of those opportunities, taking his shooting clip from the line above 80 percent, where it's stayed comfortably ever since. Heading into his third season, Casey's first with the Raptors, DeRozan worked on passing out of double teams. "Sure enough," Casey recalls, "the next season he was picking people apart with his passing from the post, and teams stopped double-teaming him." He also devoted time to his three-point shot, and though it's still a work in progress, he surpassed the 30 percent mark for the first time last season. This summer, he's placed a greater emphasis on ball-handling and passing, something that was on full display with Team USA in Spain.
Through it all, DeRozan has emerged as both a star and a leader, setting an example for young Raptors like Terrence Ross and Jonas Valanciunas. It's a responsibilty he and Farr discussed as far back as his rookie season. "I told him, 'Every test is a testimony,' and that, 'When we get done, you'll be able to share this with someone else,'" says Farr. "He had to go through some hard work to be able to speak about it today. That's his testimony."
After returning from Spain a gold medallist, DeRozan went back to Los Angeles and immediately got to work. It was Farr's idea to go to Compton for their last string of workouts before Raptors training camp in Toronto, and they spent a week in DeRozan's hometown, "sweating in old gyms with no AC, drinking water out of dirty fountains," Farr says. "It was important to stay grounded."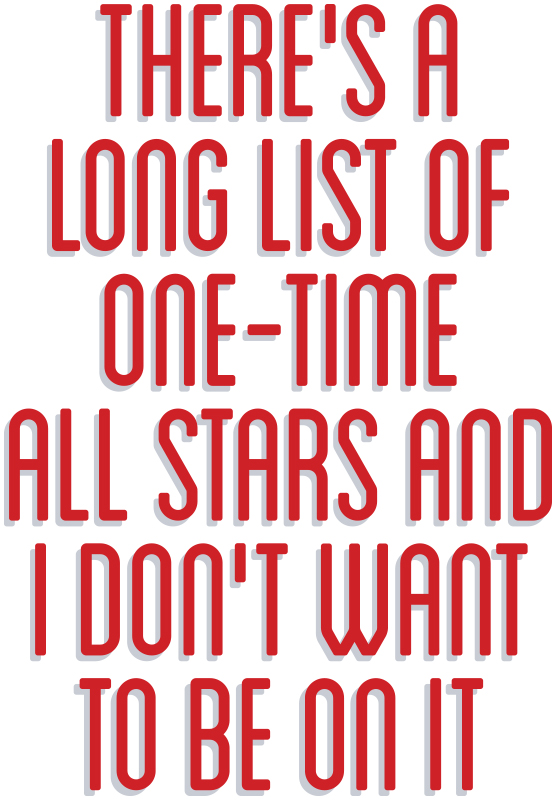 Between gruelling sessions, they made time to visit DeRozan's parents, Frank and Diane, who, like DeRozan, have always made Farr feel welcome. "Since C-Farr has been in my life he's been a lot more than a workout coach," DeRozan says. "He's family, you know? He took that role. Whether he tried to or not, that's how it ended up."
Farr says coaching comes down to trust, something he feels most kids from the inner city struggle with. His mentor, Tarkanian, always stressed that trust is the most valuable teaching tool available. The first time they met, Farr's message to DeRozan was simple, and it stuck with the future star. "I'm the same way today, tomorrow and forever more," he told DeRozan. "I will not change. I am real."
It's something DeRozan's father picked up on early as well, entrusting Farr with a pivotal role in his family's life. A standout football player in his day, Frank was the first one to push his son on the basketball court, but as he's aged he's left that in Farr's hands. "When you're a parent you have to find someone you can trust to execute what you want for your child," Frank says. "You can't coach your son, beating him up all the time. A father needs to be there to give his kid a hug and let the coach you trust take them to that next level."
When the family gathered at their home last month, Frank called Farr inside and asked him to sit down. He thanked him for helping DeMar reach the next stage of his career, and couldn't help but share a few stories from his son's early days in basketball. How the two would play one-on-one and Frank would refuse to go easy on him, playing him physically, many games ending with DeMar throwing the ball away in anger after losing. And how, when DeRozan turned 13, he dropped his old man with a nasty crossover and soared to the hoop for a powerful dunk. It was, Frank recalls, the first time he knew his son had what it took to be a pro.
Before they left, Frank leaned forward in his chair and looked Farr square in the eyes: "You keep pushing," he said. "He's got more to give."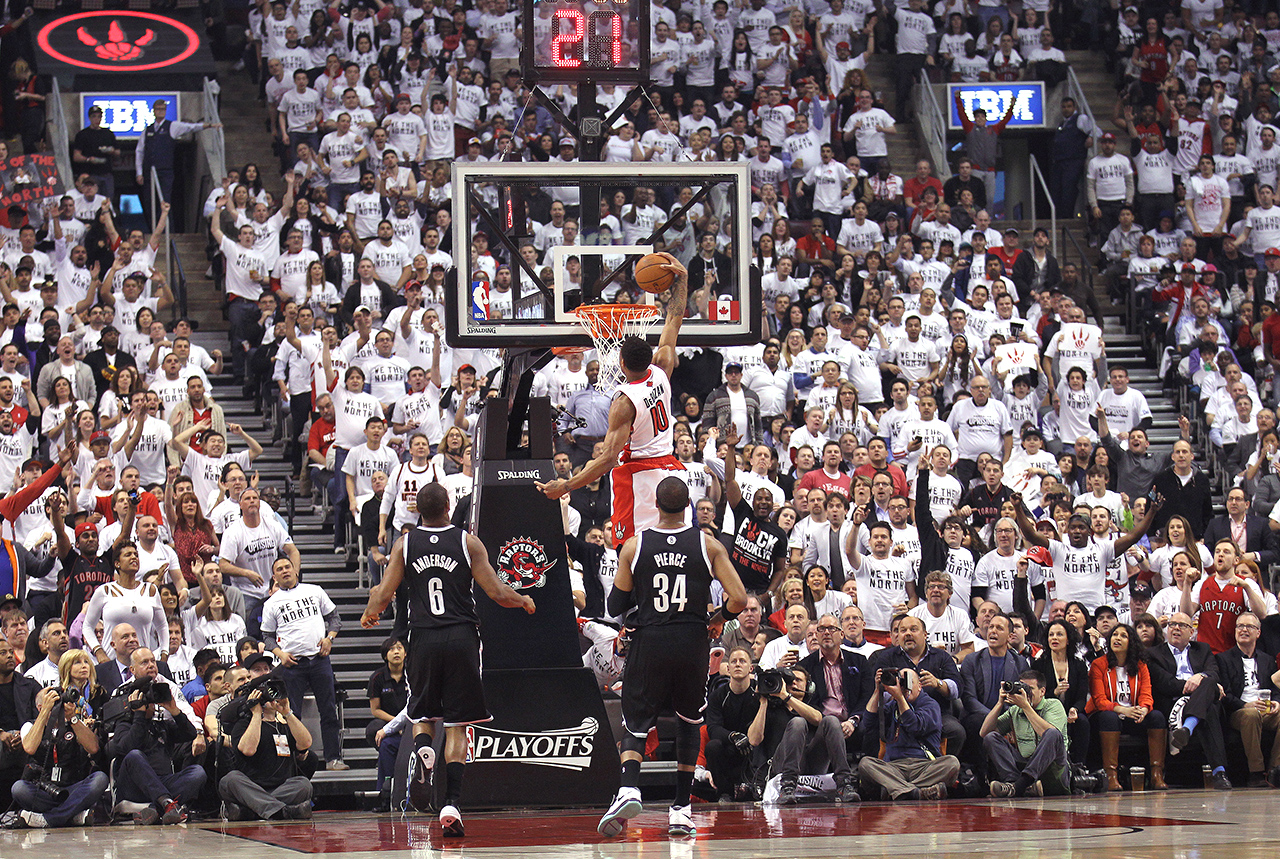 hud. Squeak. Swish. The familiar symphony of basketball drowns out the Maple Leafs' pre-season game across the concourse. It's a Sunday night at the Air Canada Centre and DeRozan is alone in the Raptors' third-floor practice gym. In two days he'll be flying across the country for training camp in Vancouver. This is the last real off-day in his immediate future.
He shoots corner threes comfortably from out of bounds, and from the inbounds hash marks near half-court, raising the ball above his head and lifting off the ground to propel it to the hoop. His philosophy, he explains between shots, is to make things harder for himself, to consistently make it from this far back so that when he steps up to the three-point line, it feels like a mid-range jumper.
Later, he jab-steps from the wing and pump-fakes with his whole body while keeping his feet planted. He briefly eyes the imaginary defender he pictures flying by before setting his focus back on the rim. He leans back, putting his weight on one foot, and skies a shot toward the basket. "I'm trying to really sell the fake," he says. "During a game a lot of what you do is reactionary, but I want to be accustomed to it. Whether I'm pump-faking, or if the ball is up here," he says, holding it with two hands out to his side, level with his bony shoulder. "I want to be as comfortable shooting from those positions as I would a regular jump shot."
Five years ago, he stood atop Oakland Hills, looking down at a metaphor for all his dreams and goals in basketball. He's since accomplished so many of the things he set out to—he's caught up to the rabbit. But, like everyone around him, he knows there's more. The game brought him to an NBA gym, but it's the embrace of hard work that's provided for his family and pushes him to go further. "I'm sure there's a long list of one-time all-stars," he says, "and I don't want to be on it."
Another pump fake. The defender flies by, DeRozan sets his gaze back on the rim.
Thud. Squeak. Swish.
---
Photography by: Marcus Eriksson
This story appears in the Oct. 27 issue of Sportsnet magazine. Click here to subscribe. .