SAN FRANCISCO — Has this ever happened to you? You're just playing NBA basketball, right, in front of, like, 20,000 live people, and who knows how many millions more watching on various devices across the globe, and you go tearing into the stands after a loose ball at full speed, just laying it all on the line, really going for it, which is your job, right? You're happy to do it.
But as you're picking yourself up, a billionaire venture capitalist in khakis, who apparently owns a minority stake in the team you're playing against, starts yelling and swearing at you, and he shoves you right in your shoulder for no reason at all? Has that ever happened to you?
It happened to Kyle Lowry on Wednesday. And in the moment, it's a lot to process. The Toronto Raptors guard says he was still thinking about the incident, still fuming over it, minutes later, when he returned to the bench during a timeout after the Golden State Warriors cut their fourth-quarter deficit down to single digits. That's when Marc Gasol came in.
"I was furious — I'm not going to lie," Lowry said Thursday, discussing the incident that has momentarily consumed an otherwise fun, entertaining, and unpredictable NBA Finals, which the Raptors now lead, two games to one. "I was pretty upset. But Marc Gasol kind of came to me and said, 'Look, come on. We need you. Come back — they'll handle it.'"
Lowry says it was Gasol who helped him get over his anger, temper his emotions, and lock back in on a game that was still hanging in the balance. And what did Lowry do immediately out of the timeout? He drove straight into the paint and drew a foul. Two minutes later, he hit a step-back three, his fifth of the game, to put the Raptors back up by 14. Even a 33-year-old veteran of 13 NBA seasons like Lowry needs a helpful lift from an old warhorse like Gasol every once in a while.
It's an impact that not just anyone can make. For all the tangible productivity he's provided the Raptors at both ends of the floor, the unquantifiable benefits of Gasol's leadership and poise have been just as important for his team. Amidst the many storms the Raptors have weathered in these playoffs, Gasol's been a reliable citadel of composure — always talking, always thinking, always doing whatever he can to keep his teammates focused on the ultimate task before them.
"That's what it's about — it's about us winning the basketball game," Lowry said. "It definitely kind of brought me back quicker."
[snippet id=4267701]
Sergio Scariolo, the Raptors assistant coach, remembers a time when things were different. Scariolo started coaching Gasol a decade ago when he took over Spain's national team, and the guy he remembers from those days is a fiery, emotional young adult who sometimes had trouble keeping his temper in check.
Scariolo will never forget the first time he was on the wrong side of Gasol's ire. It was the 2009 European Championship, and Scariolo had pledged to Gasol that after years of serving as a back-up centre to his older brother, Pau, he'd be joining his sibling in Spain's starting lineup as a power forward. Scariolo wanted to swim upstream, going uber big at a time when the basketball world at large was trending small.
But on the first day of training camp, Pau broke a finger. He missed every practice and exhibition game Spain had in the leadup to the tournament, meaning the Gasol brothers never got to work out the kinks of playing together. They finally tried it out during a shootaround prior to Spain's tournament opener against Serbia.
"And it was a mess. It was terrible," Scariolo remembered. "We still tried. For two games, we tried. But it was not working."
Needing a win in their third game of the tournament to ensure qualification for the second round, Scariolo sat down with the younger Gasol and told him he was breaking his word. That he was putting him back on the bench. Gasol was livid. And Scariolo can still see the fire in his eyes.
"Back then, Marc was not as mature as now. He was a very emotional kid. It's not that he didn't like it — he hated it," Scariolo said. "He was very pissed off, very mad at me. And he was right to be. I didn't keep my promise.
"But I realized that if I was going to respect my promise, it was just because my ego was telling me, 'Hey, you've got to be seen as someone who keeps everybody's promise.' But it wasn't what was right for the team. When your ego takes over, it's never good for the team. So, I swallowed my ego, and I told him, 'Marc, listen, we are here to win, for the first time in this country's history, a European Championship. And my feeling right now is that I have to put you back on the bench to do that.'"
Spain did win that European Championship, beating the same Serbian team in the finals that upset them in the first round with the Gasol's starting. And a valuable lesson was learned about putting team before self. If you've ever watched Gasol play, if you've noticed his pass-first mentality, the way he communicates incessantly on defence, his commitment to his team's systems and utilizing every possession to generate the most perfect look regardless of who gets it, you've seen how it's informed his entire career.
"You want to win. You want to do whatever will put you closer to that ending," Gasol said Thursday. "We understand our strength is the team. We have so much talent on the team and guys that can do multiple things. But we have to do it as a unit."
And during Game 3's opening volleys, that meant Gasol being a little more selfish, as Toronto's offence relentlessly attacked Golden State centre DeMarcus Cousins in the early going. Maybe it was an effort to gauge just how healthy he is after missing six weeks with a torn quad. Maybe it was meant to fatigue him on a night the Warriors were without Kevon Looney and needed big minutes from Cousins. Maybe both.
Regardless, Gasol went right at Cousins on Toronto's second possession and didn't stop there, ending up with an enormous 36.4 per cent usage rate in the first quarter. It was working. Gasol baited Cousins into an early foul, backed him into the paint and scored off the glass with a decisive post move, and made a couple great cuts off the ball to get to the rim for easy buckets, like this one when the Warriors defence somehow lost Toronto's biggest player in rotation.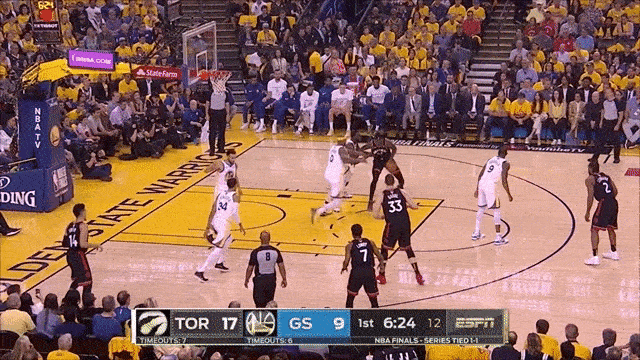 "It's me being aggressive, period. There's no conscious effort of going at him — it's more me being aggressive myself," Gasol said. "That's my mindset."
It took a little while for Gasol to get this comfortable in Toronto's offence after spending the first decade of his NBA career with the Memphis Grizzlies. But now, three games into the NBA Finals, it's hard to imagine the Raptors without Gasol barking out orders at both ends, throwing cheeky little passes from the elbows, and pulling up for three's when opponents don't respect his shot.
"Of course he had to adjust. It's different than how he was used in Memphis, or how I'm going to use him with the national team. We're trying to take advantage of his passing ability, and his capacity to create space for others by dragging his man away from the basket," Scariolo said. "And then, of course, his defensive abilities — not only being big, but knowing how to play. He's so tough and so smart at the same time. When he's getting those deflections and creating turnovers, they look random — but they're not. Because he's right there a split second before the other guy."
It's true — Gasol's defensive impact is undeniable. When he's been on the floor in these Finals the Raptors have held the Warriors prolific offence to 101.6 points per 100 possessions, 14 points lower than their post-season average. When Gasol's been off, that number skyrockets to 116.5.
Meanwhile, across the 55 possessions on which Gasol has been credited as his primary defender, Cousins has shot 1-of-7 and turned the ball over three times. With Gasol guarding him, Cousins has scored 17 fewer points per 100 possessions than he averaged during the season, while the Warriors as a team have scored 22 fewer. And when Gasol's able to cook against Cousins on the offensive end like he did in Game 3 — he finished with 17 points on 6-of-11 shooting — it gets hard to take him off the floor.
"Yeah, you could feel that the team was playing well, that we were in rhythm, we were helping one another, communicating, sharing the basketball," Gasol said. "All the good things that happen in a team sport."
What a perfect Marc Gasol quote. He just loves teamwork so much. It's what's simultaneously maddening and endearing about watching the times he hesitates to take open looks beyond the arc. One of the game's most cerebral players, Gasol always wants to make that perfect pass, to raise his team's chances of scoring, even marginally. Even though he knows he has to shoot regularly in order to open up room for his playmaking, he never wants a possession to end at him if there's a better look to be found.
"This guy watches a lot of basketball. He has a great ability to watch everything and get something for himself from every game he watches. He's consistently learning some new thing about the game," Scariolo said. "And he does it all. He likes his team to win and he's willing to do whatever his team needs him to do to win. If it's passing, screening — he likes doing that stuff."
Gasol's certainly finding plenty of ways to be involved and help his team get to within two wins of a championship. If that's taking a big three, playmaking from an elbow, making a strong move in the post, providing lockdown defence on the opposition centre, or, as sometimes happens, urging a teammate to regain composure after being shoved by a billionaire venture capitalist in khakis, Gasol's found those ways.
Give a player as smart as him, and as experienced as him, enough runway and it'll happen. A decade ago, it might have been Gasol still fuming many plays later over a bad shot, or a missed defensive rotation, or an antagonistic interaction with a fan or foe. Now, he's the poised presence the Raptors need.
"He's really one of our best players at keeping composure, always staying in control. It's completely different from how he used to be," Scariolo said. "It's really, really funny to see how he developed and he grew. But I suppose that he's a human being. He's a dad, right? You stop being, like, with the flag of the revolution and all that. You settle down a little bit.
"Of course he's still emotional. But he's learned how to control his emotions. And keep his passion, his enthusiasm, his energy positive. He uses his fire now. He's learned a lot."
[relatedlinks]