TORONTO — For Toronto Raptors centre Marc Gasol, there is a very particular way basketball should be played. The ball must move. It should be swung from player to player, and spot to spot, as those off the ball work their way to different areas of the floor, moving into space and discombobulating the defence. The goal is to create the cleanest, most-open, and highest-percentage look you can within the 24 seconds with which you have to attempt a basket. It is basketball as art.
It is not about taking a contested three-pointer early in the shot clock. It's not about clearing out and isolating a player one-on-one in order to attack a lone defender. It's not about bully ball. This is why you will so often see Gasol get the ball with space to shoot beyond the arc, and immediately look to his left and right. He can't help it. He wants to craft something beautiful.
Just look at this play from late in Saturday's game against the Milwaukee Bucks — the one that sent the Raptors to the NBA Finals. There are less than 90 seconds left; Raptors up five. Kawhi Leonard starts to attack with five seconds remaining on the shot clock and is met with a trap, forcing him to gather the ball. He fights straight through it and heaves a long pass to Gasol, who spent most of his minutes in that fourth quarter stationed in the left corner, spacing the floor.
Once Gasol gets it, there is barely a second left on the shot clock. He's relatively open and adept from three-point range. Surely, he must shoot.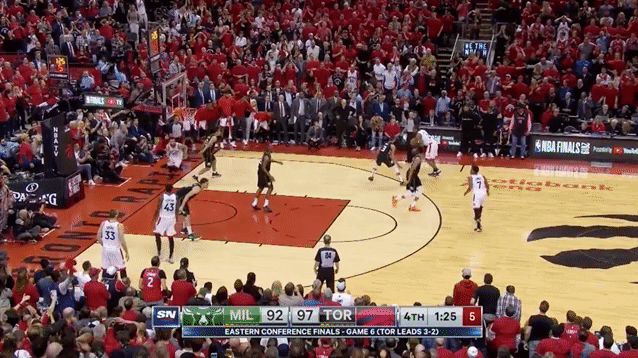 Of course, he doesn't. Of course he redirects the ball to Pascal Siakam on the edge of the paint with a push of his fingertips, as if he were setting up a volleyball for a spike. Siakam had a better look. He was closer to the rim and more open. Plus, Gasol rarely shoots from the corners (see his 2018-19 shot chart below). He shoots his threes almost exclusively above the break. Siakam had a look he was more comfortable and experienced in converting. It was the higher percentage play. Perhaps only slightly. But that it was higher at all is what counts to Gasol.
Siakam rushed his attempt and missed. Maybe a more experienced player doesn't rush it. Maybe Siakam simply didn't have enough time. But that's the result. For Gasol, it's the process that counts.
That's how you get a situation like the Raptors had in Game 6, in which Gasol did not even attempt a shot until three-and-a-half minutes into the third quarter. He'd played nearly 20 minutes to that point — he had opportunities. He just didn't want to disrupt the rhythm of Toronto's offence. Here's his first attempt of the night: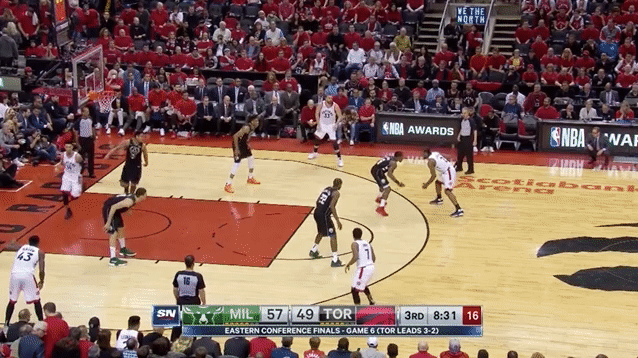 From the corner — of course it was from the corner. And here's the next three-pointer he attempted, late in the fourth quarter with the Raptors up one: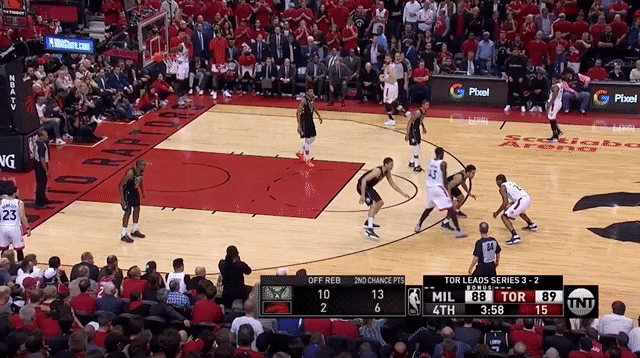 Same spot, same result. On what was a quiet night for Gasol as a scorer — he took only one other shot and missed it — the Raptors centre hit two of the biggest three-pointers in the game. If he'd shoot more often, he could probably hit more. An argument can made that in order to keep up in the NBA Finals with the Golden State Warriors — a team that leads these playoffs with 116.4 points per 100 possessions and a 37 per cent three-point shooting rate — he might have to. Whether he will or not is the question.
It is maddening and endearing all at once — having a player who's too cerebral and selfless is a far better problem to have than one who's mindless and prone to jacking up poor looks. A basketball purist with an exceptional intellect for the game, Gasol's changed this team for the better since he was acquired at the trade deadline from the Memphis Grizzlies in exchange for Jonas Valanciunas, C.J. Miles, Delon Wright, and a future second-round pick. If that trade doesn't happen, the Raptors are not here. Full stop.
Valanciunas was an important, valued member of Toronto's organization for six-and-a-half seasons — a hard-worker, a dogged competitor, and an undeniably talented player who, in averaging 20 points and 11 rebounds per game down the stretch with the Grizzlies, may finally be providing returns for the immeasurable sweat equity the Raptors poured into his development over the years.
But he couldn't defend like Gasol. He couldn't shoot like him and couldn't pass like him. He couldn't see the floor with Gasol's acumen. He'd never stand at the elbows scanning a defence, directing traffic with nothing more than eye contact and head nods, before firing a perfect pass to a teammate for an easy bucket. Gasol does that every night.
From Gasol's first game on Feb. 9 through the end of the season, Toronto shot better both from the field and from three-point range. The team's assist rate went up nearly eight per cent. It's effective field goal rate and true shooting percentage both went up, while its defensive rating improved. So far, the playoffs have told a similar story, with the exception of the shooting, which has been an issue for Toronto at times this post-season.
Of course, those scoring issues have been completely mitigated by something else Gasol's brought to the Raptors — a little piss and vinegar. What's let Toronto overcome its struggles to convert open looks is a willingness to scrape, claw, fight, and win the game on the margins in basketball's unsexy yet integral hustle and grit factors.
"It's the purest level of basketball, I think," Gasol said after Game 6. "You can draw up the best plays, you can draw up the best defensive schemes. But it comes down to little details and guys buying into that. And I thought that everyone who stepped on the floor had that mindset of putting everything out there for the team.
"Whatever the case may be, I thought everybody was really unselfish and disciplined. It's fun to play that way. It's the way it should be."
That's helped produce a 102.4 defensive rating over 18 games, second-best to the Bucks, who the Raptors just eliminated. And it's probably the clearest advantage the Raptors have over the high-powered Warriors. They can guard like crazy, contest shots, get their hands into passing lanes, scramble after every loose ball, out-run players up and down the floor, and, generally, just out-work their opposition. This series could end up an interesting case study in whether or not defence truly wins championships.
"We're playing a lot harder," Raptors head coach Nick Nurse said after Game 6 when he was asked what's behind Toronto's defensive success. "Our communication, schemes, switching, blitzing, rotations, contesting shots — all those things have been growing here since the start of the playoffs.
"There are some stretches where it's darned hard to complete a pass against us. That wears into a team after a while when you're up into them and you're denying and everybody is just that connected and playing that hard. Effort is really the answer to your question."
But if the Warriors overcome that, if they keep scoring at the level they have been or even reasonably near, the Raptors will have to score themselves. The 106.8 points per 100 possessions the Raptors have scored since the beginning of the second round might not cut it.
And opportunities should be there. The Warriors have allowed 110.2 points per 100 possessions in these playoffs, much worse than Toronto's two most recent opponents, the Philadelphia 76ers (106.0) and the Bucks (101.8). It stands to reason that the Warriors will give Gasol plenty of room to shoot in this series. They'll probably do the same with Siakam, as well. The film will show that Gasol can be hesitant to take his shots, and Siakam can be inconsistent making his. Both those things might have to change going forward.
Assuming Fred VanVleet won't continue to hit every three-pointer he takes — he went 14-of-17 over the final three games of the Bucks series — someone else will need to fill the void. It's hard to ask much more of Kawhi Leonard and Kyle Lowry, who are each taking and making plenty of threes. Same goes for Norman Powell, who's hitting at a 41 per cent clip in these playoffs. It could come from Danny Green, whose shooting has been bafflingly poor compared to the standard he's set for himself — but who's to say when that will change?
Or it could come down to Toronto's bigs — Gasol, Siakam, and Serge Ibaka — to pick up some of the slack. That would certainly help. And if Gasol in particular can assert his willingness to shoot early in games, and hit even just one or two, it should draw out his defender closer to the three-point line, and open up more space for him to drop his perfect passes into.
Basketball can still be beautiful. It can still be art. And you can still shoot your shot.