Shareef Abdur-Rahim is one of the signature characters in the story of the NBA's earliest days in Canada. And more than two decades after starting his pro career with the Vancouver Grizzlies, slipping through the streets of Toronto is nearly as difficult for Abdur-Rahim as trying to score in the packed paint that marked mid-1990s basketball.
"My son was with me [the day of Game 1] and even walking through the city, he was getting exasperated by people stopping me — and [we're not even] in Vancouver," Abdur-Rahim says. "Just the reception I get being back in Canada, period, is unbelievable."
There's no limit to the basketball love being thrown around this country right now and Abdur-Rahim — currently president of the NBA G League — certainly retains a fondness for his time north of the 49th parallel. The outpouring of roundball enthusiasm we're witnessing may be unmatched in this nation's history, but Abdur-Rahim recalls a deep zeal for the game from coast to coast back when Canada's two NBA cousins were getting off the ground.
"Every year we'd play a pre-season game in a different [Canadian] market," he says. "It was always sold out, always exciting, people always happy to have us there. Just that energy is what I remember."
Abdur-Rahim, of course, was a rare source of stability and promise during the Grizzlies' rocky six-year run, which culminated with a move to Memphis before the 2001-02 season. The six-foot-nine forward was selected third overall in the 1996 NBA Draft and joined the Grizzlies for the club's second year in the league. He immediately established himself as a go-to player in 1996-97, notching 18.7 points per game as a freshman and finishing third in rookie-of-the-year voting behind winner Allen Iverson and runner-up Stephon Marbury.
In all, Abdur-Rahim netted 20.8 points per game during a five-year run in B.C., before being traded to his hometown Atlanta Hawks the same summer 'The Griz' moved to Memphis. (That deal, by the way, netted Memphis Pau Gasol, the older brother of Raptors big man Marc Gasol.)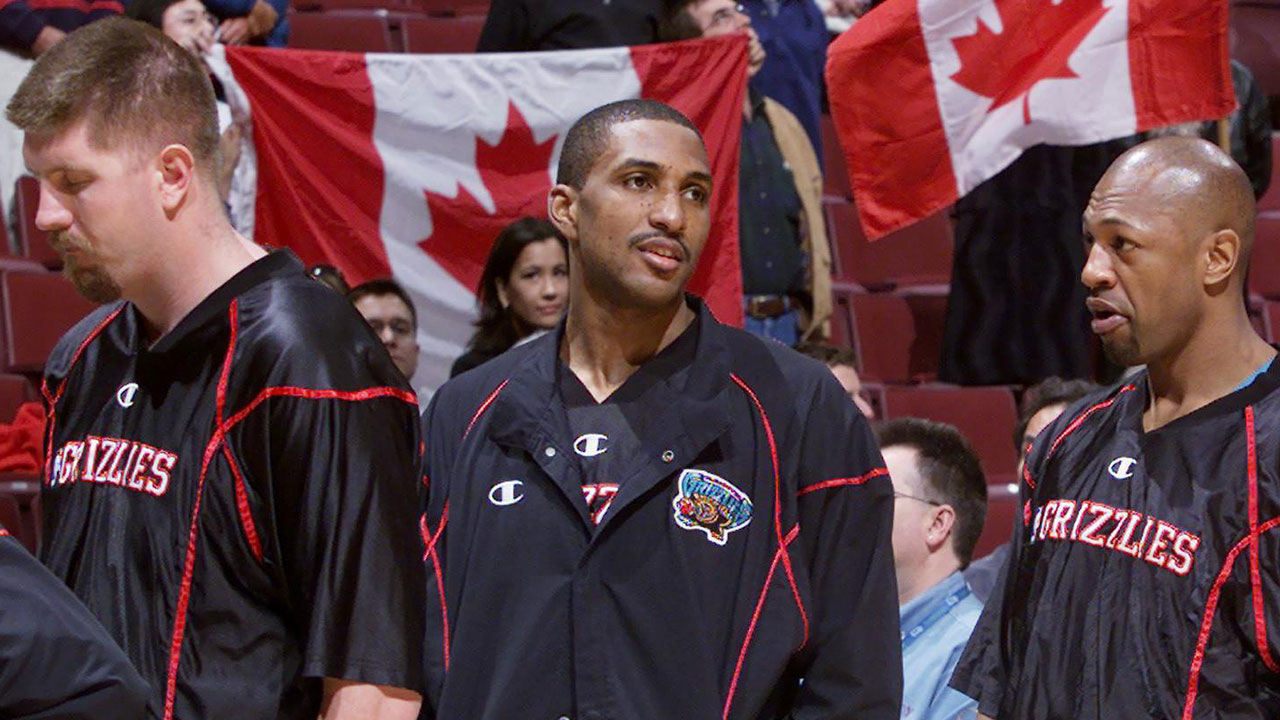 The appetite for basketball Abdur-Rahim — a member of Team USA's gold medal-winning team at the 2000 Olympics — witnessed in Vancouver waned over time, sapped by mounting losses and a lockout that chewed up nearly half of the 1998-99 season. Just as Toronto was surging through its first Vince Carter-led golden period around the turn of the century, fans out west were enduring constant speculation about their team being sold and moved.
"Maybe if we just had a little bit more time," Abdur-Rahim muses. "We had a young team we were trying to grow and develop. We never quite got to the maturity the Raptors did. The Raptors very quickly turned a lot of young players into mature players. Vancouver was just a bunch of young guys trying to learn how to play. So we never quite got to that point.
"Ownership turned over — even in my five years, we had one ownership group, it was almost sold to another ownership group then it finally sold to another ownership group. We just never quite got the stability that they had here."
Despite things not working out the way he and the Vancouver fans hoped, Abdur-Rahim notes his one-time adopted home still deserves a nod for its role in Canada's NBA history. "Obviously Toronto has been unbelievable for basketball and the NBA," he says. "I think Vancouver is part of the tradition."
Where once Abdur-Rahim had a big hand in attempting to get a franchise running, today he's charged with trying to make an entire league go. The Georgian was named to the 2002 Eastern Conference All-Star Team during his first year with the Hawks and wound up wearing the uniform of the Portland Trail Blazers and Sacramento Kings before retiring at age 31 in 2008. Abdur-Rahim was also a part of the Kings organization as an assistant GM and assistant coach for five years following his playing days, before joining the league office as president of basketball operations.
This past December — on his 42nd birthday, in fact — Abdur-Rahim was named the successor to Malcolm Turner as president of the NBA G League. He now oversees all aspect of the development circuit's business and basketball operations.
"It's everything from talking to presidents of our teams to figuring out our strategies, to talking to our players about our league and trying to continue to grow our league," says the man who holds an MBA from the University of Southern California Marshall School of Business.
[relatedlinks]
Naturally, Abdur-Rahim is thrilled to see G League grads like Danny Green and Pascal Siakam of the Raptors, and Golden State Warriors Kevon Looney and Quinn Cook dueling it out in the Finals. He also points to Raptors 905 as one of the league's slam-dunk success stories.
"The 905 are one of our storied teams, the way they integrated with the Toronto Raptors and the way they run their team has been great for us," he says. "I think [our overall goal is] just continuing to grow experience and tell our story and the purpose we serve for our NBA teams, the excitement of our league and the basketball."
The day after Game 1, Abdur-Rahim was on hand with the likes of Siakam, Kyle Lowry and Masai Ujiri for a ribbon-cutting ceremony at the Jimmie Simpson Recreation Centre in the east end of Toronto, as the Raptors and NBA Cares program unveiled four newly renovated spaces on site aimed to help kids and young adults with everything from reading to eating well to honing their jump shot. Impacting lives through basketball is something he continues to get a real kick out of.
And while those Raps he was on stage with are part of the crew currently driving basketball passion in this country, Abdur-Rahim's time here clearly left an impression on the first generation of fans, especially those who supported Canada's other NBA team.