It's easy to forget that, after three seasons with the Toronto Raptors, Jonas Valanciunas is barely just 23 years old. The Lithuanian-born centre is celebrating his 23rd birthday Wednesday, and to help mark the occasion we've put together a list of 23 things you may not have known about the Raptors' man in the middle:
1. He has two acting credits to his name, both as himself. Three, if you count that Canada Basketball ad where he says, "Basketball is my…my life."
2. Led the Raptors in PER and Win Shares in the regular season.
3. Shares a birthday with Chris Paul, Goran Dragic and Ryan Anderson. So all they need is a small forward. But wait, look who else shares the same birthday.
Problem solved.
4. Stood 6'7" at the age of 13.
5. If he owned his own island, Valanciunas says he'd call it "Independent Island"
6. A four-time gold medalist with Lithuania.
7. Favourite brands of humour include:
Self-depricating:
And
8. Costume-based comedy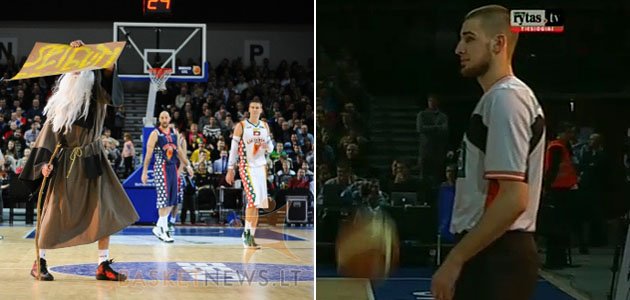 9. A four-time MVP: Thrice on the international level- at the FIBA Under-16, U-18, an U-19 championships in 2008, 2010, and 2011. And then again two years ago at the 2013 NBA Summer League, where he averaged 19 and 10 on 56% shooting (88% from the free throw line).
10. Finished 2nd in the NBA in shooting last season at 57.2%.
11. Owns a custom-made South Park hat with a picture of Cartman on the front and JV17 stitched into the side.
12. Was technically traded twice- as a future first-rounder- before the Raptors drafted him. In '09 the Raptors traded the pick to the Miami Heat in the Shawn Marion deal, and then a year later got the pick back from Miami as part of the Chris Bosh sign-and-trade in 2010.
13. Childhood idol, Arvydas Sabonis, now runs the Lithuanian basketball federation. "So now he's my boss," says Valanciunas.
14. Father was a rowing champ in the former Soviet Union.
15. Valanciunas joined the Raptors after a buyout with his European club Lietuvos Rytas. The buyout was reportedly worth $2.4 million US and under NBA rules; the Raptors could only contribute $500,000. JV crossed the Atlantic by covering the rest himself.
16. Calls this, from late in his rookie season, his true 'Welcome to the NBA' moment:
17. Named the FIBA Young European Player of the Year in 2011 and in 2012 while he was with the Raptors. This award is given to a player 22 years old and under across all leagues.
18. Is an avid fisher, most recently angling for trout in Lake Huron.
19. Is this list really still going?
20. Was going to be a dancer before a growth spurt eventually drove him to the sport of basketball. He's used his prior talents to teach Raptors cheerleaders the art of Lithuanian dancing.
21. Ironically, calls himself the worst dancer on the Raptors.
22. No, seriously are we done yet? When does the season start again?
23. If he changed his name like Ron Artest, he'd call himself Wolf's Friend.
So there. Happy birthday, Jonas.