Vince Carter scrapped his entire plan when he showed up for the 2000 NBA Slam Dunk Contest. Then he improvised a masterpiece.
As told to Dave Zarum
The purest exhibition of sheer athletic talent that exists in sports, the NBA Slam Dunk Contest served as a launching pad to stardom for the likes of Julius Erving, Michael Jordan and Kobe Bryant. But by the year 2000, following a string of unimaginative and unmemorable contests, the event had lost its lustre, so much so that it wasn't even held in 1998 and '99. Enter Vince Carter, the Toronto Raptors' 23-year-old superstar-to-be. With an unrivalled blend of grace, power, creativity, hang-time and showmanship, Carter, a first-time all-star, had been lifting fans out of their seats with his dunks since he debuted in the NBA the previous season. Fans and media alike called him the greatest in-game dunker since Jordan, bestowing upon him the heavy nicknames "Air Apparent" and "Air Canada" for his feats above the rim.
So you can imagine that expectations were high when Carter entered his name in the 2000 dunk contest. Though he was joined by his cousin and fellow Raptor, Tracy McGrady, as well as Steve Francis, Ricky Davis, Jerry Stackhouse and Larry Hughes, it was Carter's name on the marquee. No contestant had more to lose than Vince. If he didn't win against that field, he'd fail to live up to the hype. And if he won, well, wasn't that the whole point of this thing anyway?
What nobody could have known was that the three finalists would combine to put on arguably the greatest showing of all time, and that Carter's performance would go down as the gold standard in contest dunking, just as jaw-dropping 20 years later as it was on that Saturday night in Oakland.
Vince Carter Getting the opportunity to participate in the dunk contest was a lifelong, childhood dream. Of course the game on Sunday is great and all, but All-Star Saturday and the dunk contest was it for me.
Dee Brown 1991 dunk-contest champ and Carter's teammate for the 1999–2000 season I had known Vince before we played together on the Raptors, being a Florida boy, myself. I remember seeing the contest he won in high school. When he was coming up as a kid there were a lot of dunk contests, and he won all of them.
Jerry Stackhouse 2000 dunk-contest entrant, now an assistant coach with the Raptors I remember playing pickup games with him at Chapel Hill. Someone would make a shot and as the ball is falling through the rim Vince would catch it and windmill it in again. So you knew he was special when it came to leaping ability and timing. Just an unbelievable athlete.
Kenny Smith TNT sportscaster and three-time dunk-contest entrant Most people knew about what Vince could do as a dunker, but they had never seen him dunk in a contest. They didn't know if he could have that creativity that, in a contest, is completely different than, say, when you're finishing off a fast break during a game.
Brown The people were there for Vince, no question. You've got to remember that the year before, 1999, they didn't have a dunk contest, so this was going to be "the rejuvenation." It was a bigger deal than usual.
Smith I'd seen Vince. I knew he had the ability to do things that we had legitimately never seen—but not to that level.
Carter Growing up, I used to tape the dunk contests and study them. I was trying to figure out in my mind—it might be a little different from the average guy and so this might sound weird—the dunks were cool and all, but I wanted to know, Why is he doing this dunk? What is he trying to show? What's the look he's going for? That was how I would break it down. I was into it. Obsessed.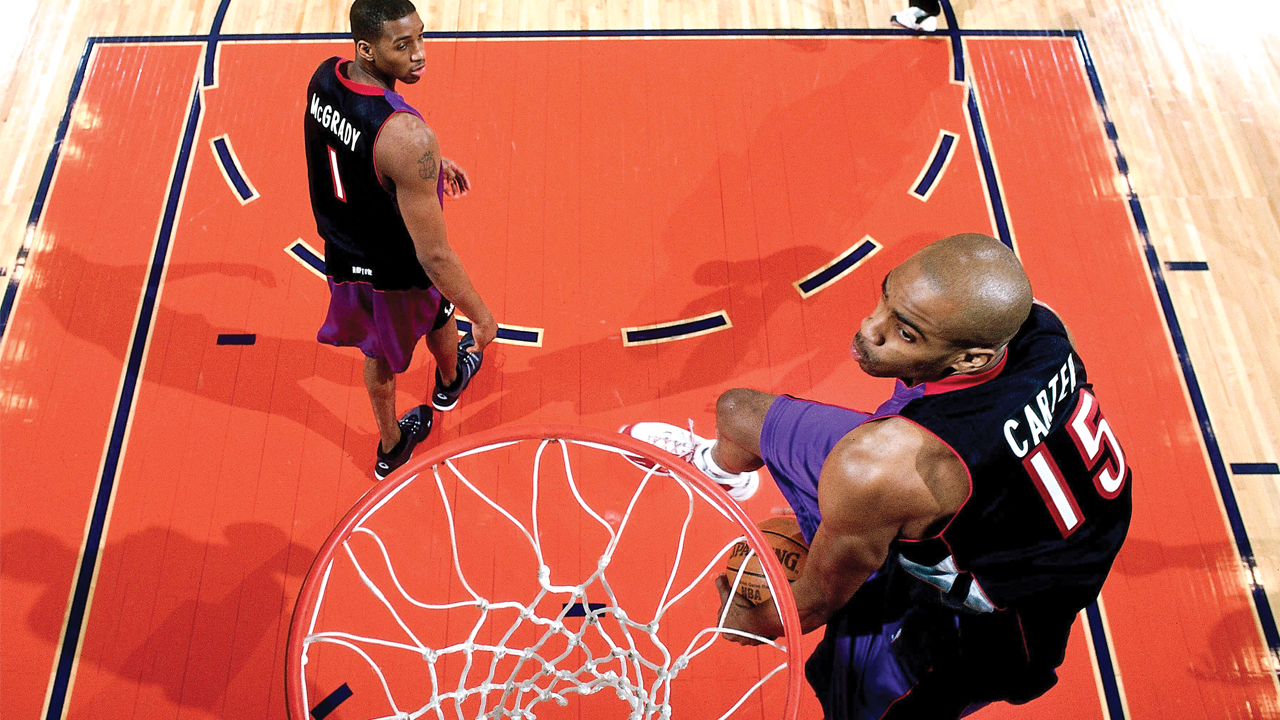 With a month or so to prepare, Carter and McGrady took some time after each practice to work on a few things. By the night of the contest, Carter had four or five dunks in the bank, but moments before the biggest showcase of his life he was second-guessing his entire plan, leaving him scrambling from the start.
Carter Right before we're about to go, I'm still trying to figure out the order of dunks. My mind raced. Am I going to keep my routine? Or am I going to scrap it? So many nights and dreams of being in the dunk contest, I wanted to make my first trip a memorable one. I was putting so much pressure on myself to be perfect.
Paul Jones Sportscaster I'll never forget interviewing Carter [moments before the event]. I asked him if he was ready, how he thought he'd do. His shoulders were slumped, he was looking at the ground and he kept saying, "Man, I don't know. I don't know." I'm thinking, Are you kidding?
Carter Leading up to the contest, our ride to get to the arena wasn't there. We're staying in San Francisco, and everyone is assigned a car to take them from the hotel to the arena in Oakland. It didn't show up. We're supposed to be outside at two. Two o'clock comes and there's no ride. All of these other all-stars' cars were showing up, but ours was nowhere to be found. There were five of us and we had to squeeze into a sedan going from San Francisco to Oakland. We almost didn't make it. Things were turning out so bad. So that's where all the stress and everything leading up to that interview with Jonesy, all of that is factoring in.
Jones I was right in the tunnel for the interview, and I saw when he walked out onto the court, and his entire body language just changed the instant he stepped out there.
Carter I became another beast. Heading out onto the court I had my routine, but once I got to the layup line—and maybe I was over-analyzing—I just suddenly felt it wasn't good enough: a lot of catching it off the backboard, you know, nothing really special. Standing there, looking at the field, and the respect I had for the other guys in the contest, I felt it wasn't good enough.
Right before I grabbed the basketball from the referee for my first dunk, I didn't know what I was going to do. I really didn't know. So I thought, What do I want to accomplish with the look? I'm looking for creativity, hang-time, and all the things I had been studying many years before. All of these years are coming into one night, one moment. And here I am, minutes before it's my chance to show the world, and it's just like, Oh gosh, what should I do here?
I got the idea: 360 windmill. It was spur of the moment. I hadn't really considered doing that one because, weeks before when I was trying it, I was barely making it. When I incorporated the 360, particularly the first couple of times I tried, I kept falling away from the basket. I wasn't getting enough height. That's why I scrapped it initially.
But behind every dunk I'm looking for that wow factor, that degree of added difficulty. To do the windmill with an extended arm like that is hard enough, but now to go the opposite way while doing it? There's the challenge. I felt like, If I could pull this off I'll be good for the rest of the night.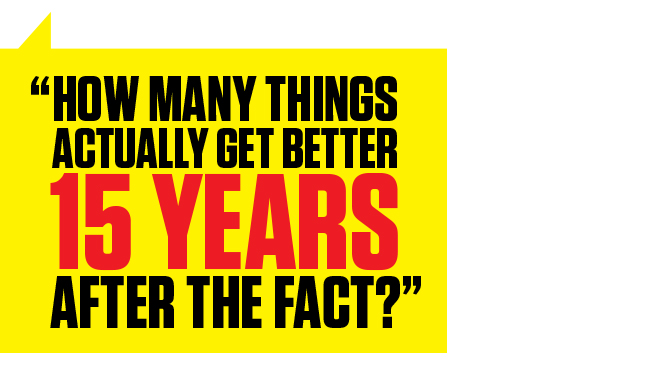 In one swift, smooth motion, Carter propelled himself off the ground and spun 360 degrees against the grain while simultaneously pulling off the extended-arm windmill, roaring to the crowd as the ball crushed the mesh.
Smith That dunk set the tone. You never wait in a dunk contest. And Vince didn't wait. He didn't say, "All right, let me ease into this here." He said, "I'm gonna kick the door in."
Glen Grunwald Raptors general manager from 1997–2004 It was a magical moment. You couldn't help but get caught up with the spectacle of the event. The entire arena did. It was electrifying.
Carter The buzz in the building was unreal. In all my planning I really didn't factor in any of that. Not at all. There was this unbelievable spike of adrenalin in my body and I didn't have to worry about not getting enough height anymore. At the end of that dunk I did an extra bounce off the floor when I landed. I felt like I could've gone back up and thrown down another windmill.
Smith That was the first time I saw someone dunk where everybody was running to the other side of the arena to be closer to Vince, just this sea of people.
Carter At that moment I felt like I could have pulled off anything. Excuse my French, but it was, "Oh shit, here we go."
But first somebody had to follow that act. And barely one minute had passed since Carter had blown the roof off the joint before Stackhouse's name was called.
Stackhouse I don't know how they determined the order, but it sure wasn't alphabetical—I can tell you McGrady and Francis both come before "S" and after "Carter."
Terrence Ross Raptors guard and 2013 dunk-contest champion No disrespect to Stack, but after Vince did what he'd just done, everybody was preoccupied thinking about that. It must've been tough.
Stackhouse I was still in awe of the dunk he did. Then I had to go after him and now I'm on the clock and everybody is still buzzing about it. That was just kind of the luck of the draw. It's one of those things—[I'll] go down in history as the guy who had to go after Vince Carter. It is what it is. People might not have seen it, but I feel like I did a pretty good dunk [a powerful two-handed 360] on my first try.
Smith It was just all right. [Laughs.] After seeing what Vince just did? Yeah, that was just all right.
After Stackhouse's dunk, sideline reporter Cheryl Miller asked him, "Jerry, how tough was that act to follow?" and he laughed. "You saw it," he said.
Carter I watched the other dunkers, but I was just… I was in another zone after that [first dunk]. I had officially scrapped my dunk order, and now I'm scrambling trying to figure out where to go next. What do I do next? I remember high-fiving each guy after they had gone, but I was still in my own moment.
With a perfect score of 50 after one round, Carter was living up to the hype early. But he was getting more competition than anybody expected—McGrady and Francis each scored 45 on their first dunks, and for his second, McGrady caught a bounce pass from Carter—that year there was a rule that each dunker had to use a teammate for one of their dunks—for a ferocious two-handed windmill alley-oop that scored him a 49. There was a real contest breaking out.
Carter I couldn't relax. I know what Tracy can do. I've seen Steve Francis and the stuff that he was doing. I knew Ricky Davis was no slouch.
Brown Tracy McGrady. Any other dunk contest he would have won. You had three guys who, had Vince not been in it, could have won it.
Stackhouse T-Mac wasn't really on the scene. He was a little overshadowed by Vince here in Toronto with Vinsanity and all that craze. But Tracy was great in his own right.
Carter He didn't want to do it. I had to beg this guy. From the very beginning he didn't want to do it at all. I was like, 'The world needs to see what we can do." He has that ability. So I knew I had stiff competition. But I knew that for me to lose, somebody was going to have to do something out of this world.
On his second dunk attempt, Francis, a rookie point guard, bounced a pass to himself and reached way back for an athletic leaning slam, scoring a 50 himself. Carter followed it with another spinning, acrobatic windmill—this time from the baseline behind the basket—and scored a 49.
Carter What I was trying to do with that was to show the ability to do a windmill off of one step while doing a reverse—but from under the basket. So you still have to get your body from underneath and behind to out in front of the rim. While doing the 360. It was cool. It might've come off as an easy dunk, but that was another one I struggled with.
Tyler Ennis Milwaukee Bucks guard, Brampton, Ont., native That was an underrated dunk.
Just two dunks in, the contestants' abilities seemed limitless. The all-stars surrounding the court, like Shaquille O'Neal and Kevin Garnett, clutched their camcorders and stared in awe. "I must admit, man," Garnett said at the time, "I ain't never seen anything like that. [Francis] is jumping like an astronaut, man. He and Vince Carter came with some From the Earth to the Moon–type stuff tonight."
Stackhouse Everybody was watching Vince, anticipating. What is he going to do next?
Carter All the players kept asking, "What are you going to do?" KG was with me during the McDonald's [high school] dunk contest so he'd seen me and knew what I could do. He kept saying, "What now? Whatcha got now?" and I just said, "Watch this."
Brown In '91 I had practised all of my dunks, a lot. Vince was studying previous dunk contests, but the stuff he was doing was just off-the-cuff.
Carter Maybe a week before the contest, I'm skimming through a magazine and I see an ad for the "jump shoe," some device to help with your vertical. It was just a still shot of a man jumping, in mid-air, with the ball between his legs. I saw it, flipped the page, that was it. I didn't give it another thought. I certainly didn't have the epiphany, Oh, that'd be a good idea for the contest. But on the court that night that image popped into my head.
Because I had changed my whole routine by then, we had to come up with something right then and there. Tracy and I had never practised [in tandem]. I didn't even know about the teammate thing until we got there. Walking to the basket all I said to him was, "I need you to stand off to the right of the rim, bounce it about waist height—well, it's actually chest height but it would be waist height for me in the air—and back up." He said, "What the hell are you doing?" I said, "Just trust me on this one."
I didn't want to give it away, talking to him and everybody sees it. Not that they'd overhear, but I didn't want people to see me explaining it, seeing my hand movement, the reaction on Tracy's face. I wanted everything to be a surprise and in the moment-—that's why I was such a stickler about not missing any dunks. So when the first pass was a little too high for me, I could have probably tried to dunk it, but I just let it go. Essentially I just jumped in the air and came down, so you still couldn't have known what I was going to do.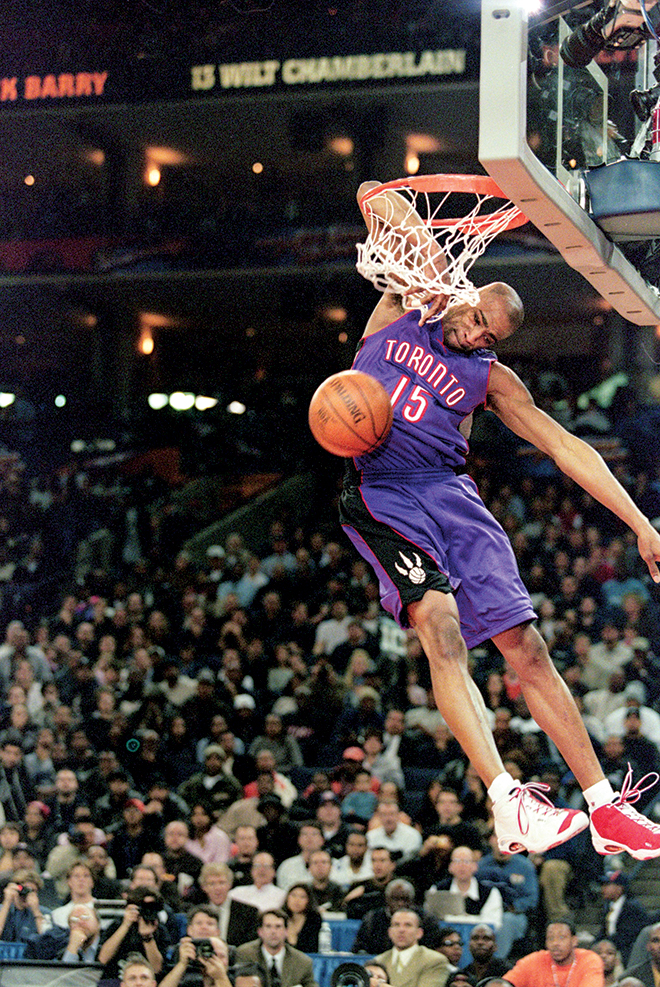 Needless to say, the second pass worked. Vince grabbed the ball from mid-air and, just like in the poster, put the ball between his legs, transferring it from his right hand to his left, finishing with a thunderous slam. The crowd erupted, and as Kenny Smith started yelling what would become a catchphrase—"It's over!"—again and again, Carter looked into the camera and said the same.
Ross That one was my favourite. I had just never seen anything like that before.
Carter "You're crazy," was all Tracy said after the dunk.
Smith That between-the-legs was really a defining moment that started a new trend for dunking. Nowadays that might be considered a pretty simple dunk for some. But he created a trend that allowed guys' imaginations to even consider that kind of stuff was possible.
Carter I'm thinking, It's over. I just made up a dunk with my cousin that I've never practised. It's over. I was able to pull off a dunk I had never tried, that I just saw a picture of in a magazine, that I didn't really even know if I could do it or not. It's just… It's over. My confidence is through the roof right now. It's over.
Smith That was how I felt, too. I don't think you can prepare for those moments. When you're covering an event like that, your enthusiasm or lack of it has to be authentic. "It's over!" I hear it all the time now. People will come up to me and they have it as their phone ring.
Carter owned the building and had won over the judges and fans watching around the world. In the span of 20 minutes he went from star to supernova. But his most groundbreaking dunk yet was coming next.
Carter It's one of those cases of "fake it 'til you make it." I want to give the air of confidence, yet little do you know I'm still scrambling like, What the heck am I going to do now? The year before, I was playing in Gary Payton's charity game in Seattle. In the layup line, I'd be jumping over the rim and just dropping the ball in, like they used to do way back when they weren't allowed to dunk in college. So I had decided I'm going to put my arm in the rim and drop the ball in there. OK, yeah, that's cool, but where's the wow factor? I was going to hang up there.
Now I'm trying to figure out, OK, do I come from the left side or the right? If I hold on, how do I make sure I stay? I'm thinking, If I break my arm Butch [Carter, then-Raptors head coach] will kill me. All of this is going through my head fast on the spot.
I tried to buy some time by walking it off. I can recall it like it was yesterday. I walk up to the rim, let out a sigh. I looked up. All right, well, I thought to myself, I guess this is the jumping area. I looked at the front of the rim. I guess this is the hanging area. I rubbed my arm and thought, Here goes nothing.
As I'm walking back now I've figured out what I wanted to do as far as the actual dunk. But I used to think about Dee Brown pumping the shoes and I looked at the dunk contest like this: How can you get the fans in your pocket? Eating out of your hand?
Brown Whenever we talked about [the contest] I just told him, "Play to the crowd."
Carter You see, at that point, I'm not looking for cheers. I want the arena to be silent. Normally when you watch the dunk contest everybody goes crazy, it's people screaming, going "Oh my God, did you see that?!!" But how many times did you see a dunk leave the crowd speechless? Where you couldn't say a word until you saw the dunk a second time. Until then they're just thinking, Wait a minute, did you just…? Twenty thousand people have to look up at the Jumbotron at the same time to see what happened. Then comes the roar. That's what I was looking for. And I got it.
Think about it: Before 2000 there had been years of the dunk contest going on with dunks that we'd all seen. I want to mess your mind up.
Having leapt high enough and dunked with enough force to get his entire forearm in the rim and use it to hang up there, Carter scored another perfect 50. He finally relaxed, thinking he was done for the night, only to be told he had one more dunk left. He decided to pay tribute to Julius Erving, sitting nearby at the judges' table, and took off for a two-handed slam from just inside the free-throw line. He earned a 48, his lowest score of the night, but it didn't matter. He'd already put together the most memorable performance ever on a stage that had seen plenty.
Smith I don't think people will ever stop talking about that night. Obviously it goes down as one of the greatest dunk contests in the history of them all, with the only possible exception being Jordan vs. Dominique.
Carter To cap it off, the first person to greet me as I stepped off the court to the backstage area was Julius Erving. If you know me, you know that Dr. J is one of my heroes, one of my favourite people of all time. You win the contest, you're holding your trophy, you walk off and the first person you see is your hero? I mean, it doesn't get any better.
Grunwald To make such a huge statement, to create so much attention and notoriety on one of the biggest stages in the NBA, it was great for the [Raptors] franchise. It was a fun time. We were on a roll. Going into road arenas and seeing Raptors jerseys in places we'd never seen them before was special. You really got a sense the perception of the franchise had changed. That night had a lasting impact, without question.
Brown People came to our games to see him dunk. And when he didn't they were mad! Vince was skyrocketing at that point already, and the contest was part of his growth and the growth of the Raptors in Canada. You have kids—Canadian kids—in the NBA now who talk about it today. They watched Vince; they didn't watch me. That was their dunk contest.
Ennis I was very young but I still remember watching that with my family. It was a big moment for him and the team, and put him on the scale as one of the best dunkers ever.
Ross I was like 10 or 11 watching it. Everybody already loved Vince because of all the dunks he did in games, but after that, just seeing him go out there and have so much fun with it—it felt like we were seeing a different side of Vince.
Carter It was just so surreal. It's hard to imagine all these years later now, that there was some kid just like you who's watching and trying to emulate it and do better.
Thirteen years later that would ring true in a way that even Carter himself couldn't have anticipated, when then-NBA-sophomore Terrence Ross took part in the competition, becoming the fourth Raptor since Vince to do so.
Ross I was representing Toronto in the 2013 dunk contest, and the only person who'd won it for them was Vince, so I knew I was going to incorporate that in some way. I got the idea to wear his jersey, but I just needed the right dunk. Actually, DeMar [DeRozan] came up with it. He was going to do it a few years back [in 2011] and told me to try it, this different version of the 360 windmill-type dunk. I talked to Vince after that, when he came [to Toronto] later that season.
Carter I heard from a lot of people wanting me to reach out to Terrence publicly on Twitter after that, but who am I trying to impress? Personally, I wanted to wait until I could thank him face to face and show my true respect for what he did that night. I don't know what it meant to him. Maybe he just thought, "OK, cool, appreciate it, Vince, whatever," but it meant more for me to do that in person.
Ross He told me that he had seen it and was appreciative. I was like, "Man, I'm just happy to be here in a position to do something like that." It was crazy.
Carter These days people say, "Oh, why didn't you defend it?" Yeah, I could have. But I didn't want to make a career out of it-—didn't want people to expect me to be there every year. Now if I didn't win it, that's a completely different ball game. You know, looking back, I had two dunks I could have tried that I didn't. And I can't tell you [what they are]. Nope. Can't tell anybody.
This story originally appeared in Sportsnet magazine. Photo credits, from top: Garrett Ellwood/NBAE/Getty; Andrew D. Bernstein/NBAE/Getty; Sam Forencich/NBAE/Getty; Jed Jacobsohn/Allsport