This article was originally published March 8, 2018
You would have to be made of stone to not have been moved by Rebecca Lobo's Basketball Hall of Fame induction speech last summer.
As Lobo, who starred in North America's largest all-women's professional basketball league from its inception more than 20 years ago, took to the podium she shared a simple and powerful story about her daughter's perception of the sport as a young child.
Lobo's daughter was at home watching hoops with her father one night and, having been exposed to the women's game through her mother, was stunned to see men playing the sport.
"Are those boys playing basketball?," she asked. "I didn't know boys played basketball, too."
It's a beautiful notion, that a person can grow up unaware of how male-dominated the sport can be — at least among the professional ranks. But Lobo's daughter had grown up around the women's game, seeing WNBA competition regularly in person and on television.
How different would that experience and perspective be had Lobo's daughter grown up in Canada, where there is no first-hand exposure to professional women's hoops?
But with the growth of the game and a growing commitment to equal representation in all walks of life, it's just a matter of when — not if — a professional women's basketball team or league is established in Canada.
On the amateur level we do a decent job recognizing women's sports, whether promoted on university campuses, through the Olympics, and, in basketball, through our national teams. There is an audience for women's basketball in our cities. When Kia Nurse, arguably the biggest Canadian name in the sport, and the UConn Huskies showed up to play at Ryerson in December, the game was a sell-out.
But professionally? There remains a significant void that leaves Canada lagging behind other basketball nations. It's absurd that there are so few professional women's sports leagues in general — in Canada the Canadian Women's Hockey League is the only one – but the lack of professional female basketball in our country borders on embarrassing.
"We are one of the only countries in the world that doesn't have a domestic, professional league," explains Denise Dignard, director of high performance for the Canadian women's national program. She adds that a domestic league would not only serve as an inspiration to young girls, but it would also help keep players in Canada longer while connecting different regions and provinces throughout the country. "The quality of our pool is improving tremendously," she says. "From my lens, having a league will undoubtedly grow the women's game further."
There's no compelling argument against establishing a league, or a WNBA franchise, here in Canada.
On the men's side, basketball's surging popularity in the country has led to record TV ratings and attendance numbers for Canada's lone NBA franchise and the establishment of new leagues, namely the National Basketball League of Canada, whose franchises have connected with eager basketball fanbases in cities like Halifax, St. John's, and London, giving kids outside of Toronto access to pro ball firsthand.
But for young women in Canada, those role models aren't as easy to find.
"I absolutely think a WNBA team would have changed my perspective on where I could have pursued my dreams of basketball," says former Canadian national team standout and 2012 Olympian Alisha Tatham.
Tatham, who grew up in Toronto, earned an invite to the national team training camp at a young age but could never find role models plying their trade where she grew up. Instead, she followed in the footsteps of those who came before her and focused on playing professionally in Europe, where there are several leagues that promising Canadians occupy.
"If women like [WNBA legends] Lisa Leslie, Cynthia Cooper, and Tina Thompson came out to camps or spoke to the young girls when I was a kid, I know I would have wanted to be just like them," she says. "Just being able to go to a game down the street would have expanded my vision on what could have been possible for me as a young girl pursuing a career in basketball."
DeRozan, Casey support women's game in Canada
You don't have to look far to find proponents of bringing professional women's ball to Canada, and some of the biggest names in the sport in our country view it as a no-brainer.
"I'm surprised there's not [a pro basketball league] already," says Toronto Raptors all-star DeMar DeRozan, who in the summer brings his daughters to WNBA games in his hometown Los Angeles.
"I want her to see that it's capable for women to play at the highest level as well," he says. "We need to have a system where women are able to express themselves in the sport of basketball here in Canada as well. It would go a long way. There's a lot of up-and-coming young girls who are aspiring to play basketball."
According to a 2014 study, significantly more Canadian girls ages 3-17 play basketball than hockey. And the sport is the second-most played among new immigrants to Canada.
Avenues to the professional ranks are becoming a little clearer, as exposure to the women's game has widened thanks to events such as the 2015 Pan Am games, where Canada won gold as a nation of future players tuned in to watch.
Today Canadian players such as Natalie Achonwa and Kayla Alexander, two former first round picks who star on the Indiana Fever, are making a name for themselves in the WNBA. Last May seven Canadians took part in WNBA training camps.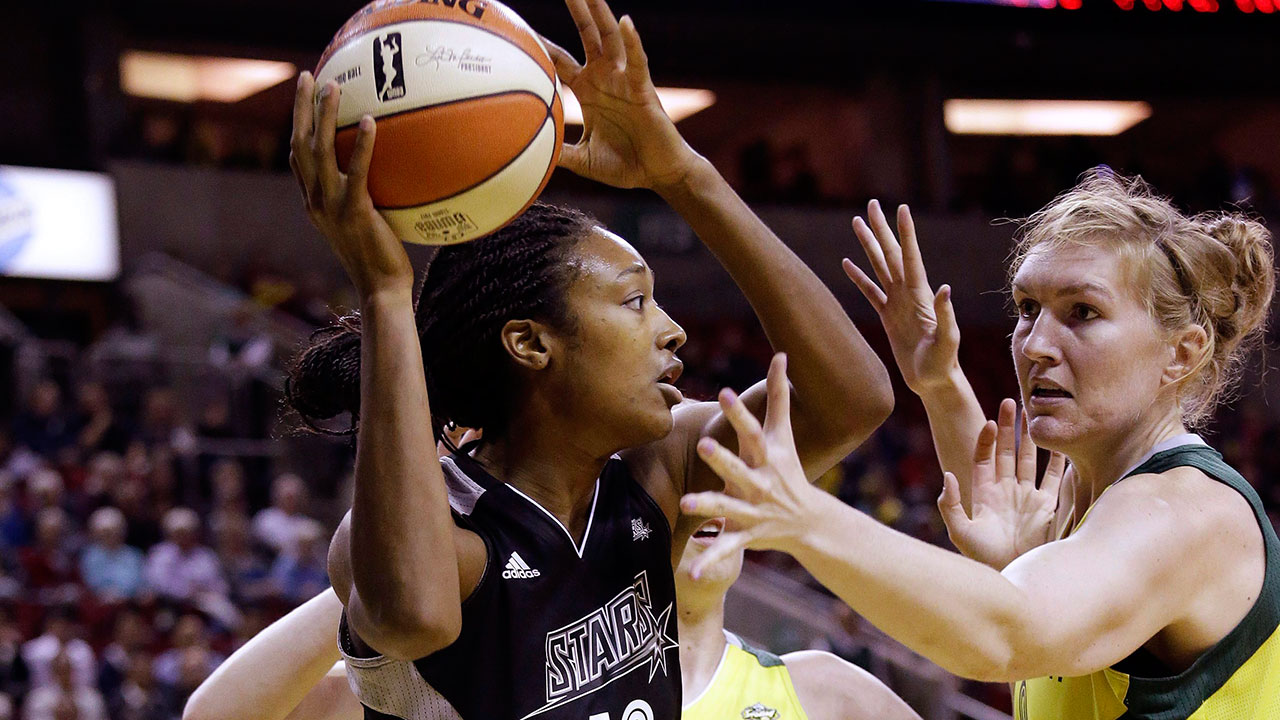 While a professional league would serve a greater purpose here in Canada, another, perhaps more attainable solution could lie in the WNBA, where Toronto is a logical landing spot for a franchise.
It might take some time for pro women's hoops to come to Canada, and there are obvious logistical and financial obstacles that need to be overcome. But it's unfortunate that something such as profitability can be the biggest barrier when there is a greater societal responsibility to ensure groups such as women are better represented in the world of pro sports.
NBA Hall of Fame point guard Isiah Thomas, who helped bring the Raptors to Toronto in 1995 as part-owner, doesn't need to be sold on the notion of professional women's basketball in this country.
"One hundred per cent. Bring a WNBA team to Toronto," says Thomas, his eyes lighting up at the notion. "Have you seen the girls coming out of this country? They're hooping, man. They're hooping! The two-ball dribbles, crossing people up, shooting the three. And they've got mad attitude, man.
"If Toronto got a WNBA team to complement the Raptors… wow."
There remains a clear divide between perceptions and consumption of female athletics versus their male counterparts. Thomas recalls conversations he had when his children were born that hammered home just how big the gap is.
"That was probably one of the saddest realizations I've had," says Thomas. "My son was born in 1988 and everyone kept telling me, 'Josh is going to go the NBA. He's going to be a player.'"
When his daughter was born two years later nobody said a word about her potential future in basketball.
"It hit me like a ton of bricks: She can't dream. She can't have the basketball dream that my boy has," he recalls.
Raptors head coach Dwane Casey can relate. No stranger to the women's game, he was invited to help train members of Japan's women's national team while coaching in the nation's men's league. As an assistant coach with the Seattle SuperSonics he recalls hanging back at the arena after the NBA team's practices concluded to stay and put in work with players such as Sue Bird and Lauren Jackson of the WNBA's Seattle Storm.
Last summer Casey took his nine-year-old daughter to the WNBA's all-star game in Seattle and made a point of introducing her to the league's players and coaches. Now that she's beginning to play competitive basketball in Toronto, he laments the lack of local professional role models.
"I would love for somebody for my daughter to look up to and emulate," he says. "[A professional team or league] would give young girls like her an opportunity to pursue the game beyond school and to identify players they can grow up to be like and emulate, to be in the community.
"I've seen Canada grow on so many different levels when it comes to basketball," says Casey. "The women's game is huge, so why not have a WNBA team here? Getting a WNBA team would be huge for the city, for the country, and for the women who play basketball in Canada."
Is Toronto in WNBA's future?
While the league says it won't comment on specific cities, WNBA commissioner, Lisa Borders, has made it clear that expansion is on the radar.
"We want to make sure that each and every one of our franchises is doing as well as they possibly can before we expand," Borders said during her all-star media availability session in 2017. "But will we expand? Of course. We want to make sure when we do, though, that the market demonstrates its viability to support a WNBA franchise. So I promise you, we will expand."
Expansion to Toronto makes a whole lot of sense. A WNBA team would be a logical fit under the umbrella of an organization like Maple Leaf Sports and Entertainment (MLSE), owner of the Raptors and its minor-league affiliate, the Raptors 905.
When reached for comment by Sportsnet, Dave Haggith, senior director of communications for MLSE provided the following statement on behalf of the company.
"Women's professional sports, and creating opportunity in sports for future generations of female athletes, is deservedly becoming a more prominent conversation. Our hope is that professional women's sports continues to develop in North America, and that we can support it and play a role in its growth. We continue to evaluate all opportunities within women's professional sports, including the WNBA, to determine whether there could be a franchise in Toronto one day."
No matter how it plays out, the presence of professional female athletes in our landscape can only do good. As Dignard puts it: "Anything that can be done to bring attention to women's basketball is good for women's basketball."
It's not a question of should professional women's basketball be a part of the Canadian sports landscape, but how — and how soon will it happen?