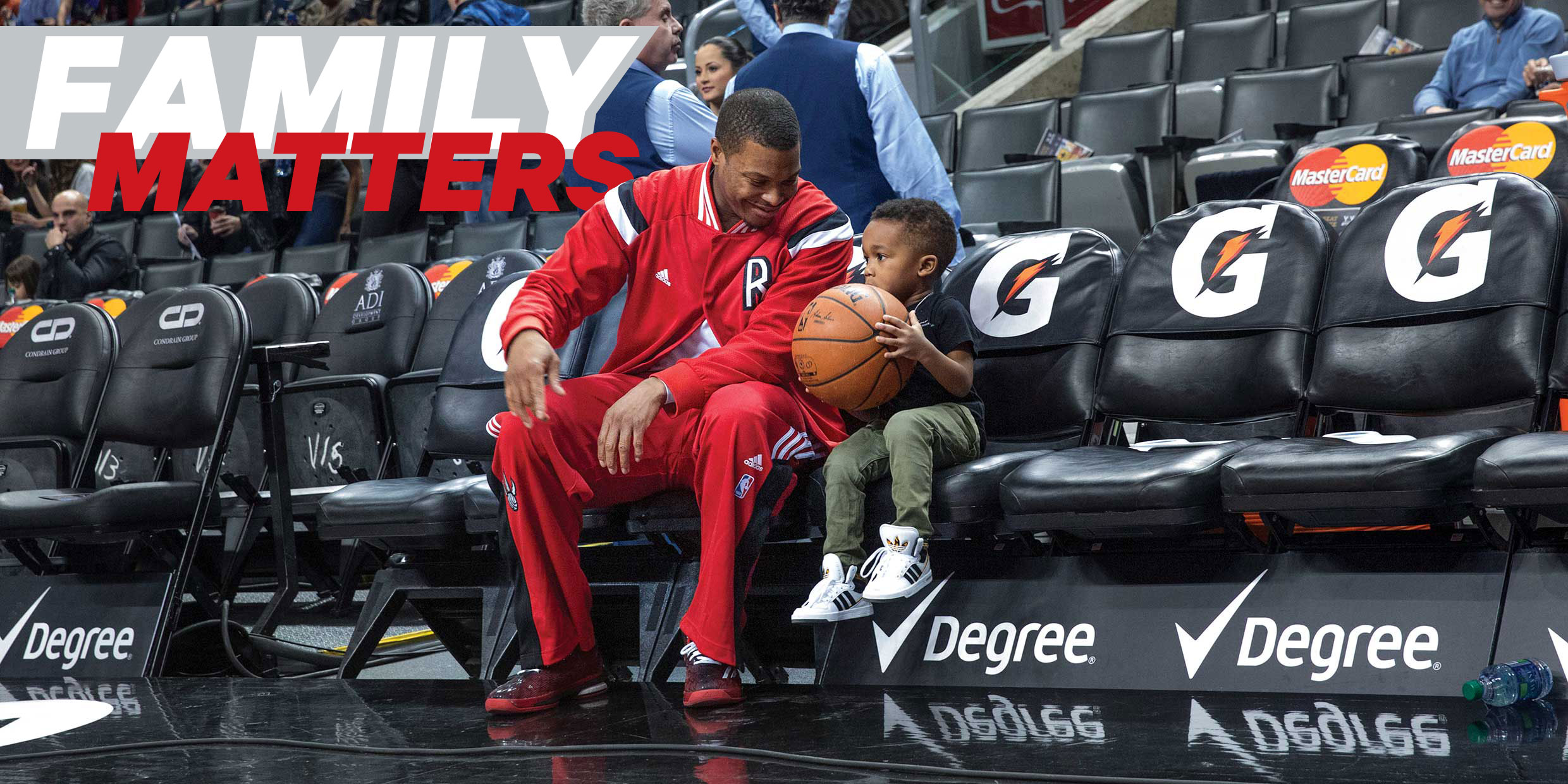 The Toronto Raptors are having a dream season on the hardwood. But a big part of the secret to their success starts far from it—in the family room.
By Dave Zarum

s his dad prepares to ply his trade in front of a sellout crowd, three-year-old Karter Lowry is doing an admirable impersonation in a carpeted hallway tucked deep in the confines of the Air Canada Centre. "Passing!" he addresses the other Toronto Raptors progeny—one-year-old Jackson Fields and four-year-old Jada Williams—playing along with him at a Playskool hoop. "Basketball is passing!"
His de facto teammates seem unimpressed: Jackson, for one, is mainly interested in being picked up again by the nearest adult so he can dunk the ball on the plastic net.
In an adjacent room—the "family room"—more kids run around, digging into boxes of toys, tugging on their mothers' dresses with important messages like "I'm almost seven!" and helping themselves to pizza and other kids fare at a nearby buffet.
It's just a few minutes before game time during a January homestand, and there's a full house in the family room. A small group of parents gather around a kitchen countertop while the Raptors team doctor shares music recommendations with a friend over dinner at a nearby table. In a small lounge around the corner, assistant coach Bill Bayno's mother is engrossed in a television program, while DeMar DeRozan's daughter, Diar, models her new black-and-gold Air Jordans.
And in the middle of it all, Doreen Doyle looks around with quiet satisfaction. "We've never had this many kids," she says in reference to the dozen-plus children of Raptors players and coaches this season. And she would know. Doyle is the head of Raptors team services, a position she's held since the franchise's inception in 1995, and her fingerprints are all over this place (her daughter is one of two regular babysitters, and her teenage granddaughter volunteers as well).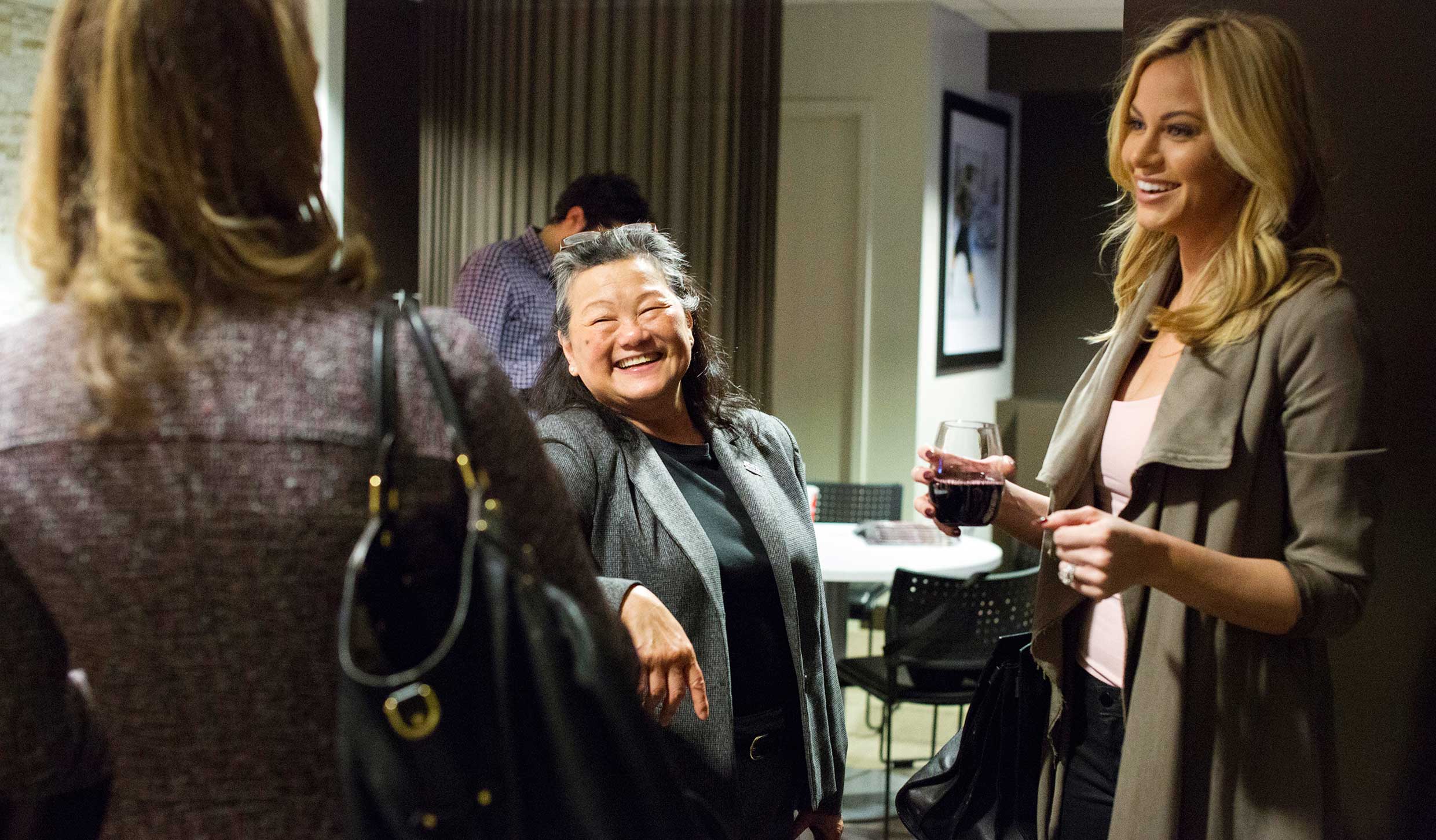 For Doyle, this scene is the culmination of years of hard work to develop a cozy atmosphere for the Raptors' families, but her job extends well beyond this space. While the family room is her domain during games, Doyle spends the regular workday in her office, where her wide range of day-to-day tasks includes everything from arranging travel documents and confirming payroll details, to planning baby showers and helping new Raptors find housing in the city—while all teams will connect a player with a realtor, Doyle or one of her staff will actually accompany them on the hunt.
Doyle is more often than not the first contact when a player joins the team, and it's a responsibility she takes seriously. "Being in another country, people can be a little nervous coming here—traversing immigration, figuring out the metric system, funny money, all of that stuff," she explains. "So it's always been our promise to try to make their transition to Canada as smooth as possible, to be there to personalize the experience so that it makes it more like a family, rather than a job."
Ayahna Lowry, Karter's mom, can attest to that. "When we first got traded here," she says, "we'd never been to Canada together and had no idea what to expect. Having come from different organizations, I can say they're very good here in terms of making sure the wives and kids are taken care of. They made us feel at home."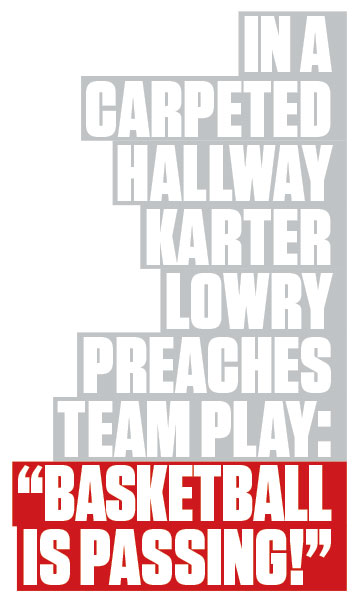 That touch has become a calling card for Doyle, and the Raptors' families have noticed. "We've been on other teams where we would never do something like baby showers," says Brenda Casey, who is also quick to point out that not every coach or organization encourages mingling between players' families—because it can backfire. "Sometimes this can cause drama," she says, motioning to the decidedly non-dramatic scene unfolding around her. "Dwane would say years ago: 'Most problems in the NBA start in the family room.' He used to try to keep me out, because there could be rumours and all sorts of things like that. And it's just not the case here."
The Caseys have two children attending public school in Toronto, and the youngest, Zach, was born 10 days after Dwane got the Raptors coaching job. "We're so well taken care of," Casey continues. "This is my fourth team and they're all different, but to have babysitters here to watch the kids during the game—we've never had that anywhere before. To have a full spread of meals so you're essentially having 41 meals with your husband's co-workers… It's a great way to connect the families. Our kids are all friends, we're all friends among the wives."

Doyle is in constant communication with the families, and helps organize birthday parties, cooking classes and other events that go well beyond her job description. Which, Doyle admits, wasn't made altogether clear 20 years ago when a friend who worked for original Raptors owner John Bitove called asking if she'd be interested in working for a pro sports team. "I was a hockey mom, but that's all I knew about sports," Doyle says with a laugh.
But with a background in the hospitality and financial industries, Doyle took to the gig like a fish to water. Sure, she knew how to push papers with the best of 'em, but it was soon apparent that Doyle's warmth and attention to detail would prove to be a major asset to the club. Players recognize her efforts even years later—she still gets a Christmas card from Eric Montross and emails from Uros Slokar, among other ex-Raps. She's even a part of recruiting new players to the franchise. "I remember one summer," Doyle recalls, "we brought Rashard Lewis in here as a free agent the team was trying to sign. His mom came with him and we got them a limo and took them to different areas, took them up the CN Tower. He didn't end up signing with us, but that's OK. We had fun."
After each game, everyone in the family room makes the short trip down the ACC concourse to a secondary one across from the Raptors locker area, where players and coaches greet their families before heading to the parking lot. Brenda Casey describes the area as "like a doctor's waiting room"—only with far more comfortable seating.
It's a Sunday night, and the Raptors have just lost a heartbreaker to the New Orleans Pelicans, coughing up a nine-point lead late in the fourth. With 1.6 seconds remaining, DeRozan got a decent look for a game-winning triple, but the shot didn't fall. "He was fouled," his fiancée, Kiara, says moments afterward, "but [the refs] wouldn't call that." Within five minutes, the "waiting room" has filled with friends and families, who sit in near-silence. The tension is palpable; an NFL playoff game on television offers a much-needed distraction.
DeRozan is the first player in the room. He offers a few terse greetings to familiar faces, and then makes a beeline for his two-year-old daughter, Diar, and Kiara, who is celebrating her birthday (Doyle's granddaughter baked cupcakes and decorated the family room for the occasion). DeRozan picks up Diar, plants a huge kiss on her cheek and plops down in a chair, holding his daughter firmly in his lap.

Doyle has worked hundreds of games in this building, and—win or lose—these are the moments that she cherishes. "It feels so good," she says of watching the DeRozan family grow. "You just see that transformation from an athlete to a human. I'm not saying athletes aren't human, but it's just that warmth that you don't see on the court. When you watch them pick up their child, and the tenderness that accompanies that, it's very heartwarming."
Watch the Raptors this season—the most successful team in franchise history to this point—or listen to the way the players speak of one another, and it's clear that there's a strong bond amongst this group that Doyle and other long-time staffers will readily admit hasn't always existed in Raptorland. The family atmosphere created backstage and outside the arena translates onto the court, and allows the players to go out and perform. "It makes it easy," Ayahna Lowry says, "for the guys to relax and focus on basketball while they're out there. They don't have to worry about their children or significant others; they know we always have somebody to call, whether they're in town or not. We can always call Doreen."
---
Photography by: Candace Nyaomi
This story appears in the Feb.23 issue of Sportsnet magazine. Click here to subscribe. .