The Hamilton Tiger-Cats traded former NFL player and Heisman Trophy winner Johnny Manziel within the division to the Montreal Alouettes.
Going to Montreal with Manziel is starting offensive tackle Tony Washington and back up offensive lineman Landon Rice while Hamilton acquires Canadian defensive end Jamaal Westerman, wide receiver Chris Williams and two first-round picks in 2020 and 2021.
Normally when there is a big blockbuster trade in football the team who gets the quarterback and/or the best player wins the deal, like when Edmonton traded Ricky Ray to Toronto. For that reason, some have assumed that since Manziel is a QB and potentially the best player in the trade the move was short sighted by Hamilton. Quite the contrary. The Tiger-Cats won this deal and frankly it's not close. That remains the case regardless if Manziel plays well or not. In fact, they may end up winning it more so in the event Manziel does play well.
Here's why:
1. Manziel is unknown
Manziel hasn't played a regular-season game since arriving in Hamilton in May. He's largely an unknown commodity. You traded a player who has yet to play a down for two players who can play right now at a high level.
2. Montreal is desperate
Tiger-Cats president Scott Mitchell and GM Eric Tillman played this perfectly. The best time to make a trade is when the other side is desperate and you have all of the leverage. Hamilton made this trade literally and figuratively from a position of strength.
It's not a coincidence Hamilton gave Montreal permission to work Manziel out in the off-season. But remember back then Montreal still had high hopes for former NFLer Josh Freeman. After that experiment went south in the first week of training camp, Hamilton knew Montreal wanted and needed Manziel. Then in two exhibition games, including one against Montreal, Manziel looked good. He completed 21 of 31 passes for 168 yards and a touchdown with 29 yards on the ground on six attempts in what would be his only on-field action for the Ticats.
If Hamilton waited a bit longer the Als' season might have already been lost. But despite only winning one game, the Alouettes are still only one game out of a playoff spot. In a wide-open East, Montreal can still make a run for contention.
The Alouettes have used Drew Willy, Jeff Mathews and Matt Shiltz at quarterback so far this season, but Willy and Mathews are currently injured. The Als have scored a league-low 69 points this season and have been held to 10 points or under in three of those five games.
They needed to make a change before the season got ugly. Hamilton's front office knew that and waited for the exact moment Montreal was the most desperate, and thus the most motivated, to get a deal done. That time turned out to be now, with Montreal being 1-4 and looking to win games and fill their stadium. Alouettes GM Kavis Reed is making a trade to save his job which could also impact head coach Mike Sherman's future job security.
The Johnny Manziel show moves to La Belle Province
July 23 2018
3. The return was great
With no other avenue to acquire a top-level quarterback, Montreal had to pay a king's ransom for what is for all intents and purposes a developmental QB. For example, just this off-season the Argos acquired QB James Franklin and Edmonton's best third round pick in the 2018 CFL Draft in exchange for offensive lineman Mason Woods, a 2017 second-round pick. That's way less than what Montreal gave up and Franklin had experience in the league.
The Ticats benefitted from all of the hype and media Manziel brought, sold his jersey from the minute his signing was announced, paid him modestly as a back-up and then flipped him for a boatload of current and future assets.
4. Hamilton is better on both sides of the ball today
Many criticized the Ticats for largely sitting out free agency. Well they've done their free agent shopping with this trade.
Jamaal Westerman is an elite defensive end and since the Ticats already start a Canadian DE, he improves their national depth on defence. Much of Westerman's money was paid up front via signing bonus so Hamilton got a coveted free agent on sale. And he has proven to be worth the money, with 19 tackles and three sacks in five games this season. Westerman also is a former CFL and West-Division All-Star, plus the 2015 West Division's Most Outstanding Canadian, so he might be the best player on an already good defence.
Chris Williams is in the last year of his deal so the Ticats don't get tied up by lots of money after this year. Brandon Banks has had great success in June Jones' offence, and Williams was Banks in Hamilton before Banks arrived in 2013. He goes back to the place he has had his greatest CFL success in an offence that suits his strengths.
5. Hamilton dealt from a position of starting strength
The Tiger-Cats only gave up one starter in the trade, offensive lineman Tony Washington, but offensive line is a position of strength for Hamilton. The Ticats like their depth up front with Avery Jordan and Canadians Mathieu Girard, Brett Golding, Everton Williams and Kay Okafor all projecting as future starters. When you add the two starters they got now and the two first round picks they get later we could look back and say they got four starters, three of which are Canadian, in a deal for Manziel, who could be out of the league in 18 months.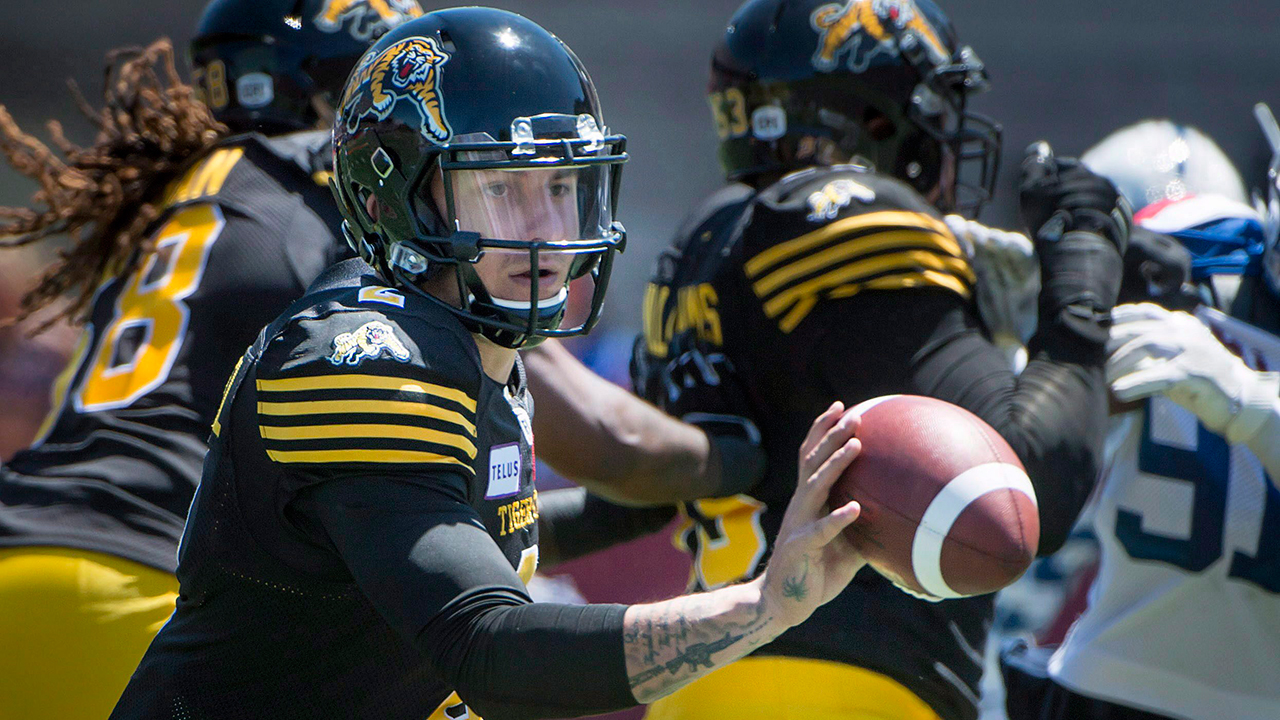 Former Hamilton Tiger-Cats quarterback Johnny Manziel tosses the ball during a pre-season game against the Montreal Alouettes. (Peter McCabe/CP)
6. Manziel now makes more money
With Manziel going to Montreal it gives him the opportunity to be the starter for the Alouettes. Head coach Mike Sherman knows Manziel well, having convinced the quarterback to switch his NCAA commitment from the University of Oregon to Texas A&M University. That move was smart as Manziel may have been beaten out at Oregon by Marcus Mariota, who also went on to win the Heisman and be drafted in the first round of the NFL draft. Ironically, in Hamilton Manziel was behind another former Oregon Duck, Jeremiah Masoli. There is no way you trade away that amount of assets and then not start him if you are Sherman and Kavis Reed.
And if he does become a regular starter, Manziel will make more money, as his contract is incentive laden.
7. Manziel is a short-term solution
The 25-year-old Manziel is only signed until the end of the 2019 season. He's been open about the fact that he'd like to use the CFL as a showcase to get back in the NFL. In fact, June Jones said Manziel should be in the NFL now. If Manziel plays well, that likely means he's heading back south, leaving his team to start from scratch at the league's most important position. If he plays poorly you have a PR nightmare on your hands and you'll still be looking for a resolution at the position. The probability that Manziel is leading a CFL team to multiple Grey Cup appearances is slim.
Masoli on the other hand is locked up for two more seasons and at this stage of his career has shown no interest to play in a league other than the CFL or in any other market other than Hamilton.
8. Knowledge is power
Manziel was in Montreal Sunday night and his first practice with the team is Monday afternoon. Montreal's next game is Thursday against the Edmonton Eskimos. The Eskimos have an elite defence led by arguably the best defensive coordinator in the league, Mike Benevides, so it doesn't make sense to rush him into action on a short week.
Nevertheless, the Alouettes are already promoting him playing in their next game.
BIG NEWS
Welcome to the Alouettes @JManziel2! Don't miss his very first game on Thursday, July 26 at McGill Stadium! https://t.co/RkeijUBtsj

Learn more about the transaction https://t.co/PqJKfVmO4T pic.twitter.com/ojRAJg7YH0

— #AlsMTL (@MTLAlouettes) July 22, 2018
His next chance to start you ask? The Alouettes and Tiger-Cats face off on Aug. 3. Nobody, including Montreal, knows the player better than the Hamilton coaching staff and they get to put together a defensive game plan for what will be his first CFL start.