The music world lost a bona fide icon on Thursday as Prince passed away at the age of 57. A legend of both the stage and studio, he'll be remembered for a nearly 40-year career that earned him the adoration and respect from fans and fellow musicians alike. Do yourself a favour and watch him steal the show alongside some fellow heavyweights at the Rock and Roll Hall of Fame:
But Prince's exploits weren't strictly reserved for the realm of music. An avid sports fan— chiefly of basketball— he made a number of notable forays into that world, and none more substantive (or impressive) than his halftime performance at Super Bowl XLI in Miami in 2007.
Met with a torrential downpour ahead of halftime—a dangerous proposition that would have many musicians, particularly guitarists, postponing or cancelling outright—Prince was asked by a halftime show producer if he wanted to continue with the show. Prince's response? "Can you make it rain harder?"
The stormy atmosphere certainly contributed to the vibe of the show, which included everything from Prince classics like 'Purple Rain' to covers of 'All Along the Watch Tower', 'Proud Mary' and more. So what separates Prince from the 49 other halftime shows we've seen? The combination of showmanship and musicianship that he'll be remembered for. The production value was, as is always the case at the Super Bowl, massive and over-the-top, but when you strip it down we were really just watching Prince on stage with his guitar and a pair of backup dancers.
His guitar wailed as he controlled it masterfully (it was probably because of the wide range of music he produced over the years, and because his 'prime' came at a time when the guitar took something of a back seat, but Prince was a wildly-overlooked and under-appreciated guitarist) and he commanded the stage like few can. I mean, just take a look for yourself.
This terrific video from the NFL does a great job of telling the story and capturing the best of his performance:
The halftime show is often a musical abomination. The massive football stadiums make it hard to dial in a clear sound, and because there are generally so many moving parts involved in the live act, lip-synching and pre-recorded backing tracks have become the norm—or at least it should (see: The Who in 2010). Leave it up to someone like Prince to buck the trend and pull off a killer show like so few could.
The 2007 halftime performance will go down as Prince's greatest moments in sports, but here are a few more for your consideration:
Prince shows up at the Warriors game
Here's Prince arriving for a Warriors-Thunder game at Oracle arena just last month— fashionably late, of course. Now did this guy know how to make an entrance or what!?
Prince: High school basketball star
Back in 2004, Charlie Murphy famously told the world about Prince's world-class basketball skills in one of the best Chappelle Show segments ever (Toure, a writer, told a similar story about being invited to Prince's house for a game of ball, and walking away in awe of the man's skills). It all seemed too good to be true. But was it? This story from Slate does a great job of outlining Prince's hoops history, including how he made the JV team at his high school in Minneanapolis as a freshman. "Prince was an excellent player," his coach said. 'Fro and all.
It should also be noted that Prince took this image of Chappell portraying him in the sketch and turned it into the cover of his 2013 single Breakfast Can Wait:
Prince and his scepter make an appearance at Roland Garros
Check out the full gallery here. Trust me.
Prince and the Toronto Raptors
Prince married a Torontonian and lived in Toronto (or, more accurately, had a home in the city's prestigious Bridal Path neighbourhood), so he spent a fair bit of time in the city. As a result, he caught a number of Raptors games:
Prince (left) watches the Toronto Raptors play the Philadelphia 76ers with an unidentified friend during NBA action in Toronto January 30, 2001. (Kevin Frayer/CP)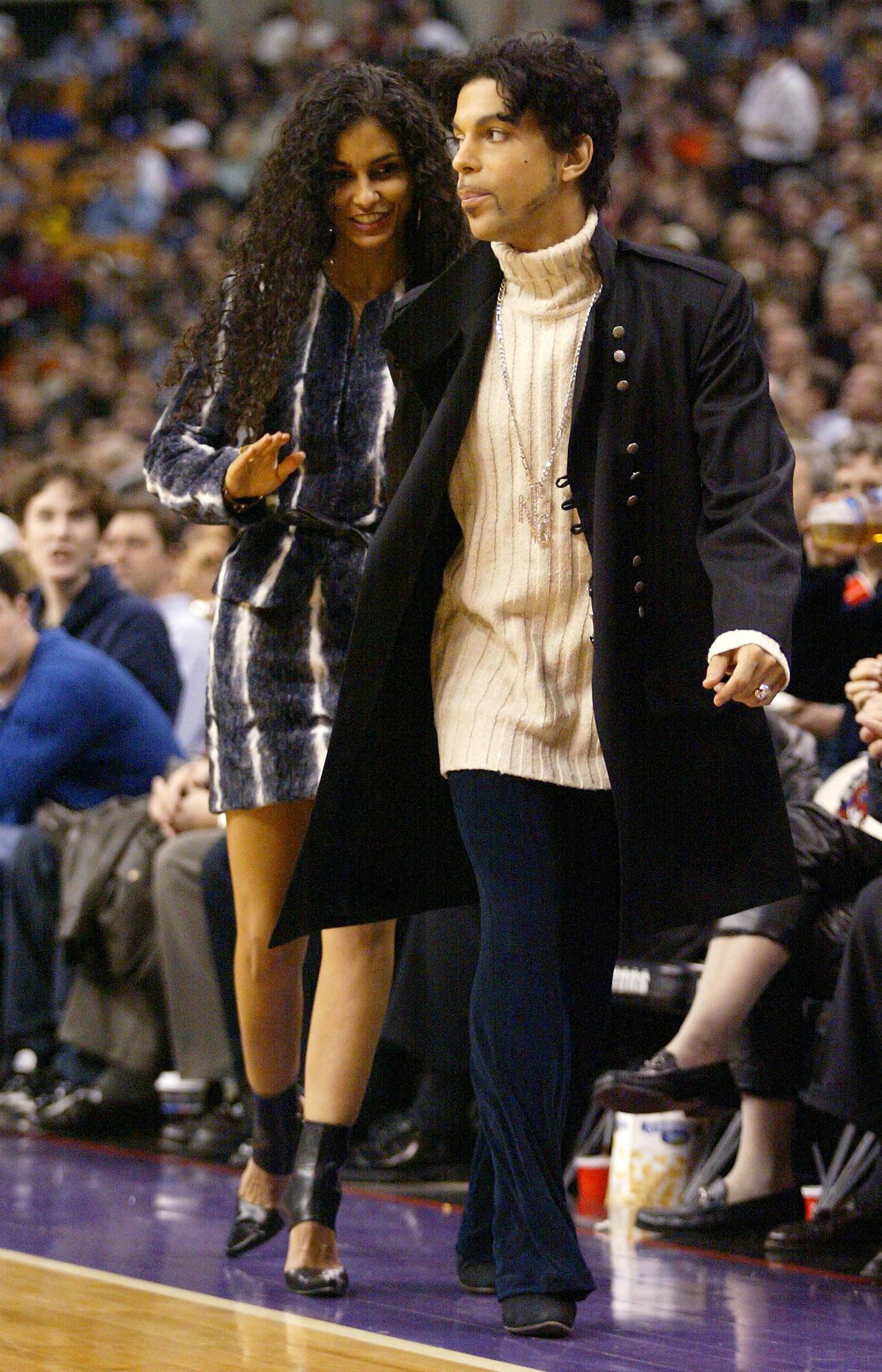 Prince and a friend walk up the court as they take in NBA action between the Toronto Raptors and the Minnesota Timberwolves in Toronto on Friday Jan. 25, 2002. (Frank Gunn/CP)