The BMO CHL/NHL Top Prospects Game comes to us from the wonderful city of Vancouver Thursday evening. The past three times the game was played in a WHL city, Don Cherry and Bobby Orr were not in attendance, but with a Pat Quinn element to this year's event, the two legends will be behind the benches once again.
One really cool element of this event is the inclusion of Sportsnet's own Todd Warriner and Colby Armstrong as assistant coaches. I think it gives the players two resources not too far removed from the game who are passionate and super excited to be involved. I have a sneaking suspicion that coaching will be part of Todd's future down the road. As for Colby, I get a sense he likes the TV gig—and why wouldn't he, he's been a great addition to our CHL broadcasts.
---

Team Cherry vs. Team Orr, Thursday on Sportsnet East, Ontario, West, and Pacific
---
While this game doesn't have the Connor McDavid/Taylor Hall/John Tavares element, it should be highly competitive for two big reasons heading towards the 2016 NHL Draft in Buffalo: Who will be the first CHL player to have his name called? And who will be the first Canadian-born player chosen? It's a foregone conclusion that Auston Matthews will go first overall, with Patrick Laine and Jesse Puljujarvi battling for Nos. 2 and 3. All three players are currently enjoying varying levels of success in Europe.
Based on NHL Central Scouting's recently released midterm scouting rankings, the top three North American-based players are Matthew Tkachuk, Jakob Chychrun and Alexander Nylander, none of whom were born in Canada. Nos. 4 thorough 7 include Julien Gauthier, Olli Juolevi, Michael McLeod and Pierre-Luc Dubois. Of that sub-group, only Gauthier and McLeod are Canadian born, as Dubois was born in Germany. So, not only are Canadian players looking to raise their draft stock, but they're also playing for national pride.
Val-d'Or's Foreur Gauthier is man-strong, has decent hands, likes to be around the net and has a scorer's shot. If he can use his excellent speed to apply himself on the forecheck and intimidate with his combination of size and speed, he has a legit shot to be the first Canadian taken in June.
---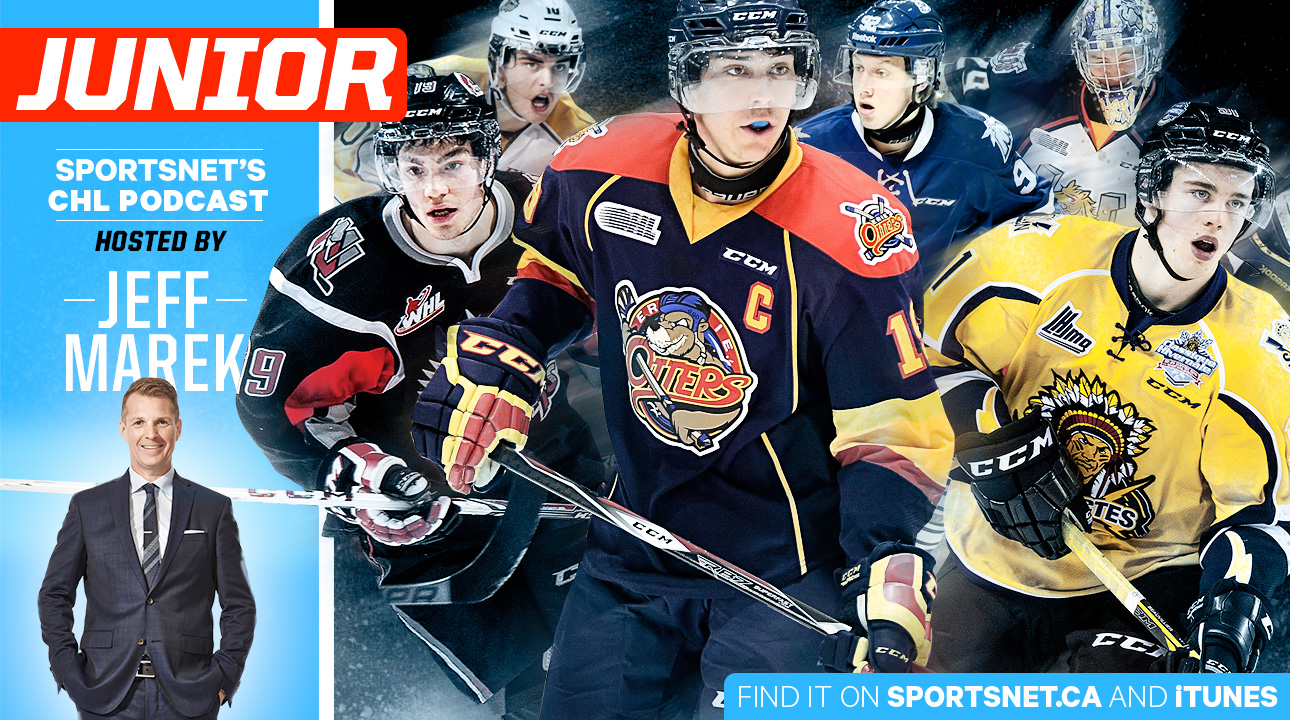 Jeff Marek hosts Sportsnet's weekly CHL podcast. Look for a Top Prospects preview pod coming Wednesday and a post-game show Thursday.
Listen now | iTunes | Podcatchers
---
As for the rest of the group, here are three players to watch from each team:
Team Orr
Carter Hart, G, Everett Silvertips Everyone has been wondering when the next Carey Price will come along. I always have a difficult time predicting goalie careers, but my money would be on Hart, who has dominated the WHL for the past year and a half.
Jake Bean, D, Calgary Hitmen Not drafted into the WHL, Bean has had a meteoric rise up the rankings thanks to his point-producing capabilities.
Alexander Nylander, F, Mississauga Steelheads Continues to lead all rookie OHL scorers. He's got NHL hands, protects the puck well and can shoot it a ton.
Team Cherry
Zach Sawchenko, G, Moose Jaw Warriors All he's ever had to do is battle for minutes and he's succeeded on each try. He's become more in control and compact with his game and he knows the magnitude of his pending 30 minutes.
Samuel Girard, D, Shawinigan Cataractes He can really scoot, finds a way to get shots through and has amazing poise with the puck. Will have plenty of inspiration looking to avenge very pedestrian nationally televised performances in the Canada-Russia Series.
Max Jones, F, London Knights Already mad from not being selected to play for Team USA at the world juniors, Jones will be looking to impart his physical style on this game—and he won't be afraid to unleash it on anyone, anytime.
The past 20 NHL Drafts, from a Canadian perspective:
1. A Canadian-born player has been selected first-overall 13 times, the last being Connor McDavid in 2015.
2. Americans and the Russians have gone first on three occasions: the last American was Patrick Kane in '07 and the last Russian Nail Yakupov in '12. The outlier is Czech-born Patrik Stefan in 1999.
3. The fewest number of Canadians taken in the top 10 is three (three times). The last of those drafts was last year, when Dylan Strome (No. 3) and Mitch Marner (No. 4) joined McDavid.
4. The most Canadians selected in the top 10 was in 2014, when Aaron Ekblad went first-overall and 13 more Canucks had their names called.
5. Only once was a Canadian-born player not taken in the top five: 1999, when Stefan went first, the Sedins went Nos. 2 and 3, Pavel Brendl of the Czech Republic went fourth and Plymouth's Tim Connolly went fifth. Canadian netminder Brian Finley of the Barrie Colts went sixth.
6. Only once was a Canadian no taken in the top two: 2007, when American James van Riemsdyk followed Patrick Kane; Kyle Turris went third.
7. Of the 40 players participating in this game, 23 of are born in Canada, eight in the United States, three in Finland, two in the Czech Republic, two in Russia, and one each from Sweden and Germany—Pierre-Luc Dubois who was born in Germany, but competes for Canada.