Whatever the reasoning, it will be a win for equality of opportunity if Canadian Hockey League follows through on lifting the so-called European goalie embargo.
All three leagues began a phase-out in 2014, limiting the annual CHL Import Draft to skaters (teams can only dress two per game). However in the past week, reports from Edmonton radio host Guy Flaming and Postmedia scribe John Matisz have made it apparent that the restriction could be removed soon. Coincidentally — or perhaps not — this surfaces just months before the USHL will essentially require its teams to carry one American goalie.
Reminds me, hearing some rumblings of import goalies coming back.

— Mark Edwards (@MarkEdwardsHP) February 17, 2018
Interesting rumours online about changes coming to the #OHL next season…

Apparently, teams will soon be allowed to carry a 20 year old goaltender without it counting against your "OA Skater" limit.

— Petes Updates (@Petes_Updates) February 18, 2018
That's definitely one argument. I'm not sure we've seen that unfold though.

Another argument would be that it opens the door for weaker goalies to step into CHL positions thus lowering the quality of CHL teams/games/interest and therefore ticket sales.

— Guy Flaming (@TPS_Guy) February 23, 2018
More on the possibility of European goalies returning to the Canadian Hockey League. Context and comment from David Branch https://t.co/3OvC7tYQmS

— John Matisz (@MatiszJohn) February 24, 2018
"We're comfortable that we now have goalie development programs that will serve in the best interest going forward of, certainly, the Canadian goalie," CHL president/OHL commissioner David Branch told Postmedia. "USA Hockey has been doing similar programs to enhance goaltender development. We feel it could be timely for us to not, in any way, remove ourselves from our commitment to enhance and improve goaltending development in North America, but just to enhance opportunities for others around the world and, in doing so, possibly improve the competition and the level of competition among the 60 teams in the CHL."
There will always be a push-pull between player development and entertainment value. The rule change went against the spirit of having a somewhat open market for recruiting and lowered the bar to play goal in the CHL.
It is hard to discern what, if anything, the Embargo Era has effected. Anecdotally, the three Canadian-born and CHL-seasoned goalies who went in the first three rounds of the 2017 NHL Draft, Michael DiPietro (No. 64 overall to Vancouver), Matthew Villalta (72nd Los Angeles) and Stuart Skinner (78th Edmonton) all became starters during their age-16 seasons. But all three could have done so on merit even if the option to have a European goaltender had existed; no one will ever know, and that might be the point.
One might expect that the first import draft to again include goalies might have a run on netminders. In a hockey industry where everyone is supposedly better at doing a cost-benefit analysis, there is a matter of convincing European goalies and their advisors that their prospects are better in North America. There is also the fact that four of the 53 goalies who have logged 1,000 minutes in the NHL this season played in the CHL as an import — Buffalo's Robin Lehner (the lone starter), Washington's Philipp Grubauer and Philadelphia's Michael Neuvirth and Petr Mrazek.
If goalies were to still count against both a three-overage and two-import limit, general managers might end up having to decide if the return is that much greater over using all the spots on skaters. That could lead to a scenario where teams self-select out of making arrangements to get an import goalie and spend their energy on Canadian and American development. In that case, the rule would have served its purpose.
Join Jeff Marek and Sam Cosentino for all the CHL and NHL prospect talk you can handle.
Fightin' words from Hunter
Modesty is one of the overrated virtues, and given that the Moose Jaw Warriors and Regina Pats played four games in 11 days, it wasn't surprising the post-game quotes were extra spicy. After WHL-leading Moose Jaw beat the MasterCard Memorial Cup-host Pats in the provincial rivals' final regular-season meeting last Saturday, Warriors coach Tim Hunter left some parting shots.
The teams split the four games, but Moose Jaw leading scorer Brayden Burke was out during both Pats wins and was scoreless during both Warriors wins. "If they're that confident that they feel they beat us two games, we won the series clearly after tonight's win," Hunter told the Regina Leader-Post. "We had already won the season series before (Saturday's) game.
"They've cobbled their team together, trying to get guys to comply and be good teammates over there," Hunter also stated. "Our team has been together for a long time. These guys grew up together and they're a very close team."
The dollar-store sports psychology — act like you belong in first overall with the most goals scored and best goal differential in the WHL — seems fairly obvious. Moose Jaw remains two points ahead of the Swift Current Broncos, with two games in hand, for top spot and home-ice advantage throughout the playoffs.
The other home-stretch drama on the Prairies is whether Regina or the Brandon Wheat Kings stay in the East Division playoff bracket — the fourth-place finisher crosses over to the Central. The latter would seem more appealing. Moose Jaw and Brandon have four games left over the final three weeks, so the Warriors, on top of getting the last word for the time being, could have some say in Regina's playoff fate as well.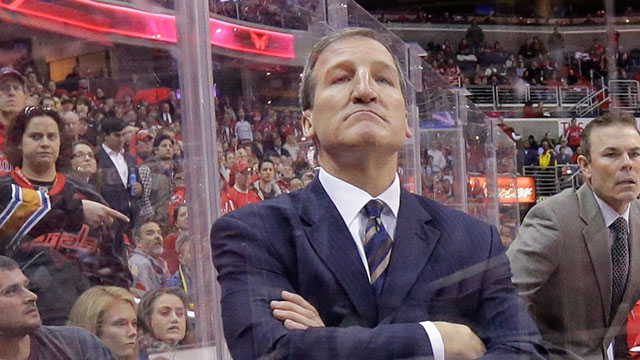 StingyBack
Rimouski Océanic goalie Colten Ellis will likely not even be the rookie of the year on his team, thanks to being a teammate of The Franchise himself, leading 2020 NHL Draft prospect Alexis Lafrenière, who is in the top five in QMJHL scoring. The Océanic and Ellis are running a tight ship in the defensive zone. Rimouski (.703 points pct., third overall) is on pace to allow only 164 goals. The last QMJHL team to allow that few was the 2009-10 Moncton Wildcats.
Ellis, of River Denys, N.S., might actually be a more viable Jacques Plante Memorial Trophy candidate than he is for rookie of the year. The late-birthday 17-year-old has put down a 2.23 average, .917 save percentage and five shutouts across 44 games in his first exposure to major junior. Samuel Harvey of Rouyn-Noranda is pacing the league at 2.08 / .930 with four shutouts in 43 games, giving the Q's cognoscenti a nice problem to have: recognize the rookie or the 19-year-old who's given four seasons to the league?
Canadian NHL Team Prospect of the Week: Luke Green, D, Sherbrooke Phoenix (QMJHL)
The 19-year-old defenceman lost five months of crucial development time after sustaining a dislocated shoulder while playing for the Winnipeg Jets prospects team in September. Green has come back at the right time for Sherbrooke (.549 points pct., 11th in the QMJHL), which has hopes of being a playoff bracket-buster. Green has four goals and 12 points during nine-game point streak since returning three weeks ago, which has helped Sherbrooke go 6-1-2.
May I present to you, another beauty from Luke Green. His 4th of the season.

10 points in 8 games with points in all 8. #NHLJets #GoJetsGo pic.twitter.com/ZIFVrilo9u

— Jets Prospects (@jets_prospects) February 24, 2018
Sherbrooke anted-up a first-rounder and two seconds on Boxing Day 2016 to get Green from the Saint John Sea Dogs. Having him play only 42 games over 14 months diminishes the return, but Green, whom the Jets chose No. 79 overall in 2016, is illustrating how it is never too late to have an impact.
New name to know: Kai Edmonds, G, Barrie Colts (OHL)
Typically, one expects a rookie backup goalie's first shutout to occur during a blowout win against a bottom-feeder. The 17-year-old Edmonds played against that stereotype and then some since his 48 saves during the Colts' 4-0 win against rival Owen Sound Attack last Sunday was the most by a Barrie goalie during a shutout in at least 20 seasons. Edmonds's effort helped OHL Central Division-leading Barrie maintain a 10-point gap on the Niagara IceDogs for a No. 2 playoff seed.
Congratulations @kai_edmonds – Well done! #RangersAlum #proud #WayToGo https://t.co/GrFb2J8pD3

— Rangers Minor Hockey (@GRMHA) February 26, 2018
#OHL BAR/OS: @OHLBarrieColts Kai Edmonds rejects all 48 that comes his way for first career shutout. It's the most saves by any Colts goaltender in a shutout in League's Internet Era passing Andrew Perugini who made 47 saves on February 1, 2007 against Oshawa.

— Geoffrey Brandow (@GeoffreyBrandow) February 26, 2018
Rate stats are often inauspicious with a first-year goaltender. The 6-foot-2 Edmonds melted 28 percentage points off his GAA and raised his save percentage by 16; he now sits at 3.20 and .892 respectively.
[related links]