His Western Hockey League career has been filled with a lot of memories and being part of an organization like the Red Deer Rebels is something that has been a blessing for Brandon Hagel.
The 20-year-old winger is thriving this season and a strong start helped the Morinville, Alta. earn an entry-level contract with the Chicago Blackhawks early last week.
Hagel was drafted by the Buffalo Sabres in 2016 but went unsigned and signed as a free agent with the Blackhawks on Oct. 30.
Hagel called signing with the Blackhawks a "dream come true."
A fast start that saw Hagel score 12 goals through his first 16 games has helped the fourth-year forward get a pro opportunity. With 28 points already with the Rebels, his new contract hasn't changed where his focus lies.
"I've had a pretty good start," Hagel said. "Right now, my focus is on Red Deer and has nothing to do with Chicago at this time. I've still got a long season ahead of me. Obviously, the start has helped me get to where I wanted to be."
Playing in Red Deer and for Brent Sutter, who serves as general manager and coach of the team he also owns, is something that Hagel appreciates.
"They treat you exactly like an NHL pro," Hagel said. "It's a lot of credit to Brent and his staff. They'll do anything for you. And the fans are incredible. You're averaging five to six thousand fans per game. You can't ask for more than that and everything they do around here is so professional. I wouldn't trade it for anything else."
"It shows you how you need to be," Hagel also said. "Brent has been through a lot. He's been in the NHL for years coaching and playing. To have a guy like that on your side is incredible because he knows how it goes and how everything is done up there. He just translates it to junior hockey. Red Deer churns out some pretty good hockey players and having that on your side, there are no words to describe it."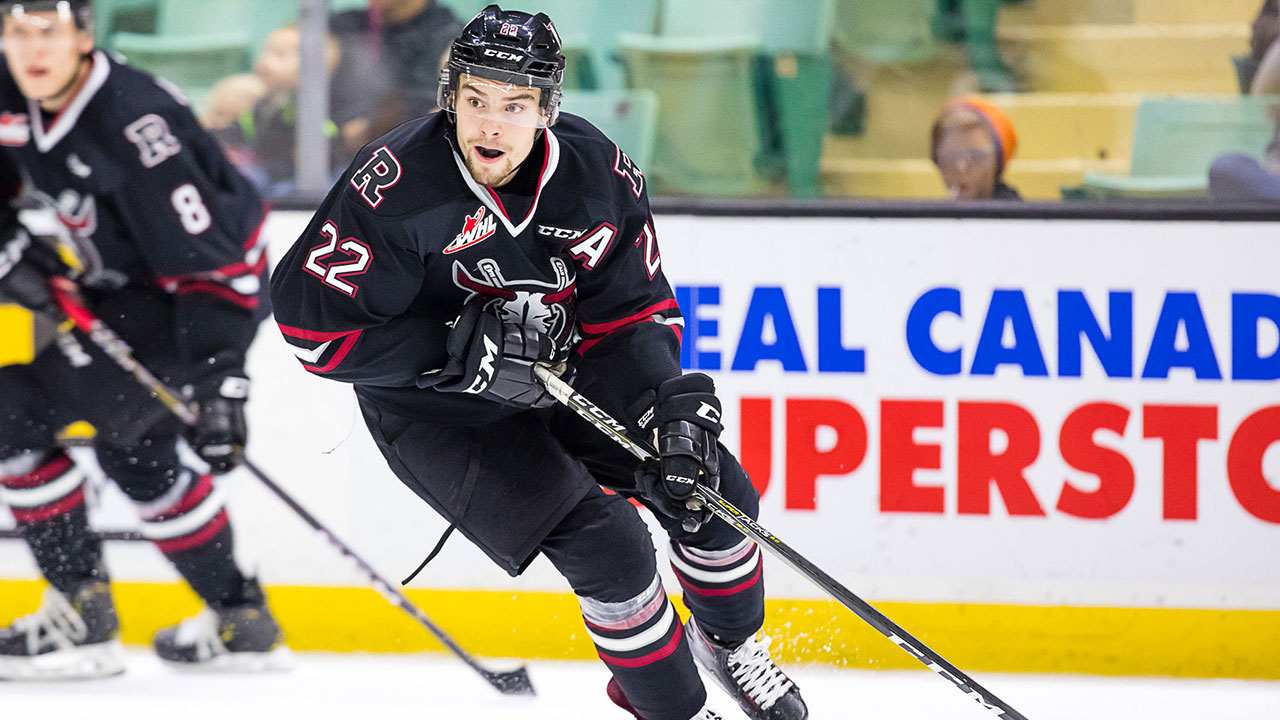 The opportunity to play in Red Deer brought a chance to play in a Memorial Cup on home ice in Red Deer in his rookie season.
"It was incredible," Hagel said. "Playing in front of a sold-out crowd that's on your side, it was awesome. There's no way to explain it. I wish every kid could experience it. It's a once-in-a-lifetime thing."
Hagel's game has taken strides since he joined the Rebels in 2015 and calls his work ethic something he's improved the most.
"Having Brent as a coach, he pushes you every night. You have to get into the hard areas and the dirty areas for success to come," Hagel said. "That's what has sunk in is that for success to come, those things have to happen first. When those happen, success is going to come."
The new season has also brought his game to another level in certain aspects.
"My vision and my skating has gotten better throughout the years," Hagel said. "The way I see the ice and my skating ability has gone through the roof this year. I'm excited about that."
Like many junior players, Hagel will look to get stronger as the season moves on.
"There's always room for improvement," Hagel said. "I need to get stronger but that will come. As I get stronger, my game is going to improve in all different areas."
[relatedlinks]
VILLALTA ON THE SIDELINES
Soo Greyhounds goaltender Matthew Villalta suffered a freak injury prior to the Greyhounds' game on Sunday afternoon against the Erie Otters.
Scheduled to start, Villalta was cut on the leg by the skate of a linesman during warmup and was taken to hospital. Greyhounds coach John Dean said following the game that details at the time were limited.
The veteran netminder, who is a draft pick of the Los Angeles Kings, is expected to be out for the time being.
In 13 games this season, Villalta has nine wins and a 2.76 goals-against average.
Considered among the top goaltenders in the league, Villalta joined the Greyhounds as a free agent in 2016.
LAFRENIERE HEATING UP
Alexis Lafreniere is continuing to turn heads.
Not eligible for the NHL Draft until 2020, the Rimouski Oceanic forward doubled his goal output this season in his last three games.
A hat trick on Saturday night against Shawinigan gave the 17-year-old 12 goals this season.
Now leading the Quebec League in scoring, Lafreniere has nine points in his last three games and has been held off the scoresheet just four times in 19 contests.
Lafreniere has 10 multi-point games, including seven in his last nine games.