A kid with an NHL pedigree and no shortage of skill, Matthew Strome of the Hamilton Bulldogs is one of the more intriguing draft-eligibles this season.
Not that he's a find, a player who appeared out of nowhere. Everyone knew he was in the pipeline. Not that he has taken a big step up from one year to the next. He is the same sort of player in his second season in major junior as he was in his first and pretty much what you'd have expected when he went eighth overall in the OHL's 2015 draft.
Matthew is the youngest of the three Strome brothers and the other two are daunting acts to follow. The oldest is Ryan who was selected fifth overall in the 2011 NHL draft by the New York Islanders. Currently he's floating between the third and fourth lines behind John Tavares and Brock Nelson. Many thought he'd be an established second-line centre, a consistent 20-goal producer but it hasn't happened yet—not that it won't, just that it's due.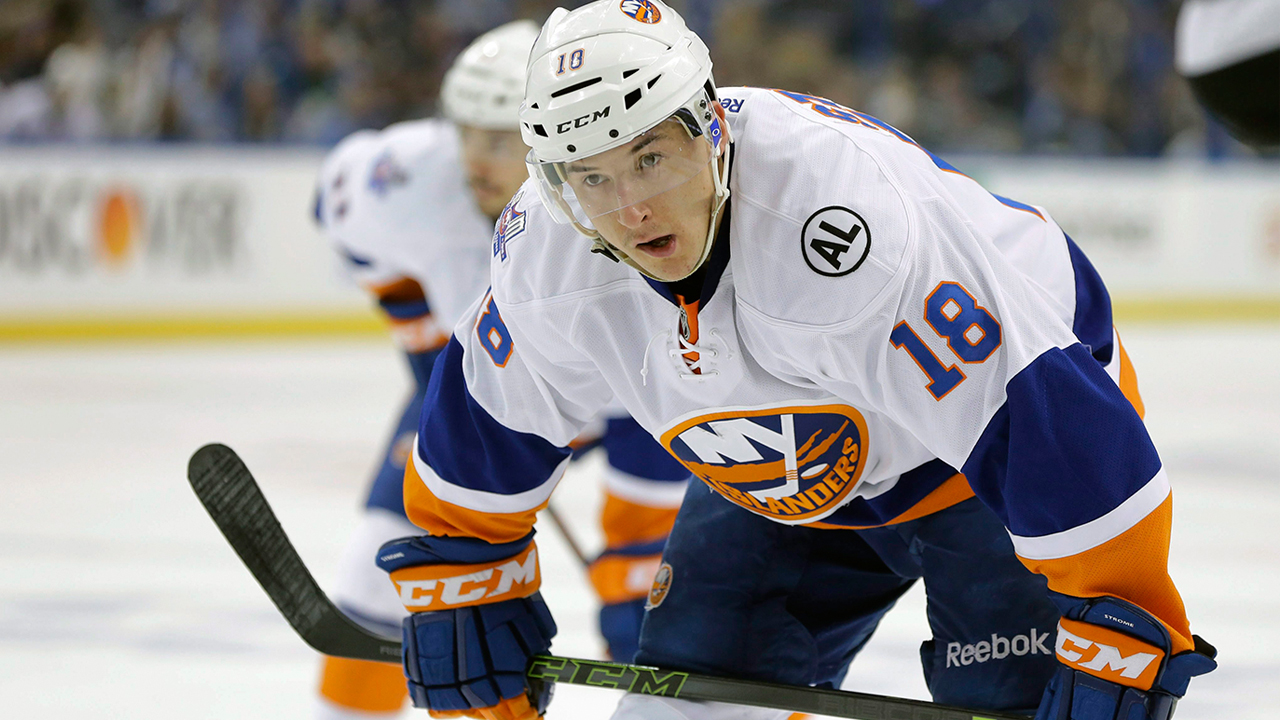 Ryan Strome has 34 goals and 101 points in 198 games with the New York Islanders. (Chris O'Meara/AP)
The middle brother Dylan, also a centre, was Arizona's first-rounder, third overall, in 2015. Dylan had a memorable run in junior with the Erie Otters—129 points in his NHL draft year on a team with Connor McDavid. The next season, Strome didn't fall off, as many thought he might—111 points in 12 fewer games with time off for the world juniors. These days he's with the Coyotes but struggling to get in the lineup, one of those prospects in that most unfortunate place: too good for major junior, not quite ready for the NHL and not eligible for the AHL.
That's getting up there with the Staal Bros. as far as NHL pedigrees go. And even before he played a junior game, Matthew showed up as a supporting player in what might be the highest-profile neighbourhood street-hockey game.
If Matthew resembles either of his brothers as a player it would be Dylan, but that's really just on appearances—they're both tall, lanky kids, each at least 6-foot-3 and, at 205 or so, Matthew has at least 10 lb. and maybe more on Dylan at the same age. Really though, the resemblances end there, and in family photos.


Not a scout? No worries. Jeff Marek's newest podcast is all you need.
Listen now | iTunes | Podcatchers
Unlike his brothers, Matthew is a left winger—someone had to play down one side of the street and so it would be the youngest getting bumped. And unlike his brothers, Matthew has a perceived hole in his game that will bump him out of the top 10 in his NHL Draft year, maybe all the way down to the lower reaches of the first round.
The knock is his skating.
"I just don't know at this point," one Ontario-based NHL scout says. "Seeing him three times [this season], if he's a prospect at the next level for me or just a really good junior whose skating keeps him out of the league. "His brother [Dylan] wasn't a great skater in his draft year, but you had a sense that it was just a matter of strength—if he put the work in, then it was going to improve, which is exactly what happened in the season after his draft year, a big step up.
"Skating didn't become a strength [for Dylan], but it stopped being a real issue. But [Matthew] has a whole other problem. Technically it's sort of painful to watch. He has a short, choppy stride. It's not clear how much you can improve it with added strength and physical maturity."


Look for Sportsnet's 2017 NHL Draft rankings all season long.
It doesn't seem a question of whether his skating will cause him to fall in the draft, only a matter of how far. When asked, scouts gave what is the polite answer: Someone is bound to take him in the first, just not us.
Said one scout who had seen him at the Ivan Hlinka and three times during the OHL season: "I didn't come back from the Hlinka series with Strome as a real priority for me. The way the game is going, I just don't see where he'd fit [on our roster]. We have [a forward] who is not fast, who is below what you'd say is the league average as a skater and he gets by with superior hockey sense and skill, which is what you'd have to hope [Strome] would bring to a team. But I don't know that you can afford two players like that in your lineup.
"It's like in the clutch-and-grab days, you'd see a small player and say, 'Okay, nice player but we already have a small guy.' You only get to have one or it hurts you. Now, that's gone by the wayside with size, but you have the same philosophy with skating—can we fit him into our lineup without losing so much pace? On what I've seen, I'd have to say no."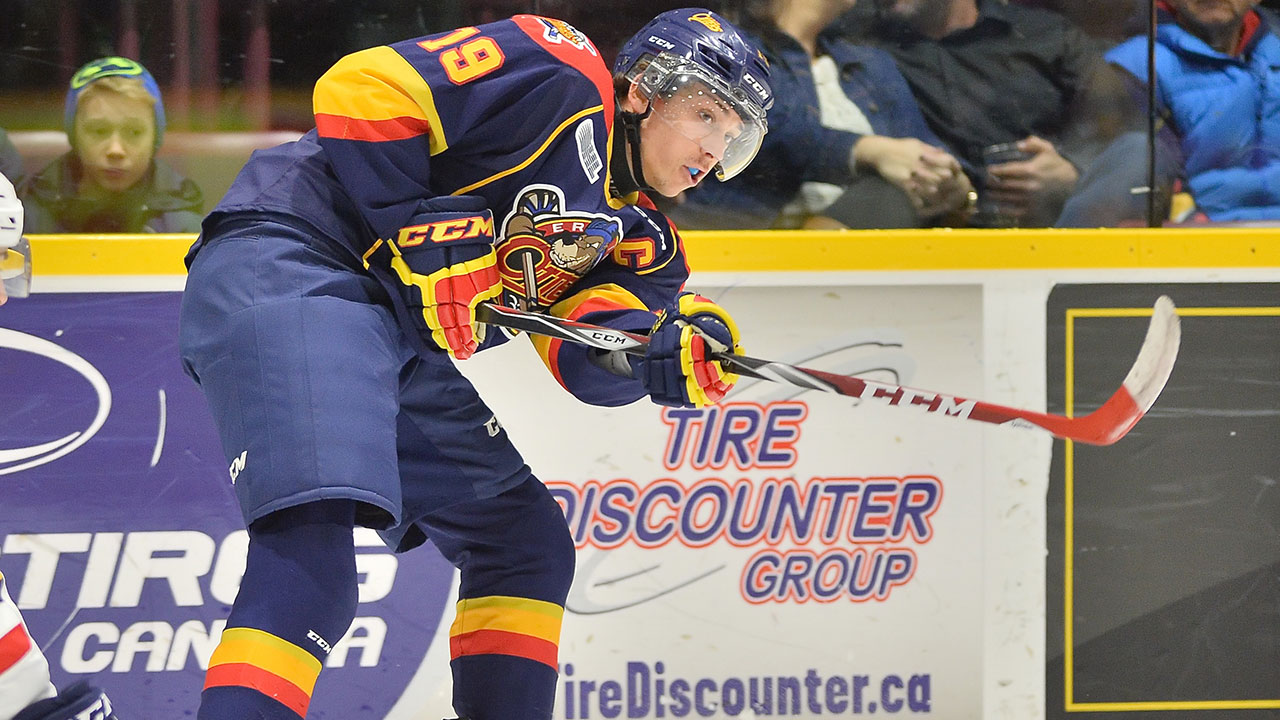 Dylan Strome averaged 1.52 points per game in three seasons with the Erie Otters. (Terry Wilson/OHL Images)
A third NHL scout backed up the other two in his fraternity. "I'm sure that someone will look at him with a late first, maybe a team with two first-rounders uses the second on him. He has the production and the success at this level and his brothers figured it out. You know based on [family history] that if he doesn't make it it won't be because he didn't put the work in.
"My issue though is I just can't see him being able to keep up… with the other guys on his line and not being able to keep up with the defensive responsibilities going in the other direction. You have to look at your lineup—do you project him as a second-liner on your team? If you take him with a first-rounder then that has to be your projection on upside, because I can't see him being a third-line player in the league—as smart as he is, he can't out-think the other guy when the other guy has the puck."