KITCHENER, ONT. – At the start of the season, Jeremy Bracco got some sound advice from fellow Toronto Maple Leafs draft pick, Mitch Marner.
It went a little bit like this: "He told me to do what he did last year in [the OHL]," Bracco says, grinning, after a morning skate with the Kitchener Rangers. "I was like, 'OK, I'll work on it.'"
In other words, the fourth overall pick in 2015 told Bracco to light it up. Marner won the Memorial Cup and the CHL Player of the Year award last season with the London Knights, and he averaged more than two points per game, with 39 goals and 77 assists.


Follow Jeff Marek's 2017 NHL Draft Rankings all season.
Lofty standards, sure, but it seems Bracco, 19, is taking his buddy's advice seriously.
The right-winger, selected 61st overall last year, had points in 26 straight games to open his sophomore season in the OHL, a streak that ended December 11 (thanks to the Knights.) In 10 of 27 games this season, Bracco has recorded three points or more, including a five-point night against Guelph back in October.
The kid from Long Island, NY, is now third overall in the OHL in scoring through 27 games, with 17 goals and 34 assists, and he's expected to be a key player on Team USA at the World Junior Championship later this month, where he'll be playing in front of a crowd keen to see one of its top prospects in action.
"It's in Toronto, our bracket," Bracco says. "Hopefully that'll be something I get to experience."
It's elite playmaking that he's known for. Bracco—pronounced 'Brah-co'—isn't big, at five-foot-nine and 190 pounds, (the criticism about his size, he says, "gets a little tired") but Rangers head coach Jay McKee says he makes up for his smaller stature.
"His vision is as good as anyone's at this level," McKee says. And that's what you'll notice on the game sheet most nights, as he combines with linemate Adam Mascherin, a Florida Panthers prospect.
What you won't see on the game sheet, though, is what's unique about Bracco, and that's his skating stride. Watch him rip around the ice at top speed with his skates positioned at 10 and 2 (picture a clock) and a puck on his stick and you'll see what McKee means when he says Bracco catches opponents off guard.


Not a scout? No worries. Jeff Marek's newest podcast is all you need.
Listen now | iTunes | Podcatchers
"It's one thing to go 10 and 2 and try to use your inside edges, but he does it on the rush," the coach says. "Somehow, he seems to pick up speed, which is pretty deceiving.
"It really surprises a lot of defencemen, when he's going in a straight line and his strides go to 10 and 2 and he gets faster. That's something defencemen rarely see, if ever."
Bracco thinks his hips might be double-jointed, but he's not sure. "I couldn't even tell you," he says, after a quick demonstration on the ice—the sound of his edges resonates throughout the Aud while he tears around. "Somehow, this works for me."
Bracco, who left just five games into his freshman season with Boston College last year to play in the OHL, is at his best when he has the puck on his stick, and he's able to create.
"The thing that I'm trying to work on this year is playing a better 200-foot game, committing myself to the D-zone," he says. "I think that's a major thing for me to take the step and be an elite player in the NHL."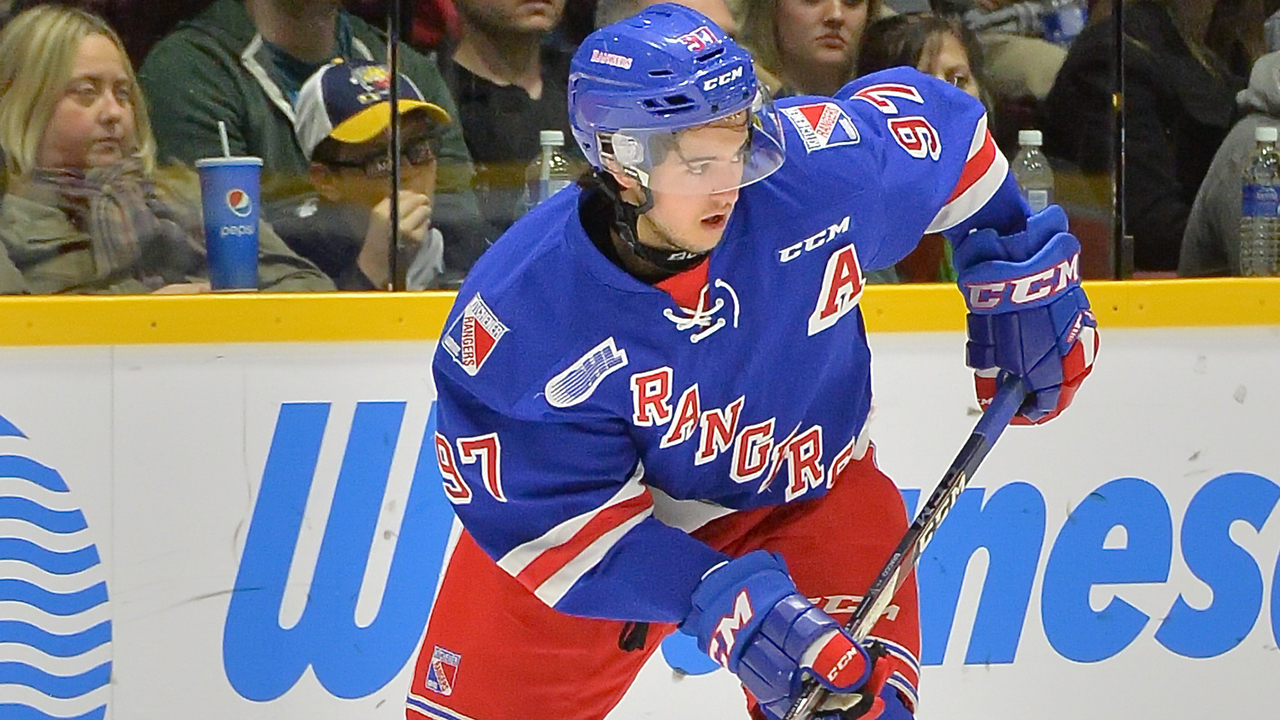 Bracco's father had him in skates as soon as he could walk, and he grew up playing with fellow NHL draft picks including Charlie McAvoy (Boston) and Adam Fox (Calgary). They all lived within 10 minutes of one another, and played their minor hockey with the Long Island Rebels.
"Our team was unbelievable," Bracco says. "We would run through everyone. We won the Bell [Capital] Cup. We won every minor tournament you could think of.
"There was a year we were in Peewee, we went 79-0."
Bracco, whose family owns a seafood restaurant in Freeport, NY (it's called Bracco's), grew up a big Islanders fan, and the family had season's tickets. His allegiances are different today, though.
"I watch all the Leafs games. That's the politically correct answer, right?" he says, grinning.
Since he was drafted two summers ago, Bracco may not have his driver's licence yet, but he has learned a lot about what it is to be a prospect of the Maple Leafs, especially after he worked out and lived in Toronto this past summer, and attended development camp.
"There's 50 cameras staying for practice and you're like, 'Why are they here on a Tuesday at 9 a.m.?'" he says. "The first time I was out for dinner, me and Mitch [Marner], people are coming up asking for pictures. It's surreal… I'm like, 'How do you know who I am?'"
The chance to play in Toronto again for the world juniors is something Bracco, who won gold with Team USA as a U18, is looking forward to. And seeing friends like Marner and Auston Matthews playing for the big club, he says, gives him confidence that he'll join them there in the future.
"They're both having great years in the NHL and that's something that I aspire to do, and I think I can do," Bracco says. "It's pretty special to watch guys you grew up playing with playing in the NHL now, and you know you're pretty close."