Let's start with the big news.
Hockey Canada announced this week that potential first-overall pick Nolan Patrick of the Brandon Wheat Kings has not been medically cleared and will not play for Team Canada at the upcoming World Junior Hockey Championships in Toronto and Montreal.
Patrick has only played six games this season, picking up nine points. Brandon is not saying what the injury is specifically, calling it "upper body." Patrick had sports hernia surgery in the summer and many wonder if this setback is related.
Nonetheless, for the purposes of the 2017 NHL Draft, one would naturally ask if this would bump Patrick out of the top spot in the rankings?
The short answer: no.


Not a scout? No worries. Jeff Marek's newest podcast is all you need.
Listen now | iTunes | Podcatchers
I submit that even if Patrick doesn't play another game this season—and as long as the injury isn't career threatening—he will still go first overall in Chicago next June. When you look at his body of working back to his rookie year when he popped 30 goals as a 16-year old, there's enough evidence to suggest he's still the cream of the crop this season.
We've seen players lose almost entire seasons in their draft years and still get selected high. In 2012 Alex Galchenyuk played only two regular season games, six more in the playoffs (a knee injury the culprit) and still went third overall to Montreal. Some thought he should have gone first, and a case can be made he should have. Two picks later at the same draft Toronto picked Morgan Reilly, who only managed to suit up for 18 regular-season contests and five more in the post-season due to a knee injury. No issues. No cause for pause. Both were good picks regardless of what the player achieved that season.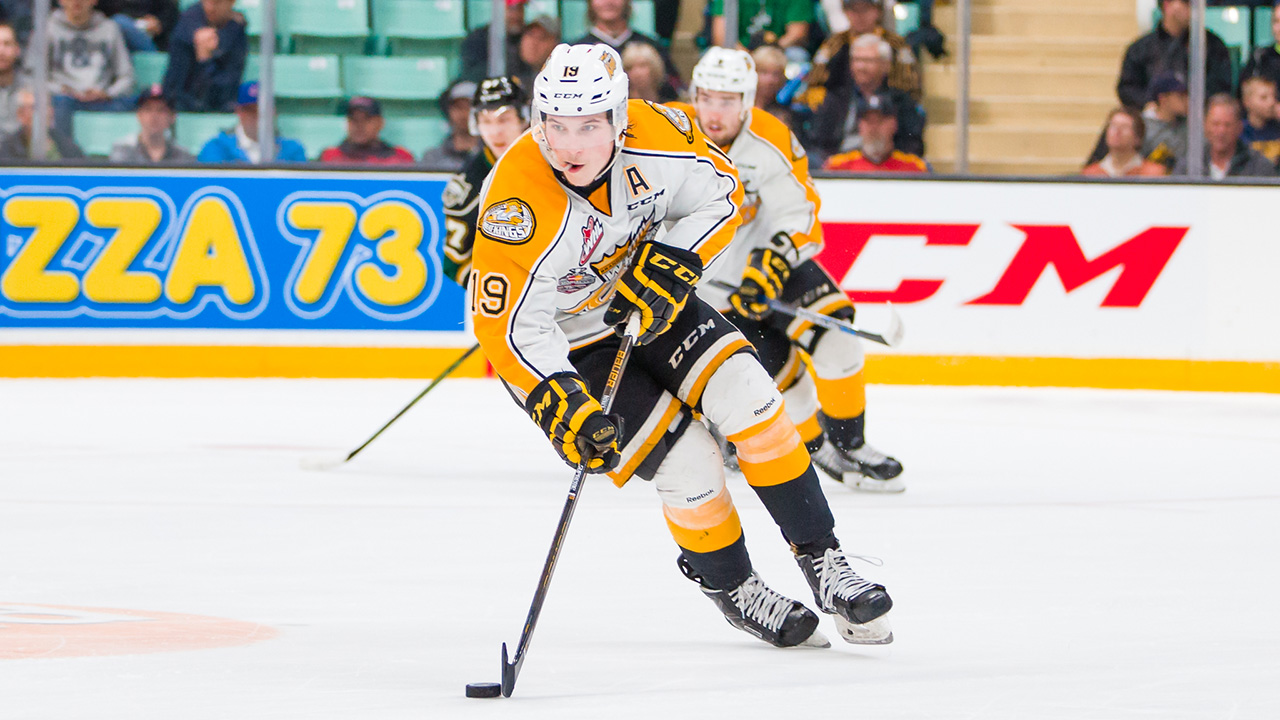 Scout's Take: What exactly is happening with Nolan Patrick? (Rob Wallator/CHL Images)
The flip side of this is, of course, Gord Kluzak, who played only 38 games in his draft season and still went No. 1 in 1982. Kluzak, a strapping defenceman who played for the Billings Bighorns of the Western League, tore ligaments in his left knee in a game against the Medicine Hat Tigers. That led to the first of 10 knee surgeries, which ultimately ended his career.
In speaking with scouts of both the NHL and independent variety, it doesn't sound like Patrick's injury and missing the world juniors will adversely impact his draft stock.
I texted a few NHL scouts whose opinion I value highly with this simple question: "will Patrick's omission from the WJC and injury bump him out of the first-overall draft slot?"
Here's a sample of what came back:
"At this point I would say no…it's not a great year at the top of the draft"
"At present time, for me, as long as the injury won't be a long term issue. I think when he comes back and starts playing he will remain the top guy. My opinion based on what is available this year."
"Patrick's injury and omission shouldn't ultimately hurt his draft position. Teams had plenty of opportunities to view him and evaluate him last year and a few games this year and his play was impressive. If the injuries and missed games persist into late January/February, then there will be some questions, but for now it's his spot to lose."
But he's not the only high-end draft eligible prospect who we won't see suiting up for his native country at the WJC.
Canada chose to leave both Gabriel Vilardi (Windsor) and Owen Tippett (Mississauga) at home, Sweden did not invite the highly ranked Timothy Liljegren of Rogle (who just came back after missing the entire start of the season with mono) along with fellow defenceman Erik Brannstrom (HV71). Russia is not bringing along Klim Kostin (Dynamo) and Nikita Popugaev (Moose Jaw)
Other notes
Nico Hischier
The Halifax Mooseheads centre moves up to the third spot on our list as his stock continues to rise through the season. While there were early concerns about his durability, he's been whacked, slashed and hit, and still produces game in and game out (as of this writing he sits second in QMJHL scoring with 47 points in 29 games). Added bonus: he's doing this on one of the youngest teams in the entire CHL and doesn't have the supporting cast that other elite Mooseheads skaters like Nathan MacKinnon, Jonathan Drouin anf Nicolaj Ehlers had.
Goalies
We have Jake Oettinger of Boston University ranked as the No. 1 goaltender. Most NHL scouts we spoke to who played goal are mostly be on the same page about Oettinger being the top dog.
Others netminders to keep an eye on include Maxim Zhukov of the USHL's Green Bay Gamblers, Ukko-Pekka Luukkonen of (HPK U20), Jordan Hollett (Regina Pats), Stuart Skinner (Lethbridge Hurricanes), Michael Dipietro (Windsor Spitfires) and Ian Scott (Prince Albert Raiders)
Sweden
It's going to be interesting to see who the cuts for Sweden are at the WJC specifically on the blueline where it appears that 16-year-old phenom, and projected first-overall pick in 2018, Rasmus Dahlin may just make the team. He'll compete with David Bernhardt (PHI), Jacob Moverare (L.A.), and Kristoffer Gunnarson for a spot as Gabriel Carlsson (CBJ), Lucas Carlsson (CHI), Jacob Larsson (ANA) and Oliver Kylington (CGY) seem to be locks.
Speaking of Dahlin, here's a taste.
Every coach who's had him raves about his skill with the puck and ability to control play. One Swedish scout I spoke to recently told me the only other player he's ever seen play better than Dahlin as a 16-year old was Victor Hedman, adding that not even Erik Karlsson was at Dahlin's level at the same age.
Here are this month's draft rankings, which again, are based on a number of factors: personal viewings along with conversations with scouts, GMs, coaches and analysts who cover prospects globally. For more context on risers and fallers, you can also find November's rankings here.

1. (1) Nolan Patrick, C, Brandon (WHL)

2. (2) Timothy Liljegren, D, Rogle (SHL)

3. (6) Nico Hischier, C, Halifax (QMJHL)

4. (4) Eeli Tolvanen, LW, Sioux City (USHL)

5. (3) Gabriel Vilardi, C, Windsor (OHL)

6. (8) Klim Kostin, C, Moscow Dynamo (KHL)

7. (9) Casey Mittelstadt, C, Eden Prarie (Minnesota HS)

8. (13) Kristian Vesalainen, RW, Frolunda (SHL)

9. (5) Owen Tippett, RW, Mississauga (OHL)

10. (12) Michael Rasmussen, C, Tri-City (WHL)

11. (17) Juuso Valimaki, D, Tri-City (WHL)

12. (7) Maxime Comtois, LW, Victoriaville (QMJHL)

13. (23) Urho Vaakanainen, D, JYP (Liiga)

14. (15) Erik Brannstrom, D, HV71 U-20 (SuperElit)

15. (10) Nic Hague, D, Mississauga, (OHL)

16. (14) Kailer Yamamoto, RW, Spokane (WHL)

17. (16) Martin Necas, C, HC Kometa Brno (Extraliga)

18. (19) Elias Pettersson, C, Timra (Allsvenskan)

19. (20) Shane Bowers, C, Waterloo (USHL)

20. (22) Nikita Popugaev, LW, Moose Jaw (WHL)

21. (18) Ryan Poehling, C, St. Cloud State (NCAA)

22. (11) Cal Foote, D, Kelowna (WHL)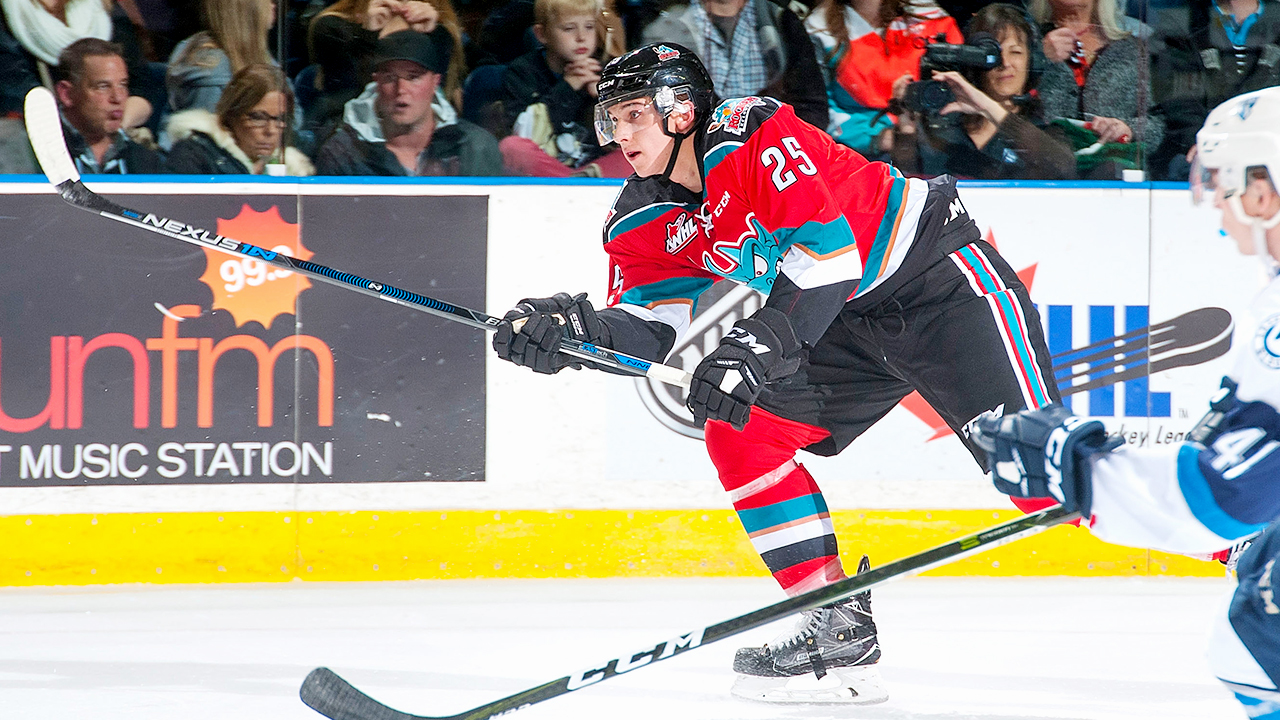 One of two sons of Adam Foote on the Rockets, Cal is a big-bodied blueliner making scout's take notice. (Marissa Baecker/Getty Images)

23. (21) Lias Andersson, C, HV71 (SHL)

24. (NR) Miro Heiskanen, D, HIFK (Liiga)

25. (NR) Cody Glass, C, Portland (WHL)

26. (NR) Nick Suzuki, C, Owen Sound (OHL)

27. (26) Robin Salo, D, Vaasan Sport (Liiga)

28. (27) Matthew Strome, LW, Hamilton (OHL)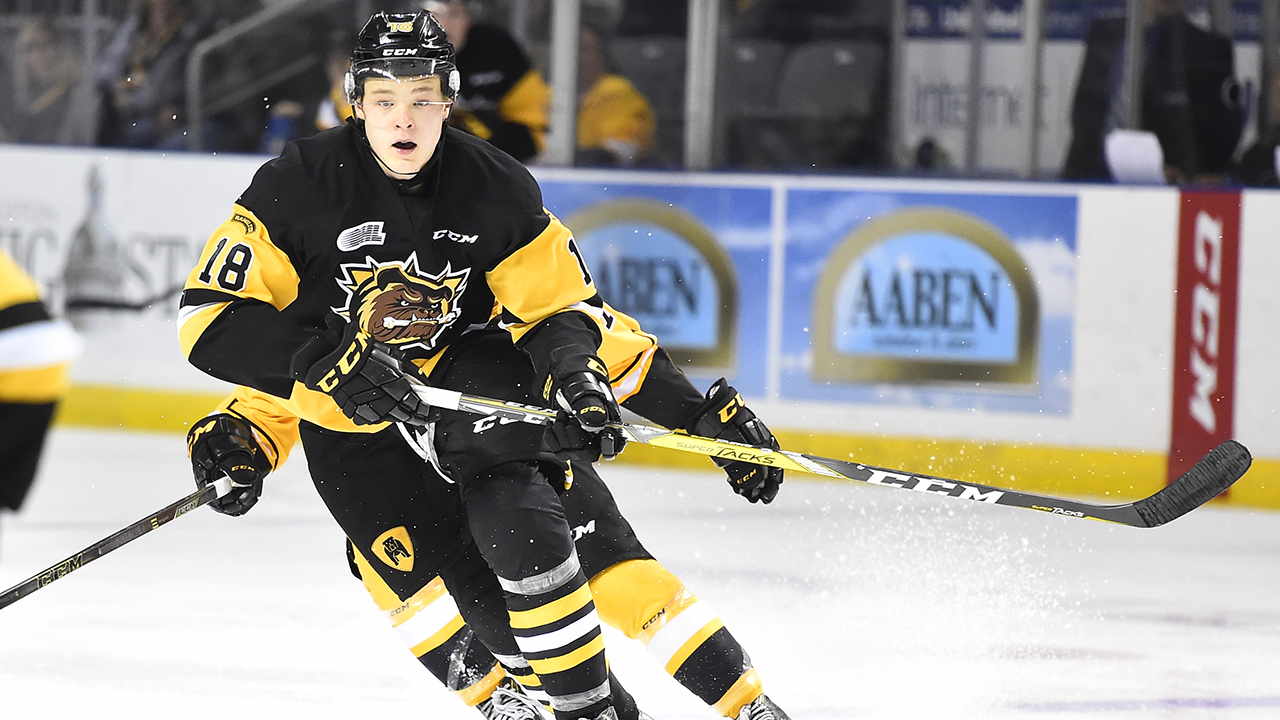 Scout's Take: The trouble with Matthew Strome (Aaron Bell/OHL Images)

29. (25) Antoine Morand, C, Acadie-Bathurst (QMJHL)

30. (NR) Marcus Davidsson, C, Djurgardens J20 (SuperElite)

31. (31) Jake Oettinger, G, Boston University (NCAA)