RED DEER – If you had sat Mitch Marner down ahead of the MasterCard Memorial Cup and told him he'd be averaging more than four points per game heading into the final, the 19-year-old would have thought you were pulling his leg.
"I would have said, 'That's funny. Good joke,'" Marner says, grinning, his brown hair still wet after an off-day skate. "But with these linemates I'm playing with, anything's possible. These two have been amazing all year long."
These two, being centreman Christian Dvorak and winger Matthew Tkachuk, son of Keith. And these three London Knights have been the talk of the tournament so far, and for good reason: Marner, the Leafs' fourth-overall pick last year, has a tournament-leading 13 points. Dvorak's six goals led all players through the round-robin, and Tkachuk's six points ranked third overall after three games, behind only—you guessed it—his linemates.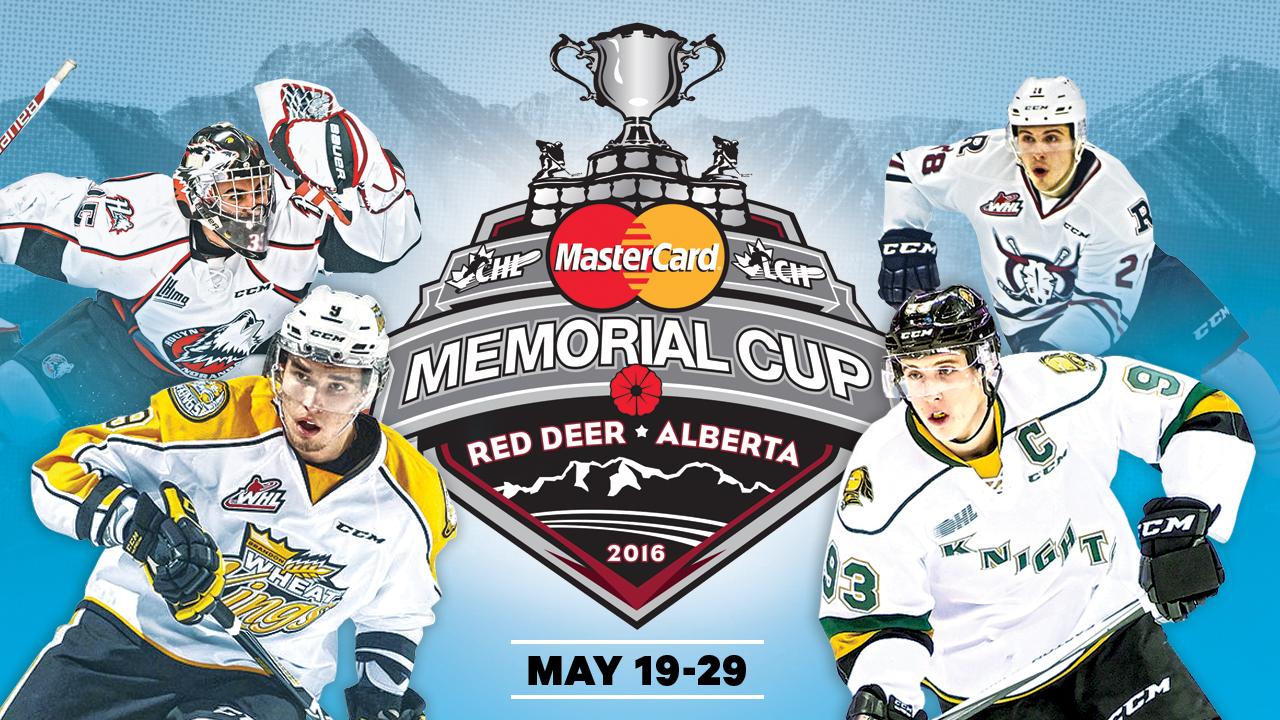 All the news, analysis, highlights and stats, live from Red Deer.
Ask any member of the top line in junior hockey to name the best goal they've scored as a unit this season and you'll hear a bit of a chuckle and see raised eyebrows.
"It's hard to just name one really, really nice one that sticks out, 'cause there's been so many nice plays," Tkachuk says. "And there's been a lot of nice goals."
A total of 121, to be exact, in the regular season alone.
After thinking it over a for a bit, Tkachuk settles on a tic-tack-toe goal that's happened "a couple times this season," including one in the playoffs against Niagara and a couple times against Erie.
Tkachuk, the No. 2-rated North American prospect ahead of the June draft according to NHL Central Scouting, joined the line this year. "It was a feeling out process for myself for a couple games just to get used to them, 'cause they played together for the last couple years," he says. "Once one game or two games went by, it started to click."
And it really clicked.
Sunday will be the last time we see these kids together on a line. Dvorak is an Arizona prospect set to graduate to the pros and Marner could crack the Maple Leafs next season after winning the OHL Player of the Year award and looking downright dominant all season long.
Marner, 19, says he's never played on a line that's had this type of chemistry, in part because each player plays a different role.
"Devo's a great two-way guy. He really starts the play down low and can get it out of our zone and make plays coming out to me and Chuckie. He's also a guy that can really put the puck in the net, and make great passes," Marner says.
"Chuckie's a guy that likes to get under people's skin and really run the nerves of the other team's best players. He can also control the puck really well down low in their zone and cycle. I think a lot of people really doubt his defensive game, but watching him the last year, he's gotten a lot better at that. He's blocking shots now, showing how much he really wants to win."
And how about Marner, on Marner?
"I don't know," he says. "Coming down the ice I probably look for passes and try and be quick with the puck and quick on my feet."
Dvorak has a little bit to add to that: "Mitch could make a pass through anything. He finds us. He knows where we are at all times, even if you think he doesn't see you. He's obviously a special player."
And one that could be playing his last game as a junior on Sunday. Marner won't say if he thinks the afternoon final will be his Junior Swan Song, but there's no question he hopes it is.
"It's not really up to me," he says. "I'll think about the future in the summer and try to do whatever it takes to make the big team next year. If Sunday is my last game, I want to make sure it's a game I remember for the rest of my life."
Dale Hunter laughs when asked if he expected his captain to be averaging 4.3 points per game at the Memorial Cup.
"I don't know if we expect it," Hunter says, grinning, "but we know he has the ability to do it."
The question is, can Marner keep up that torrid pace on Sunday, and put up a minimum of four more points in the final?
"I'm just going to do whatever it takes to help my team win," he says. "I'm gonna make sure I leave everything out on the ice."