HALIFAX – Going to Halifax Mooseheads games growing up was one of Justin Barron's favourite things to do.
So when the Quebec Major Junior Hockey League franchise selected him 13th overall in the 2017 draft, going to prep school like his older brother Morgan was no longer an option.
"Getting picked by my hometown here in Halifax, I just felt it was the best fit for me personally to live at home and being with such a great organization," Barron said at the Memorial Cup.
The defenceman has developed into a top name to watch for at the 2020 NHL Draft, which has already been highlighted by CHL player of the year Alexis Lafreniere of the Rimouski Oceanic.
Justin's brother, Morgan Barron, 20, chose to forgo playing in the QMJHL and instead attend St. Andrew's College in Aurora, Ont. His play at the all-boys prep school drew the attention of the New York Rangers, who selected him in the sixth round of the 2017 draft.
The elder Barron had 34 points for Cornell University this past season to rank ninth in the Eastern College Athletic Conference and earned a spot on the all-ECAC first team.
Justin said both major junior and prep schools are great routes to take, it just depends on the player. Suiting up for the Mooseheads was a dream of his growing up, so for the younger Barron major junior was the more comfortable route to take.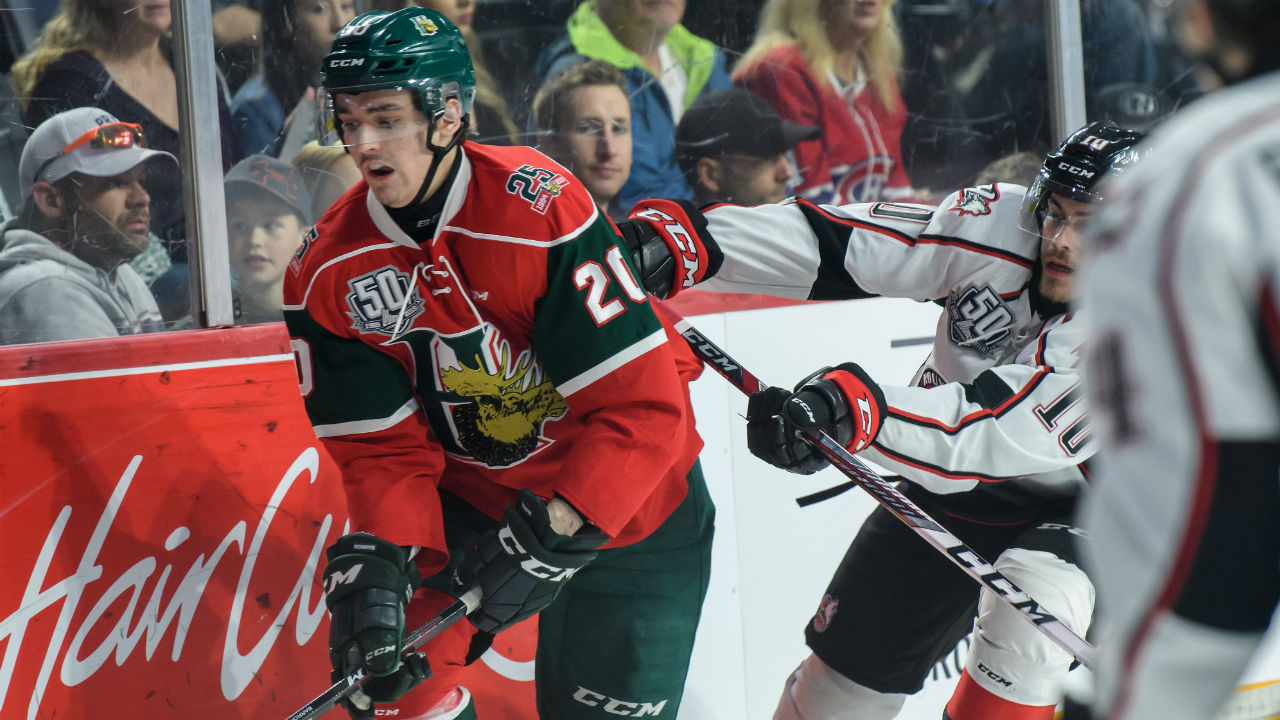 Although he hasn't seen any of his brother's college games, Justin said Morgan has been a great role model for him as he too chases NHL aspirations.
"He's been a great inspiration showing people how hard work pays off and he's been a determined player his whole life," Justin Barron said.
Injuries to the Mooseheads defence this past season pushed Barron into an increased role and he even saw time on the power play and penalty kill. He had nine goals and 32 assists in 68 games through his second full QMJHL season and added 13 points in 23 post-season games.
During the Memorial Cup, which Halifax hosted, Barron had one assist in four games and was a plus-2 as the Mooseheads fell to the QMJHL champion Rouyn-Noranda Huskies in the tournament final.
Former Halifax coach Eric Veilleux said Barron is a very mature person who improved his physical game this past season.
"Still very young, you know? And he's playing against top lines, has been all year," Veilleux said. "We had many injuries and he was put in a spot where he had to do it all for us."
Veilleux said Barron is "going to be a great prospect," who could possibly improve by becoming more physical, even though he's still strong and stands with a 6-foot-2, 192-pound frame.
Barron, who sees similarities between himself and fellow defender Thomas Chabot of the Ottawa Senators, said improvements can be made in all aspects of his game.
"I thought last year, coming into the league as a 15-year-old, I really focused on trying to improve my defensive game. The league was a lot faster and a lot more skilled," he said, noting he tried to improve his offensive game in the 2018-19 season.
Barron's solid play earned him a spot with Canada's under-18 team at the Hlinka-Gretzky Cup last fall in Edmonton. He had five assists in five games as the Canadians defeated Sweden to win gold.
Barron said it was a really cool experience to win gold in Canada and a special opportunity to participate in the first event in Edmonton.
Halifax is always a top destination for elite NHL prospects and this season was no different with Mooseheads forward Raphael Lavoie getting selected in the second round of last weekend's NHL Draft.
Barron said what he's learned from his teammates who have been through the draft before is to not overthink the process.
"I think the main thing is to just focus on getting better every day."