Get ready hockey world, you are about to be inundated with info about London Knights forward Mitch Marner.
A pair of hat tricks last week (one on Friday Night Hockey versus the Windsor Spitfires), a couple of bona fide highlight moments and everyone is buzzing about the Maple Leafs fourth-overall pick who was named CHL Player of the Week after putting up 11 points in three games.
I heard it from various members of his camp last season when I wondered on air if he was closer to Pat Kane or Corey Locke, and after watching him develop going back to his first year with London (where he was one of the lone bright spots for the Knights at the 2014 Memorial Cup), he's pretty close to being a junior hockey clone of the Blackhawks star currently going Christmas tree on the NHL.
He's not the fastest player on the ice, doesn't have the hardest shot either. He isn't the most physical player and doesn't "wow" you with any one particular skill. But nobody thinks the game like Marner does. He's smart, he's aware, he's slippery and thinks faster than anybody on the ice. Marner just knows where to go.
I talked to one hockey analyst who's seen him extensively who told me: "In just about every situation he doesn't make the right play, he makes the even better play. He does things out there that nobody else would even consider doing. And it works."
---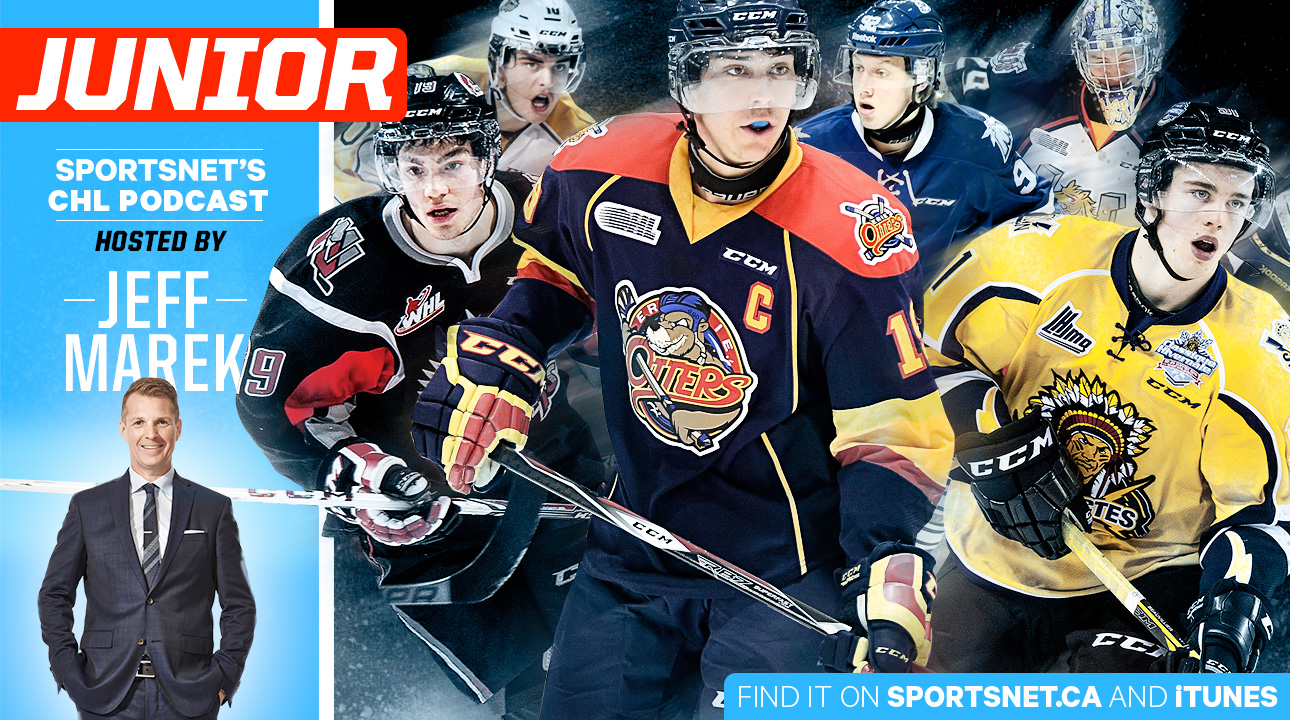 Jeff Marek hosts Sportsnet's weekly CHL podcast, a one-stop shop for news, analysis, opinion and interviews covering the WHL, OHL and QMJHL. Sam Cosentino, the CHL's top analyst/insider, will join Marek each week to discuss the latest from around the league, as will newsmakers from across the CHL. Couple that with NHLers remembering their days in junior hockey and regular updates on the latest risers and fallers for the NHL Draft, and there's really nowhere else fans need to go.
Over the boards | iTunes | Podcatchers
---
You see elements of other players in Marner but in a lot of ways he's most like Paul Kariya; a cerebral player who created glorious plays in the middle of chaos while the whole crowd was expecting him to get crushed by bigger and faster opponents.
At times Marner and his line of Christian Dvorak (ARI, 2014) and draft eligible Matthew Tkachuk look a little bit too cozy with the game, bordering on bored, as if they're just toying with opponents. It's like they're craving a new challenge and for Marner the World Junior Hockey Championship will probably be it. He'll be in a best-on-best situation and, unlike in the OHL, he won't be able to impose his will on a game whenever he feels like it.
We think.
Last week on Friday Night Hockey we aired some old City Pulse News video of a four year old Mitch Marner winning the 'Athlete of the Week', it's pretty adorable. If you missed it, have a look.
Oh, and as for trivia that fans want to gobble up about this player, I offer this: BEfore every game he eats a bag of Skittles.
Now that's investigative reporting.
Finland could feature in top five
Two of the most compelling players in this year's NHL Draft are high-end Finnish forwards Patrik Laine and Jesse Puljujarvi. Both are dazzling and have the ability to rip open a game. Both ALSO have size, Laine is 6-4, 210 LB., while Puljujarvi lists at 6-3, 205.
While both list "power" as a key attribute their skill sets are quite different.
I spoke with an NHL scout whose team may just end up selecting in the area where the pair are projected to be drafted and he sees a lot difference between the two. And while our Sportsnet rankings by Damien Cox have Laine in at No. 3 and Puljujarvi fourth, this scout thinks even higher of the pair, putting Puljujarvi at No. 2 and Laine at No. 3.
Why?
He said Puljujarvi is ahead of Laine in his mind but only, slightly citing his ability get around the defence on the rush and his penchant to attack more directly. While Laine was more effective once the play was set up and played much more of a robust, physical game.
I exchanged emails recently with one of the most plugged in hockey people in Finland, Risto Pakarinen about the pair; here's what he had to say.
"[Puljujarvi] was physically a grown man last season already, and he knows how to use his size to his advantage. He needs more core strength so that he can hold on to the puck even better. His big advantage is his skating straight forward, but the stop-and-go skating that you need to stay inside the game still needs work.
"His shot is world class, but it has to be noted that inefficiency is very much present in his game. He's very eager to learn more about his own game and hockey in general. Naturally, he's got ways to go in his 200-foot game but I've never seen as complete a 17-year-old player as him."
And about Laine…
"I've seen Laine play more, and he's really take strides this season. First of all, his shot may be the best in the whole Finnish league, his release is really quick. The way he skates and dekes reminds me a little of, gasp, Mario. And not just that he's a right-hand shot and lanky. Right now, I'd take him over Puljujarvi, but that's just a personal preference. I like flashy forwards."
The stats comparison between the two is interesting as well.
Puljujarvi: 27 games, 5-7-12, 10 PIM, plus-4, 14:43 TOI, 8.3 SH%, 58.6% Corsi (Karpat's Corsi is league's highest at 54.0%)
Laine: 22 games, 8-5-13, 0 PIM, plus-1, 14:43 TOI, 5.8 SH%, 51.5% Corsi (Tappara's Corsi is 12th (out of 15) at 48.6%)
The pair will be in the spotlight at the world juniors this year. Helsinki is the host city and Finland is expected to ice a competitive, albeit young, team.
Who's the exception next year?
It does not appear there will be any underage kids applying for exceptional status for the 2016 QMJHL draft. Joseph Veleno of the Saint John Sea Dogs was the league's first exceptional player last year. But there are as many as three kids who many believe will apply this season in the OHL.
Graeme Clarke, Toronto Marlies A scoring winger who plays with high end centre Allan McShane (who will likely be a top-10 pick in the OHL Priority Draft). Plays on a powerhouse team and usually with all the top players.
Jack Hughes, Mississauga Rebels A dazzling player who can bring you out of your seat. He has amazing speed that scouts say is better than Jake Tortora from the Don Mills Flyers last season. Size is a major concern, though, and one scout I spoke to said he'd be concerned about Hughes getting hurt if he played in the OHL next season. It's one thing to avoid contact at the minor midget level, but everybody gets hit hard at some point in the OHL.
His brother Quinton is a standout defenceman for the USNTDP under-17 program, whose rights are held by the Sarnia Sting. Some speculate they'll both end up playing in the OHL together eventually.
Tag Bertuzzi, Oakland Jr Grizzlies Probably the most physically ready to make the jump. Bertuzzi plays with an edge and has competed against elite competition for a long time. He doesn't dominate games, but is really smart. There is a theory making the rounds that since Tag is coached by his father, ex-NHLer Todd Bertuzzi the Guelph Storm will draft Tag and bring Todd on in some capacity on the bench (head coach Bill Stewart resigned this week), but I'm skeptical about that one.
There's no guarantee any of the three get in and there is talk the OHL may feel a little gun shy after Sean Day was granted exceptional status, wasn't selected in the top three and has seen his NHL Draft stock plummet.
Where's the love?
How about some love for a couple teams in the Western Hockey League who don't get much by way of national coverage but probably deserve it.
Starting with the Lethbridge Hurricanes who sit second the Eastern Conference. And while the kids deserve much of the credit, there's no denying the hard work done by GM Peter Anholt and head coach Brent Kisio, who have turned the culture around in a town that's seen its fair share of junior hockey disappointment.
Tyler Wong is having a great season and is on pace for a 40 goals, Egor Babenko has been excellent with 34 points in 29 games and the young goaltending platoon of Jayden Sittler and Stuart Skinner have been excellent.
And don't look now, but the Price George Cougars have just gone 8-1-0-1 in their past 10 games and in five of those have found the back of the net five or more times. At home the Cougars have been victorious 12 times and are rivaled only by Lethbridge (13) and Kelowna (12). The Cougars only had 16 wins at the CN Centre all last season.
Netminder Ty Edmonds was voted CHL Goaltender of the Week after going 3-0-0 with a save percentage of .973. The Cougars also lead the league in shorthanded goals with eight. Pretty impressive stuff.