"He has Ehlers speed"
"I think he is better than Fiala."
"He's already the leader of his team"
"Nobody excites me more in the Q"
Four separate comments from four separate NHL scouts when I asked each this question: "What's your first thought when I say the name Nico Hischier?"
The Swiss-born Halifax Mooseheads centre has been turning heads in the QMJHL since his arrival after being selected sixth overall in the 2016 CHL Import Draft. And while some scouts had doubts about his compete level at the Ivan Hlinka, there is no denying now that he is a player of great interest to any NHL team picking in the top 10 in June.
And as for the knock about his compete level, let's consider he's playing in a new league and country, on one of the youngest teams in the CHL with not much by way or support or protection and is excelling. He was the QMJHL's second star last week after setting a Mooseheads rookie record by putting up six points (3 G,3 A) against Baie-Comeau.
https://t.co/vdul5S2Ccv #RiseTogether pic.twitter.com/Stk8XY34or

— Halifax Mooseheads (@HFXMooseheads) October 27, 2016
The rookie's skill set is interesting. No doubt he has speed, but is it elite? Some say yes, others have their reservations, but one thing is for sure: The way Hischier is able to maneuver at a high speed is almost without peer. And impressing scouts from the get go has been his ability to change speeds on the rush coupled with an outstanding ability to spin away from pressure.
The Mooseheads have consistently sent players to the NHL, but over the past few seasons it's turned into a high-end hockey factory churning out players like Nathan MacKinnon, Jonathan Drouin and Nikolaj Ehlers.
Hischier will continue that tradition in June in Chicago, the only question is how long it will take him to get to the NHL. There's no denying he is on the slight side (6-feet, 165 lb.) but he more than makes up for it with vision and creativity. Most scouts feel he's two years away from playing in the NHL, but given how he's consistently played above his age group his entire life it wouldn't shock many if he was playing pro within a year.
The Mooseheads are rebuilding and there will be plenty of long nights ahead for the team and its fans, but the makeover is centered around the exciting Hischier and players like Benoit-Olivier Groux and Jared McIsaac (Nos. 1- and 2-overall in the Q draft this year) and Mathieu Charlebois (whose name we also expect to hear called in June).
Now, to this month's draft rankings, which, again, are based on a number of factors: personal viewings along with conversations with scouts, GM', coaches and analysts who cover prospects globally. Numbers in parentheses are players' October rankings.

1. (1) Nolan Patrick, C, Brandon (WHL) Battling an upper-body injury and has only played six games this season (nine points), but it'll take more than that to knock the future first-line centre out of the top spot.

2. (2) Timothy Liljegren, D, Rogle (SHL) Hasn't played this year due to mono, but scouts still see his as the definitive No. 2. His camp was eyeing a late November/early December return but he's ahead of schedule, already working out on and off the ice.

3. (4) Gabriel Vilardi, C, Windsor (OHL) Has been outstanding this season for the Spitfires playing on the wing (he's a natural centre). Of note: He is 11 months younger than Nolan Patrick.


Listen to Gabe Vilardi (and his dad) on Episode 2 of Jeff Marek's newest podcast.
Listen now | iTunes | Podcatchers

4. (7) Eeli Tolvanen, LW, Sioux City (USHL) The Finnish Tarasenko? Tolvanen has one of the most lethal shots in the entire draft.

5. (6) Owen Tippett, RW, Mississauga (OHL) Some scouts have questions about his complete game but he just flat out scores and that's an expensive commodity in any league.

6. (9) Nico Hischier, C, Halifax (QMJHL) The dynamic Swiss forward leads all CHL rookies in scoring and is a huge piece of the Mooseheads rebuild.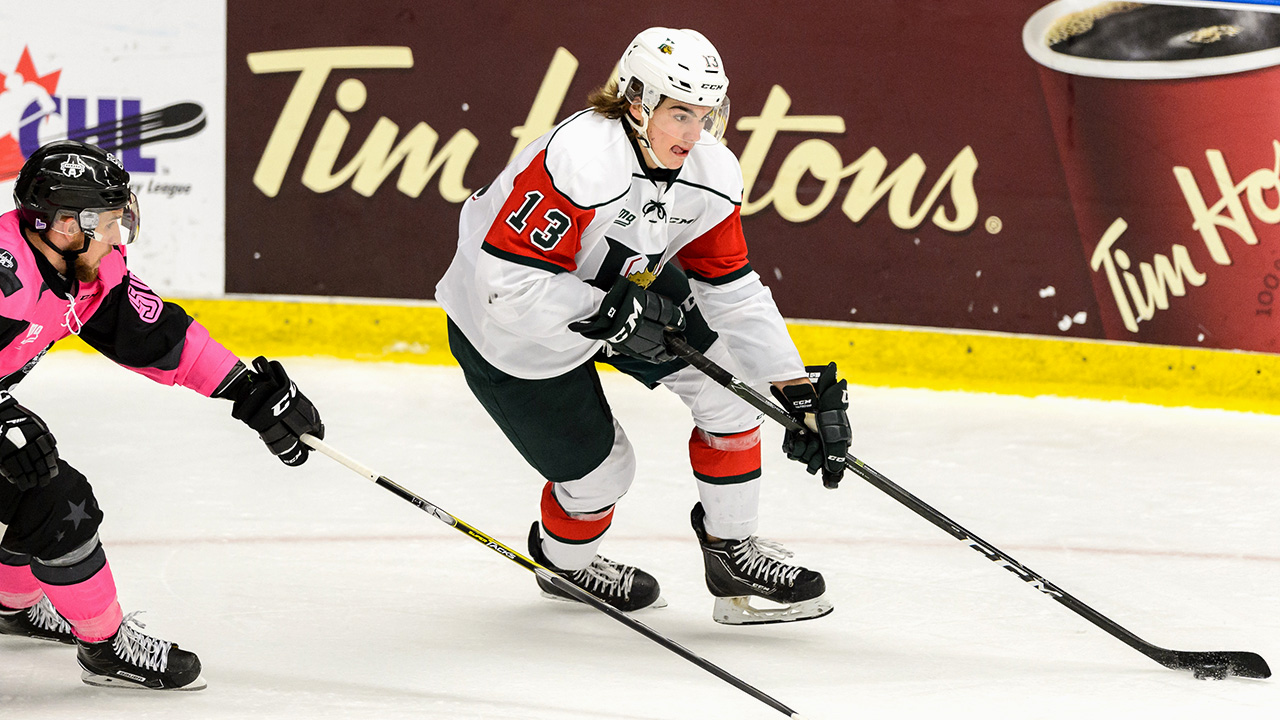 Nico Hischier has eight goals and 20 points in 16 games for the Halifax Mooseheads. (Minas Panagiotakis/Getty)

7. (3) Maxime Comtois, LW, Victoriaville (QMJHL) Got off to a slow start and is guilty of trying to do too much (especially with the injury to Pascal Laberge), but has great skills and a real drive.
'He reminds me of Rick Nash at the same age'

NHL scouting director on #NHLDraft prospect Maxime Comtois https://t.co/m5q0OmEiGE @QMJHL pic.twitter.com/1p5AwmzRrZ

— Sportsnet (@Sportsnet) October 27, 2016

8. (5) Klim Kostin, C, Balashikha (VHL) Such an enticing mix of size and skill. Finding a home in the VHL (Russian minor league) after not seeing much ice time with Moscow Dynamo in the KHL.

9. (8) Casey Mittelstadt, C, Green Bay (USHL) Has been better than a point-per-game player for the Gamblers, but heading back to high school (Eden Prarie) for his senior year to win a championship.

10. (10) Nick Hague, D, Mississauga (OHL) Great size and skill. Hague is top three in points among OHL defencemen. Really confident with his shot now.
Scout's Take: #Steelheads defenceman Nicolas Hague among OHL's most interesting prospects https://t.co/gJc0V3uW9F @GareJoyceNHL pic.twitter.com/cIgohPvIRD

— Sportsnet (@Sportsnet) October 28, 2016

11. (13) Cal Foote, D, Kelowna (WHL) Second generation stud blueliner has improved his skating and does a number of things for the Rockets. He's good with the puck but does he push the pace enough? Scouts wonder.

12. (14) Michael Rasmussen, C, Tri-City (WHL) Leading goal-scorer (tied) in the WHL at the time of this publication with 12.

13. (12) Kristian Vesalainen, RW, Frolunda (SHL) The Finnish power forward is going the Artturi Lehkonen route and learning in Sweden for Frolunda. Playing well in a pro league.

14. (17) Kailer Yamamoto, RW, Spokane (WHL) The smallish forward is challenging for the scoring title in the WHL.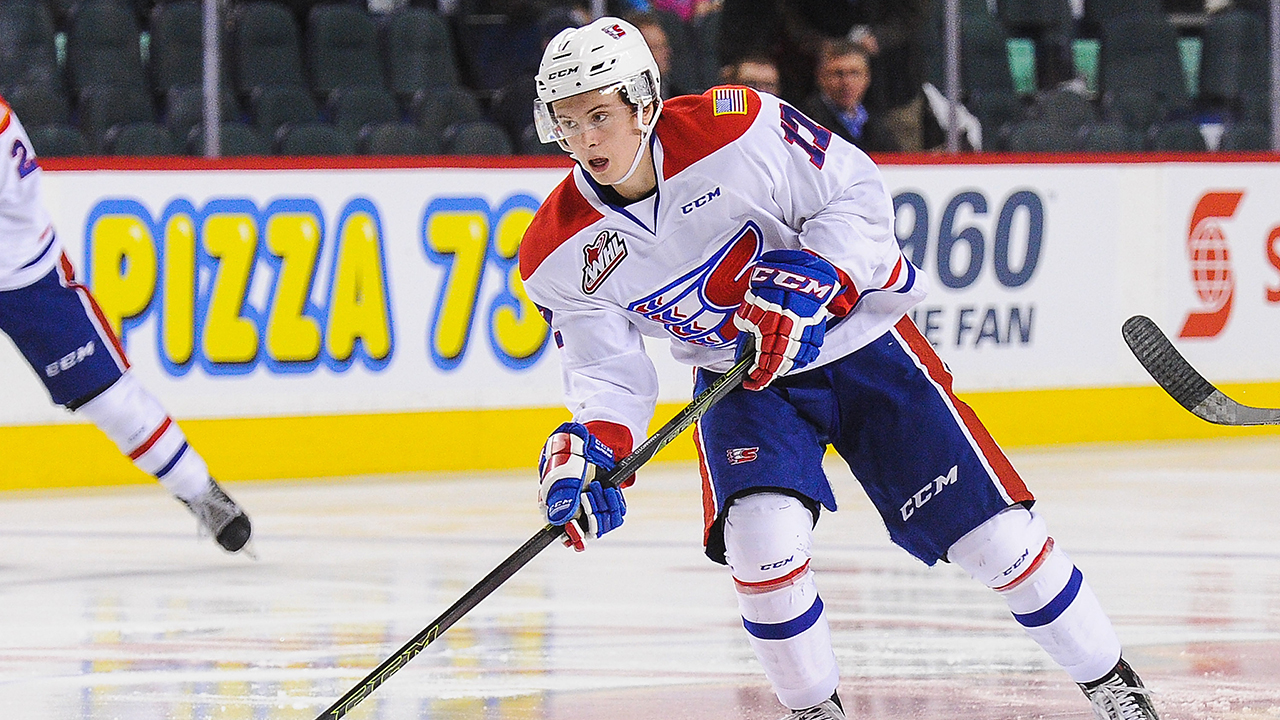 Kailer Yamamoto leads the Spokane Chiefs in scoring with 23 points in 15 games. (Derek Leung/Getty)

15. (28) Erik Brannstrom, D, HV71 U-20 (SuperElit) Has been absolutely dominant in Sweden's top junior league. Should be up with the big team but the blueline is stacked there, too.

16. (18) Martin Necas, C, HC Kometa Brno (Extraliga) A smallish, playmaking centre who's averaging 14 minutes of ice time in the top Czech league.

17. (HM) Jusso Valimaki, D, Tri-City (WHL) A solid, safe blueliner who excels in all areas.

18. (15) Ryan Poehling, C, St. Cloud State (NCAA) A very good player, but it's a tough jump to NCAA as a true freshman.

19. (11) Elias Pettersson, C, Timra (Allsvenskan) The leading scorer in Sweden's second-tier loop is off to a great start averaging just over a point a game. An explosive skater.

20. (23) Shane Bowers, C, Waterloo (USHL) Committed to Boston University last week. A point-per-game player so far.

21. (16) Lias Andersson, C, HV71 (SHL) A hard-working player with a knack for scoring. Son of Swedish hockey legend Niklas Andersson.

22. (20) Nikita Popugaev, LW, Moose Jaw (WHL) He's the leading scorer on the Warriors, but scouts still have concern about his foot speed.

23. (21) Urho Vaakanainen, D, JYP (Liiga) A mobile skater with good size who can move the puck.

24. (26) Henri Jokiharju, D, Portland (WHL) Got off to a slow start but can defend and move pucks at a high level.
Henri Jokiharju U18 Highlights (2017 NHL PROSPECT): https://t.co/5l9skSosMw via @YouTube

— Puck Daily (@PuckDailyNews) October 17, 2016

25. (27) Antoine Morand, C, Acadie-Bathurst (QMJHL) A strong passer who sees plays and finds open ice.

26. (HM) Robin Salo, D, Vaasan Sport (Liiga) A calm, solid defender. Currently sitting out a three-game suspension for a knee-on-knee hit.

27. (HM) Matthew Strome, LW, Hamilton (OHL) Yes, another Strome is coming and while some may knock his skating, he has something many other prospects don't—elite hockey sense.
Why Hamilton Bulldogs winger Matthew Strome won't be a top 2017 NHL Draft pick: https://t.co/0RNjqKHbyu @GareJoyceNHL pic.twitter.com/lnF6PKIWKe

— Sportsnet (@Sportsnet) November 1, 2016

28. (22) Dmitri Samorukov, D, Guelph (OHL) A hard hitting blueliner who loves the physical game.

29. (31) Sasha Chmelevski, C, Ottawa (OHL) A bright spot (13 points in 14 games) on an under-performing team.

30. (HM) Stelio Mattheos, C, Brandon (WHL) With the injury to Nolan Patrick more has been placed on Brandon's other draft-eligible middle man.

31. (HM) Jake Oettinger, G, Boston University (NCAA) The Terriers freshman starter boasts a save percentage in the .945 range.
Don't Sleep On
Filip Westerlund, D, Frolunda (SHL) After Jacob Larsson found his spot in the Anaheim Ducks organization, Westerlund was given a chance with the Swedish powerhouse and has made the most of it, playing regular minutes in the country's top league—surprising considering the right-hand shot defenceman didn't play big minutes with the U-20 team last season. His development year over year has been described as spectacular. He models his game after Sami Vatanen and has been compared to both Larsson and Erik Karlsson.