Mitch Marner has already played four seasons of junior hockey, regardless of what the calendar states.
Most hockey fans know of the CHL-NHL agreement, which decrees that a prospect drafted from major junior cannot be assigned to a minor-pro league until his 20-year-old season. The junior leagues make exceptions at the intake point—for example, the Hockey Canada exceptional-player status rule' but, oddly enough, there are no exceptions for leaving early. So the hockey politics behind why Marner can only play for the Toronto Maple Leafs or in the OHL next season is as clear as the reality that the 19-year-old right winger rates a bump up to some higher league after leading London to the MasterCard Memorial Cup with 14 points across four games.
Marner's dominance ought to be a jumping-off point to talk about bringing the agreement into the 21st century. There is nothing mendacious behind the leagues' pact, but media shouldn't accept the premise that it is player-friendly.
The deal was struck many moons ago in response to the NHL lowering the draft age from 20 to 18. Junior leagues, at that time, were feeling the burn from the 1970s-era WHA signing North American teenagers. It is nice to think that the hockey world could at least talk about how the four-year rule, especially now that top prospects play so much extra hockey on top of their club season.
One tweak would be to base minor-pro eligibility on how many games a prospect logs in extra competitions before the end of his 18-year-old season. Only a small handful of prospects would be effected in a given season, and they would be able to return to junior, if necessary.
A pore over Marner's Elite Prospects page hints at how the rule is self-serving for the CHL and Hockey Canada—and might undermine the former's stated role as a developmental league. Sunday's Memorial Cup final marked the 62nd 'extra' game for Marner outside of the regular season. The Thornhill, Ont., sensation has played 19 Junior A playoff games, 38 post-season contests for London, five world junior championship games and two in the annual CHL-Russia Super Series.
Arizona Coyotes top prospect Dylan Strome, the Erie Otters captain, has tallied 54 extra games without having even played in a Memorial Cup. Knights alumnus and Arizona winger Max Domi accumulated 63 during his first three seasons in London.
The last draft pick in the OHL before Marner who was way too good for the league was Ryan Ellis. The current Nashville Predators defenceman skated in 63 extra games during his first three seasons with the Windsor Spitfires.
CHL commissioner David Branch told The Canadian Press last week that NHL clubs aren't clamouring for a rule change. However, the question pertains to junior hockey. It was also an odd answer. Branch doesn't take cues from the NHL, and has been far more progressive on problems such as checks to the head and needless and/or staged fights. It has, however, followed the NHL's lead on shootouts, trapezoids and 3-on-3 overtime.
Defenders of the agreement tend to say that no one is ever hurt by having to spend an extra season in junior. That is mostly true, but are they thinking about the greater good?

John Tavares had 72 goals and 134 points with Oshawa as a 16-year-old, and still played two more years of junior. (Dave Abel/Getty Images)
The Christian Dvorak-Matthew Tkachuk-Marner line, which factored into all of London's scoring in Sunday's 3-2 overtime win against the Rouyn-Noranda Huskies, was simply breathtaking. Like Wilt Chamberlain in the early-1960s NBA, they broke the game. London's four-month rampage—winning 37 of their final 42 games with an average goal differential of 2.55—attests to their awesomeness. It also feels like Exhibit A for why it's in the OHL's interest to help that rare 19-year-old who is too dominant for junior but perhaps not ready for 70-some NHL games experience a new challenge.
The OHL, as great a team as the Knights are, didn't receive a net benefit from having its least competitive playoffs in decades. Six of the last seven series were sweeps. The Memorial Cup didn't get interesting until Sunday. Marner returning to the OHL, hypothetically, could create a trickle-down whereby other players might be denied top-end minutes.
Last week, one NHL writer stated next season's 16-year-old cohort in the OHL will be better off in the long run if they play against Marner. That does not wash. The skill gap would be a little too big, and besides, most OHL coaches don't put their rookies on the ice against superstars.
The NHL surely knows it's a bad look to pressure the CHL to let players go early, yet it has found a use for teenagers who are not affected by the rule going to the AHL or European leagues. Marner's Maple Leafs first-round predecessor, William Nylander, has already played one-and-a-half seasons with the AHL Toronto Marlies after being drafted out of Sweden. The captain of WJC-winning Team Finland, Mikko Rantanen, played the bulk of his club season with the Colorado Avalanche's AHL affiliate.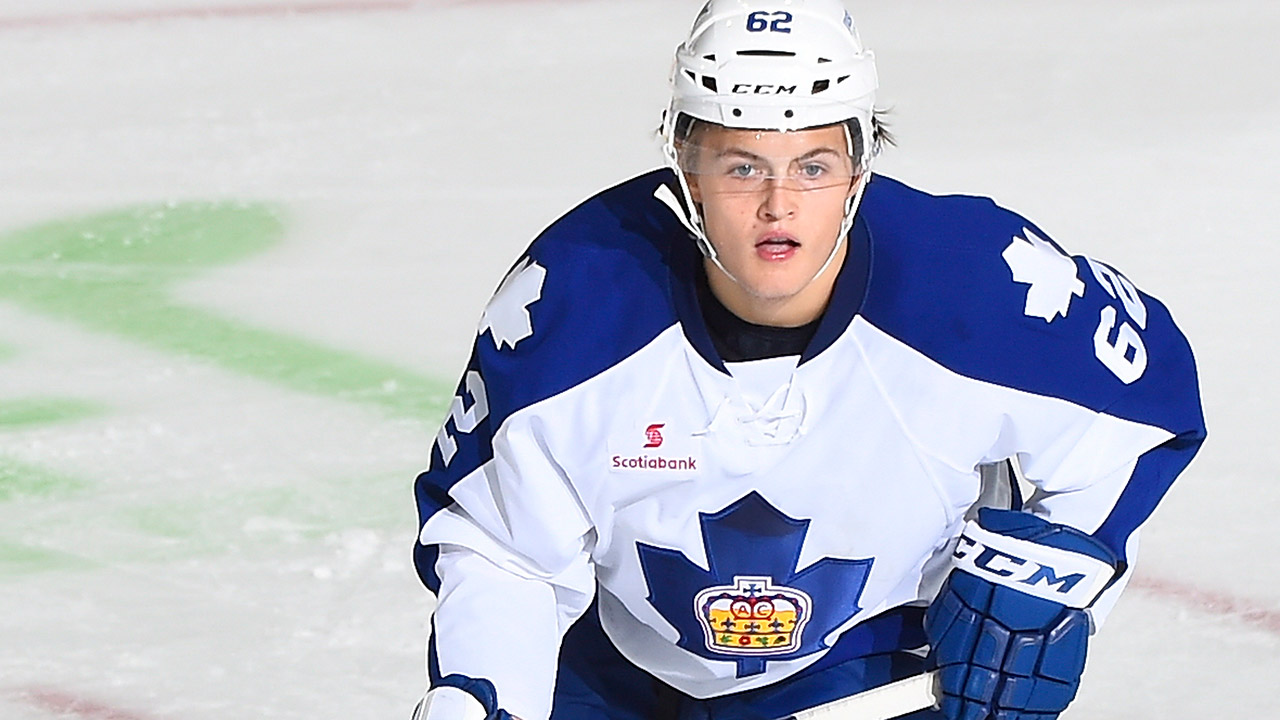 Having just turned 20 on May 1, Nylander already has 97 games of AHL and NHL experience under his belt. (Craig Abel/Getty)
Point being, the CHL and Hockey Canada—which has just one WJC gold medal in the past seven years—should be open to adjusting.
Hence the notion that instead of hard-and-fast, four-year rule, minor-pro eligibility should be based on how many of those extra games top prospects incur from age 15 through 18. That's just a suggestion. Greater minds can determine the criteria. Studying how many junior and pro-level contests the typical NHL first-rounder from the CHL plays on top of his regular season is good data to have, like Canada's long-form census. It would also be more fan-friendly if the league's customers had more clarity about the possibility of a 19-year-old top prospect coming back.
The powers that be never mind changing rules for good players. The OHL used to forbid trading first-rounders. Eric Lindros's refusal to join Sault Ste. Marie in 1989 hastened a rule change. The exceptional-player rule was created when John Tavares came down the pike in 2005.
The greatness of Marner's game is that he seldom takes the easy way out. The only box he still has to check off at the junior level, of course, would be to lead Team Canada to a gold medal in the 2017 world juniors. It might actually work to the benefit of Hockey Canada and the CHL if they conceded a handful of 19-year-olds would be more prepped for the WJC if they were fast-tracked to a men's league.
Call that a win-win-win. That is well short of the 17 wins in a row London ran off to finish the season, but it's more promising than hockey politics as usual.