The three championship Canadian Hockey League teams plus this year's host are set to drop the puck on the 2017 MasterCard Memorial Cup from Windsor, Ont.
The 99th edition of the major junior tournament features the host Spitfires, WHL-champion Seattle Thunderbirds, OHL-champion Erie Otters and the QMJHL-champion Saint John Sea Dogs. And of course, plenty of prospects too, who you could see on an NHL ice surface in the near future.
This is the first time since 2007 that two U.S.-based teams will appear at the Memorial Cup. Neither Seattle nor Erie has ever won a Memorial Cup, but Windsor and Saint John have both enjoyed recent success, with the Spits winning in 2009 and 2010 with a couple Taylor Hall-led teams, and the Sea Dogs taking the 2011 title.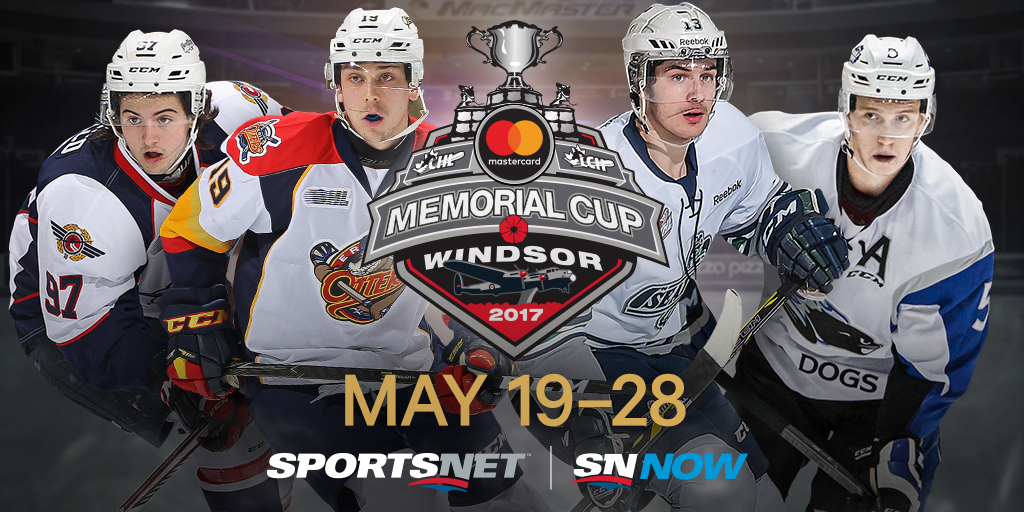 The host-Spitfires were eliminated in Round 1 of the OHL Playoffs by the London Knights, which isn't a great omen, but they will enter the tournament with plenty of rest. Memorial Cup host teams that didn't win their league titles have won the CHL's biggest prize on nine occasions, with the last being the Shawinigan Cataractes in 2012.
The round robin is set to begin Friday night with a game between Saint John and Windsor. Here are some reasons to tune in and watch the 2017 Memorial Cup from beginning to end, and where you can see the games.
Memorial Cup Preview ft. Sam Cosentino
May 18 2017
A LOOK AT SOME 2017 NHL DRAFT ELIGIBLE PLAYERS, AND A TOP PROSPECT FOR 2018
Like the world junior hockey championship, the Memorial Cup isn't a place where a bunch of top draft-eligible players come to dominate. On the contrary, the best major junior teams generally have a strong core of players who are one or two years past their draft seasons. Younger teams tend not to make it this far.
That said, there is one player in the Memorial Cup whose name is expected to get called early at the 2017 NHL Draft, and another who could potentially be one of the first three players picked in the 2018 NHL Draft.
Windsor's Gabriel Vilardi is the top draft-eligible player in the Memorial Cup and led his team in scoring with 29 goals and 61 points in 49 games. The Kingston, Ont., native didn't play for Canada at the World Juniors and a couple of injuries cut into his games played. Vilardi missed a few games at the start of Windsor's season with a knee injury he sustained at Team Canada's training camp for the summer Ivan Hlinka Tournament.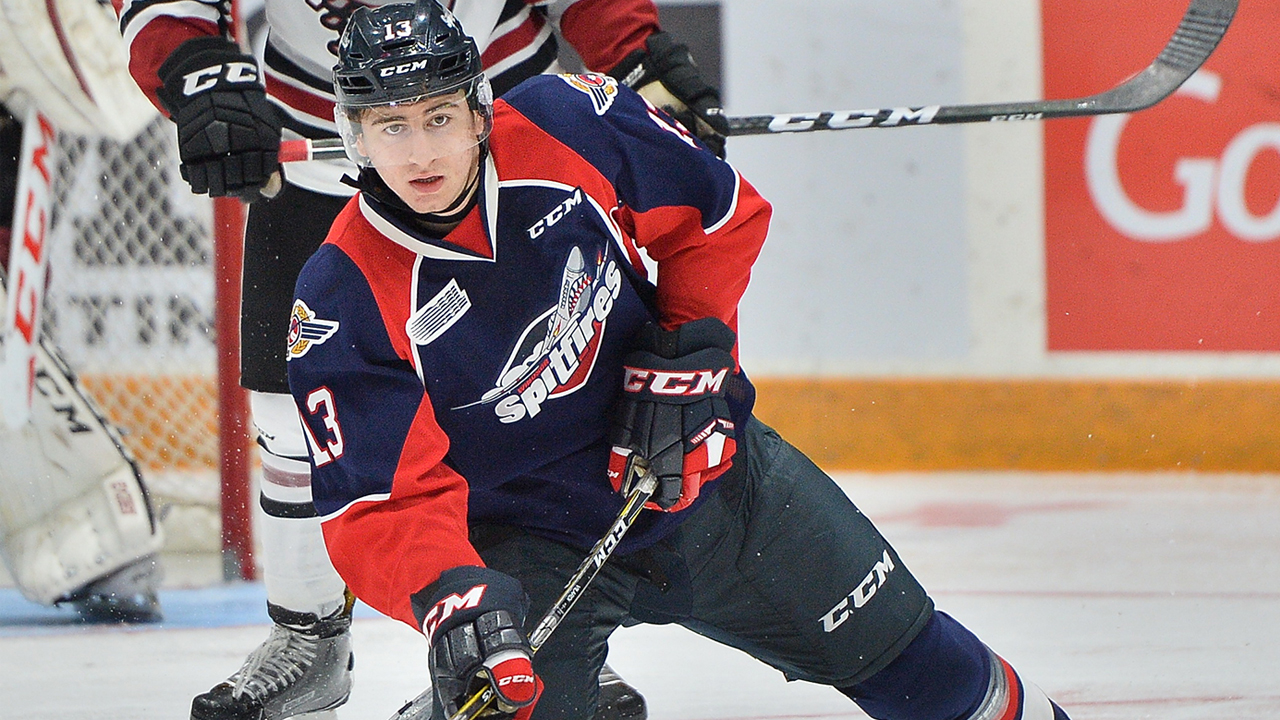 Then he missed a little more than a month from November to late December after having an appendectomy. Still, the six-foot-two power forward remains one of the top prospects available in the upcoming NHL Draft, with Jeff Marek's latest rankings from April putting Vilardi at sixth overall. There's every possibility he goes higher than that, too.
An August birthday, Vilardi is nearly one full year younger than top prospect Nolan Patrick, who missed out on being 2016 draft eligible by less than a week.
Another intriguing prospect is the Sea Dogs' Joe Veleno, born Jan. 13, 2000. The Kirkland, Que., native is one of the top projected picks for the 2018 NHL Draft, along with Sweden's Rasmus Dahlin and Russia's Andrei Svechnikov, neither of whom play in the CHL.
Veleno was the first player granted exceptional status in QMJHL history, playing his first season a year early in 2015-16. This season, he scored 13 goals and 40 points in a 45-game season shortened by injury and has eight goals and 11 points in 18 playoff games. He's not the biggest or most important producer for the Sea Dogs, but many are expecting a breakout for him in his draft year next season. The 2017 Memorial Cup could provide a glimpse into what's to come.
Here is a list of players on each team who are on the radar for the 2017 NHL Draft, listed with their NHL Central Scouting ranking:
SEATTLE
Sami Moilanen, No. 110 among North American skaters, RW
Jarret Tyszka, No. 41 among North American skaters, D
Matthew Wedman, No. 210 among North American skaters, LW
WINDSOR
Gabriel Vilardi, No. 4 among North American skaters, C/RW
Luke Boka, No. 201 among North American skaters, RW
Cole Purboo, No. 189 among North American skaters, C
Michael DiPietro, No. 4 among North American goalies, G
ERIE
Ivan Lodnia, No. 36 among North American skaters, RW
Gera Poddubnyi, No. 130 among North American skaters, LW/C
SAINT JOHN
Cedric Pare, No. 146 among North American skaters, F
[relatedlinks]
CANADIAN NHL TEAM PROSPECTS IN THE SPOTLIGHT
Now that we've touched on the draft-eligible players, let's get to those who have already been drafted into the NHL, with a focus on guys who are in the systems of Canadian NHL franchises.
The most well-known name might be Mikhail Sergachev, the ninth overall pick of the 2016 draft by the Montreal Canadiens. A big, mobile, two-way defenceman out of Russia, Sergachev projects to be a top-pair NHL blueliner some day, but there remains some question of whether or not he'll do it with the Canadiens. Around this year's trade deadline, much was made of how Montreal was on the hunt for a centreman, a position of weakness for the team.
As the Habs continue to chase a Stanley Cup in the next couple seasons before Max Pacioretty and Carey Price need new contracts, Sergachev's is a name that will inevitably pop up in the rumour mill as a prize any team would love to acquire.
The player taken two spots after Sergachev last season and his teammate with Windsor, Logan Brown will also be a must-see player for Ottawa Senators fans. The six-foot-six centre had his season decimated by injuries, but he maintained a strong scoring pace with 40 points in 35 games. Also of interest to Sens fans is Thomas Chabot, a supremely talented defenceman who is a strong candidate to crack Ottawa's blue line next season.
Here is a full list of players either drafted or signed by Canadian NHL clubs:
WINDSOR
Jeremiah Addison, 207th overall by Montreal in 2015
Logan Brown, 11th overall by Ottawa in 2016
Jeremy Bracco, 61st overall by Toronto in 2015
Logan Stanley, 18th overall by Winnipeg in 2016
Mikhail Sergachev, ninth overall by Montreal in 2016
Jalen Chatfield, signed by Vancouver as a free agent in 2017
ERIE
Kyle Pettit, 156th overall by Vancouver in 2014
SAINT JOHN
Simon Bourque, 177th overall by Montreal in 2015
Thomas Chabot, 18th overall by Ottawa in 2015
Luke Green, 79th overall by Winnipeg in 2016
SEATTLE
Ethan Bear, 124th overall by Edmonton in 2015
WHEN ARE THE GAMES?
As noted above, Saint John and Windsor are the opening game of the tournament on Friday, May 19.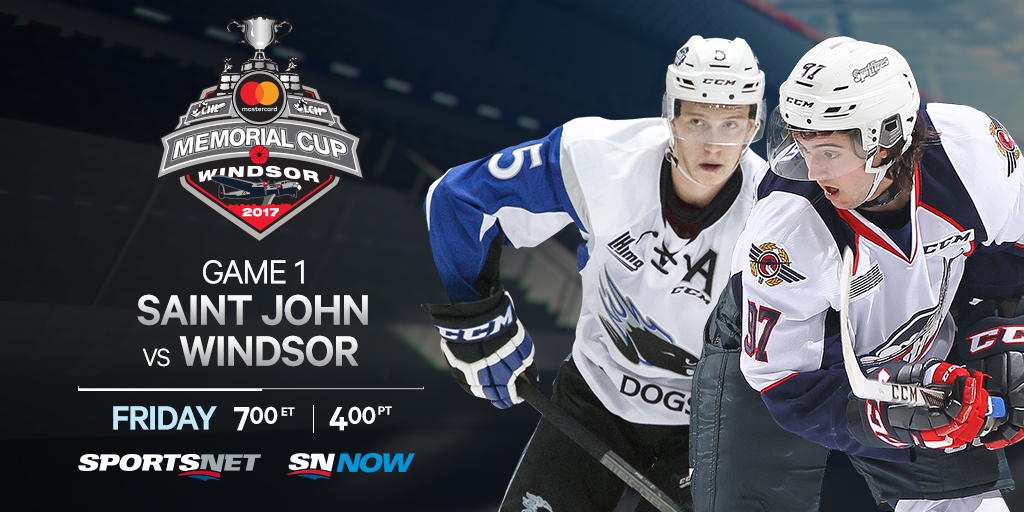 If you're not familiar with the Memorial Cup format, here's how it works. Each of the four teams face each other once in a three-game round robin. Whichever team finishes in fourth place after that is eliminated. The second- and third-place teams then face off in a one-game semifinal, with the winner facing the first-place team in a winner-take-all game for the Memorial Cup.
One game is played per day and the six round robin games run from May 19-24. Thursday, May 25 is set aside for a tiebreak game, should one be necessary to settle which team is knocked out of the first round. If no tiebreaker is required, that will be an off-day.
The semifinal is Friday, May 26 at 7:00 p.m. ET and the championship is set for Sunday, May 28 at 7:00 p.m. ET. You can watch all the games on Sportsnet and Sportsnet NOW.
OTHER PLAYERS OF INTEREST
We've given you the lowdown on some of the top prospects for the 2017 NHL Draft and some Canadian team prospects at the Memorial Cup but there are, of course, more players of note.
Let's start with Mathew Barzal of the Seattle Thunderbirds, who was drafted 16th overall by the New York Islanders in 2015. Barzal scored 79 points in 41 games for the Thunderbirds this season, and was a key player for Canada at the world junior hockey championship with eight points in seven games. He was named MVP of the WHL playoffs as they blew through the league with just four losses in four rounds and figures to be in the NHL next season.
The Otters specifically have a number of intriguing players. Two-time Canadian World Juniors representative and third overall pick in the 2015 NHL Draft, Dylan Strome played seven NHL games for the Arizona Coyotes this season before getting sent back. He had a dominating season in the OHL with 75 points in 35 games and was tied with Chabot at 10 points to lead Canadians at the WJC.
The Otters also have American and 65-goal man Alex DeBrincat, a Chicago Blackhawks second-rounder who led the OHL with 127 points in the regular season and 38 in the post-season. By hitting the 50-goal mark this season, DeBrincat became the first American player to ever have three consecutive 50-goal seasons in the CHL, and the first player to do it overall since 1977.
And finally, the Otters have the Raddysh brothers, Taylor and Darren. Taylor, a forward, was a second-round pick by Tampa Bay last summer and finished second in OHL regular-season scoring with 109 points. He recently signed his entry-level deal with the Lightning. His older brother Darren, however, was never drafted and is set to become a free agent available to any NHL club after this season. The 21-year-old led all OHL blueliners with 81 points in 62 games this season, a sharp rise from the 40 points he scored a year ago.
Anthony Cirelli, another Tampa Bay Lightning pick and Team Canada WJC rep, is also on the Otters, acquired from the Oshawa Generals this season. Cirelli scored the OT winner to give the Otters the OHL championship and was part of the 2015 Memorial Cup-winning Oshawa Generals.