"He's everything you want in a No. 1 NHL centre." —coach Marc Crawford on Auston Matthews
It is a Saturday night that will swiftly and dramatically alter the NHL landscape.
The lives of young men, the moods of older men, and the hopes of 14 hockey clubs and their respective fan bases hang in the balance.
It will be the night when we finally learn the winner of the Auston Matthews Sweepstakes. It is the cot dang NHL Draft Lottery, and it is appointment viewing everywhere from favourite Toronto to long-shot Boston.
"I see him having an impact in the NHL right away," Crawford has said of the game's No. 1 prospect.
Crawford has compared the 18-year-old Matthews to Anze Kopitar, Jamie Benn and Connor McDavid. "But he's a shooter like Joe Sakic."
Sounds like a player. And soon we'll know whom he'll be playing for.
Here's the 411 on everything you need to know about the April 30 event.
WHAT IS THE DRAFT LOTTERY? A weighted system implemented and utilized to determine the order of selection in the first round of the 2016 NHL Draft, which takes place June 24-25 at the First Niagara Center in Buffalo.
WHEN DOES IT HAPPEN? Saturday, April 30, 7 p.m. ET.
WHERE WILL IT TAKE PLACE? The winner will be revealed at the Hockey Central studio inside CBC headquarters in downtown Toronto.
WHERE CAN I WATCH IT? Prior to puck drop for a marquee second-round series game on CBC, starting at 7 p.m. ET.
WHO CAN WIN THE LOTTERY? Any one of the 14 clubs who failed to qualify for the 2016 Stanley Cup Playoffs, or the clubs that have acquired the first-round drafting positions of those non-playoff teams. (In 2016, all of the teams that traded their first-round pick did qualify for the post-season, thus avoiding what could have been some serious embarrassment.)
For the first time in the lottery's existence, this includes all seven Canadian franchises.
HOW HAVE THE ODDS CHANGED? Changes to the 2016 draft lottery format, which were announced by the NHL back in 2014, directly effect the odds of winning the first-overall selection.
For the first time in NHL draft lottery history, the top three picks are now in play.
"This year, by picking the first three teams by virtue of lottery, we're trying to dull any incentive for any team to finish lower in the standings," said NHL deputy commissioner Bill Daly, who is traditionally tasked with revealing the lottery winner. "It's finally going to be some really compelling television."
The odds of winning the second and third draws will increase on a proportional basis depending on which team claimed the previous draw.
The 10 highest-finishing non-playoff teams now receive better lottery odds than they had in the past. The four lowest-finishing teams — Toronto, Edmonton, Vancouver and Columbus — receive worse odds than they would have prior to 2015.
OK, SO WHAT ARE THE ODDS OF MY TEAM WINNING THE NO. 1 PICK? Here is a handy list.
1. Toronto Maple Leafs – 20%
2. Edmonton Oilers – 13.5%
3. Vancouver Canucks – 11.5%
4. Columbus Blue Jackets – 9.5%
5. Calgary Flames – 8.5%
6. Winnipeg Jets – 7.5%
7. Arizona Coyotes – 6.5%
8. Buffalo Sabres – 6%
9. Montreal Canadiens – 5%
10. Colorado Avalanche – 3.5%
11. New Jersey Devils – 3%
12. Ottawa Senators – 2.5%
13. Carolina Hurricanes – 2%
14. Boston Bruins – 1%
Below is a sweet chart that breaks down each team's odds for every possible draft position: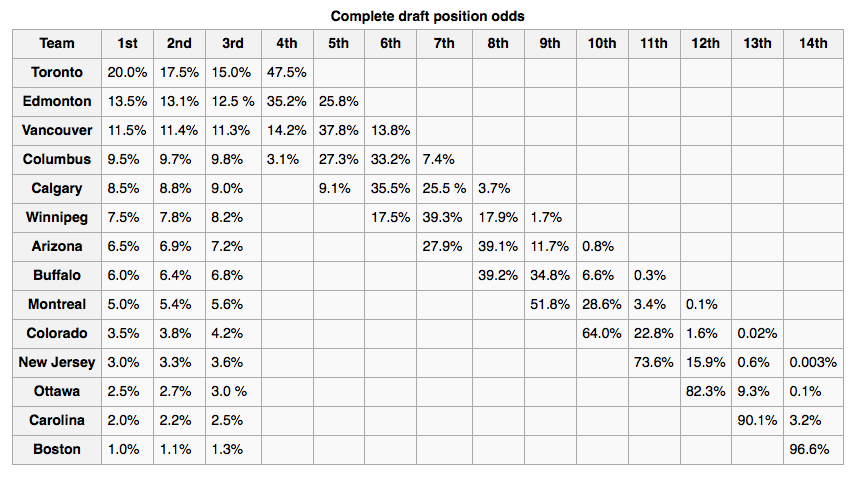 WHICH TEAM DOES MATTHEWS WANT TO WIN THE NO. 1 PICK?
Born and raised a Coyotes fan in Scottsdale, Matthews only has a 6.5 per cent shot of sticking close to his family.
"Ask anybody if they'd love to play for their hometown team, it would be pretty special," he said in a recent TV interview. "Big credit to the Coyotes. The growth of hockey in Arizona, they're doing an excellent job, and it's been fun to be part of it."
Odds are, however, he heads north of the border. There is a 68.5 per cent chance a Canadian team grabs the No. 1 pick, and Matthews and Crawford have discussed that likelihood.
"He knows he's going to Canada," Crawford said. "He is going to be fine in Canada, in any market."
ARE THERE ACTUALLY BALLS, LIKE IN LOTTO 649?
Yes, but the balls don't have team logos on them. It's more complicated and involves a bit of math.
Fourteen balls, numbered 1 to 14, are placed in a lottery machine. The machine randomly selects four balls. The resulting four-number series (without regard to selection order) are then matched against a chart (here's the one from 2015) that shows all possible combinations and the teams to which each is assigned.
One combination (11, 12, 13, 14) is designated as a "re-draw," allowing for the division of exactly 1,000 combinations proportionately. All number combinations are assigned to teams at random by Bortz & Company.
HOW DO I KNOW IT'S NOT RIGGED? The number-drawing process is supervised by accounting firm Ernst & Young.
WHY IS THE LOTTERY SO HYPED THIS YEAR? Because Matthews, the consensus No. 1 prospect, is widely considered a franchise centre. Instead of developing in juniors or NCAA, the 6-foot-2, 194-popund pivot leaped directly to the pro ranks. As a rookie in the Swiss league, he racked up 46 points in 36 games, taking just six minutes in penalties and leading Zurich to the NLA's best regular-season record.
After his team was eliminated from the playoffs, Matthews was the first player named to Team USA's IIHF World Championship roster.
Plus, 2016 brings a rich crop of intriguing prospects. Big, dangerous Finnish wingers Patrik Laine and Jesse Puljujarvi are expected to go in the No. 2 and No. 3 spots. And a couple of second-generation stars, Matthew Tkachuk and Alexander Nylander, are among the teenage stars projected to go in the top 10.
Here is Damien Cox's most recent Top 30 NHL Draft Prospects list.
SOUNDS FUN. IS THERE A HOME VERSION OF THE LOTTERY?
Why, yes. A fan in Buffalo created a simple and addictive online draft lottery simulator.
Toronto Maple Leafs president Brendan Shanahan played the simulator once, his team came up the winner, and now he refuses to touch it.
"I left on a high note. I pulled a Costanza," Shanahan told Tim & Sid. The Leafs chief attended the 2015 McDavid lottery, but obviously did not win. "We'll find somebody with a little more luck in the organization to go to the draft lottery this year."