It is a post-season edition of Hockey Night in Canada that fans of non-playoff teams will circle as appointment viewing.
While No. 1–rated draft prospect Nolan Patrick doesn't carry the elusive "generational player" tag and franchise-transforming powers of  Connor McDavid and Auston Matthews, scouts have him pegged as a kid who can develop into that big No. 1 or No. 2 two-way centre so many teams crave.
For the second spring in a row, the odds of deputy commissioner Bill Daly flipping a golden card stamped with your favourite rebuilding team's logo have changed, and now a 15th lottery squad is in the hopper.
Here's the 411 on everything you need to know about this Saturday's big event. Cross your fingers.
[relatedlinks]
WHAT IS THE DRAFT LOTTERY? A weighted system implemented and utilized to determine the order of selection in the first round of the 2017 NHL Draft, which takes place June 23-24 at the United Center in Chicago.
WHEN DOES IT HAPPEN? Saturday, April 29, 7:30 p.m. ET.
WHERE WILL IT TAKE PLACE? The winner will be revealed at the Hockey Central studio inside CBC headquarters in downtown Toronto. Representatives from the lottery teams' front office (and their lucky charms) will be in attendance.
WHERE CAN I WATCH IT? Prior to puck drop for Game 2 of the Washington Capitals and Pittsburgh Penguins' marquee second-round series game on CBC and Sportsnet, starting at 7:30 p.m. ET.
TVA will handle the French broadcast, and American viewers can catch the lottery on NBC.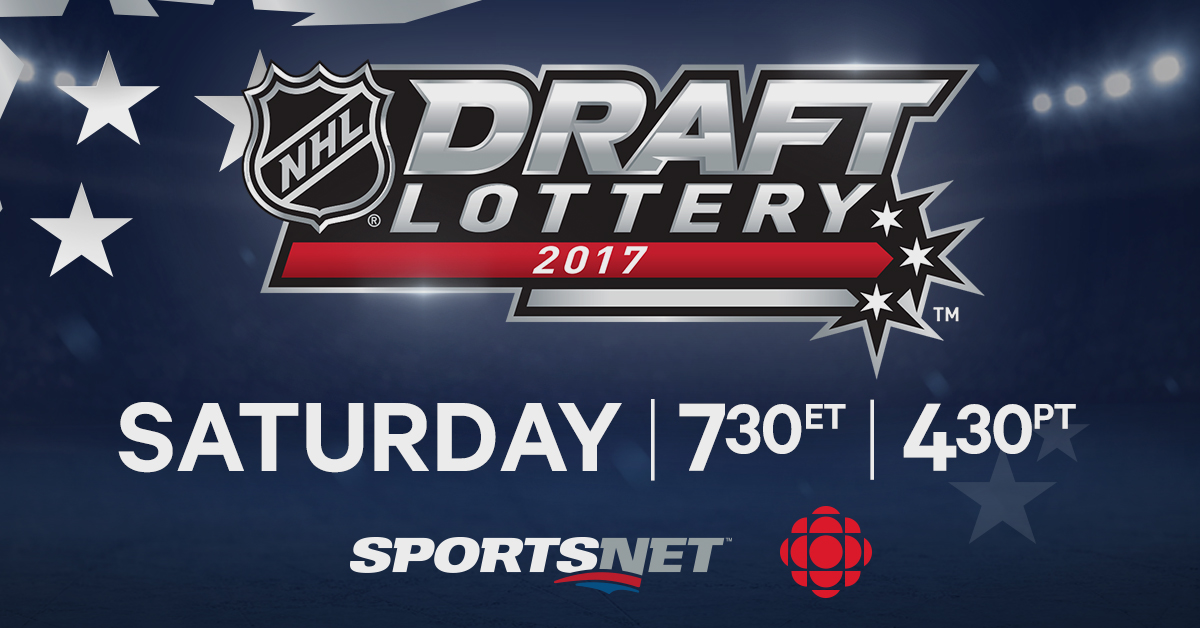 WHO CAN WIN THE LOTTERY? Fifteen teams have a shot.
Any one of the 14 clubs who failed to qualify for the 2017 Stanley Cup Playoffs, or the clubs that have acquired the first-round drafting positions of those non-playoff teams. (In 2017, the two teams that traded their first-round pick — Washington and Minnesota — did qualify for the post-season, thus avoiding what could have been some serious embarrassment.)
As an added wrinkle this spring, the expansion Vegas Golden Knights also have a chance to win. They've been granted the same odds as the third-worst regular-season team, the Arizona Coyotes.
HOW HAVE THE ODDS CHANGED? Changes to the 2017 draft lottery format directly effect the odds of winning the first-overall selection.
For just the second time in NHL draft lottery history, the top three picks are in play. This rule was implemented by the league in 2016 to dull incentive for any team to finish lower in the standings (i.e., tanking).
The odds of winning the second and third draws increases on a proportional basis depending on which team claimed the previous draw.
The addition of a 15th lottery team, Vegas, into the mix also affects the winning percentages.
The three lowest-ranked non-playoff teams now receive worse lottery odds than they had in the past. For example: the Toronto Maple Leafs, who finished 30th in 2016, had a 20 per cent chance of winning the No. 1 pick (which, of course, they did). Colorado, which finished 30th this season, will see its odds reduced to 18 per cent.
OK, SO WHAT EXACTLY ARE THE ODDS OF MY TEAM WINNING THE NO. 1 PICK? Here is a handy list, with the Canadian teams in bold.
Below is a sweet chart that breaks down each team's odds for every possible draft position: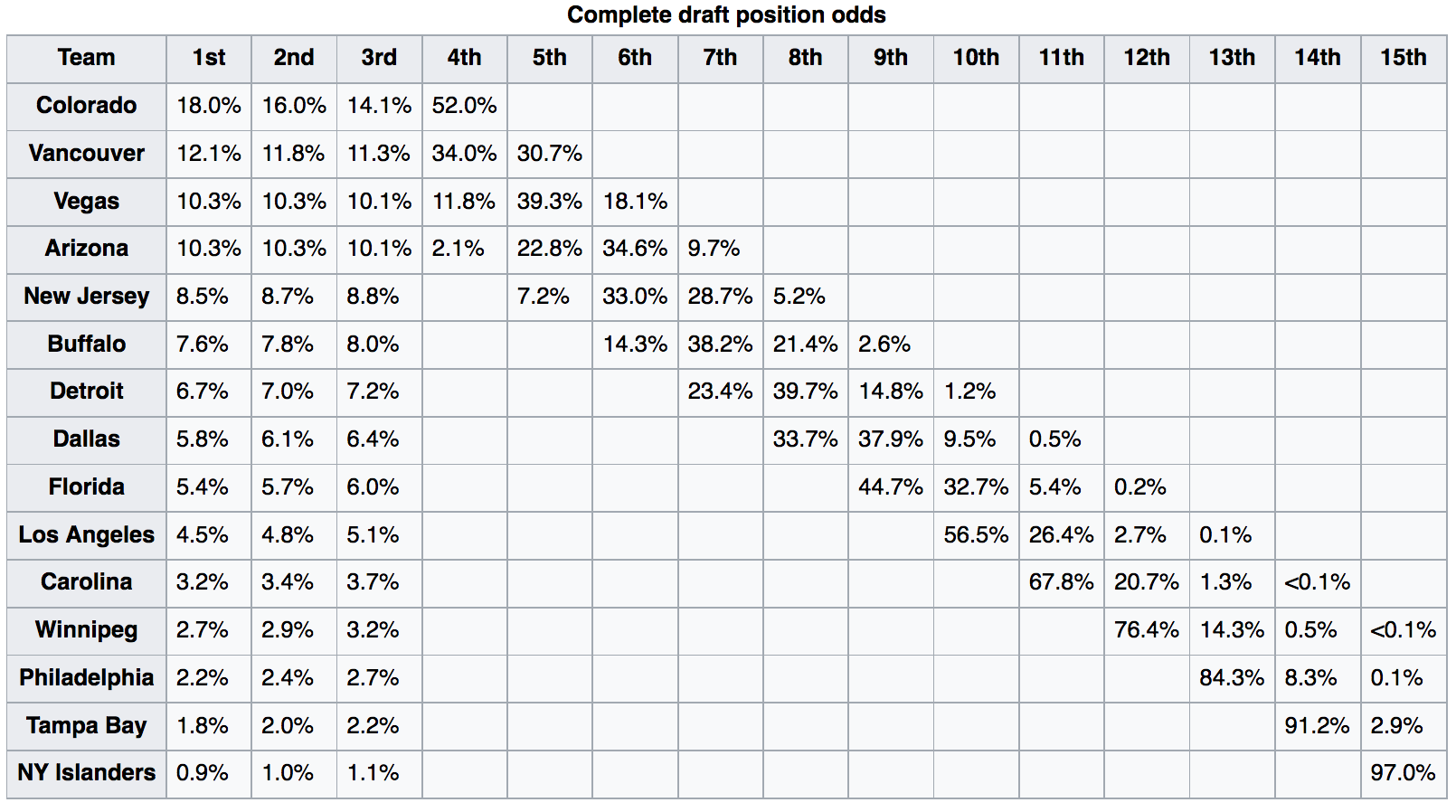 WHICH PROSPECTS HAVE A CHANCE TO GO NO. 1?
Brandon Wheat Kings centre Nolan Patrick has long held the top spot in NHL Central Scouting's prospect rankings, but there is growing support for No. 2–ranked prospect Nico Hischier after his explosive season in the QMJHL.
The six-foot Swiss centre put up 38 goals and 48 assists in 57 games with the Halifax Mooseheads and captured the league's rookie of the year honours.
As for Patrick, who is the son of retired NHL winger Steve Patrick?
"He's definitely a top-six guy at the very least when he's in his prime, but he's going to have to learn a completely different way to play in a different situation," Wheat Kings GM Grant Armstrong recently told The Province.
"I'm hoping that the team will take their time and not rush Nolan Patrick and to let him come along slow and develop. When he's ready to do more, the team will know it."
Nolan's uncle, defenceman James Patrick, was also an NHL first-rounder. Since he's a Winnipeg native, Jets fans will be hoping their slim 2.7 per cent odds come through.
"I think there are people who believe he's going to walk in and save a team. That's not what he is right now," Armstrong said.
"He's a solid, two-way guy who takes as much pride in his defensive play as making a play offensively. He's a guy who eventually you're going to put out in all situations. To me, he's going to be like a Bo Horvat. He's going to have that type of impact to your lineup when he's suitably ready."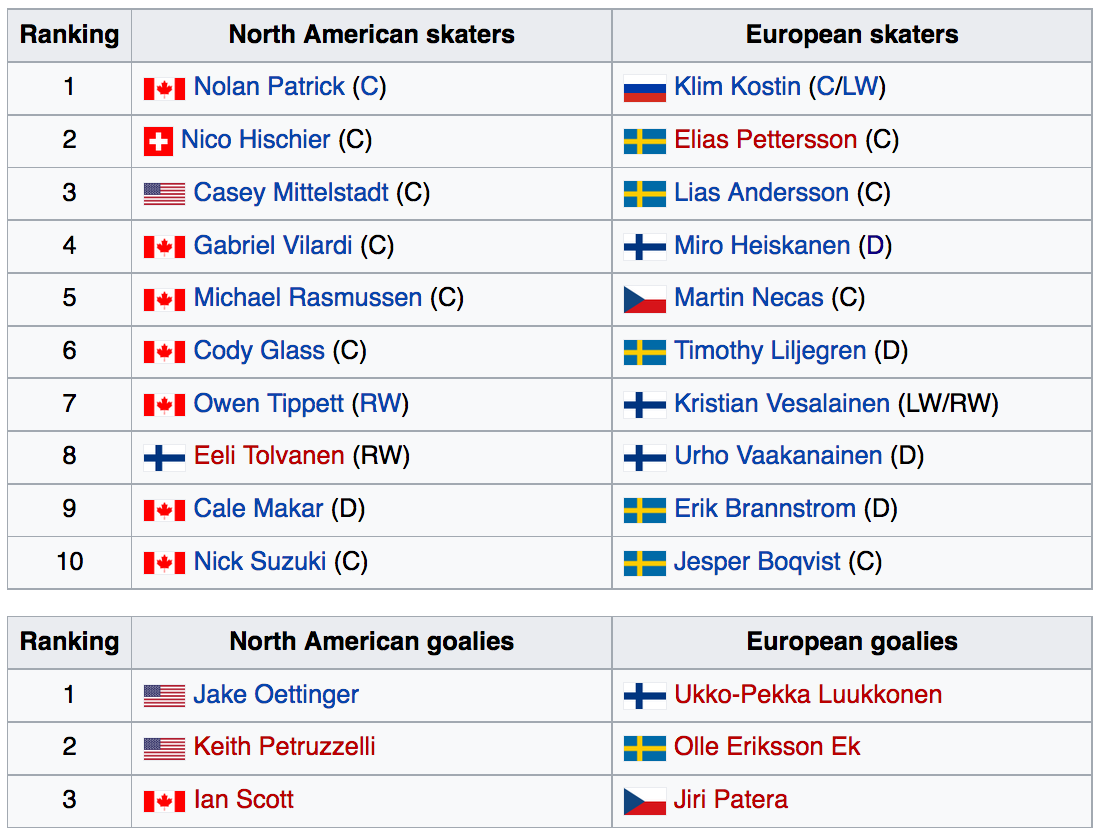 ARE THERE ACTUALLY BALLS, LIKE IN LOTTO 649?
Yes, but the balls don't have team logos on them. It's more complicated and involves a bit of math.
In recent lotteries, 14 balls, numbered 1 to 14, are placed in a lottery machine. The machine randomly selects four balls. The resulting four-number series (without regard to selection order) are then matched against a chart (here's the one from 2015) that shows all possible combinations and the teams to which each is assigned.
All number combinations are assigned to teams at random by Bortz & Company.
We needn't remind Montreal Canadiens fans that they were one number away from winning Auston Matthews at this time last year.
HOW DO I KNOW IT'S NOT RIGGED? The number-drawing process is supervised by accounting firm Ernst & Young.
SOUNDS FUN. IS THERE A HOME VERSION OF THE LOTTERY?
Why, yes. A fan in Buffalo created a simple and addictive online draft lottery simulator. You can play the 2017 version here.