Gather your good luck charms and super your stitions, hockey fans. It's almost time for the 2018 NHL Draft Lottery.
Here's what you need to know ahead of Saturday's big event.
What is the Draft Lottery?
It's a weighted system designed to determine the draft order of the 15 teams left out of the post-season. Three separate draws are conducted to assign the first, second and third overall selections.
When and where does it take place?
Saturday, April 28, at the Hockey Central Studios in Toronto. There's an added wrinkle to the unveiling of this year's draft order, though. On Hockey Central Saturday, beginning at 7:30 p.m. ET/4:30 p.m. PT, picks 15-4 will be revealed. Then, during the second intermission of the San Jose-Vegas game, the top three picks will be unveiled. (Viewers in the United States can watch it on NBC.)
Here's what it all looked like last year, when the New Jersey Devils came out on top:
Alright, but how does it actually work?
Just like last year, each team is assigned a series of numbered combinations. The lower a team finished in the regular season standings, the more combinations are assigned to them. Four balls are then selected at random to form a four-number combination, which is then compared to a master list of every teams' combinations and matched with the winner. This process is then repeated to determine the winner of the second and third overall picks. Once all three draws are done, the remaining teams fall into place based on each team's final position in the regular season standings.
Who's got the best chance to land No. 1?
Once again, the last-place Buffalo Sabres have the best odds of winning the first overall pick (18.5 per cent), just as they did back in 2015. But as they learned in those Connor McDavid sweepstakes, it still all comes down to luck.
The Canadian team with the best odds? That's the Ottawa Senators, who placed 30th and have a 13.5 per cent shot at No. 1. The Montreal Canadiens have the fourth-best odds (9.5 per cent), followed by the Vancouver Canucks (sixth, 7.5 per cent), and notoriously lottery-lucky Edmonton Oilers (ninth, 5 per cent).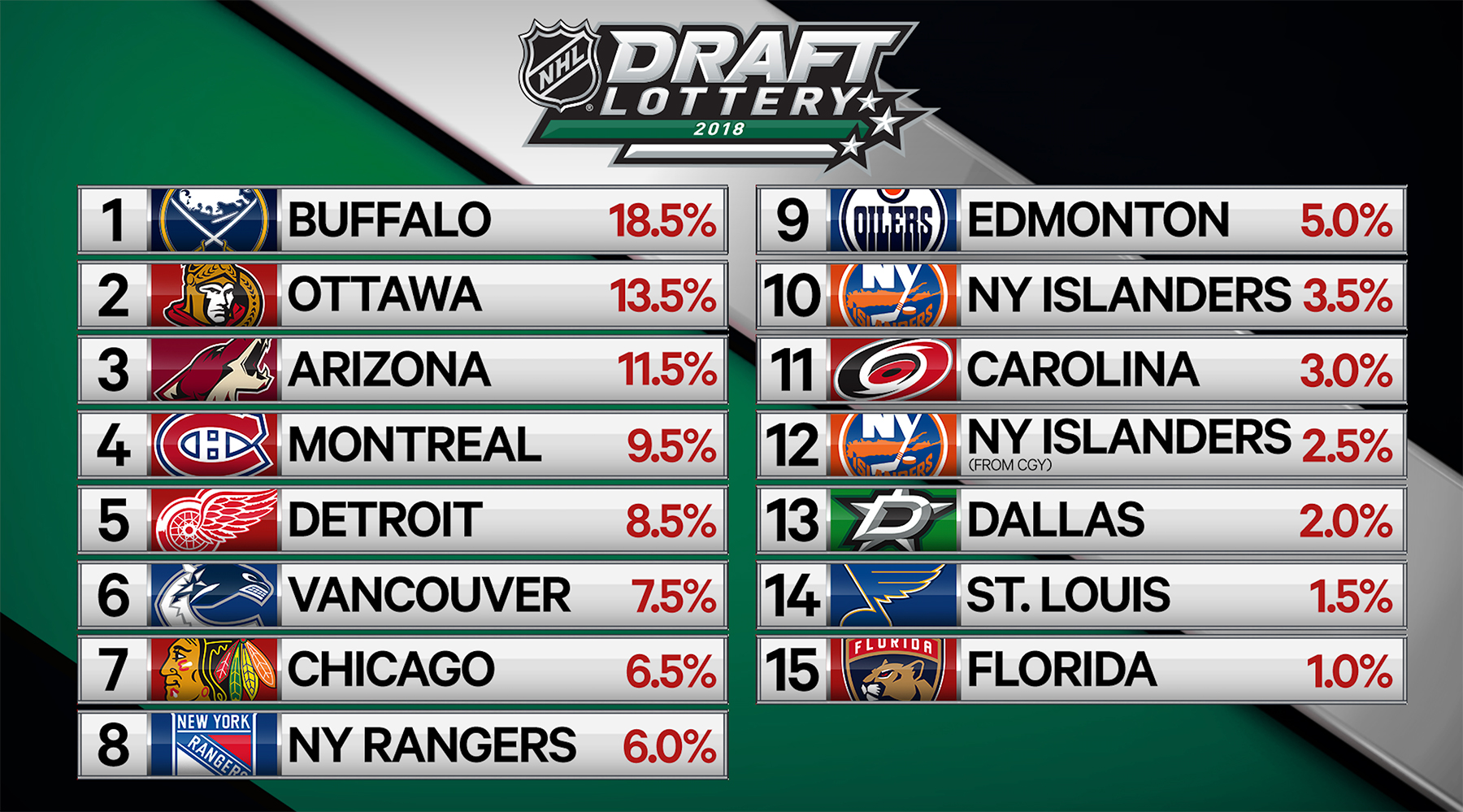 The Calgary Flames don't have a horse in this race, as their first rounder belongs to the Islanders as part of last June's deal that brought in defenceman Travis Hamonic, giving the Brooklyn-based club two (slim) shots at the No. 1 pick. And while Ottawa is still in control of their own pick, as a result of the Matt Duchene trade the Senators have the option of giving Colorado either their first-rounder this year or next, a decision that doesn't have to be made until draft day.
The St. Louis Blues have a little extra riding on this draw as well. Should they luck into an unlikely top-three position, they can keep the pick. If not, that means the selection (which would be outside the top 10) belongs to the Philadelphia Flyers thanks to a condition Blues GM Doug Armstrong implemented in the 2017 trade that sent Brayden Schenn to St. Louis. Keeping a top-three pick this year means the Blues' 2019 first-rounder belongs to the Flyers and St. Louis would also have to give up a 2020 third-round pick.
Who's up for grabs?
Elite defence prospect Rasmus Dahlin has been the consensus No. 1 overall pick all season long. With comparisons to fellow Swedish blue liners Erik Karlsson and Victor Hedman, this kid's the real deal and has the "generational talent" label to boot. Barring any crazy developments, he'll be the first Swedish player taken No. 1 overall since Mats Sundin (1989), and the first defenceman since Aaron Ekblad (2014).
"Dahlin has the skating, skills and elite hockey sense that can dictate the style of play and the pace of a game with or without the puck," NHL Central Scouting director Dan Marr said of Dahlin, via NHL.com "He finds ways to contribute in all situations, is ultra-competitive and a high-character person who leads by example."
Forwards Filip Zadina, Andrei Svechnikov, and Brady Tkachuk could all be in play when predicting picks No. 2 and 3, in what is shaping up to be a deep draft.
Wanna try it yourself?
Lucky for us, the popular fan-created NHL Draft Lottery Simulator lives on. (Careful, though — it's pretty addictive.)