If we were ever to see a Golden State Warriors-esque behemoth in the modern NHL, this might be it.
The Lightning enter the playoffs stacked across the board, with a lethal, dynamic offence, a blue line headed by arguably the game's top defenceman, and, behind all that, one of the league's top netminders as the failsafe.
Nothing is guaranteed in the grind of the post-season, though, and Tampa Bay's historic regular season will mean little if they can't put together a deep run, if not a winner. First up, they'll get Columbus, who's about as all-in as a team can get.
The Blue Jackets are still waiting for their marquee deadline acquisitions and their mainstay stars to all hit their stride together. After failing to do so right away and letting things go right down to the wire before clinching their ticket to the dance, they now draw the toughest assignment of the first round. Pressure's on, for both clubs.
Here's a look at your Lightning-Blue Jackets matchup:
Enter now for your chance to win big! $50,000 in cash prizes up for grabs. Grand prize includes: A new 2019 Ram Power Wagon.
ADVANCED STATS
5-on-5 via Natural Stat Trick (with league rank)
Columbus: 50.21 CF% (12th), 52.38 GF% (11th), 91.59 SV% (23rd), 8.81 SH% (6th), 1.004 PDO (11th)
Tampa Bay: 51.59 CF% (9th), 56.75 GF% (1st), 92.16 SV% (10th), 9.80 SH% (2nd), 1.020 PDO (3rd)
TEAM STATS
Columbus: 15.4 PP% (28th), 85.0 PK% (1st), 256 GF (12th), 231 GA (11th)
Tampa Bay: 28.2 PP% (1st), 85.0 PK% (1st), 319 GF (1st), 221 GA (7th)
HEAD-TO-HEAD RECORD
Columbus: 0-3-0
Tampa Bay: 3-0-0
The skinny:
Jarmo Kekalainen swung big at the trade deadline, bringing in a significant boost to the forward corps in Matt Duchene and Ryan Dzingel, along with some help on the back end and in the cage. The biggest move, though, was the decision to risk losing Artemi Panarin and Sergei Bobrovsky for nothing this summer in order to take a shot at Stanley Cup glory this spring.
The pieces are all there — now it's up to John Tortorella's squad to put it all together when the stakes are highest. And they won't get much higher than this. Tampa Bay enters the post-season coming off of a campaign that saw the club tie the NHL record for most wins in a single season, Nikita Kucherov clinch the scoring title with more points than anyone since Mario Lemieux and Jaromir Jagr back in 1996, and — most importantly, for the Blue Jackets — saw the Lightning absolutely dominate Columbus each time they faced off.
Tampa Bay didn't just win all three games in the season series — they outscored the Blue Jackets 17-3 (winning with scores of 5-1, 4-0, and 8-2). If there's a silver lining for Columbus, it's that all three games came before the Jackets beefed up at the deadline. But if there's a key takeaway, it's that this entire first-round series will hinge on Columbus' ability to neutralize Kucherov's overwhelming offensive potential — and he put up nine points in three games against them this year.
But this isn't necessarily the usual Conference Leader vs. Wild-Card Bottom Feeder matchup. While Tampa brings a dominant offence led by Kucherov, Steven Stamkos and Brayden Point, Columbus brings a premier dynamic offensive practitioner themselves in Panarin, along with Duchene and quality depth scorers like new-found 41-goal sniper Cam Atkinson. Tampa Bay might have a Norris calibre stalwart in Victor Hedman, but the Jackets ice a pretty elite top pairing themselves in Seth Jones and Zach Werenski. And for all his struggles, Bobrovsky is still a two-time Vezina Trophy winner, more than capable of going stop-for-stop with Andrei Vasilevskiy.
Depth and details of execution are going to be the difference in this one. And at the moment, the Lightning look like a well-oiled machine, while the Blue Jackets are still figuring out where all the new parts fit in.
Tampa does have its flaws though, albeit very minor ones. As Andrew Berkshire pointed out recently, at 5-on-5 the Lightning do tend to allow slightly more high danger scoring chances, scoring chances on net, and secondary chances off rebounds than average. Having an all-world netminder to clean up those messes means those flaws don't move the needle too much, but they do leave the door open slightly for Columbus to make something happen.
Don't forget, the Blue Jackets faced a similar situation last spring, entering the first round of the 2018 post-season against the eventual Stanley Cup champion Washington Capitals. Columbus took the first two games, both in OT. Game 3 extended to double overtime, and came within an inch of finishing with the Jackets up 3-0 on the series.
They're a plucky bunch, and this iteration of Columbus' squad has even more weapons to work with.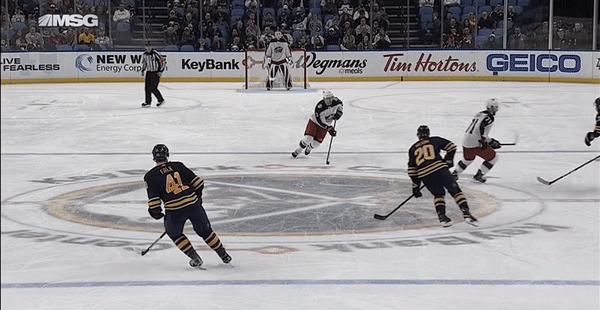 Columbus Blue Jackets X-Factor: Matt Duchene
This is what Matt Duchene's been waiting his whole career for, isn't it?
The long-time Avalanche forward, and brief Senators star, has long been aching for a chance to shine in the playoffs — his only experience consisting of eight total games split between two different years. With Colorado emerging as a force after he left, and Ottawa falling away from legitimacy just as he arrived, it's been half a decade since Duchene's had a real chance to compete past game No. 82.
Now, with a fairly strong cast around him and a stiff test ahead of him, the Haliburton, Ont., native can leave it all out there.
Columbus' chance at getting through the Lightning very much depends on Duchene's performance, too. His presence is the single biggest difference between the Blue Jackets squad that almost squeezed by Washington last year and the one that hopes to move on in 2019. Luckily for the Ohio faithful, the 28-year-old is playing some of his best hockey at the moment, closing out 2018-19 with a career-high 31 goals while matching his previous best of 70 points, a level of production Columbus hopes will carry over to the post-season.
For what it's worth, three of those points came in a surprising Duchene-led Senators win over Tampa Bay in November, in which he and current Blue Jackets teammate Dzingel beat Vasilevskiy with a silky one for the game winner.
Tampa Bay Lightning X-Factor: Andrei Vasilevskiy
There are no mysteries when it comes to Tampa's offence. They'll get their chances and will bury a fair number of them. But with the Lightning showing a propensity to allow slightly more high danger chances than the average NHL club, Vasilevskiy is going to be key.
That dynamic played out during the season series between these two teams — Vasilevskiy put up three wins (including a shutout) and allowed only three total goals over that span, but he did have to turn aside 103 shots in the process. The last time these two clubs met, in early February, the young backstopper faced 40 shots on the night. He kept out all but one, while Tampa scored five on just 20 shots of their own. Not a formula you want to gamble with too many times.
The 24-year-old's numbers dipped slightly down the stretch, with March (.906 save percentage, 3.01 goals-against average) his worst month of the season. That, plus the lack of a legitimate last-resort safety net — with backup Louis Domingue day-to-day with a lower-body injury — means all eyes will be on Vasilevskiy to prove he's firing on all cylinders early in the series.
KEY INJURIES
Tampa Bay:
Victor Hedman, upper-body (day-to-day)
Louis Domingue, lower-body (day-to-day)
Columbus:
Ryan Murray, upper-body (day-to-day)
Adam McQuaid, undisclosed (day-to-day)