In the final regular season edition of Truth By Numbers, Andrew Berkshire drills into how the St. Louis Blues turned their season around so suddenly, and tries to find out what Tampa Bay's weakness is — or if there is one at all.
SPOTLIGHT
When the St. Louis Blues fired Mike Yeo on Nov. 20 they were 30th in the league's standings with a 7-9-3 record after 19 games. Panic seemed to grip the organization and it was reported that every single player on the Blues' roster could be had via trade, including franchise cornerstones such as Vladimir Tarasenko and Alex Pietrangelo.
It appeared the Blues' cold start had them ready to blow things up completely and rebuild from scratch, but patience won the day and general manager Doug Armstrong let new head coach Craig Berube attempt to right the ship.
The thing is St. Louis' start wasn't nearly as bad as it looked on the surface. They were barely below .500 in points percentage and their place in the standings looked bad because no team started off truly poorly this season. The optics were worse than the Blues actually were.
Fast forward to today and the Blues are within a point of the Central Division lead, partially due to the Winnipeg Jets and Nashville Predators having underwhelming seasons, but St. Louis' surge up the standings has been extraordinary nonetheless.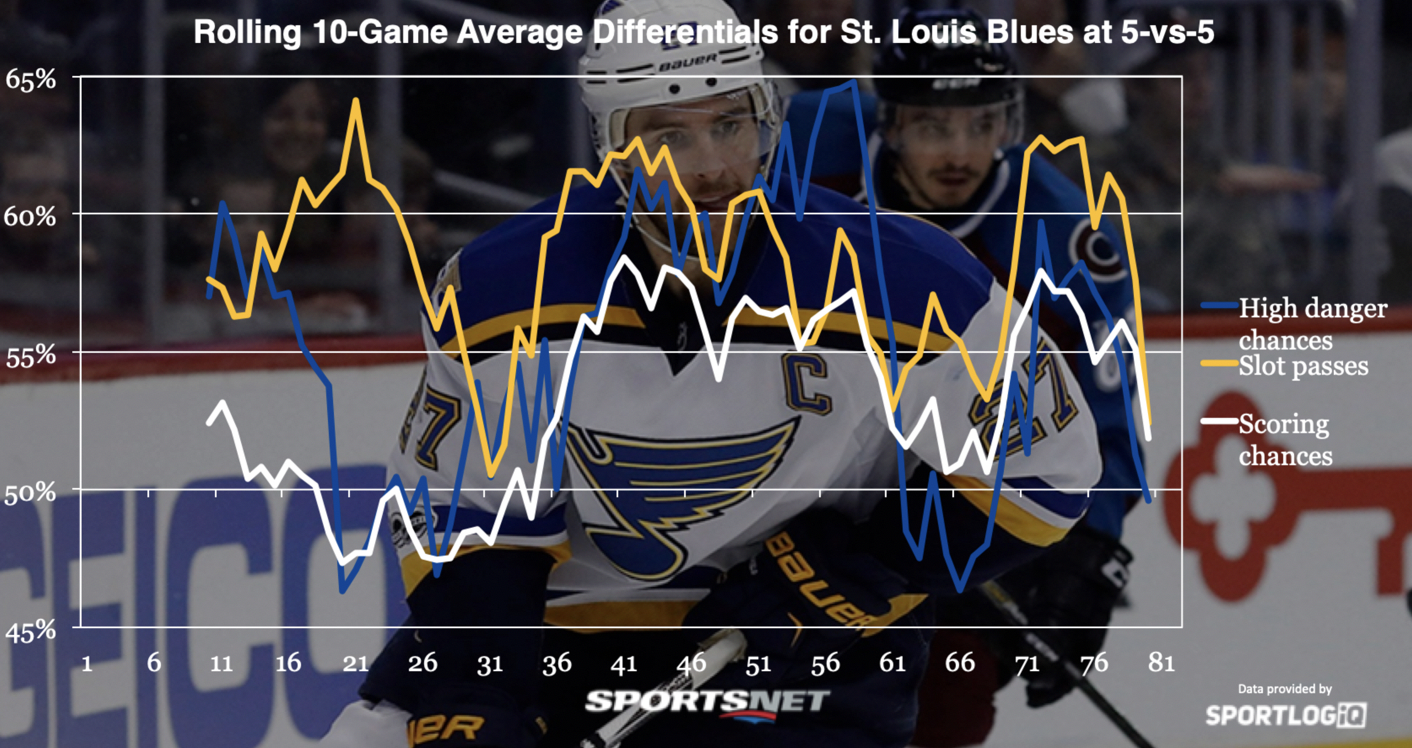 Looking at three measures of shot quality using 10-game rolling averages, we can see that the Blues actually started the season relatively dominant. They controlled nearly 60 per cent of both high danger chances and passes to the slot at 5-on-5, but they were hindered by terrible goaltending, with Jake Allen posting save percentages below .900 in seven of his first 11 games.
The Blues continued to exhibit strong control of dangerous passes into the slot, but their high danger scoring chance differential tanked sharply and their scoring chance control tapered off into the red.
The coaching change was made at the lowest point on this graphic, when the Blues controlled just 46.3 per cent of the high danger chances at 5-on-5 over Yeo's last 10 games. After that they took off like a rocket for nearly a 40-game stretch where they were consistently controlling shot quality at rates between 55 and 60 per cent.
They've swooned and peaked again since the 60-game mark and appear to be in a bit of a lull lately, but there hasn't been a 10-game stretch at any point this season where the Blues have allowed more passes to the slot than they've produced themselves. And ever since the coaching change the lowest point they've fallen to in scoring chance differential in any 10-game period after digging out of that rut was 50.63 per cent.
Whether the Blues win the Central is immaterial at this point. The important takeaway from their regular season should be their resilience under pressure, not to mention they are arguably the best team in their division at 5-on-5. Whoever faces them in Round 1 will not have an easy time.
THE QUESTION
With the playoffs less than a week away, Steve Dangle is looking ahead and anyone who wants their team to get anywhere in the East is shaking in their boots at the sight of the Tampa Bay Lightning.
Desperate for some ray of hope, Steve asks…
"Do the Lightning have any weaknesses at all? Is any part of their game exploitable in a seven game series?"
Assuming the injuries to Victor Hedman and Andrei Vasilevskiy aren't going to be a big deal once the first round starts, we can take a look at the whole season for the Lightning and pare it down until we can find something they're not good at. This is a cap league after all, where everyone has some kind of issue.
Gotta be honest here, the weaknesses for the Lightning are a bit thin.
At 5-on-5, they give up slightly more high danger scoring chances than average and while they give up only an average number of scoring chances overall, they allow more of those to get on net than your average NHL team. When their goalies give up rebounds, the Lightning allow opponents to get secondary chances on those pucks more often than most. That's not great, but none of this screams weakness and having a Vezina-worthy Andrei Vasilevskiy backstopping them covers some of these issues.
There are a few other little things that wouldn't fit on the same graphic. The Lightning have a high turnover rate in the neutral zone, likely because they try more skill plays than most teams. The crazy thing about the way the Lightning play is that on top of having a high-skill game, they're great at all the details.
Making more high-risk plays in the offensive zone usually leads to more turnovers, yet the Lightning have the lowest offensive zone turnover rate in the league. Pushing the play offensively from the defensive zone can lead to more mistakes as well, yet the Lightning have the fifth-lowest defensive zone turnover rate in the NHL.
Is the NHL postseason format really that big a deal?
April 04 2019
Skilled teams can sometimes wilt under forecheck pressure, right? When they're forced to go off the glass and out maybe they struggle to get the zone cleared? Well the Lightning don't like to dump the puck out — they have the fifth-lowest dump out rate in the NHL — but when they have to do that they're the second-most successful team in the league at it after Carolina.
Oh and those extra scoring chances they give up? That's compensated for by allowing the fifth-fewest passes to the slot in the NHL, and seventh-fewest chances off the cycle.
The only thing I can suggest for opponents facing the Lightning is to be hyper aggressive with your neutral zone defensive schemes. Also: good luck will be a key element.
BUY OR SELL
• With one game left to play, Carey Price has faced 965 passes to the slot this season, far more than any other goalie in the league. One rough month has obfuscated just how dominant he's been this season for the Canadiens. The trouble for Montreal is that it still doesn't look like it was enough to make the playoffs. They need Columbus to be limited to one point in their remaining two games, and Montreal needs to beat Toronto as well. A tall order.
• Some (near)year-end numbers: While the numbers are close at evens, Tampa Bay's power play runs on Nikita Kucherov and his lead on Connor McDavid in completed slot passes is an absurd 295-235 in all situations. Leon Draisaitl and Johnny Gaudreau are right behind at 231.
• He had his own day in Toronto, but is that enough praise for John Tavares? In all situations he leads the league in high danger scoring chances on net with 138, a huge gap over Bo Horvat's 103. He leads the league in scoring chances overall as well with 330 and scoring chances on net with 213. Seventy-five per cent of his shots this season have been scoring chances. Ridiculous.
• Another area where McDavid has been dethroned: Nathan MacKinnon leads the NHL in scoring chances off the rush this season with 117. Facing the Avalanche is a poor reward for winning the West. Their record is only okay, but they're sneaky good.
• Another reason I'd be worried about facing Colorado is the underrated Sam Girard. Only Roman Josi has completed more defensive zone carryouts than Girard's 450 this season. He is a transition machine.
[relatedlinks]