TORONTO — Dominic Moore's Smashfest party for charity disguised as a ping-pong tournament was a good time had by all Thursday night at Steam Whistle Brewery. It also taught me a few things. Here are 29 of them.
1. Moore and his brigade of NHLers raised an impressive $140,000 for concussion and rare cancer research, a huge step up from the $20,000 raised in its 2012 debut.
"Both of these causes are for things that are not well understood," Moore said, "and definitely under-represented in terms of funding."
2. Doug Gilmour is not afraid to rock leopard-print sleeves:
But don't be shocked. It's not the first time Dougie has worn animal:

3. Logan Couture's right hand looks like it belongs on Frankenstein's monster. It's swollen and has so many surgical scars, he couldn't even swat a ping-pong paddle with it.
"If I'm gonna play, I'm gonna play lefty," said Couture, who's been busy rehabbing his wrist and says he will be ready for training camp.
4. The San Jose Sharks play soccer instead of ping-pong.
5. Couture works out in the summer with fellow Southern Ontario player Drew Doughty — a constant reminder of the Kings' four-game playoff comeback.
"Every time I see him it's right in my mind. And he gets the Stanley Cup tomorrow," Couture said. "He doesn't say anything. We're good friends, so he knows that's somewhere you don't go."
6. Couture speaks to general manager Doug Wilson often throughout the summer, but he's never explicitly been asked to take on more of a leadership role with the team. "It's just expected," he explained. "Those are the things that don't have to be said."
7. The Sharks' players aren't too concerned with analytics. "The coaches may use it. I've never discussed it with them," Couture said. "With our team, we've got a lot of old-school guys. I don't think they'd care about it."
8. The Canucks players aren't approached with their advanced stats either. "I've read about it, but it's easy to make someone look bad with numbers or make someone look good with numbers," Burrows said. "Sometimes I think it goes further than that, but if you look at the Oakland A's, they seem to be doing well with it. Maybe it'll work in hockey."
9. It sure sounds like Derick Brassard will settle with the New York Rangers and avoid arbitration.
10. Tyler Seguin is a massive Jose Bautista fan, and his silent-auction game is not to be trifled with: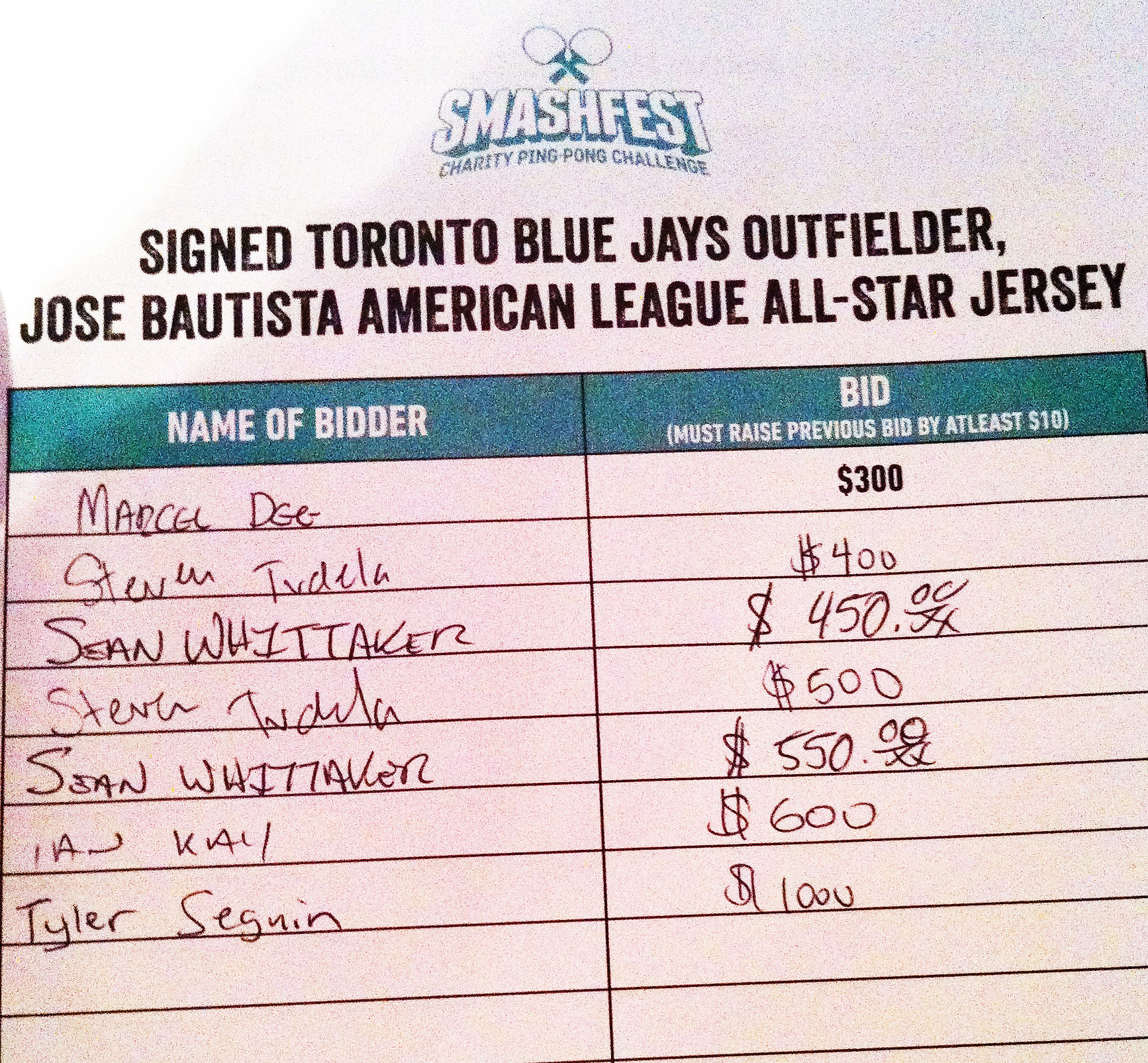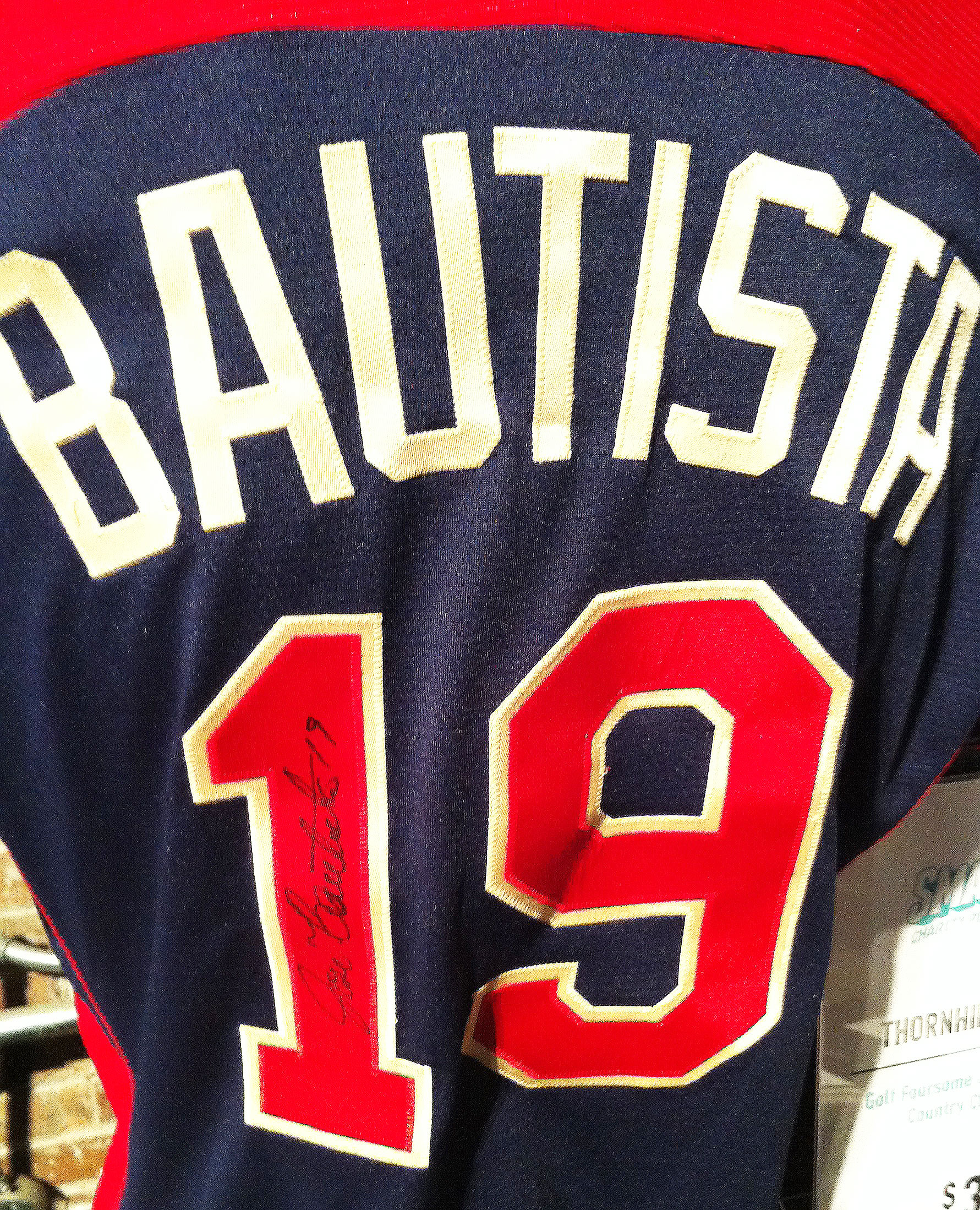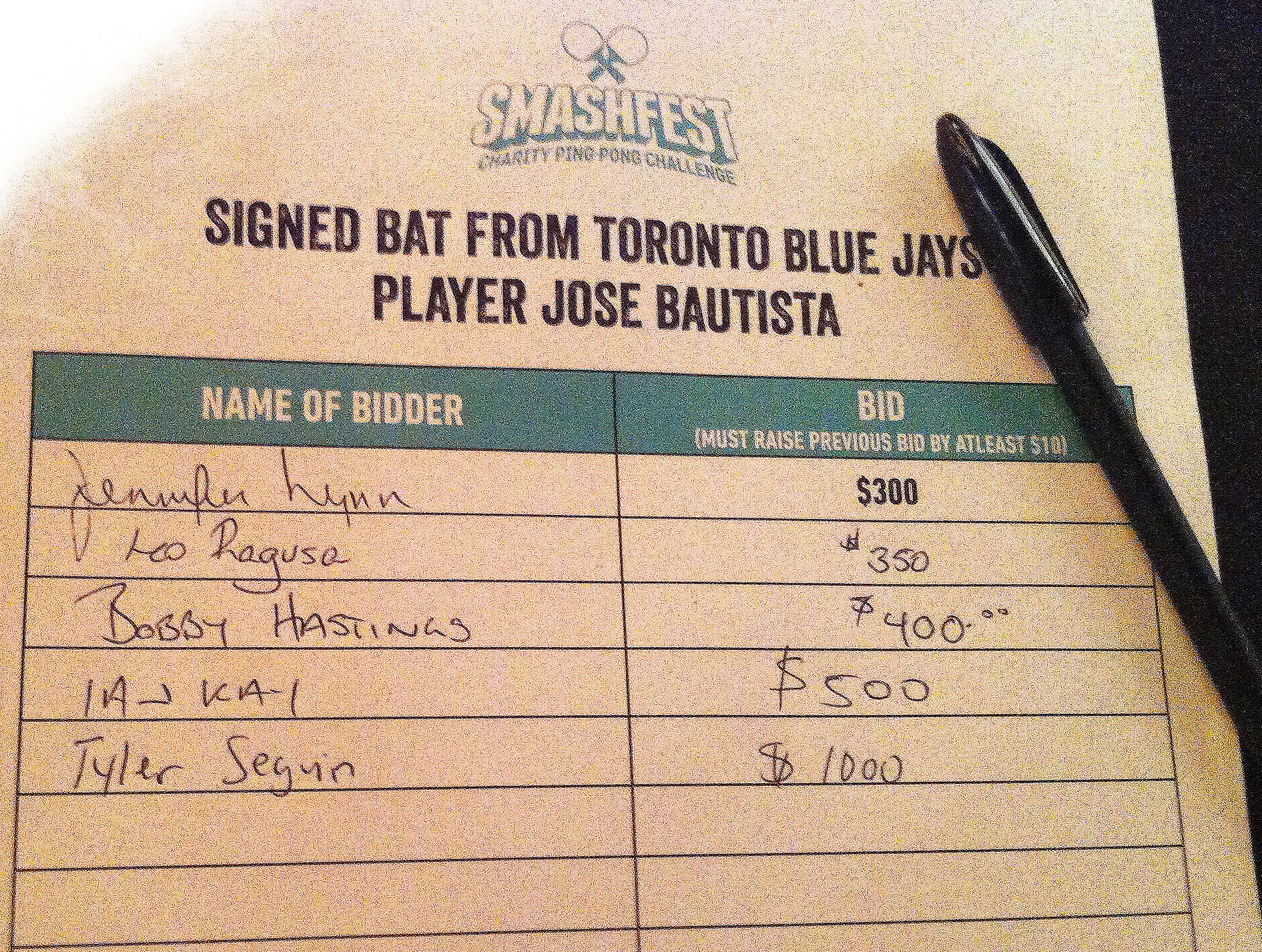 11. Free agent Michael Del Zotto is living with Seguin this summer.

12. New Devil Mike Cammalleri's response to a reporter who asked if he's checked out the Jersey Shore yet: "Because I'm Italian? Are you stereotyping me?"
13. Bryce Salvador and Cory Schneider were the first Devils to reach out to Cammalleri after he signed: "Cory I knew a little bit from sitting on the competition committee with him for the NHLPA," he said. "It was nice of them."
14. Cammalleri will miss Alberta. "It was a tough decision to leave Calgary. I found Calgarians to be the kindest people you could ever want to be with. I believe it's such a big part of our lives—our experiences and interactions with other humans. So that'll be the hardest part for me and my wife and our daughter leaving there," he said.
15. Despite discussions with numerous teams, the only flight Cammalleri took during the UFA courting period was to New Jersey.
16. Originally the Flames thought someone in the dressing room was running the Boring Sean Monahan Twitter account, but now Cammalleri says they think it's someone on the outside: "We find it hilarious."
17. The event gets busier and noisier every year.
18. Some people describe Jeff Skinner as "that guy who looks like he's 12." Others describe him as "that guy who looks eight."
19. Moore was spot-on with his prediction that defending champ Stephane Veilleux would reclaim his title. "I know Stephane and Alex Burrows have been practising because they're the top seeds," Moore said. "Some guys are pretty intense about the table tennis, and for other guys it's just fun."
20. If a photo editor at Toronto's Metro turns up dead, David Clarkson will be the prime suspect: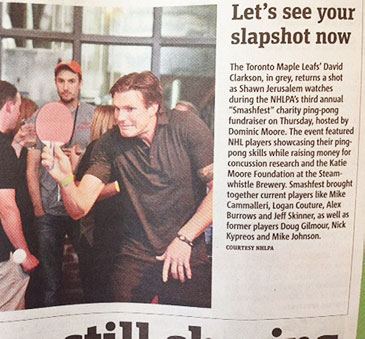 21. The only NHL team Gilmour played for that had a ping-pong table was Calgary. "Hakan Loob—he was out best ping-pong player."
22. A Hakan Loob reference makes every blog better.
23. As GM of the Kingston Frontenacs, Gilmour kinda hopes Sam Bennett isn't ready for the NHL in the Flames' eyes.
"I'm going to be selfish. I want him back. But if he makes it, good for him," Gilmour said. "I want him to succeed, but at the same time, our team, with him, we feel we're good enough to go for it this year."
24. The thing that most impresses Gilmour about Bennett is his lack of quit.
"People would run him, people would hit him—he'd get up and go right back at them. Guys who play against him would chirp him and get abusive with him," Gilmour said. "He never stopped. He'd get up, get the puck, figure out who he's going to pass it to or score a goal. His commitment is unbelievable."
25. Henrik is better than Daniel Sedin at ping-pong.
26. Burrows still stays in touch with Roberto Luongo, through Twitter and beyond: "We play fantasy baseball and fantasy football together."
27. Kevin Weekes is doubtful that free agent Martin Brodeur finds a job. Weekes recently spoke with Broduer's agent, Pat Brisson.
"They're looking for a fit, but on paper I don't see one. Does he want to play with Ondrej Pavelec in Winnipeg? I don't know. Other than that, where's he going?" Weekes said.
28. Injury or slow start might be the only way Brodeur gets in: "It's not a slight against him; it's the marketplace," Weekes said. "He knows what it's like. He's been king of the hill for so long."
29. Late-night pizza is extra delicious*
---
*Technically more of a reminder than a learning