In the end, Ken Hitchcock knew there was one thing he shouldn't change. In overtime, you call out "97!" and "29!" and see how fast they can win it. Tuesday night, it took 51 seconds.
San Jose scored 45 seconds into the game. The Oilers could have fallen apart, like they did in Calgary Saturday and at home against Vegas on Sunday, two backbreaking defeats that cost Todd McLellan his job. Three times, they came back from one-goal deficits before Leon Draisaitl scored the winner.
This time, they held on, moving one point back of Vancouver for a playoff berth.
Hitchcock may have "retired," but no one who knows him was surprised to see him back behind an NHL bench. This is what he lives for, this is what he craves. He's not wired to be a consultant. There is no doubt that he was watching the Oilers' every move, thinking — and saying to anyone who asked — "I can fix this."
If Edmonton was going to fire McLellan, it was going to be for someone of Hitchcock's pedigree. A turnaround artist. Someone who could revive their chances right away, get them to the playoffs this year.
I'm not sure everyone internally agreed with the change, but they all agreed something needed to be done.
"It's not going to be comfortable at times," Hitchcock told reporters hours before the game. After, he said, "I needed about four shifts…I was grinding hard. I told them I was going to do it and I was pushing hard."
In my first season at Hockey Night in Canada, we did a feature on him. After it aired, one player said I missed out on asking Hitchcock about his favourite move. What was that? I asked. "During stops in play, he knows the camera is on him," was the answer. "He's calm then. When the play starts and he knows you're not watching him, he's all over us. Man, he's relentless."
The next time I saw him, I mentioned that. He smiled. Didn't say anything, but he didn't need to.
Dallas players say he still loves to challenge you during meetings. And he expects that you'll come right back at him. That's what he wants.
Here's what else we know: team defence gets better almost immediately. Dallas went from 260 goals against to 222 in his first full year. Philadelphia from 192 to 166. He coached 62 games in his opening season with Columbus. The Blue Jackets dropped from 276 to 244 when he joined for most of 2006-07. St. Louis was 228 to 155.
His return to Dallas came after a season where the Stars had an historically bad penalty kill. It was fourth-best in the league last year before Ben Bishop's injury damaged their final month.
He slows down the tempo. In 2016-17, Dallas had 3850 shot attempts, sixth-most in the NHL. Their games had 7686 total, one of the league's highest numbers. Last year, that dropped to 3722 (19th) and 7292.
The concerns in Dallas after last season were that the more passive system prevented power play opportunities (they were 20th with 244 attempts), that they dropped from eighth in scoring at all-star to 18th by season's end, and that they led the NHL in both icings and offsides.
"They hired Hitchcock," one executive said, "Because they can't check. He will demand that."
The big question is if "demand" will be enough. Is the roster built for that? Are they really good enough? The Oilers gambled their 2018-19 version would not resemble 2017-18. So far, that's come up snake eyes.
[snippet id=3816507]
31 THOUGHTS
1. Hitchcock loves "heavy, competitive guys," as another coach put it. An exec said one of the most interesting cases would be Drake Caggiula. "He's not big, but he's competitive." Would he get to stay with Connor McDavid and Draisaitl? If Game 1 is any indication, he's getting a real chance. Even in taking a penalty, the winger played 21 minutes in San Jose, almost seven above his average.
Hitchcock leaned on his two cornerstones, double-shifting them, and Caggiula stayed. There wasn't a ton of power play time in this one, so that can skew the numbers, but others way over their averages were Kyle Brodziak (3:22), Darnell Nurse (3:18), Zack Kassian (2:45), Draisaitl (2:07), Adam Larsson (1:56), McDavid and Kris Russell (1:44). No one played more at even-strength than McDavid, at 23:46. The Oilers backed off potentially record-setting numbers for him at even-strength, but Nurse was highest among defencemen (22:28).
2. Those who were down include Ty Rattie (5:59), Milan Lucic (3:32), Cooper Marody (3:19), Oscar Klefbom (2:29, but took a penalty) and Ryan Nugent-Hopkins (1:57, with a goal though). Although Lucic's overall time was down, Hitchcock seemed to like him with Brodziak and Kassian. That kind of trio would appeal to him. Curious to see if the Oilers soon give Jesse Puljujarvi a run under this coach, simply because he likes big bodies.
3. There were rumblings Hitchcock's contract came with an option that became guaranteed for next season if Edmonton made the playoffs, but official word is everything re-evaluated at the end of the year.
4. We're one-quarter through the season, with four coaching changes. Aside from 2017-18, when there were zero in-season dismissals, this isn't too unusual. What is different: three of these jobs are interim appointments. Both Edmonton and Los Angeles made it clear Hitchcock and Willie Desjardins have the rest of the season. For now St. Louis GM Doug Armstrong said that while he throws his "full support" behind Craig Berube, an in-depth coaching search is underway. Only Jeremy Colliton has solid footing. Chicago is committed to him, although nothing is guaranteed in this business.
The most in-season changes this decade (by my count) is seven in 2011-12, and six of the replacements — Hitchcock (St. Louis), Bruce Boudreau (Anaheim), Randy Carlyle (Toronto), Kirk Muller (Carolina), Todd Richards (Columbus) and Darryl Sutter (Los Angeles) — stayed on. The only one who didn't was Randy Cunneyworth in Montreal. Go back to another heavy year, 2002-03, with eight changes. Seven stayed: Sutter (Calgary), Tony Granato (Colorado), Bob Hartley (Atlanta), Claude Julien (Montreal), Doug MacLean (Columbus), Glen Sather (Rangers) and Ron Wilson (San Jose). (The exception was Boston, where Mike O'Connell gave way to Mike Sullivan.) We are seeing a very unusual pattern.
5. So what does it mean? "It means you're going to see a lot of lobbying," one coach said, laughing. It also means that, as coaching salaries have skyrocketed (good for them), organizations realize the cost of a bad fit is much greater. Edmonton and St. Louis are at different places on the revenue spectrum, but both organizations were wary about severance and replacement monies. A test drive is better for them than a commitment.
The other thing that's going to be interesting is the depth of the search. When San Jose hired Peter DeBoer, it was after a lengthy process where the Sharks talked to around 20 people. Listening to Doug Armstrong say he was casting a worldwide net indicates others are going to follow that kind of process, especially if throwing bags of money at Joel Quenneville can't be your solution.
6. In talking to a few GMs about it over the past few months, one of the biggest things they are looking for is, "How does our next coach relate to this generation of player?" The AHL has always been a place for coaches to develop, and it helps that it's built to be a developmental league. But it's not a coincidence that we've seen a run (Dave Hakstol, Jim Montgomery, David Quinn) of NCAA bosses, too.
I've spent some time trying to put together a list of who will be interviewed for some of these jobs, and you get an eclectic selection. The obvious ones are Quenneville (who will have his pick) and Alain Vigneault. There were a lot of others, particularly those who are in "young" environments.
I don't know if all would be head-coaching candidates, and some might be used to pick their brains. But here were some names: Dallas Eakins (AHL San Diego), Dean Evason (now Minnesota, formerly AHL Milwaukee), Tim Hunter (Team Canada World Juniors), Sheldon Keefe (AHL Toronto), Troy Mann (AHL Belleville), Nate Leaman (NCAA Providence), Rocky Thompson (AHL Chicago), Andre Tourigny (OHL Ottawa) and Pascal Vincent (AHL Manitoba).
One suggested Rob Blake's connection with Patrick Roy might put him on the Kings' radar. Others went with NHL assistants in young environments like Jim Hiller/DJ Smith (Toronto) and Kirk Muller (Montreal). Marco Sturm was mentioned a few times. The takeaway is that if you're not going for the most obvious of options, there's a lot to investigate.
7. Craig Berube, by the way, had a good reputation with young players when he coached St. Louis's AHL affiliate in Chicago. That's not an easy place to develop, because the organization badly wants to compete — not always compatible with the parent club's goal. Three players who grew under his tutelage there were Ivan Barbashev, Sammy Blais and Vince Dunn. The Blues would love to see that replicated at the NHL level.
8. Another weird sidebar to two of the coaching changes: Desjardins and Hitchcock don't have any handpicked assistants on their staffs. Definitely not normal.
9. Armstrong's media conference had a couple of interesting nuggets. First, he mentioned that his search would go into Europe, which brings out at least two names: Rikard Gronborg and Ralph Krueger, who has politely declined at least one opportunity since taking Team Europe to the 2016 World Cup Final.
10. Second, Armstrong mentioned changes to the core if the Blues don't get going. The assembled media pointed out that it's not the first time he's said that, and he did perform major surgery in the off-season.
At times, there've been indications of the organization's frustration with Vladimir Tarasenko. No one's ever said it on the record, and I've never heard his name in a specific trade rumour. The Blues have to know it's a hard trade to win, because you're giving up a great talent. There's no bigger change they could make, if they wanted to.
11. Peter Chiarelli looked stressed and exhausted when he spoke to Gene Principe during our Oilers/Sharks broadcast Tuesday night. Firing someone isn't easy, and McLellan didn't take it quietly. Everyone in the organization knows what's at stake. The business side underwent a major reconstruction in the past year or so, with many employees (some estimated at least 50) moved out. That takes a toll, and now the hockey department is under the microscope.
12. Okay, some other stuff: sounds like Pittsburgh tried to get its hands on Brandon Montour from Anaheim. Don't think the Ducks are interested. He's a talented guy. Someone who does fit their profile? Jakob Silfverberg, a pending UFA. Entering Saturday's game in Ottawa, 41 of the Penguins' 46 goals from forwards came out of their top six.
13. With Shea Weber on the horizon, lots of talk the Canadiens wanted to move a defenceman rather than lose someone on waivers, as with Jacob de la Rose. Noah Juulsen's injury may change that. Tough thing for GM Marc Bergevin is that it is not easy to make a deal for an asset when you are facing a roster crunch.
14. Lots of talk about what Los Angeles will do. They've changed coaches and made one trade. Things can always change, but the Kings may choose to see how things evolve before anything else.
15. Several restricted free agents (Brock Boeser, Patrik Laine, Mikko Rantanen among them) have made it clear or agreed with their teams they'll wait until after the season to talk contract. At last week's GM meetings in Toronto, some of the managers said they feel others are waiting to see if William Nylander sets the market over the next 10 days before doing anything. (This note's for Joe Pavelski.)
16. Last Saturday was an awesome flashback to the Battle of Alberta, but also what it was like to go into Calgary on a regular basis. For years, you knew that if you were going into that building, win or lose, you were going to get roughed up. Sam Bennett and Matthew Tkachuk energized their crowd and their teammates from the first shift, with both getting under the skins of the Oilers. [sidebar]
Tkachuk is going to get paid. He's such an important player for them. Bennett's contract is up too, and GM Brad Treliving's refusal to trade the forward could go down as one of his best decisions. Sometimes, top selections (Bennett went fourth overall) get caught up in points and such. Bennett can have a long and excellent career as an edgy and productive all-around player. He just needs to embrace it.
17. Years ago, now-retired Mike Richards told a story about playing for Philadelphia against New Jersey. He said Sergei Brylin and Patrik Elias warned him that he was going to pay for it if he kept playing his way. I think some Oilers players tried the same tactic with Tkachuk. Remember the Kings going after him a few years ago? He drives people crazy.
18. Last season, David Rittich got an opportunity to be the No. 1 goalie in Calgary when Mike Smith was injured, and the mental side of it got to him. It happens. Even at 25, he was a rookie and it is new. One thing the Flames are working on with him is preparing the same way to start as he did when he was the backup. Always the same. Results are good so far, and it is clear his teammates believe in him.
19. Eight years ago, Drake Batherson is on the right, next to his cousin, Dean Vial.
Dean's father (and Drake's uncle), Dennis, played 176 games for Ottawa from 1993-98. Last week, Dean and Drake re-united for an updated photo following Drake's NHL debut — and first goal.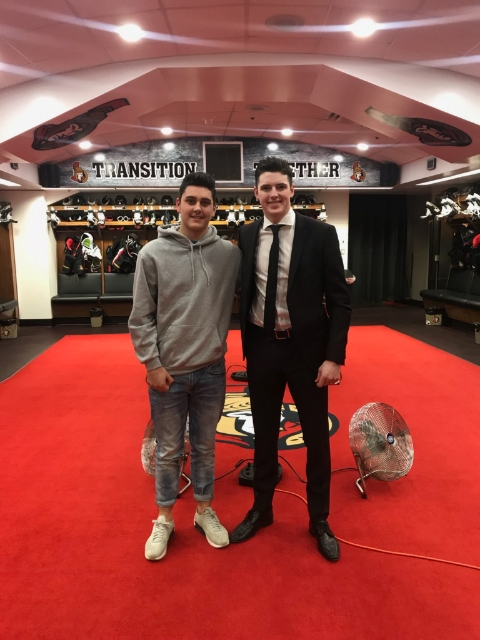 Dennis Vial says that, as a midget player, Batherson was five-foot-eight and 140 pounds. He hit a growth spurt and filled out, equating his size with his talent and work ethic. "I would always tell him, you have to be tough," Vial said last week. "Not tough in what I did (Vial had 794 penalty minutes in 242 NHL games), but mentally tough. That guy across the ice from you is going to try and beat you on every shift. How are you going to handle that, to make sure you beat him?"
Batherson's father, Norm, had a lengthy career in the AHL, the IHL and overseas. "He would always tell Drake, 'No excuses. I don't want to hear excuses,'" Vial said. "Drake listened." One scout said that when Batherson was sent to AHL Belleville, he didn't think there was any way the player would be back in the NHL this season. It took less than two months.
20. Vial said that, as a former player, he appreciated how Ottawa's coaches handled Batherson before his first goal. "He was on the ice when Detroit scored. As a rookie, you're thinking you won't get back out there. But he was there for the power play minutes later when he scored."
21. So here we are, entering Wednesday's games with Buffalo fourth in the NHL. (Just as I predicted.) The latest excitement came Monday, when the Sabres came back from a 4-1 deficit to beat Pittsburgh in overtime.
"There is no way we win that game last year," Jason Pominville said Tuesday, as he watched his son's practice. "In a lot of those situations, we would fold. Pack it in." What's changed? "A few things. We are getting phenomenal goaltending. In that game, they have a five-on-three and (Carter) Hutton makes a huge save on (Phil) Kessel. Then we find a way to get one. And we get this feeling that we believe and can get more." Pominville also pointed to last Saturday in Minnesota, a 3-2 win. The Sabres were down 2-0 just 7:45 in. "Last year, we lost 6-2 there. We can't always give up early leads," he laughs, "But everything had to be different here. Wins aside, it is much different."
[relatedlinks]
22. Pominville credits depth, too. "Zach Bogosian and Jake McCabe. People forget we lost them last year. They're both back, a big help." Jeff Skinner is obviously huge. But sports comes down to mindset and he says he sensed something fresh in August.
"A lot of guys arrived in town early. More than three-quarters of the guys were here by the middle of the month. You spend time together, get to know each other. Then, at training camp, they warned us they were going to push us harder. They told us they were going to change a lot of things. We bought in. We had to. We knew it couldn't be any worse, so were willing to do what it takes to make it better."
Pominville may be from Repentigny, PQ., but he's Buffalo through-and-through. He lives there and has played most of his career there. He sees a great fan base energized by early-season excitement. "I've been at this practice for four minutes, and people are coming to me saying how happy they are."
[snippet ID=3322139]
23. No conversation about the Sabres is complete without Jack Eichel. He's got five goals and 24 points in 21 games. Pominville shrugged off the scoring. "Those will come. No one's worried. But his attention to detail is so much better. Digging in for faceoffs. He's always had great awareness. He knows by expanding his game, he can have the puck even more than he's used to. He's strong enough and big enough that a lot of things open up when he hangs on to it. He can see that. He's more patient and more confident with it. Look at all the plays he's making for others to produce."
24. Finally, on Rasmus Dahlin, Pominville said Buffalo coaches were showing players highlights of a ridiculous off-the-crossbar effort he had against Pittsburgh. They were basically laughing at how good it was. "But he's not afraid to battle down low. He competes. People notice that."
25. At his exit meeting last season, Jimmy Howard said he and the organization both discussed how he needed to get his save percentage from .910 to ".915 or .920." Fourteen games into the season, it is .922.
"I don't look at numbers anymore," he laughed on Tuesday. "I used to when I was younger, but not looking comes with maturity. Sometimes it doesn't tell the whole story. The only time I talk about it is with the media or my goalie coach. I have to be in my own little bubble, have to play well every single night. Give us a chance."
Detroit isn't up there with Buffalo, but after a rough start that could have gone off the cliff, they've battled and stabilized. "Last year, we found ways to lose. After the injuries (this year), some of our veterans have come back to calm things down. At the beginning, we were trying to do too much, and things snowball out of control."
26. Howard joked that he's "not that old," but recognizes how much the organization is changing. "Being a Red Wing still means a lot to us who have been here. It's no fun to be out of the playoffs. Everyone wants to be playing come springtime." He didn't want to get into it too deeply, but some time after an 8-2 loss to Boston in their fifth game of the season, there was an intense conversation between the players about how their play was not acceptable.
"We had to dig in. Play the right way. The good thing about this group is that it is not a cliquey team. We could be blunt with each other. Press the re-set button and demand we start doing things like winning battles." What did he say? "I kinda keep my mouth shut."
27. It has been reported that Howard, a free agent, will be extended. "There hasn't been dialogue as of yet," he said. "But everyone knows how I feel about the city and the organization. And how much it would mean to finish as a Red Wing."
28. Finally, Howard says he's really impressed with some of the younger players. "Dylan Larkin is leading us every night," he said. What about the rookies? "Michael Rasmussen. The way it started for him was probably not ideal, but he's now scored in three games in a row. Dennis Cholowski. Great skater with a great shot. Both guys have shown how they can contribute even though they are young."
29. Reported this last year, hoping I'll be correct this year, but Regina remains very much on the map for an NHL outdoor game. I'd assume Edmonton versus either Calgary or Winnipeg, but you know what happens when you assume. The league has visited Mosaic Stadium at least once this fall.
30. Another note from the GM meetings: there are many people who still think diving/embellishment is a big problem.
31. The first time I met Mike Foley in Ottawa, he said, "Our GM is looking for you." I started thinking, "What did I say this time?" only to see him crack a smile. It became a bit of a running joke between us, although there were a couple of times it was actually true.
Just like life, there are a lot of really quiet, nice people you meet covering sports. Mike, who worked for the Senators for 26 years, was at the top of the list. He died last week from colon cancer at age 61. You saw all the tributes, you know how much he'll be missed.