• Joel Quenneville's stunning firing
• Carolina wants in on Nylander
• Avoiding an NHL lockout?
What a wild 24 hours.
My first reaction to the Ottawa Senators' Uber video: there by the grace of God go I.
How many times have you been frustrated with your boss, a co-worker, your partner, a friend, whoever and privately unloaded to someone else? (Or, at least you thought it was private.) Honestly, when you saw/heard of the video, how many of you thought, "That could have been me?"
I sure did. They are lucky they were only talking about hockey.
The camera on the video says January 1, 2017. That's like your grandmother's VCR, still blinking "12:00." From what I understand, it happened on Oct. 29, an off-night between games in Vegas and Arizona. The Senators, defeated in three straight, allowed 11 power play goals in 10 games.
There's your context for the seven players — Thomas Chabot, Dylan DeMelo, Matt Duchene, Alex Formenton, Chris Tierney, Colin White and Chris Wideman — criticizing the team's penalty kill and Martin Raymond, the coach responsible for the unit. If anyone deserves a pound of flesh it is Raymond, thrown into an embarrassing controversy he had nothing to do with.
Duchene and Raymond talked at centre ice after the morning skate on Tuesday. Head coach Guy Boucher was disappointed for Raymond, calling him "probably the best human being I know."
According to one source, the driver was upset about a tip. Prior to last weekend, he began tweeting the video at reporters, writing the players were "cheap entitled kids."
The most interesting thing about the Postmedia story was the written piece accompanying the video didn't have a byline. In my experience, that means the reporters wanted no part of it even though the newspaper did.
There are great reasons to use hidden video. One of my favourite TV features is 60 Minutes correspondent Steve Kroft catching a used car dealer tampering with odometers. That's useful.
I hate this. I despise the erosion of privacy, that people think this is okay, you should know everything is recorded. Nobody can keep up their guard all the time. It's an impossible standard. Everyone is going to have a bad moment. Venting is human.
"I would never expect a cab ride conversation to be made public," Vegas forward Ryan Reaves told reporters in Toronto. "But that's the world we live in right now. Everybody's a snitch."
So, where do we go from here?
Uber Canada GM Rob Khazzam apologized on Twitter. He admitted posting the video violated its terms of service, and I would expect the players to explore their options on both sides of the border. Arizona is a single-party consent state, meaning only one party to the conversation has to approve its recording. I'm not big on meetings, but the next one between the Senators and Uber, one of their corporate sponsors, is can't-miss.
For the organization, it's another hard kick in a year full of them. The Senators have tried their hardest to put a better face on this season, and were trending the right direction two weeks ago.
Now, they've lost six of seven and have a major test for the room.
That leaves Duchene, Wideman and Raymond. All are working for new contracts. There's no doubt that in the past 48-72 hours, as they became aware of it, they had to be wondering, "What are future employers going to think of this?" (Especially Raymond, not even present to defend himself.)
There's only one option. Ultimately, performance trumps all. Do what you need to do in front of the TV cameras, and you can undo the damage from the dashboard ones.
31 THOUGHTS
1. With the stunning announcement that Joel Quenneville is out after the greatest run in Chicago Blackhawks' history, it was impossible not to wonder if the heat transferred squarely on to the shoulders of GM Stan Bowman. Team President John McDonough temporarily quashed that saying, "I did not consider (firing) both. I believe in this roster, I believe in Stan."
He's a demanding boss, however, and made it very clear a prolonged rebuild is not on the menu. "My expectations are that this is a playoff team. Sometimes, as painful as it is, we need a fresh start." For his part, Bowman did not seem eager to alter the roster, saying "I think we have to let things set a little bit here." Whatever the case, Quenneville's firing is the beginning of the dismantling of the Blackhawks dynasty. Seismic day.
2. McDonough offered clarity on why the Blackhawks chose not to make the change at the end of last season, arguing the unexpected losses of Corey Crawford and Marian Hossa made 2017-18 a little unfair for Quenneville, that he deserved another shot. Things looked great early, with a rejuvenated Jonathan Toews launching Chicago out of the gate. Crawford returned and stood on his head for a couple of games. But, as the results reversed, one event stuck out.
The Blackhawks did not put a player in the penalty box for the ejected Duncan Keith last Saturday night in Calgary, and were caught killing an extra 1:47 when there was no whistle as the five minutes expired. That's too coincidental to be anything but the final straw in the lengthy behind-the-scenes Cold War between Quenneville and Stan Bowman. Bowman once again rejected that characterization, saying it is "just not true," but there is way too much smoke out there not to believe…something.
From Mike Kitchen to Niklas Hjalmarsson to Artemi Panarin, things were never easy, culminating in Quenneville's refusal to attend the first round of the 2017 NHL Draft in Chicago (the day Hjalmarsson and Panarin were traded). It's completely foreign to me, because when you are that successful there is plenty of credit to go around. Hopefully, someday in the future, they will put up a banner (retire his moustache?) and give him the sendoff he deserves.
Quenneville objected to Barry Smith's on-ice presence in practice seven years ago, and Smith is now an assistant to new Hawks coach Jeremy Colliton. This hiring is a sign that, as wealthy as the Blackhawks are, there's a limit. Departed assistants Kevin Dineen and Ulf Samuelsson combine for around $1 million per season. Add Quenneville's $6 million this year and next. That's a lot of dead money.
3. Does Quenneville want to coach, or does he wish to recharge? Another team can't just pay him $1, holding the Blackhawks responsible for the rest. A new employer has to offer something resembling the market rate.
4. One note about Colliton's coaching: opponents said AHL Rockford became much more aggressive under him. Lots of activity from the defence in the offensive zone, which is similar to what the NHL club prefers. They also aggressively held the blue line, stopping and attacking in certain cases. Previously, they tended to sag back and protect the net.
5. So, after a season with no coaching changes, we have two before American Thanksgiving. Right from the start, the pressure's been intense. There were a ton of rumours about Dave Tippett going back behind a bench. Reached Monday, he said, "I'm happy in Seattle, and I will be staying here."
6. On Sunday, the Kings made the first coaching change of 2018-19, replacing John Stevens with Willie Desjardins. There is some history here. After Desjardins was fired in Vancouver following the 2016-17 season, Los Angeles contacted him about their "offensive co-ordinator" idea, eventually taken by Pierre Turgeon. Desjardins declined that, and it is believed he said no to at least one more assistant position after leading Canada to a bronze medal at the 2018 Olympics.
"I really want to be a head coach," he said Monday night. "If you're an assistant, and you get promoted, you feel so brutal about it." I respect his willingness to bet on himself, taking a contract for the remainder of the season. "That does not bother me. If we do a good job, they'll keep me."
[snippet id=3816507]
7. Turgeon left after last season. At some point during the past few days, a couple of sources indicated GM Rob Blake talked with Adam Oates. The latter did not respond to text messages, while the former said Oates will not be joining the Kings as a coach, but as a consultant. It's clear the organization wants to make philosophical changes to the way it plays.
The biggest challenge for Desjardins is that Western teams don't have a ton of practice time, and the Kings are back in action Tuesday night against the arch-rival Ducks. He says he'll likely use the same combinations that beat Columbus on Saturday, and will tweak things as they go along. "I told the players that it is worth putting in the time to change. These players are winners, and if they learn to accept losing, they are going to lose more. Don't accept it."
8. Marco Sturm gained the respect of the coaching fraternity in leading Germany to a stunning silver medal in South Korea, and joins the staff next week. Mike O'Connell, the Kings' director of player development, traded for him as part of the Joe Thornton deal, and is a fan. He played with Glen Murray, who is another part of the team's decision-making process.
Sturm briefly played in Los Angeles, and was going to get an assistant coaching position somewhere in the NHL. The Kings made the pre-emptive jump to make sure it was with them, and whoever replaced Stevens was going to have to understand that. It's probably not anytime soon, but Sturm is a future head-coaching candidate.
9. No doubt Blake will continue to try and change his roster. One name out there: Tanner Pearson. After breaking through with 24 goals in 2016-17, he's got 15 in his last 95 games, including none this year. He's still only 26.
10. There was a ton of buzz last week when Carolina had three scouts to watch Dallas/Toronto. One source said we made too big a deal of it because the Hurricanes don't have a huge staff and it gave them an opportunity to see the Western-based Stars. Okay, but their interest in William Nylander is not a secret.
They like the player and have made it clear that, if Toronto decides to trade the forward, they want to be involved. There are a couple players on that defence the Maple Leafs could ponder, although I'm wary of conventional wisdom with GM Kyle Dubas. Removing Nylander's scoring ability might make him chase a forward.
11. The speedbump for Carolina is they have business to do. Sebastian Aho needs a new contract. So do Micheal Ferland, Brock McGinn and Teuvo Teravainen. No one needs permission to speak to Nylander, who is a free agent, so you can discuss contract concepts without penalty. Aho's the internal priority as a franchise cornerstone, but his contract won't go into Auston Matthews/John Tavares territory. That helps the Hurricanes with Nylander's key issue: salary too far below teammates.
12. Carolina will also test the market for Valentin Zykov, who played just 4:41 in Saturday's 3-0 loss to Vegas.
13. Let's throw some more gasoline on the fire: Toronto had the same scout see Tampa Bay three times in the past week.
14. Four years ago, Vancouver began emailing a survey after every home game to select season-ticket holders and single-game buyers. (The recipients vary.) They call it the "Fun Meter." The Canucks ask about each fan's game experience — everything from enjoying the action, to concessions, to how long it takes to get in the building, you name it.
They've made changes to commercial timeouts, for example, showing fewer things like "this week at Rogers Arena…," more entertainment and giveaways. You get one guess which game scored the highest since the Canucks began doing this. If you didn't pick Elias Pettersson's five-point night last Friday against Colorado, you are sentenced to a year of reading stats vs. eye test Twitter feuds.
15. Travis Green has three years remaining on his contract, which is believed to be the longest term in the Canucks' organization. Does Pettersson get everyone extended?
16. It's my nature to be cheery and optimistic, but, as a Hall of Fame player once said, "Every time there's been opportunity for a strike or a lockout, it's happened. So you better prepare for it." The current CBA expires in 2022. However, both the league and the players can vote next September to terminate the agreement in 2020.
Quietly, there is hope the early termination can be avoided. And we might know sooner rather than later. The NHL and NHLPA agree that the best time to host the next World Cup of Hockey is September 2020. Understandably, the league wants nothing to do with a repeat of 2004 when, less than 24 hours after Canadian captain Mario Lemieux raised the trophy, the season-long lockout commenced.
There have been preliminary discussions between highest-level leadership at both organizations. NHLPA Executive Director Donald Fehr is doing his annual fall tour, asking players what matters to them as part of the next conversations. The league has let the union know that if there is to be a World Cup in 2020, there must be a commitment to the event by sometime around the All-Star Break in late January. That means both sides will need to agree not to re-open, nine months before the deadline to do so.
[relatedlinks]
17. That's an accelerated timetable, and what we don't know is if that means full CBA negotiations or a decision to keep the current setup with tweaks. The simplest, easiest thing is for the players to receive a 2022 Olympic commitment in exchange for a World Cup, but things are never that simple or easy.
Last week, while the Jets and Panthers played in Finland, Commissioner Gary Bettman re-iterated his concerns about Olympic participation. Most of me shrugs that off as a negotiating tactic, but the IOC's refusal to pay insurance/travel costs kept the NHL out of South Korea. So, not only do the NHL and NHLPA have to make a deal, so does the IOC. Russia wanted the elite of the elite in Sochi. It got done. How does China feel?
18. Fehr drew double-takes at the NHL Alumni awards on Oct. 22. Mentioning he's worked in hockey for eight years, he added, "maybe one or two more, yet." The "maybe" raised eyebrows, considering there was a challenge to his leadership last season. But, he has told players he will lead the next CBA negotiation. Fehr turns 71 next summer, and the time is coming when he's no longer leading the labour charge.
19. Readers of this blog know I keep a Nov. 1 stat. Since 2004-05, just seven of 54 teams at least four points out of a playoff spot following games on that date have recovered to reach the post-season. This year, there are five contenders: Detroit, Florida, Los Angeles, St. Louis and Vegas.
[snippet ID=3322139]
20. As the salaries for top players grow, others wonder what will happen to the middle class. Here's an idea of where we're headed. The website PuckPedia lists salaries next to scoring leaders. Headed into Tuesday's games, 42 of the top 43 scorers were either on their entry-level contracts or above $4.65 million. The one exception was Montreal's Max Domi, at $3.15 million.
21. Minnesota GM Paul Fenton is in Russia meeting two prospects — Kirill Kaprizov and Andrei Svetlakov. Kaprizov is the one Wild fans are agog about. Chuck Fletcher began the dialogue a year ago and Fenton will continue it. Are you convinced he's a difference-maker? "He looks like it," Fenton said before leaving. "I've watched him from afar, now I'm going to look at him in a different light. We're going to build a relationship, let him know the door is still open here. It's important to get to know him early in the year."
22. Back when Connor McDavid was at OHL Erie, his trainer, Gary Roberts, warned him that "90-second and two-minute shifts don't work in the NHL." Yet, there was the electrifying forward blowing by Ryan Suter to score after a 79-second shift last Tuesday in Edmonton.
There's actually something in common between those two. Suter, who, in 2013-14 played the fourth-most minutes in one season since the NHL began recording ice time, is excellent at conserving energy while being out there for a long time. McDavid has that ability, too, but, as Roberts says, "He's put in the work. He's committed. In the summers, when his friends were going out or finishing for the day, he's the guy who stayed to do one more thing or work on something on his own."
Roberts wasn't surprised to see that goal. "What Connor has trained himself to do is this: he can do a 300-yard shuttle run, take a break and then repeat it consistently between 52 and 55 seconds." Another reason to hate the guy.
[snippet id=4234155]
23. Roberts had a great line about playing with Sidney Crosby for a year-and-a-half. "I'd see him on the ice 30 minutes before practice. I'd ask him what he was doing. He said, 'I didn't like the way my hands felt last night.'" Roberts said he laughed and replied, "Well, how do you think the rest of us feel?"
24. You'll remember that, last season, producer George Skoutakis did a great feature with Evgeni Malkin where the future Hall of Famer admitted there was a time he considered escaping Sidney Crosby's shadow to cornerstone a franchise on his own. I assumed Crosby knew this since Malkin publicly declared it, but nope.
When it was mentioned at the NHL/NHLPA media summit in Chicago, Crosby looked at his teammate, smiled, and said, "Is this true?" Malkin sheepishly answered, "Why you asking (while) he sits here?" He said in the previous piece that he realized staying alongside Crosby was the better option.
"There's always different points over the course of your career when you think about things," the captain says now. "Are things going to work out the way you expected them to? You don't know. That being said, I think we both feel pretty lucky with the way that things have ended up." Safe bet.
25. Both smiled and said they didn't watch the 2018 Stanley Cup Final. "But I know who won," Malkin laughed. "I used to be like that," Crosby added. "You know you're going to see it at some point, you don't necessarily need to see it live — especially coming off (last year) where the team that we lose to goes on to win."
It was very interesting to hear both players say they've found fun in hockey beyond winning, that they covet relationships with teammates past and present. It would be a mistake to think they are satisfied, but they've found that critical balance between work and enjoyment. Those years between Cups, when both faced serious challenges, seem so long ago.
26. During Jason Spezza's appearance on the 31 Thoughts podcast, he said new Dallas coach Jim Montgomery is excellent during film sessions. A teammate said he's different from Ken Hitchcock, who really loved to challenge players. Montgomery's got a presence, and wants to know what you're thinking. His rules for these sessions: "I go zone-by-zone…defence, neutral, offensive. And only one point (I'm trying to make) per clip."
Nov. 1, 2018: From Illegal To Legal
November 01 2018
27. Claude Lemieux represents son Brendan, so he was on the call during the latter's disciplinary hearing earlier this week. (Lemieux was suspended two games.) That's the first time there's been a father-son combination in one of those hearings.
28. CES, the International Consumer Electronics Show, is being held Jan. 8-11 in Las Vegas. It's a major event, and it will be interesting to see what, if anything, the NHL reveals there about its puck and player tracking. The league has hired SMT to collate the data and distribute it. They've got an excellent reputation, but we're still waiting to see how the actual tracking will work.
29. A few weeks ago, Kevin Bieksa said he was going to compete in the challenging Spartan Obstacle Race. Here's photographic evidence from last weekend in Dallas. He said he finished around sixth, but is determined to do more training and win.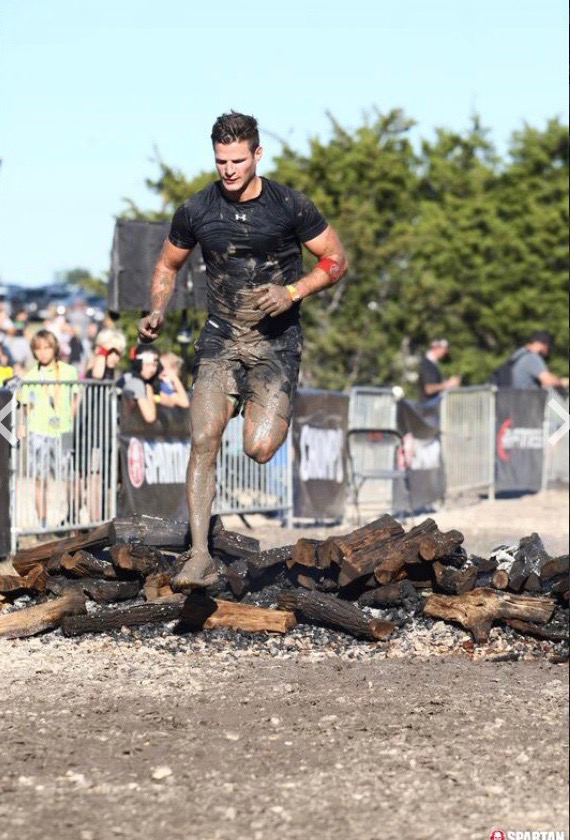 30. So, last week, Canucks fans wondered how on earth Pat Quinn could mention three of his toughest losses and not include the 1993-94 Stanley Cup Finalists. There's a simple explanation: the question was, "That loss has to be the hardest, but were there any others?" I forgot to include it, and was not actively trolling Vancouver's fan base. This time.
31. Most sports fans of my vintage (48) were Sports Illustrated readers. My first subscription was a 12th birthday present in 1982, and my favourite writer/reporter became Dr. Z, Paul Zimmerman. He looked at everything a little differently, through the eyes of both a former player and tough reporter. He created his own charts, his own method of judging effectiveness and always came up with new details you couldn't find elsewhere. I loved reading his stuff.
For one of his All-Pro Teams, he selected a Chicago Bears offensive lineman named Mark Bortz. He wrote that someone told him not to do it, because Bortz was "a butcher." Zimmerman did it anyway. When we were at Western University, old friend Scott Feschuk told me, "Paul Zimmerman doesn't think you can be great at this job." He showed me a quote were Dr. Z said (paraphrasing), "You can't be a great reporter without being a prick." (Scott always thought I was too nice.) You guys can judge how that turned out, but it was an excellent reminder of how we can't be afraid to step out of our comfort zones. RIP to a legend.